Daily News
🏦 Revolut's Global Banking License Journey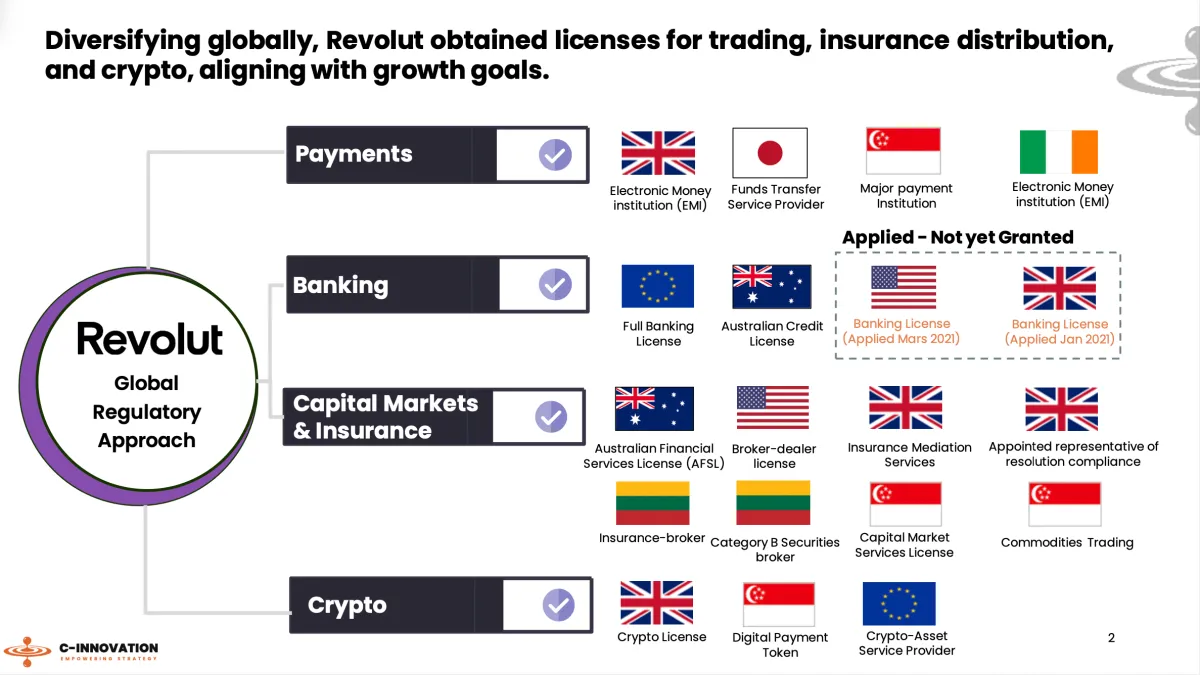 Happy Monday!
Revolut faces a regulatory quagmire as its pursuit for a UK banking license faces unexpected delays, casting shadows over its compliance strategy.
While Nubank remains selective in its market approach, Revolut's ambitious spread—securing licenses for stock trading, insurance, crypto transactions, and more across multiple regions—has intertwined it in a complex web of global regulatory norms.
The company's ambiguous progress in the Australian market has left stakeholders guessing, intensifying concerns over its worldwide expansion tactics. Additionally, the recent discovery that Revolut's US banking charter application was only a draft deepens suspicions about its transparency and regulatory dedication.
Given these hurdles, there's a growing chorus for more clarity from Revolut. While its broad-based approach might be good for business expansion, it has inadvertently created a regulatory jigsaw that calls for both inventive strategies and a steadfast commitment to adhere to global compliance standards.
To be continued...
Have a great start to the week, but first check out other global FinTech news updates I listed for you below👇
Cheers,
---

---
FEATURED NEWS
Klarna's buy now pay later losses are 30% below industry standard, says CEO Sebastian Siemiatkowski.
---
#FINTECHREPORT
World Payments Report 2023. Banks and payment services firms need to rebalance their focus between retail and commercial payments to maximize value, and a one-size-fits-all approach to servicing corporate clients will not be successful. Access Capgemini's full report for further insights
The FinTech Market Map Colombia🇨🇴. The latest Finnovista Fintech Radar reveals a dynamic FinTech scene in Colombia, identifying 90 new startups, despite a 17.9% mortality rate in 2022. Download and read the complete report here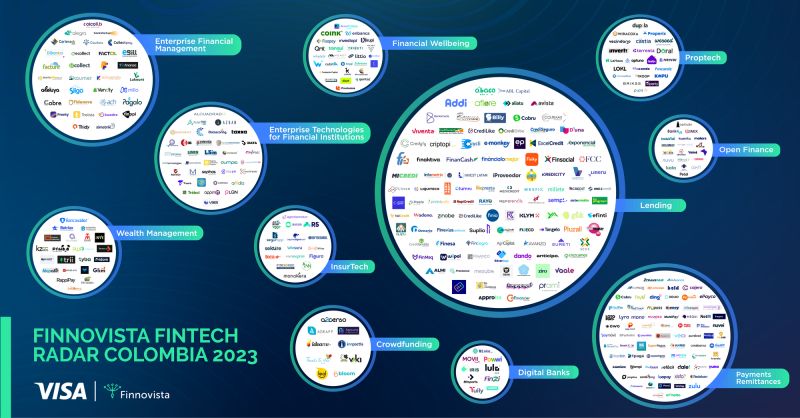 ---
INSIGHTS
🇬🇧GoHenry urges UK government to make financial education mandatory in schools. The #makemoneycount campaign aims to equip younger generations with financial knowledge and a financial skillset in order to make better informed decisions as adults.
The Growing Influence of BigTech Companies in Payments and Financial Services. In today's rapidly evolving technological landscape, the convergence of innovation and finance has opened the door to a new era of possibilities. Read the full article here
🇿🇦Visa, Mastercard Want a Slice of Africa's Mobile Money. The global payment giants are pouring billions of dollars into African companies that have powered a sharp expansion in e-commerce on the continent. More on that here
---
FINTECH NEWS
🇺🇸Citi inks deal with fintech Navan, says 'not having to file an expense report is like nirvana'. Specifically, the fintech and the card giant are announcing today a new, jointly branded travel and expense system designed for Citi Commercial (CCB) cardholders.
🇺🇸Mastercard and Remitly join forces to expand access to cross-border payments. Remitly will use Mastercard's network, integrating Send and Cross-Border Services, expanding secure money transfer options for customers through the Remitly app.
🇸🇬PayPal backs Singapore-based Sweef Capital and Quona Capital to empower women. The fund's approach is aimed at leveraging investments that create a multiplier effect, improving sustainable livelihoods, promoting quality education, creating decent work, fostering good health, and increasing economic growth.
🇺🇸Q2 Partners with Mastercard® to bring debit and prepaid card programs to Helix customers. The partnership will integrate Mastercom, Mastercard's dispute resolution service, to Q2's existing dispute intake capabilities, Centrix, to deliver an efficient solution to manage disputes, helping financial institutions mitigate chargebacks.
HIVEX® World coverage expands into South Korea partnering with Bizplay and Zero Pay; and HIVEX launches inbound Japan service. This announcement follows closely with the successful commercial launch of HIVEX's cross-border payment services for travelers inbound into Japan.
---
PAYMENTS NEWS
🇧🇷Brazilian Fintech Payface acquires SmileGo to move into private label. The union of Payface and SmileGo reinforces the intent to enhance the experience and security of retail shopping journeys through the use of facial biometrics, and comes to expand and accelerate this movement."
🇨🇴Yuno, a leading global payment orchestration platform, and Bamboo Payment, renowned for its vast reach in Latin America and instant payment connections in eleven countries, have joined forces to reshape cross-border payments in Latin America.
🇬🇧Revolut takes on Square and PayPal in the UK With POS Reader. The launch marks Revolut's move into in-person payments, as the super app continues to diversify its offering for business customers," the company said in a news release in July.
In 2022, Apple Pay processed over $6 trillion in payment volume. That makes it bigger than Mastercard or AliPay and halfway to Visa. Apple Pay dominates mobile payments in the west.
---
OPEN BANKING NEWS
🇺🇸CFPB accelerates US open banking with new data rule. The proposed Personal Financial Data Rights rule revives the dormant Section 1033 of the Dodd-Frank Act, compelling financial service providers to share user data with other companies offering better products and services.
🇺🇸Open Banking in the USA is entering its End Game. The US Open Banking market is a massive success, but it doesn't always work. Open Banking is more successful in the US than in Europe. The EU has around 5 million regular Open Banking users, while the US has closer to 80 million.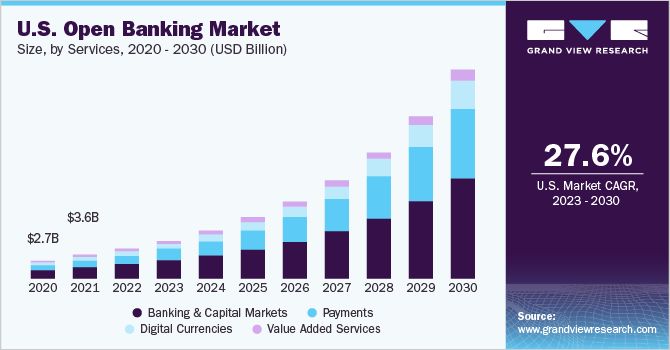 ---
REGTECH NEWS
🇳🇱How Fourthline approaches AI. In this article, the focus is on the importance of AI today, introducing Fourthline's approach and philosophy, and highlighting key factors to consider when partnering with fintechs utilizing AI in their solutions.

Subscribe now
---
DIGITAL BANKING NEWS
🇺🇸JP Morgan's Pay-by-Bank product goes live giving billers the ability to allow their customers to pay bills directly from their bank account, using traditional ACH banking rails. Read more
🇺🇸Fiserv opens the door to embedded finance. The company is simplifying the future of embedded finance and states the move will "supercharge" how payment facilitators, financial institutions, and software platforms serve their clients, expanding their service models.
🇧🇷Nubank makes transaction under the sea and imposes Guinness Record. The firm achieved an unprecedented feat in Mexico by conducting the first submarine transaction at a depth of 20 meters. Meanwhile, in other news, the company is starting to test a new solution that applies generative artificial intelligence as a virtual assistant to further enhance customer service.
🇵🇭UnionBank Invests PHP300M More in Digital Bank to Fuel Growth. The bank had disclosed to the Philippine Stock Exchange of the investment from its stock rights offering (SRO) revenues. Read more
🇺🇸NTT DATA has announced a new suite of accelerators for core banking modernization to help banks minimize risks and improve speed to market. Bank 4x Accelerator Suite drives transformation with core renovation and modernization, enabling innovative growth with a greenfield technology stack.
🇺🇸Metropolitan Commercial Bank to pay $15 Million penalty for fraud oversight. The DFS conducted an investigation into MCB's oversight of the program and found that the bank had not maintained an effective and compliant anti-money laundering program.
---
PARTNERSHIPS
Accelerated Payments partners with Funding Friends to expand working capital solutions. This partnership aims to facilitate access to bespoke working capital solutions for UK SMEs and mid to large corporate businesses.
🇦🇺Funding.com.au forges alliance with resolve finance. This partnership allows Resolve Finance brokers in Australia to access Funding's versatile bridging, business, and building loan products.
---
DONEDEAL FUNDING NEWS
🇬🇧Globacap raises $21m Series B. The new cash will be used to expand into new geographies and expand Globacap's white label product which is used by the JSE and Instinet.
🇮🇳Neobank Niyo bags funds from spring marketing capital to boost travel banking. This investment comes as Niyo Global aims to strengthen its position and pioneer the "travel banking" category in India through innovative products and marketing strategies.
🇲🇦Morocco's CASH PLUS closes $60m for expansion. The funding is expected to bolster the company's digital financial services offerings, with a particular focus, on enhancing its M-Wallet application, which currently caters to more than 1 million customers.
---
Want your message in front of 100.000+ fintech fanatics, founders, investors, and operators?
Shoot me a message on LinkedIn or send me an e-mail.