Daily News
Klarna's AI-powered shopping update + Apple's Open Banking feature launched in the US🇺🇸

Good morning FinTech Fanatic!
Let's start the day with news from the US where Apple Wallet now allows Discover US credit card customers to view their card balance and transaction history, following a functionality already launched in the UK.
The feature is part of the iOS 17.1 developer beta 3 and allows users to tap transactions for further action in the Discover app or website.
While the UK uses a standardized Open Banking API, the US does not, hence Apple partnered specifically with Discover for this functionality, with no comments regarding future support for other US banks.
Meanwhile, Klarna introduces a range of AI-enhanced shopping features in a significant autumn launch.
The new "Shopping Lens" feature enables users to photograph items and find where to purchase them at the best deal within the Klarna app. Additional functionalities allow similar item suggestions and make every sight shoppable through image translation into search terms via AI.
Moreover, "Shoppable Videos" are introduced, blending social and e-commerce, allowing direct purchases and content sharing from the videos by creators to Klarna's app user base.
An in-store feature allows detailed product info access by barcode scanning, enabling price and variant comparisons.
Other updates include a cashback program, purchase protection, and sustainability filters, responding to customer feedback and preceding research indicating a favorable consumer disposition towards AI shopping assistants.
In May this year, Klarna released research that found that 8 out of 10 shoppers look forward to having an AI shopping assistant.
Now over to you: Are you looking forward to having an AI shopping assistant?
Let me know!
Cheers,
---

---
POST OF THE DAY
🏦The Evolution of Banking-as-A-Service. Here's a description of the evolution of the market and the place of BaaS in this evolution.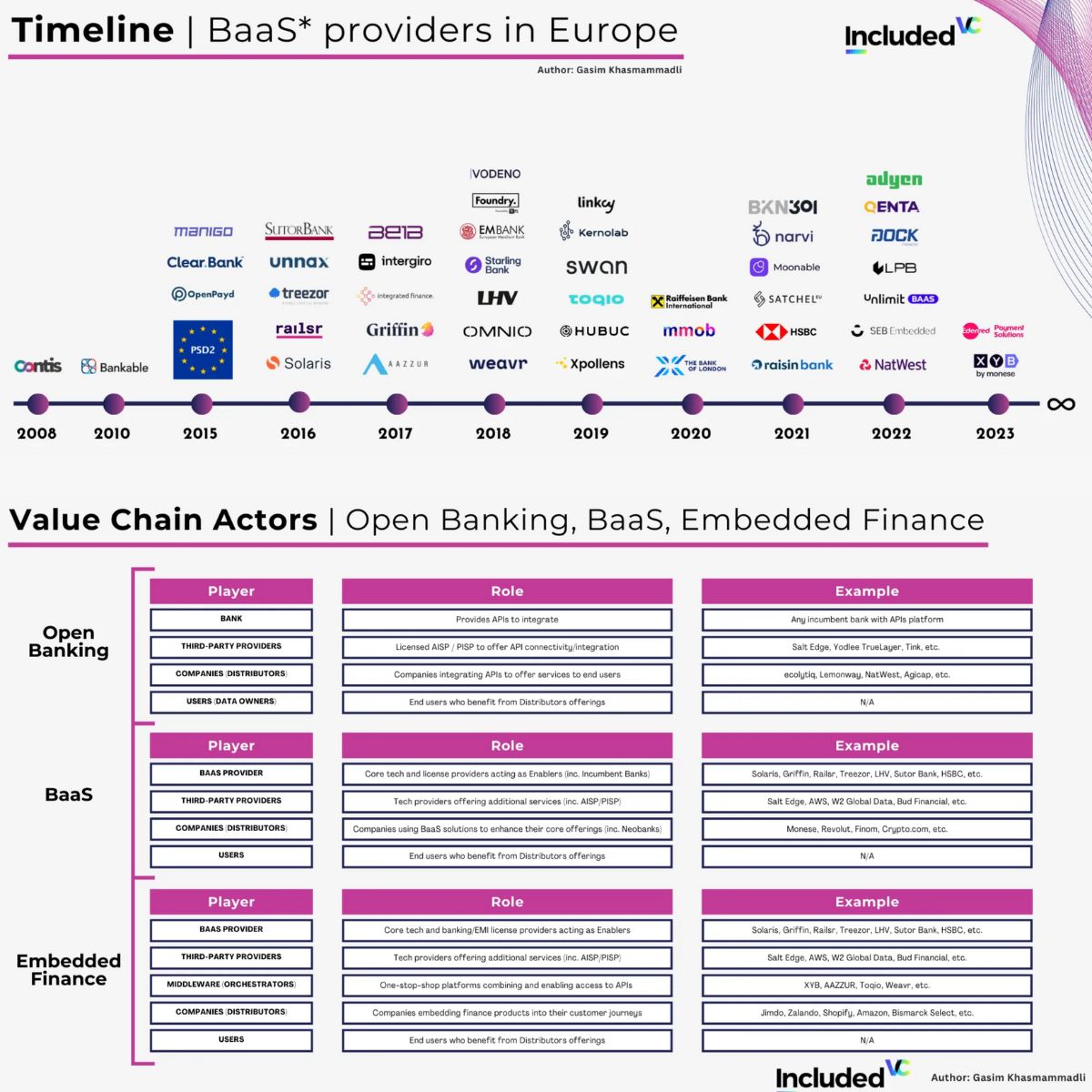 ---
FINTECH REPORT
🇨🇱FinTech Market Map Chile 2023 reveals a vibrant but challenged fintech landscape, identifying 121 new startups amidst a 21.2% mortality rate over two years. Download and read the complete report for more info.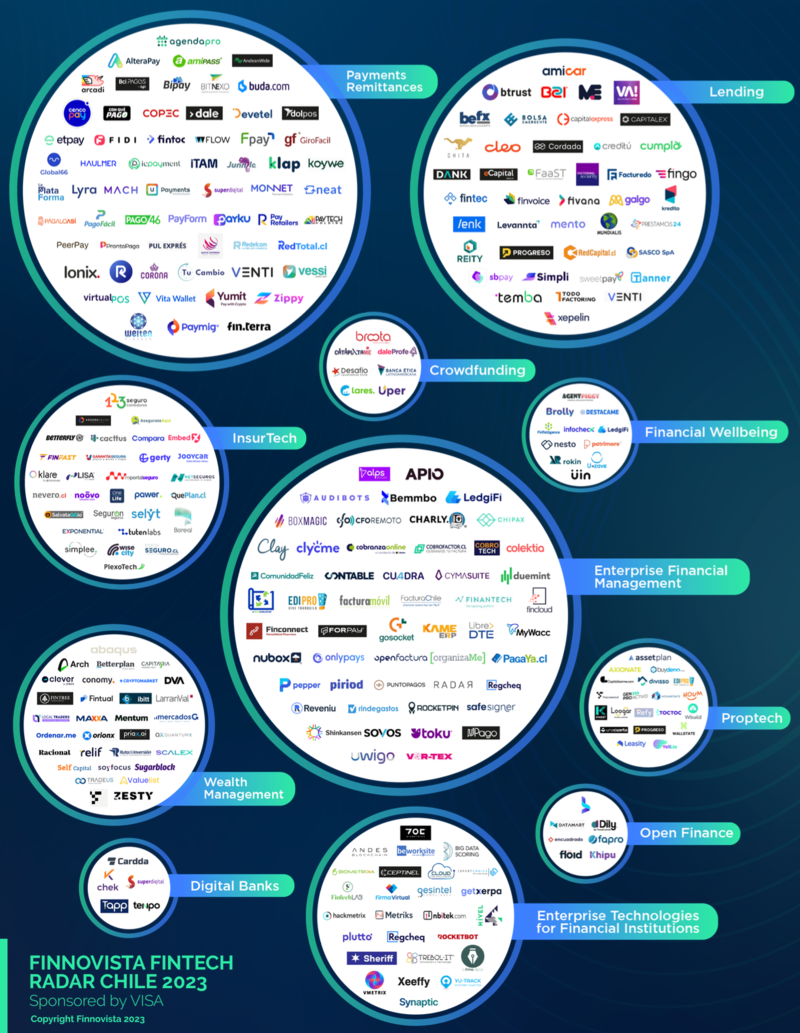 ---
INSIGHTS
Since 2017, more than half of the FinTechs that applied to the OCC for de novo national bank charter applications later withdrew their applications. Most after a lengthy review process. (OCC application table below👇)
---
FINTECH NEWS
🇩🇰Pleo launches overdrafts to help business spend management. The business spending solution aims to provide businesses with a comprehensive set of tools to "catalyse mid-market growth", with updates to help businesses control recurring digital payments.
🇶🇦Qatar Central Bank issues loan-based crowdfunding regulation. The Central Bank is keen to provide effective and valuable initiatives that help create an environment conducive to the growth of the financial technology sector in the country, as these platforms support the development of the financial sector.
🇺🇸Bank of Hawaii announces new fintech partnership. Bank of Hawaii has partnered with Greenlight Financial Technology, Inc., a fintech company with the mission of helping parents raise financially smart children. Read more
---
PAYMENTS NEWS
🇺🇸GoDaddy partners Paze to help small businesses provide more convenient online checkout experiences for consumers. GoDaddy is the first website builder to integrate Paze into small business' customer checkout experience.
SumUp's valuation falls as low as $4.1B, as Groupon and others sell off their stakes. Shares in SumUp are currently being sold in inside sales (to other existing investors in the company) at a valuation that might be as low as $4.1 billion — a drop of nearly 52% on SumUp's previous valuation of $8.5 billion.
---
OPEN BANKING NEWS
🇯🇴A2A and Salt Edge come together to support Open Finance in Jordan. The Central Bank of Jordan (CBJ) has taken a significant step towards modernising the financial services landscape in the Kingdom by unveiling comprehensive guidelines for Open Finance services.
---
DIGITAL BANKING NEWS
🇿🇦TymeBank's customer growth surges, reaching 8 million as over 200,000 customers join every month. This achievement signifies that one out of every five eligible South Africans now holds an account with TymeBank, solidifying its position as one of the world's fastest-growing digital banks.
🇬🇧Santander digital banking offshoot cahoot increases interest to 5.12% on Simple Saver account, which is an easy access account that lets customers deposit as often as they like, as well as withdrawing their funds without any fees or restrictions.
BigPay is now seamlessly embedded into airasia Superapp to enable easy payments across all bookings, plus exclusive rewards and discounts for users. Upon successful linking of their BigPay accounts, airasia Superapp users will be able to check their balance, and use BigPay to seamlessly purchase flights, hotels, and more within the app.
🇺🇸Orum launches first ever product built on top of FedNow to instantly verify bank accounts. Orum's patented technology – Verify – covers 100% of all US-based consumer and business bank accounts and confirms within 15 seconds the validity of a bank account before initiating payments.
🇳🇱Backbase launches Grand Central, its new-gen integration solution, and dedicates $10 million fund to fuel innovation. This revolutionary offering is set to empower banks in expediting their modernization and digital transformation endeavors.
🇺🇸Goldman Sachs finalizes deal to unload specialty lender at steep loss. The Sale of GreenSky to group of investors marks critical step in Wall Street bank's retreat from consumer lending. Read on
---
BLOCKCHAIN/CRYPTO NEWS
🇬🇧Sticpay integrates with Binance. The partnership will allow STICPAY users to deposit funds directly through Binance Pay, a secure cryptocurrency payment technology powered by Binance to streamline access to numerous cryptocurrencies for STICPAY users.
---
PARTNERSHIPS
🇬🇧Lloyds Bank renews partnership with FreedomPay to offer clients access to a suite of fast, efficient, and secure payments solutions. The partnership gives merchants using Lloyds Bank Cardnet access to FreedomPay's advanced payment processing capabilities.
🇮🇳Fibe and Axis Bank partner to launch India's first numberless credit card. This credit card enhances security by eliminating printed card details, reducing the risk of identity theft. Accessible through the Fibe app, it provides customers full control over their information, ensuring privacy and security.
---
DONEDEAL FUNDING NEWS
🇬🇧Untangled Finance secures $13.5m in equity funding from Fasanara Capital. Untangled is working to bring institutional-grade private credit, like invoices and SME loans, onto the blockchain. By moving these assets on-chain via structured credit pools, they can then issue collateralised debt notes for investors to trade.
🇺🇸Neobank Zolve secures $100 Mn debt to offer credit products to migrants In The US. The debt funding will be utilised to offer credit products to immigrants (especially Indians) moving to the US, and to expand operations and offer a bouquet of financial services for immigrants moving to the UK, Canada and Australia.
🇩🇪TransactionLink raises €5m seed round for KYC/KYB automation. TransactionLink gives teams the power to build and automate their business onboarding processes in minutes. Read more
🇩🇪Upvest partners with BlackRock to make investing more accessible for millions of Europeans and closes a €30m fundraising round. The companies partner to enable more fintechs, banks, and wealth managers to make investing accessible for their customers.
🇧🇷Brazil continues to top FinTech investment in Latin America. Check out the key FinTech investment stats in Latin America during Q3 2023. Link here
🇳🇱Amsterdam's Carbon Equity secures €6M from BlackFin Capital Partners. The firm will use the funds to roll out highly curated investment products, expand across Europe, and debut its ELTIF fund with minimum investments as low as €25,000.
🇺🇸Carefull lands $16.5M to shield seniors from financial fraud. Co-founder and co-CEO Todd Rovak says that the proceeds will be put toward expanding NYC-based Carefull's network of partners, product development and integrating with additional wealth and banking customers.
---
MOVERS & SHAKERS
🇺🇸$26bn fintech decacorn Block, owner of Square and CashApp, has long been absent from the FinTech layoffs conversation. However, based on comments from verified staff on jobs forum Blind, the company recently made layoffs in its recruitment department, affecting around half of the talent team. Read more
🇺🇸Verifone names Fiserv exec Mike Kohlsdorf as CEO. Kohlsdorf has been an advisor to the Verifone team since 2018 and brings more than 30 years of experience in executive management roles in public and privately held technology companies.
🇳🇬Payhippo appoints Dami Olawoye as new CEO, to succeed Zach Bijesse. Olawoye brings extensive executive and investment experience in high-growth SMEs across West Africa, including leadership at a prominent asset finance company in the UK.
---
Want your message in front of 100.000+ fintech fanatics, founders, investors, and operators?
Shoot me a message on LinkedIn or send me an e-mail.