Daily News
Apple Wallet app will now be able to show UK users' current account balance from their bank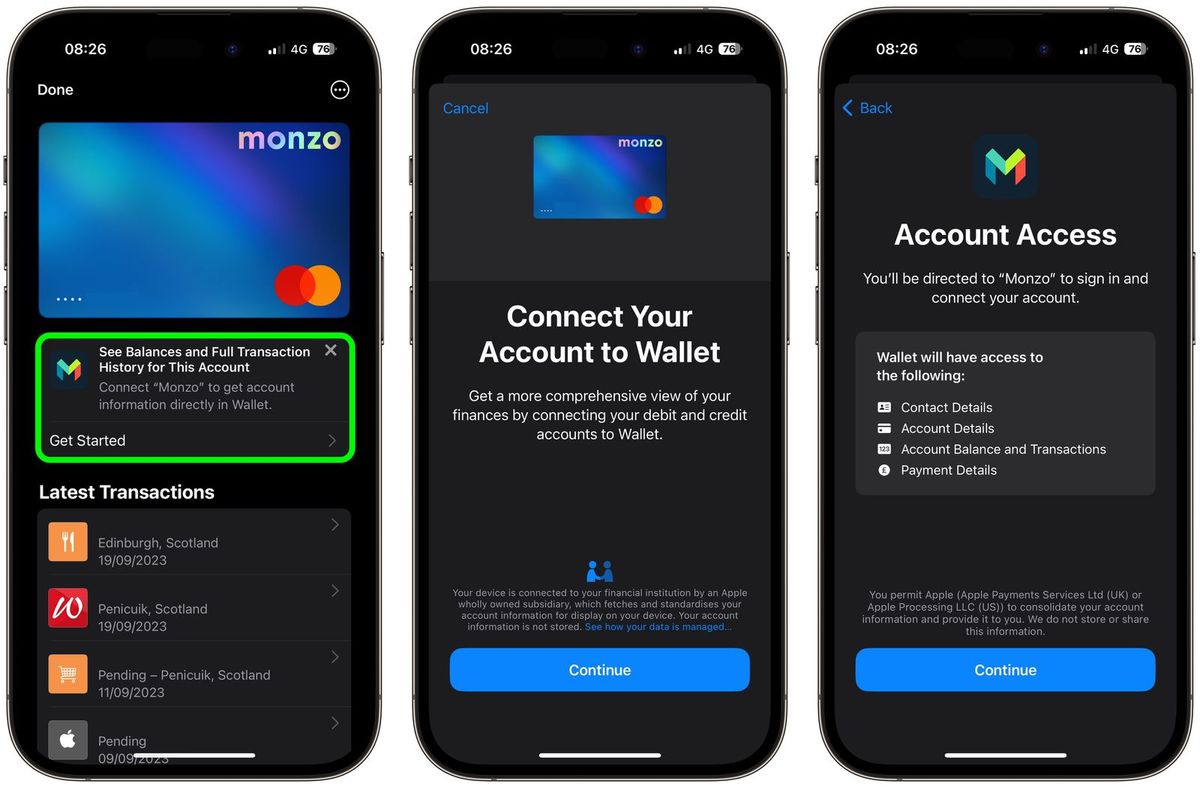 Good morning Fintech Fanatic!
Let's start the day with some fresh news from the tech giant, Apple. In a strategic move towards enhancing its user experience for Apple Wallet users in the UK, Apple has announced a fresh integration in the upcoming iOS 17.1.
For those who have long desired to view their current account balance and transaction history within their Apple Wallet, the wait is finally over (at least if you're in the UK!). Here are the key takeaways:
Seamless Integration: The Wallet app, powered by the UK's Open Banking API, will now display your bank account balance, alongside a record of your deposits and payments. If you have a credit card linked, it will also showcase your remaining credit limit and balance.
Participating Banks: Currently, the banks on board with this integration include the likes of Barclays, HSBC, Lloyds, RBS, Monzo, and Starling.
Secure Authorization: Apple's put the security of its users at the forefront. To link the Wallet with your bank, users will be redirected to their respective bank app (or website) to authenticate the connection. All data from this API remains on the user's device, ensuring Apple's stringent privacy standards are upheld.
A Boon for Apple Users in the UK: While Apple Cash or Apple Card is still off the cards for UK users, this exclusive feature is a nod to the British banking standards. Notably, such an Open Banking feature is currently absent in the US.
This new integration promises a smoother and more intuitive user experience. Will this set a new standard for wallet apps globally? Time will tell. But for now, cheers to Apple for giving a shoutout to UK-based features!
And now on to more global FinTech news updates I listed for you today👇
Cheers,
---

---
POST OF THE DAY
FinTech fuels global payments. As the company of the future becomes default global, there is now a real catalyst for change.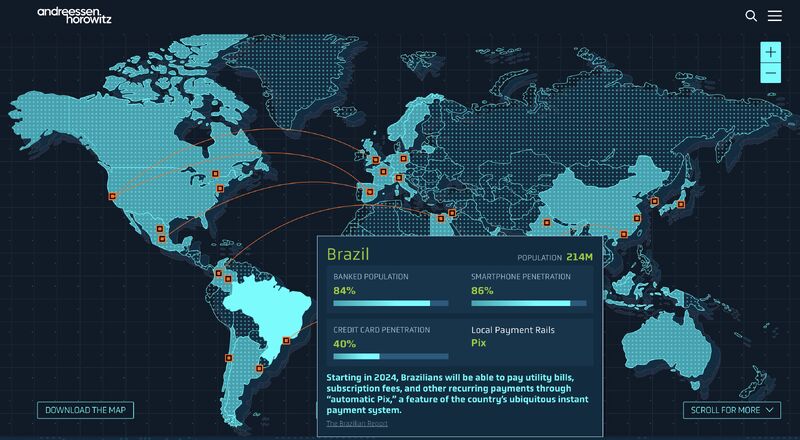 ---
PODCAST
🎙️In this podcast episode, Cynthia Kleinbaum Milner, Chief Marketing Officer at MoneyLion, talks about MoneyLion's transformation from a neobank to a finance super app, providing financial access to Middle America. Listen to the full episode here
---
#FINTECHREPORT
2023 FinTech Snapshot by BCG. In 2023, FinTech & InsurTech are finding a new groove. Equity funding has dipped due to macroeconomic uncertainty, possibly the lowest since 2017. Get the full State of FinTech report by clicking on this link
The 2023 McKinsey Global Payments Report shines a light on a changing industry and explains how banks and others can capitalize on new dynamics. Click here to read the complete report.
---
FINTECH NEWS
Fintech startup Native Teams expands in 55+ countries around the globe. Native Teams' greatest mission is to redefine work payments and local employment, shaped by the founders' personal experiences and the drive to simplify the intricate remote work landscape.
🇦🇪Visa Inc. joins hands with Pakistani fintech Abhi, along with YellowPepper for seamless money movement in UAE. The collaboration aims to revolutionize the financial landscape by driving innovation, promoting financial inclusion, and accelerating the adoption of new payment solutions in the CEMEA region.
---
PAYMENTS NEWS
🇺🇸Square adds merchant tools, including customizable website themes and an artificial-intelligence-generated product description tool. The company also added services and tools related to fulfillment, inventory management and customer engagement and retention.
🇪🇪Tuum, one of the latest new generation core banking providers, is making remarkable progress by providing a super-flexible platform on which others can build the future, as CEO Myles Bertrand explains in this article.
🇬🇧Addressing the pain points of UK retailers: a new approach to payment solutions. A recent BRC report revealed that retailers incurred £1.3 billion in costs just for accepting card payments in 2021. Coupled with the concerning rise in credit card delinquencies and consumer financial stress, the retail industry requires decisive action. Read the full article by Tymit here
---
OPEN BANKING NEWS
🇬🇧Bud reveals further details about its new personal generative chat interface 'Jas', including how banks and financial institutions can use it to increase financial literacy. According to Bud, the AI assistant, powered by Bud.ai's AI core, "helps both financial institution employees and consumers to make sense of financial data through conversation."
---
REGTECH NEWS
🇪🇺Money-laundering criminals are adapting to new technology faster than authorities can keep, EU report says. Nearly 70% of criminal elements operating in the European Union use money-laundering techniques to garner revenue and hide assets, degrading the region's financial stability and impeding its economic growth, according to a recently released report by Europol. Read more

Subscribe now
---
DIGITAL BANKING NEWS
🇺🇸JPMorgan to provide account validation services to the US Government. The company announced that it has been designated by the US Treasury Department under a financial agency agreement to provide account validation services for federal government agencies. The program was awarded to J.P. Morgan after a competitive selection process and will extend for a minimum of five years.
🇮🇳Neobank Fi lays off 10% of workforce. Fi's CEO, Sujith Narayanan, mentioned that the restructuring aims to focus resources on key growth areas, streamline operations, and ensure sustainability. Link here
🇦🇺The CBA-backed start-up that wants to pay your home deposit. OwnHome offers Australians the opportunity to secure home loans by loaning them the deposit. They provide a second mortgage to cover the deposit, charging a higher interest rate that borrowers pay alongside their primary loan.
---
BLOCKCHAIN/CRYPTO NEWS
Crypto.com named the preferred exchange for PayPal's PYUSD. Crypto.com has already listed the stablecoin on its platform for both retail and institutional users. Currently, the exchange has the deepest liquidity available for PYUSD trading pairs across the world.
🇬🇧A16Z Crypto Startup School applications now open for spring 2024 in London. The applications are now open until October 20, 2023. The company states that the UK has deep pools of talent, a strong entrepreneurial culture, and believes it is on the right path to becoming a leader in crypto regulation.
---
PARTNERSHIPS
🇬🇧Swoop integrates with Sage. The partnership aims to help businesses and accountants access a wide range of funding opportunities, and will also help identify opportunities to reduce business costs in areas such as energy, banking and foreign exchange.
---
DONEDEAL FUNDING NEWS
🇬🇧Ex-Revolut lead raises $15m to clean up business payments with Apron. The startup plans to use the funds to expand its 20-person team, which currently includes former Meta, Revolut and Square employees. Read more
🇬🇧Perenna raises $52m funding round ahead of mortgages launch. The neobank will be using its new cash to bring s long-term fixed rate mortgages products, funded through covered bonds to the UK market.
🇧🇷Brazilian FinTech startup, WEEL, raised US$6 million from Monashees, Mindset Ventures and Banco Votorantim. With this investment, Votorantim Bank will have access to WEEL's algorithm. This will allow the bank to offer better rates to small and medium-sized entrepreneurs.
🇧🇷Nomad raises US$61 million in funding round. Nomad has empowered Brazilians with access to an array of U.S. financial services, encompassing bank accounts, investment platforms, international remittances, and debit cards.
🇺🇸Financial Integration startup PortX secures $16.5 million in series B funding. With the infusion of Series B funding, PortX is set to accelerate its role as a game-changer in financial services, focusing on several transformative initiatives.
🇫🇷Credit Agricole acquires French Fintech startup Worklife. The Worklife acquisition enables Credit Agricole to better support companies in managing and developing their compensation policies.
🇨🇦d1g1t closes combined equity and venture debt financing round. The firm will leverage the funding to continue its rapid expansion in the U.S., scale operations, as well as continue its R&D investment to expand the platform capabilities and advance product innovation.
---
MOVERS & SHAKERS
🇬🇧Cashplus Bank appoints ex-Masthaven Bank CEO, Leigh Bartlett, as new chief financial officer. Rich Wagner, CEO and founder of Cashplus Bank said that Leigh's knowledge and experience will help the bank to deliver on their ambitious strategic goals.
---
Want your message in front of 100.000+ fintech fanatics, founders, investors, and operators?
Shoot me a message on LinkedIn or send me an e-mail.