Daily News
Brazilian Instant Payments system Pix is setting mind blowing records🤯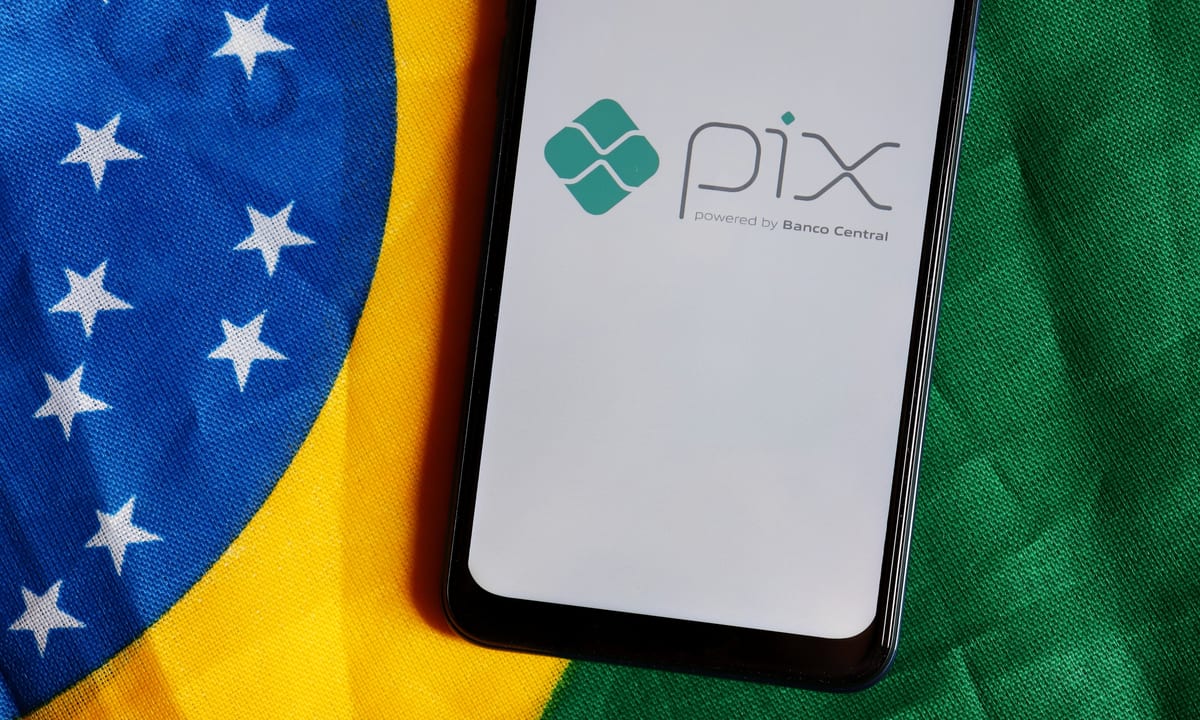 Good morning!
In a vital financial maneuver, UK "challenger" bank Metro Bank has secured its future amidst unsettling reports and share slumps by acquiring £325m in new funding and refinancing £600m of its debt. Jaime Gilinski Bacal, the Colombian billionaire, becomes a pivotal player, holding a 52% stake with a £102m injection.
Over to the US where the slow-moving crisis engulfing banking-as-a-service seems to be reaching a breaking point, according to Jason Mikula's latest long read article: Late last month, Evolve Bank & Trust notified BaaS platform Synapse that it believed the company was in breach of contract. And on September 27th, Evolve informed Synapse of its intention to terminate the relationship.
At the heart of the issue is Synapse and Evolve's fundamental inability to reconcile accounts and transactions (Synapse FBO accounts at Evolve have a "deficit" of over $13 million!) between their various systems — a problem each party blames the other for.
I highly recommend reading the complete deep dive article to get the full story.
And last but not least, here I'd like to share with you some mind blowing instant payments stats from Brazil where Roberto Campos Neto, the President of the Central Bank of Brazil, reported that Pix has set a new record with 168 million transactions in a single day 🤯
During the XXXIII Lisbon Meeting among Portuguese-speaking central banks, he acknowledged that the adoption of Pix was much quicker than anticipated.
Now over to other global FinTech industry updates I listed for you today! 👇
Cheers,
---

---
#FINTECHREPORT
Payment Operations Software: The Multi-Hundred Billion Dollar Market to Optimize Payments. Many businesses have been built on the idea of software as a distribution channel for payments. Read here for more info on this topic.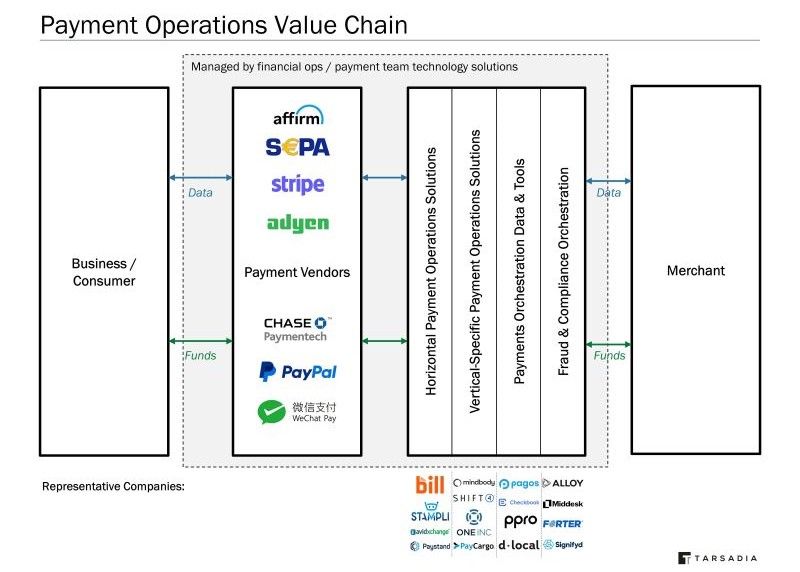 ---
FINTECH NEWS
🇬🇧UK startup taps open banking technology to help people build their credit score. BuildMyCreditScore has launched in the UK. The company provides a Mastercard debit card connected to a user's current account via open banking technology.
🇨🇴Bancolombia and TerraPay sign cross-border remittances contract. As part of their collective commitment to enhance financial inclusion, the two companies will enable seamless cross-border transfers, connecting Colombians abroad with secure, real-time solutions to send funds to their loved ones in Colombia.
🇲🇾Who were the big winners of the 2023 Fintech Frontiers Awards Malaysia? Among those who made significant strides and contributions to the Malaysian fintech realm, certain names and entities stood out. Find the winners here
---
PAYMENTS NEWS
🇬🇧Mastercard hires top UK spy as adviser. Mastercard has hired Sir Jeremy Fleming, a former leader of the UK's cyber intelligence spy agency GCHQ as an adviser. Fleming will help guide the firm's strategy in cyber, intelligence and security, whilst also adding to public policy initiatives.
🇳🇱Ex-Adyen co-founder's Amsterdam startup Tebi introduces Tap to Pay on iPhone in the Netherlands. Tap to Pay allows anyone with an iPhone X or newer to accept payments. According to Tebi, this simplifies the payment process for businesses and customers, enhancing convenience for both parties.
🇲🇾Boost & CelcomDigi team with Mastercard to launch 'Pay Later'-Capable Beyond Card. Commencing 9 October, a curated group of Celcom customers will be the first to apply for the card via the Boost app. This opportunity will subsequently be available to Digi subscribers.
🇦🇺Global Payments: Omnichannel launches with real-time functionality in Australia. Global Payments Oceania introduces an omnichannel solution with real-time technology through its Single API platform, setting new standards for businesses in the region.
---
OPEN BANKING NEWS
🇧🇭Tarabut supplies income verification tool to Bahrain-based digital lender Flooss. The partnership pioneers Bahrain's first open banking-enabled digital lending service, and streamlines FLOOSS's digital lending, reducing loan approval times to just minutes with Tarabut's Income Verification.
🇨🇴Belvo announces launch of new automatic debit products for recurring collections in Colombia. These products allow companies to provide payment experiences wherein users can link their bank accounts and authorize automatic, recurrent orders for sending and receiving money in mere seconds, all within their app.
🇬🇧TrueLayer reaches landmark one million variable recurring payments per month milestone. The rapid surge in VRP adoption reflects an increasing recognition of the valuable opportunities that they present to both UK consumers and businesses. Read more
---
REGTECH NEWS
🇧🇷Incorporation of Blockchain Technology in Brazil's National Identity Card Issuance. In a major step towards ensuring robust security and transparency in identity verification processes, Brazil has initiated the use of blockchain technology for issuing its National Identity Card (Carteira de Identidade Nacional - CIN). Read the complete article to learn more
🇰🇿Kazakhstan-based Freedom Holding is being investigated by the U.S. Department of Justice and Securities and Exchange Commission counsel over compliance issues, insider stock moves, and an offshore affiliate tied to sanctioned individuals, CNBC reported last Friday.
Why RegTech won at SIBOS2023 by Alex Ford. Multiple vendors came to the fore to highlight their innovative solutions, and why the need for RegTech has never been greater. Read the full piece here
Fraud & Compliance Orchestration and Data Market Map. The map is segmented into five categories:👇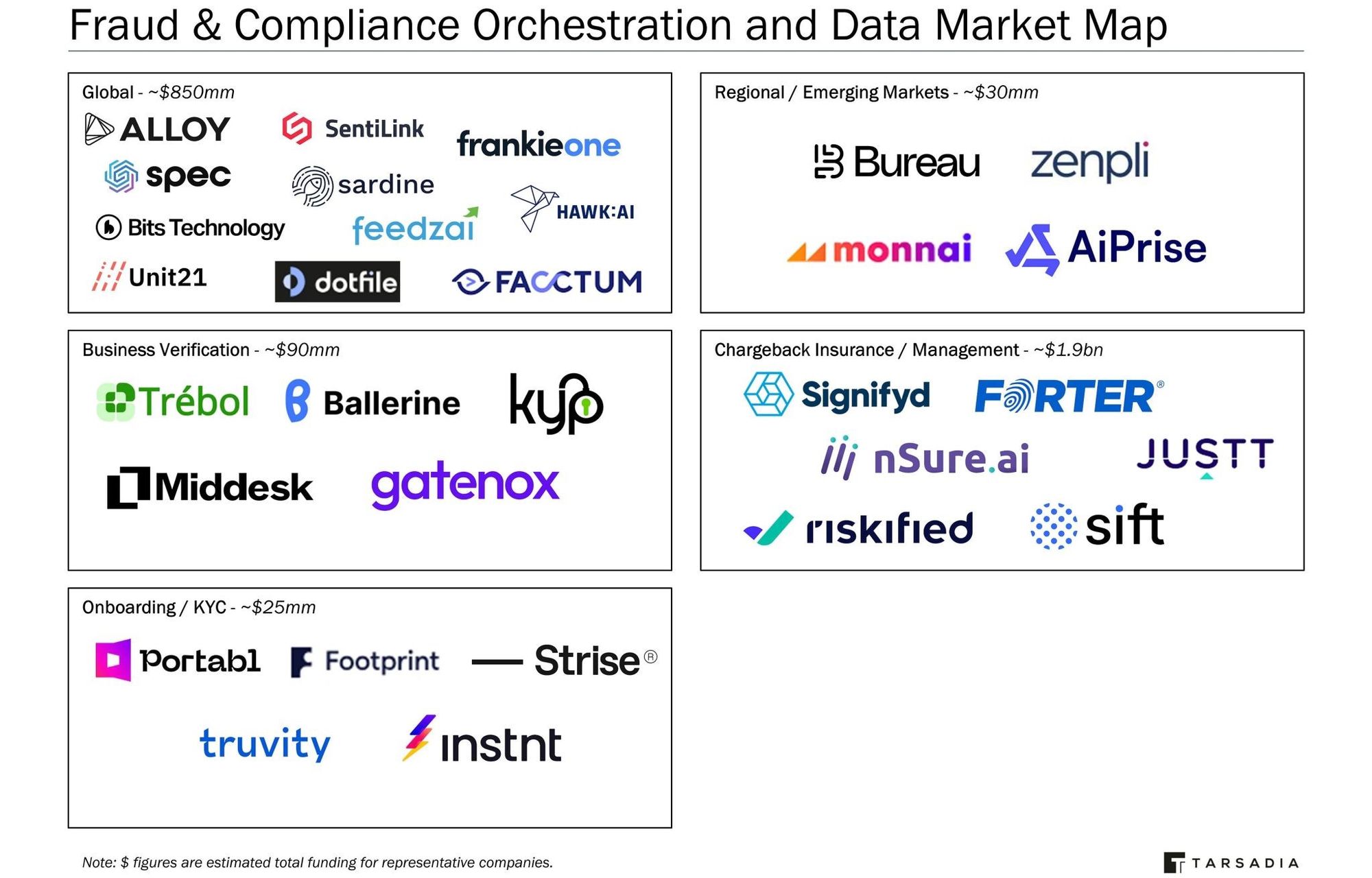 ---
DIGITAL BANKING NEWS
Tyme Bank expanding in SEA, to Vietnam first in '24. The bank announced it is focusing its expansion in Southeast Asia in the coming years as it looks on putting up banking operations in Vietnam and Indonesia.
🇬🇧FullCircl & nCino partner to streamline financial services for SMEs. The partnership brings together FullCircl's data capabilities with nCino's cloud banking platform via API, enhancing the speed, efficiency, and profitability of FIs in acquiring, onboarding, and serving SME customers.
🇺🇸JP Morgan onboards Modern Treasury to its Payments Partner Network. The membership will allow Modern Treasury to support companies in finding, integrating and scaling solutions that are compatible with the JP Morgan Payments Platform.
---
BLOCKCHAIN/CRYPTO NEWS
🇲🇾David Low-Led Hata to Become Malaysia's 5th Regulated Digital Asset Exchange. The firm aims to make digital asset investing easier for both institutional investors, businesses, and high-net-worth individuals in the country. Hata has also secured the in-principle approval to operate as a Digital Broker in Malaysia.
🇬🇧Komainu scores FCA crypto registration. This means that Komainu can offer crypto-custody services in the UK, including collateral management services. Read more
Visa: Crypto cards drive $3 billion payment volume since 2021. Visa collaborated with 75 of the largest cryptocurrency exchanges in 2021, granting them the capability to issue Visa cards. This initiative expanded access to a network of approximately 80 million Visa-accepting merchants.
---
DONEDEAL FUNDING NEWS
🇲🇾MADCash raises RM 5 million to drive financing for underserved women entrepreneurs. MADCash aids unbanked and underbanked women entrepreneurs, creating an alternative credit scoring system to enhance their financial credibility. The goal is to assist hundreds of women entrepreneurs by year-end.
---
M&A
🇩🇪Insurtech startup Getsafe acquires Luko's German portfolio and reaches 550,000 customers across Europe, up from 400,000 before the French expansion in January of this year. Terms of the deal were not disclosed.
🇵🇭Mynt acquires ECPay for USD 40.6 mln. The acquisition is set to enhance GCash's fintech services and expand financial accessibility. Mynt's digital expertise will benefit ECPay, tapping into its untapped potential.
---
MOVERS & SHAKERS
🇬🇧Molo CEO Francesca Carlesi steps down after more than six years leading the digital mortgage lender. Carlesi extended her thanks to the Molo team, investors, partners and customers as well as ColCap, which she said will now "chart the course to new heights" for the company.
---
Want your message in front of 100.000+ fintech fanatics, founders, investors, and operators?
Shoot me a message on LinkedIn or send me an e-mail.