Daily News
Valuations of leading PayTech companies decreased dramatically

Good morning!
Currently, I'm at Money2020 in Las Vegas, so I apologize for not providing a detailed summary of today's news.
However, I've compiled a few intriguing news updates for you. Enjoy!
Cheers,
---

---
#FINTECHREPORT
The Payment Landscape has become very crowded with over 1500 companies. Here are some of the key findings from a Payments Market Overview Report that was released at Money20/20. Download and read the full report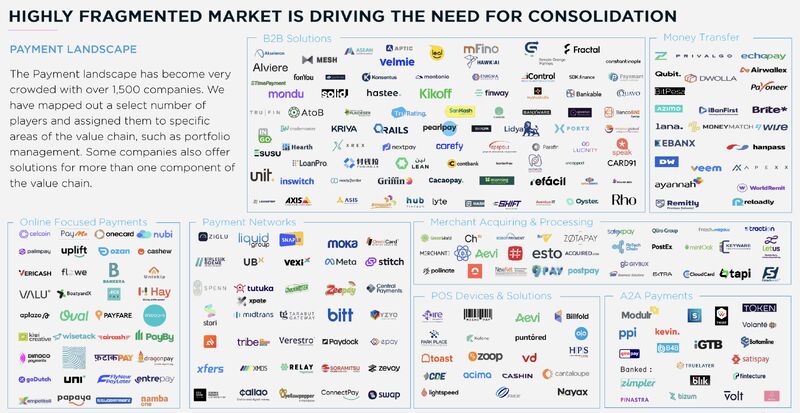 ---
INSIGHTS
VCs anticipate future growth for fintech. Discover Global Network released their third annual Fintech State of the Union (FSOU), the most comprehensive study that provides global perspectives from fintechs, venture capitalists, and consumers. Read on
---
FINTECH NEWS
🇺🇸Expensify moves into personal finance with a new app that enables users to send and receive money, split bills between individuals and groups, and chat. Expensify is testing out an early version of bill splitting in the new app at the Money20/20 conference in Las Vegas.
🇧🇴Neobanco Yape achieved 1M users in its first month of operation in Bolivia. The evolution of Yape is also reflected in the number of transactions carried out, since during the first month it exceeded 6.5 million in Bolivia.
Uplinq teams up with Ernst & Young LLP to expand fair and ethical credit lending for SMBs. This will deliver a revolutionary solution that provides fair and ethical credit to small business owners, while ensuring lending decisions are profitable for business banking lenders.
🇺🇸Banking startup Rho is in talks to buy MrBeast-backed Creative Juice, a startup that offers upfront financing and other financial tools for creators, according to two people with knowledge of the discussions.
---
PAYMENTS NEWS
🇨🇳China Construction Bank and Thunes collaborate on cross-border Payments. Through this partnership, Thunes will assist the bank in enabling international payment acceptance for Chinese SMBs and introduce outbound cross-border payments for CCB's consumers, both launching in 2024.
Marqeta's Credit Platform: Designing credit cards as the new "homepage" of a brand's digital experience. Marqeta will enable customers to truly own the customer experience and embed the card within their own brand – cardholders won't have to log into a bank's website to manage their card. Read on
Visa to pilot launch AR Manager for virtual cards. This solution, which will be available for limited pilot in November, reinforces Visa's commitment to delivering a seamless digital payment experience for issuers and suppliers alike.
Viva.com introduces real-time settlement and offline payments. These payment solutions empower businesses of all sizes with innovative tools to streamline operations and boost sales. Read more
🇱🇰Alipay+ signs MoU with Sri Lanka's National Payment Network, Lankapay towards enhancing inbound and outbound travel experience through cross-border digital payments, enabling users of Alipay+ payment partners to make payments seamlessly at over 400,000 LankaQR merchants across Sri Lanka.
🇬🇧B2B BNPL Mondu starts working with first UK clients after FCA registration. The company aims to provide a consumer-like experience in the B2B domain, with BNPL services for e-commerce checkouts and the newly introduced MonduSell for multichannel sales.
🇺🇸TodayPay Inc. emerged from stealth mode at Money 20/20 in Las Vegas, and is pioneering a new category in payments called Refunds as a Service™ – an entire suite of alternative refund solutions for merchants to Refund Now Pay Later™ and offer Better Refund™ choices for consumers.
---
REGTECH NEWS
Mastercard targets 'friendly' fraud to protect small businesses and merchants. The payments giant has announced its First-Party Trust program, with AI-powered insights, to combat the surging trend in first-party or 'friendly' fraud, where genuine transactions are mistakenly or intentionally challenged by cardholders.
Jumio unveils fraud prevention tech. Jumio 360° Fraud Analytics is Jumio's new fraud-fighting technology that uses AI-driven predictive analytics to identify fraud patterns with more sophistication and accuracy than ever before.

Subscribe now
---
DIGITAL BANKING NEWS
Finotta integrates with ebankIT. Through this partnership, Finotta's Personified platform will integrate with ebankIT's digital banking platform to expand access to financial wellness and Personalized Financial Guidance (PFG) to millions of customers and members worldwide.
Revolut adds European listed stocks to its trading platform across the EEA. With Revolut, investments in European-listed companies are accessible with the minimum investment amount of just 1 EUR. Trading will be commission-free within allowed subscription plan limits.
🇺🇸Net Credit Union taps Bankjoy for customer onboarding. The credit union will leverage Bankjoy's newly enhanced, standalone Online Account Opening solution to drive new member acquisition and deposit growth. Link here
Mambu arrives in AWS Marketplace, making it one of the first core banking providers on the site. This move will make it easier than ever for financial organisations to begin their cloud journeys and modernise their infrastructure to meet rapidly changing customer behaviours and expectations.
---
PARTNERSHIPS
Hokodo and Balance collaborate on global payment terms. This collaboration establishes a one-stop shop for payment terms, so that global B2B companies can now effortlessly offer flexible payment terms to customers across Europe and North America.
MOVii, a payment and financial services platform in Colombia, has partnered with Belvo, the top open finance platform in Latin America. The core objective of this partnership is to address online payment authentication issues and fraud. Read more
---
DONEDEAL FUNDING NEWS
🇺🇸Open banking startup Prism Data raises $5m. The firm claims that rising credit card and loan delinquencies are leading to an increase in demand for its technology, which is likely to rise in the wake of the new CFPB plan.
🇺🇸Credit Genie secures $10 million funding round. With the new funding, Credit Genie will expand its product line and hire top talent to scale its innovative approach to behavioral finance, budgeting and cash/credit management.
---
M&A
Shift4 Payments has received the final green light to complete its long-pursued $525M acquisition of Finaro. The deal was originally announced on March 1st of last year - a regulatory filing made public earlier today disclosed that Shift4 had now "received the final regulatory approval required to proceed."
---
MOVERS & SHAKERS
🇩🇪Moonfare appoints chief financial officer as co-CEO. Lorenz Jüngling has been promoted to co-CEO alongside founder, chairman and current CEO Steffen Pauls. This move will unlock meaningful efficiencies for us and prove invaluable to the next phase of Moonfare's growth.
---
Want your message in front of 100.000+ fintech fanatics, founders, investors, and operators?
Shoot me a message on LinkedIn or send me an e-mail.