Good morning FinTech Fanatic,
Juni's quarterly report is out! The report analyses spending patterns within digital commerce to help founders and finance teams identify trends, optimise spending and inform strategic decisions.
I highly recommend downloading the complete report to view the results of thousands of aggregated and anonymised transactions on Juni cards and see how your business compares.
Here are my key takeaways from the report:
Data from Juni shows that ChatGPT adoption among ecommerce businesses in Europe soars, up from 5% in Q2 to 18% in Q3
Gearing up to go into the busiest quarter of the year, Q3 saw digital commerce businesses double down on marketing activities. Average spend on advertising per business increased by 49.24%, signalling that higher budgets are now required to attract customers in a challenging climate.
Amazon Ads has grown in popularity - it is now the third most-popular ad network amongst Juni customers behind Meta and Google Ads.
Meanwhile in London, BNPL FinTech Zilch has secured an investment from eBay in a deal valuing it at $2bn (£1.65bn).

UK payments company Zilch, founded in 2018, is understood to have received a low single-digit million equity investment from eBay Ventures. The company declined to comment.

The business already has the backing of Goldman Sachs and secured £20m from existing investors earlier this year, allowing it to retain its multibillion dollar valuation despite a broader decline in FinTech shares.

Zilch chief executive Philip Belamant said the company was looking to 'double sales, triple revenues and fivefold gross profit' in the financial year to March 2023.

Revenue for 2023 is set to almost triple, rising from £10.9 million last year to £30 million in the 12 months to March.

However, the company still recorded a pre-tax loss of £72.1m, down slightly from £79.3m a year earlier. Zilch claims to have over 3.3 million registered users.
A big congrats to Zilch for pulling this off!
Have a great day and enjoy more FinTech industry news below👇
Cheers,
---
POST OF THE DAY
Digital Wallet 🆚 Physical Payment Card. Will the digital wallet replace the physical payment card? Let's find out.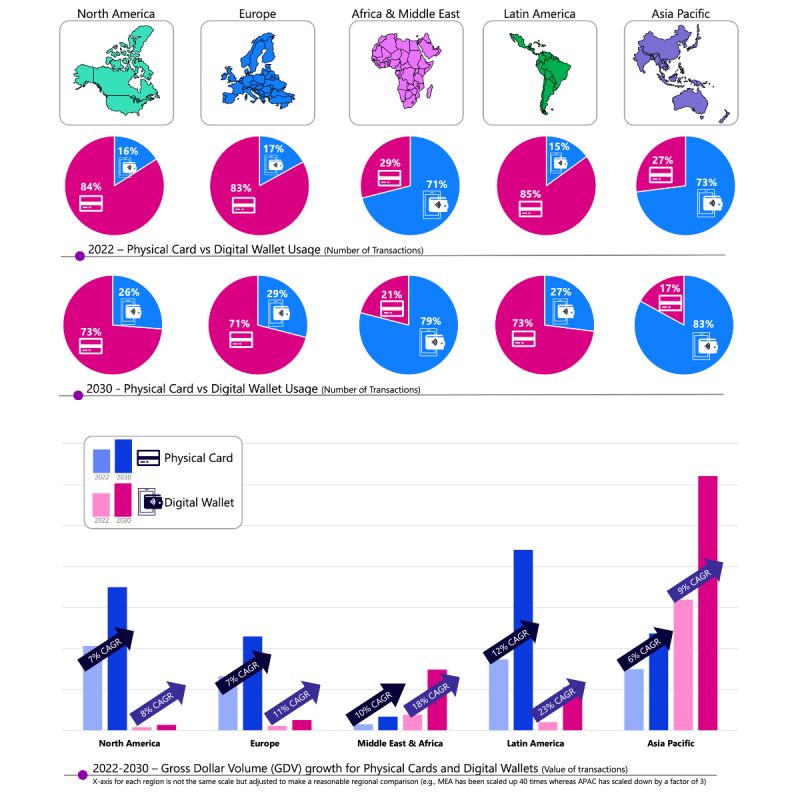 ---
FEATURED NEWS
🇸🇬Thunes bolsters leadership team, appointing Chloé Mayenobe as new COO. Mayenobe joins Thunes at a pivotal moment as the company continues its strategic expansion following its successful Series C fundraising in July 2023.
---
#FINTECHREPORT
BNPL to Grow Nearly 9-Fold through 2025 in Southeast Asia. In Southeast Asia, rising internet and smartphone usage, combined with a booming e-commerce sector and a sizable unbanked population, foster alternative payment methods. Read the full article for more details.
---
INSIGHTS
B2FI: Demystifying Software Sales Into Financial Institutions. In this piece, Andreessen Horowitz explains the "B2FI" strategy for fintech companies selling to financial institutions. Insights from successful businesses like SentiLink, Instabase, Databricks, Nova Credit, and Built Technologies are shared.
---
PODCAST
In a new episode of FinTech Leaders, Miguel Armaza interviews Stuart Sopp, CEO and Co-Founder of Current, one of the largest NY-based fintech platforms offering financial services to almost four million US consumers. Listen to the full podcast episode here
---
FINTECH NEWS
🇦🇺Uruguayan Paytech Prex surpassed 2 million users in the region. Prex, the digital wallet with a strong presence in the regional fintech industry, continues to be one of the platforms in the sector that has shown the most growth recently.
🇨🇱Costa Rican fintech Traderpal arrives in Chile. The app allows users to open an investment account in the United States and invest as little as $1, with zero fees per transaction. Read more
11Onze enters vehicle insurance sector with not-for-profit mutual insurance company Mussap. 11Onze is confident that the product will be popular given the demand for their home insurance product has been intense. More on that here
---
PAYMENTS NEWS
🇺🇸Americans Buy Now But Want to Pay Later: As wallets open wider, two fin-tech sectors that may be adding to spending are racing ahead, reshaping the financial landscape: "Buy Now Pay Later" (BNPL) and "Early Wage Access" (EWA).
🇸🇬Singapore to test interoperable QR Code scheme. This aims to enable Singaporean merchants to accept QR payments from various schemes through one financial institution.
🇻🇳Visa to open innovation space in Hanoi to introduce innovative payment technologies and solutions and solidifies Visa's commitment to digital transformation, heralding a new era of innovation and economic growth for the country.
🇬🇧Fourteen million UK adults used buy now pay later in six months, the FCA says. There has been a "significant increase" in the number of people using BNPL options to purchase items, with those frequently using the service more likely to be in financial difficulty, the regulator has said.
Worldline has formed a strategic partnership with Yuno. This collaboration aims to enhance and streamline the management of various online payment methods for businesses in LatAm, providing comprehensive and effective transaction solutions for digital businesses and enterprises.
Payoneer makes it easier for Etsy sellers to get paid. Through this collaboration, Payoneer's global infrastructure will offer Etsy sellers more services and seamless payouts in their preferred currency.
🇦🇺Square launches Tap to Pay on iPhone in Australia. Through Tap to Pay on iPhone, Square is making it easier for both new sellers and established businesses to conduct in-person commerce.
🇦🇺Zeller launches Tap to Pay on iPhone for business owners to accept contactless payments with Zeller App. This offers business owners hassle-free contactless payments, industry-leading features, and affordable pricing, ensuring fast and secure transactions.
🇨🇦Walmart Canada launches Buy Now, Pay Later option for its online customers. The new service is powered by Klarna and is available on Walmart.ca and through the Walmart Canada and Klarna mobile apps and allows customers to divide their purchases into four interest-free payments over a six-week period.
---
OPEN BANKING NEWS
🇺🇸Dwolla Connect gets open finance integrations. This helps Dwolla Connect clients securely transfer open finance data to the Dwolla platform, unlocking new capabilities like bank verification through trusted third-party providers.
🇬🇧TrueLayer partners with leading bookmaker William Hill for instant pay-ins and payouts. Users can choose Instant Bank Transfer for quick payments into William Hill accounts, powered by open banking and enabling instant transfers to bank accounts for a seamless user experience.
---
REGTECH NEWS
🇬🇧PXP Financial taps Foregenix for risk monitoring. The partnership will enable PXP to empower eCommerce clients from all sectors to enhance their cybersecurity using Foregenix's technology. Read more

---
DIGITAL BANKING NEWS
🇲🇽Ualá partners with Soriana for cash. This partnership makes it easy for customers to deposit cash at over 1,000 Soriana stores, improving access to banking services.
Mettle launches FreeAgent-powered tax calculation to help self-employed with taxes. This integration within a business bank account will give the self-employed more confidence around their business admin and give them a real-time view of the tax they owe.
🇬🇧Monzo and Starling among worst performers for APP fraud reimbursements, according to 2022 data published by the Payment Systems Regulator. The data reveals that TSB topped the charts, refunding 91% of the total value of APP fraud losses reported to the firm in 2022.
Revolut introduces Trading Pro across the EEA: a powerful set of tools for advanced traders. With Trading Pro traders can now benefit from discounted commission fees and higher order limits on US, EU stocks and ETFs. Read the full release
🇭🇰Over 45% of individuals and 76% of SMEs in Hong Kong have virtual bank accounts. Among the key factors that motivated individual respondents to open virtual bank accounts included high deposit interest rates, rewards for opening an account, and convenience to use.
🇬🇧Anthony Thomson, the co-founder of Metro Bank and founder of Atom Bank, discusses the UK challenger bank landscape and his new accelerator venture and states that is "Much, much harder" to launch a UK challenger bank today compared to 10 years ago.
---
DONEDEAL FUNDING NEWS
🇧🇷Brazilian fintech QI Tech lands $200M led by General Atlantic. The raise is believed to be the largest in Brazil — across all industries — this year so far, according to Crunchbase. Read the full piece here.
🇺🇸Charlie, a startup that provides banking services to Americans over the age of 62 has raised additional funding. Charlie plans to use the new capital toward rolling out a suite of personalized fraud protections designed specifically for its target customers, adding to its 15-person team and developing new products and features.
🇪🇸Twinco secures €50m to power supply chain finance. The funds will help support the company's portfolio, growing both its customer base and geographic footprint. Read more
---
M&A
EPI successfully completes acquisition of iDEAL and Payconiq International. This reinforces EPI's ambition to be a leading player in the European payments landscape and also underscores its commitment to provide Europe with an innovative, secure and instant digital payment solution.
🇧🇷Ebury gets green light to buy Brazil's Bexs Group. The acquisition will broaden Ebury's offering of international money transfer solutions for SMEs and amplify its digital offerings to online businesses in Brazil.
---
MOVERS & SHAKERS
🇦🇺Byron Bay fintech Zepto has laid off 20 per cent of its workforce as part of a restructure to limit its focus on controversial cryptocurrency exchanges and target areas with better growth prospects.
🇺🇸ACI Worldwide appoints Abe Kuruvilla CTO. In this role, he will lead ACI's innovation agenda, optimizing the way the company develops and delivers its industry-leading software solutions globally to banks, merchants and billers.
---
Want your message in front of 100.000+ fintech fanatics, founders, investors, and operators?
Shoot me a message on LinkedIn or send me an e-mail.