Daily News
Shopify Dives into Credit Cards in Fintech Move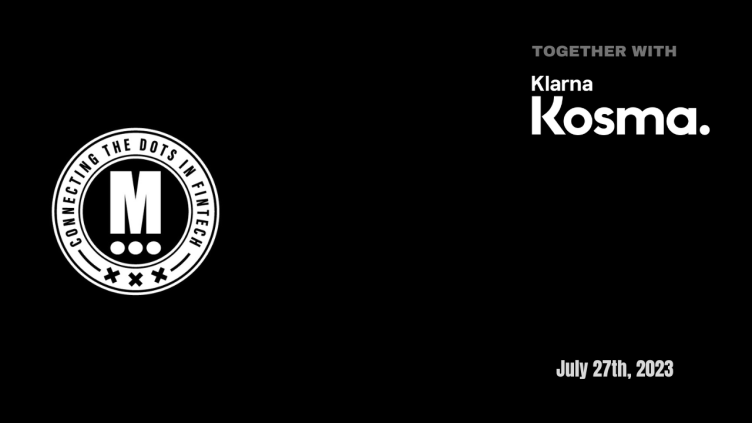 Terrific Thursday FinTech Fanatic,
Step into the vibrant world of FinTech in Brazil, where the spotlight shines on the cutting-edge payment solution PIX and the powerhouse Nubank, revolutionizing the financial landscape.
Last week PIX broke records by carrying out 134.8 million operations in one day, this week it's Nubank reaching a milestone of 80 million customers in Brazil. A staggering number that surpasses the customer base of Banco do Brasil.
Along with its operations in Mexico and Colombia, Nubank reached 85 million customers across Latin America.
This number has more than doubled in two years, since June 2021, when Nubank had a base of 41 million.
"The sustained growth in our customer base continues to reinforce the inherent efficiency and potential of our digital business model", says David Vélez, Nubank's founder and CEO.
---
SPONSORED CONTENT
---
NatWest CEO to step down
The Board of Directors of NatWest Group announced that Alison Rose has agreed by mutual consent to step down as Group Chief Executive with immediate effect.
As reported by various news sources the CEO of one of the biggest banks in the United Kingdom has resigned after admitting she leaked details about the closure of Brexit campaigner Nigel Farage's accounts to a BBC journalist.
"I made a serious error of judgment in discussing Mr Farage's relationship with the bank [with the BBC]," Rose said in a statement late Tuesday.
Her resignation comes less than a week after the UK Treasury proposed new rules that will force banks to "explain and delay" any decision to close an account; to protect "freedom of expression" and "address fears that banks are terminating accounts because they disagree with someone's political beliefs", the Treasury stated.
Shopify has entered the credit card game
And last but not least some news from the payments-front, as Shopify is pushing further into the FinTech space. The commerce giant announced that it is offering Shopify Credit, a business credit card designed exclusively for its merchants.
The new product is powered by Stripe and it is issued by Celtic bank, "and accepted everywhere Visa is", according to Shopify President Harley Finkelstein.
Onwards to the other FinTech news:
---
FinTech Egypt – an initiative by the CBE - has released "Egypt's FinTech Landscape Report 2023." This report is instrumented thoroughly by a combination of suitably designed surveys directed to more than 250 organizations from the FinTech ecosystem. Download the complete report here
Bitcoin's use case for payments has grown with the introduction of new technologies built on top of the Bitcoin network. But why have business and consumer adoption of payments been relatively slow so far? What has been built and what is missing? Download River's fintech report to learn more
---
INSIGHTS
Bye-bye, megabank: More young adults are adopting digital banking to manage their money. A new report published by data analytics firm FICO shows that a growing percentage of younger U.S. consumers-- specifically Gen X, Millennial and Gen Z groups -- consider digital banks as their primary checking account provider, not traditional megabanks. Check out results here
Central America and the Dominican Republic are experiencing notable growth in their FinTech sector. A report from Misión Lunar identified 272 fintech firms as of February 2023. The year 2022 alone saw the incorporation of 41 new FinTech firms, marking a significant increase of 25% compared to 2021. View report here
Demand for BNPL finance is collapsing. Australia's dalliance with buy now pay later services appears to be unravelling, with new consumer payments data revealing a dramatic slide in demand for the controversial payments method. Click here to read full article
Brazil's Pix used for more transactions that credit and debit cards combined. PIX saw transactions for Q1 hit 8.1 billion, compared to 4.2 billion for credit cards and 3.8 billion for debit cards. Read more
---
FINTECH NEWS
Form3 completes FedNow certification. To achieve certification, Form3 met the requirements of the FedNow Service testing program and attested that it is prepared to meet the requirements to successfully operate in a 24x7x365 instant payments environment.
Simpl introduces pay-after-delivery for online shoppers. With this capability, consumers can choose Simpl Pay After Delivery at the time of checkout which triggers payment only upon successful delivery of the shipment.
American Express unveils commercial partner programme. The American Express Sync™ Commercial Partner Program gives fintechs and software providers an easy and seamless way to embed American Express® virtual Cards into their own spend management, procurement, and other business software solutions.
Worldpay takes the wraps off turnkey 'Revenue Boost' package. The turnkey solution, which helps maximize conversions, minimize costs and reduce fraud for merchants, combines the power and scale of Worldpay's payments data with machine learning to maximize performance.
TrueLayer launches Payment Links for A2A payments via open banking. The new feature enables businesses to offer instant payments, powered by open banking, directly from an email, text message or a QR code.
Amlyze releases sanctions-busting screening module. The launch of the AMLYZE Screening Module underscores the company's unwavering commitment to developing comprehensive and future-proof AML solutions.
SAMA grants permit to BNPL platform Tabby. This means the Kingdom now has five authorized companies offering BNPL solutions, boosting its plans to become a regional fintech hub.
One Click Group's fintech platform One Click Life surpasses 100,000 users. Growth in user numbers has been increasing faster than prior years due to a consistent, funded and maturing marketing campaign.
ClearScore debuts automated debt repayment tool. The marketplace announced the launch of 'Clearer', a product that automatically repays people's existing debt when taking out a debt consolidation loan. Read more
---
DIGITAL BANKING NEWS
10x Banking plans Apac expansion. The platform announced its plans to accelerate the company's growth in APAC fuelled by a landmark studyrevealing that a third of banks in key markets across the globe are losing large numbers of their customer base to rivals due to slow transformation.
Cross River Bank closes second quarter with over $66MM in lender finance loans. The Company's growing CRE business saw 100 percent growth in number of lender finance loans originated. Merging technology and industry expertise has allowed Cross River's CRE team to scale and offer warehouse lines of credit across the country.
---
BLOCKCHAIN
Ripple Europe chief Sendi Young on beating the SEC, expansion plans, and upending SWIFT. A favourable ruling in its two year-long lawsuit against the US SEC, in which a judge decided that Ripple's sales of its XRP cryptocurrency do not constitute investment contracts, has the firm riding high.
Rob Hersov-backed Momint — a Cape Town-based tech startup — has launched a blockchain wallet that lets traders spend their cryptocurrency at over 10,000 retailers across South Africa. Read more
---
PARTNERSHIPS
Monese XYB integrates with Paymentology. This collaboration enables faster transaction processing, best-in-class fraud monitoring, and virtual cards linked to any major scheme, including Visa. Read more
Wahed launches a digitised endowment feature to tackle the cost of living crisis in the UK through a strategic partnership with iWaqf, a UK registered Charity to launch a dedicated Waqf (Islamic endowment) feature. The launch of the Waqf feature, enables individuals to donate to iWaqf with the objective of generating lasting social impact.
---
Austrian fintechs AgenaTrader and TradersYard raise €3.5m. This momentous investment marks a significant milestone for both as they embark on a transformative journey to redefine the trading landscape through cutting-edge trading platforms and a collaborative social trading network.
---
MOVERS & SHAKERS
Robinhood hires CEO for UK launch. The American stock trading app has tapped Freetrade executive Jordan Sinclair to lead its renewed plan for a UK launch. Sinclar has been approved by the FCA to act as Robinhood UK Ltd chief executive, a register shows, as reported by Bloomberg.
Wells Fargo EVP, Reetika Grewal, joins Fintech Sandbox board. As a board member, Grewal will provide important perspectives, leveraging her experience as an executive and technological leader of a top financial institution to Fintech Sandbox. Read more
N26 announced the appointment of Carina Kozole as chief risk officer and managing director, effective later this year. She will assume responsibility for risk management at the digital bank, bringing nearly two decades of experience in the banking and financial services industry.