Daily News
Revolut launched a very surprising new B2B product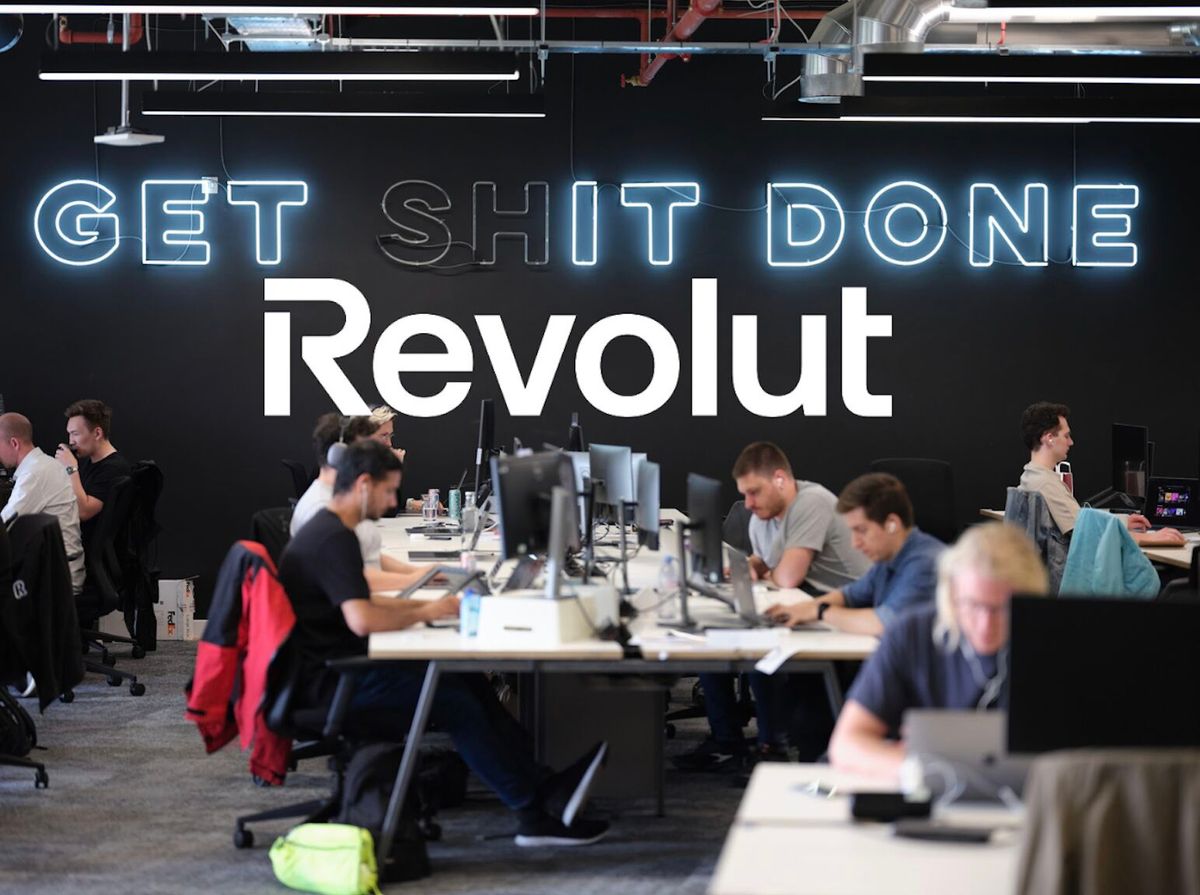 Good morning FinTech Fanatic!
Not a day without Revolut news it seems. Revolut made an interesting move and is now offering its in-house built HR software that manages its 7500 employees to external companies.
"The Revolut People" is now available: A system that they developed in-house and used for the last five years is now available for selected external companies (invite only).
According to Oleksii M., Revolut's fast-paced, achievement-driven culture and experience are bottled in the Revolut People. This includes a unique 'secret sauce' that enhances Revolut's performance, recruitment, and HR processes.
They went all the way from the manual employee performance taking spreadsheet to hiring and managing more than 7500 internal employees in the system.
If you think that your company should be on the waiting list too, DM Oleksii M. on Linkedin and he'll set you up.
Beyond the latest updates on Revolut, there's a wealth of additional fintech news worth exploring. Simplifying it for you, I've compiled a list below👇
Enjoy the read, and stay tuned for more curated news tomorrow!
Cheers,
---
PODCAST
From 0 to 6 billion in two years: Samir El-Sabini CEO & Co-founder at Juni, discusses how to really nail your Go-to-Market strategy, the big hole in the market they saw, AI, the importance of not being afraid of taking decisions, and much more. Listen to the full podcast episode here
---
#FINTECHREPORT
Which countries are at the top of their game when it comes to FinTech? Using data provided by research firm Statista, CNBC analyzed the top nations overall when it comes to financial technology. Read the full piece for more info.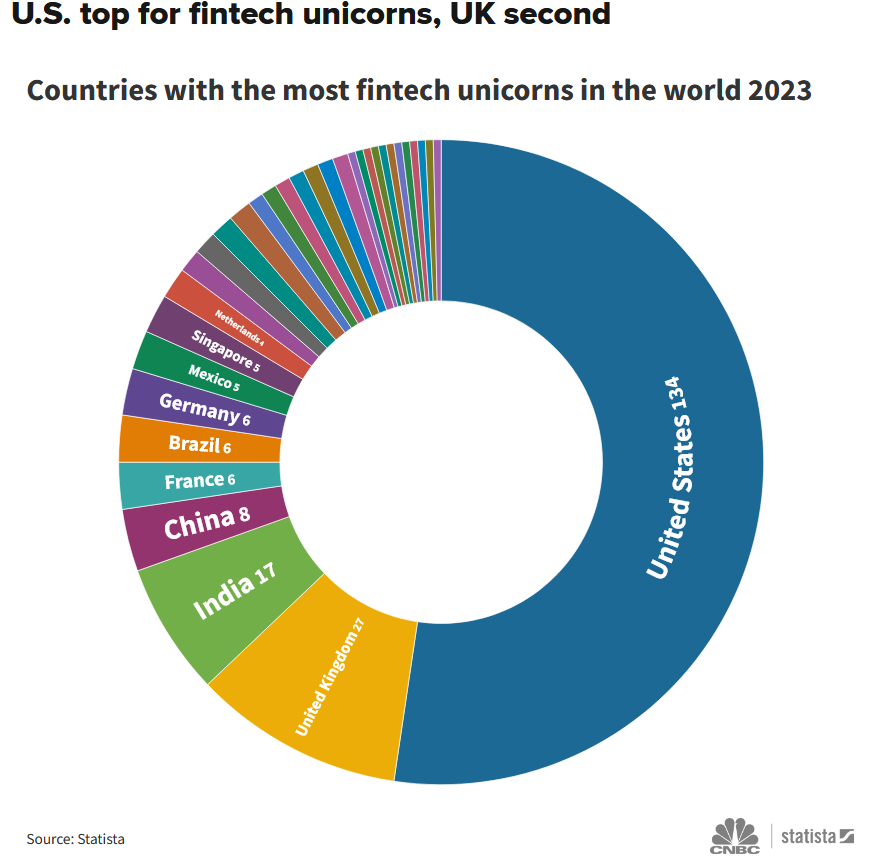 ---
FINTECH NEWS
🇺🇸 Ditch introduces AI-driven debt management app. This application represents a novel approach in the industry, aiming to alter the conventional methods of handling personal debt by incorporating AI-driven insights and solutions.
🇪🇸 Lightyear connects to Spanish exchanges. The company has connected with Madrid and Barcelona stock exchanges to offer Spanish investors the chance to buy into the IBEX 35, where 35 of Spain's biggest companies are listed.
🇰🇪 Flutterwave cleared as Kenyan court okays agency's request to withdraw second case. This development is a positive step for Flutterwave as it pursues a payments service provider and remittances license from the Central Bank of Kenya, which had flagged the company last year for operating without a license.
🇺🇸 Brex's quarterly revenue growth slows to 1%, following post-SVB growth spurt. In Q3, the company reported annualized net revenue of $283 million, a mere 1% increase from the previous quarter's $279 million. Compared to the same period last year, Brex's annualized revenue has experienced significant growth, rising from just under $200 million.
🇩🇪 Christopher Plantener, former founder and CEO of banking startup Kontist, has embarked on a new venture in the tax sector after Kontist's sale. Plantener, along with ex-colleagues Benjamin Esser and Melchior Neumann, has founded "Neuplaner GmbH," focusing on professional assistance in tax matters.
Wise reports a near-quadrupling of profits in the first half of 2023, boosted by higher interest rates. The firm has been gradually increasing the incentives for its payment customers to leave their deposits with the fintech, with its total customer cash holdings now totalling over £8bn.
🇫🇷 Qonto issues 100% recycled cards. This initiative is part of Qonto's "Impact" strategy, which aims to reduce the company's carbon footprint, while also offering tailored cards that meet customers' evolving needs.
---
PAYMENTS NEWS
🇺🇸 BNPL companies face grim outlook, Moody's says. Intense competition, rising regulation, challenging economic times and persistent losses led credit rating agency Moody's Investors Service to paint a dire outlook for BNPL companies in a report last week.
🇺🇸 B2B payments platform Tranch has rolled out its expanded product to major enterprise clients across the US. With Tranch's cutting-edge technology, clients can utilize Pay Now which integrates with the Real-Time Payment Network and FedNow to accelerate transactions through authenticated payments.
🇫🇷 Worldline has introduced Tap to Pay on iPhone for large businesses in France. The Worldline Tap on Mobile solution makes Tap to Pay on iPhone easy, secure, and private. Simultaneously, Viva.com is expanding its Tap to Pay on iPhone to France, allowing French merchants and businesses to accept in-person contactless payments using the Tap to Pay on iPhone and the Viva.com Terminal iOS application.
---
REGTECH NEWS
🇳🇬 The Nigerian government (Nasdra) signed a agreement with eGate and VISA to bolster the country's digital infrastructure, offering citizens digital identity and unified payment cards, with a focus on improving infrastructure, fostering financial inclusion, and creating innovative digital solutions for businesses and consumers.
---
DIGITAL BANKING NEWS
🇩🇪 N26 launched Instant Savings in Germany following a successful launch in Spain. N26 customers can earn up to 2.6% annual interest on their savings, paid out monthly. The account is free and provides full withdrawal flexibility.
🇲🇾 GXBank officially rolls out Beta digital banking app in Malaysia. This inaugural application will be accessible to an exclusive group of 20,000 Malaysian users, following a successful internal testing phase involving the bank's employees and partners.
🇦🇺 Parpera pioneers 'Marketplace Banking' in Australia. With enhanced choices, convenience, and streamlined experiences in a single app, it empowers businesses to efficiently manage their finances and risks.
🇨🇴 Another Bancolombia app outage highlights the need for more competition in Colombia's banking system. The Bancolombia app experienced a 24-hour outage the past weekend, affecting millions of users, highlighting the urgency of breaking down borders, emphasizing the critical need for open finance.
Tandem partners with home energy platform Kuppa. Launching in Q1 2024, the partnership will support new service for Tandem customers on its app and website, providing information and tools to help support green home decisions.
---
BLOCKCHAIN/CRYPTO NEWS
🇦🇪 Crypto.com granted Virtual Asset Service Provider licence by Dubai's Virtual Assets Regulatory Authority. Licence is subject to fulfilment of pre-operating conditions and qualifying for operational approval. Link here
🇧🇷 Nucoin reaches 13 million users in eight months, according to a newly launched block explorer tool that provides real-time information on the number of wallets and transactions, price and liquidity.
🇧🇷 Most Brazilian crypto firms remain unlicensed: The Central Bank is expected to issue specific rules for the sector by mid-2024, demanding from crypto players what it already requires from payment institutions.
---
DONEDEAL FUNDING NEWS
In the past week, we saw 14 deals in Europe for a total amount of €108.1m raised: Nine deals in the UK, one deal in Italy, one in Denmark, one in France, one in Austria and one in Switzerland. Link here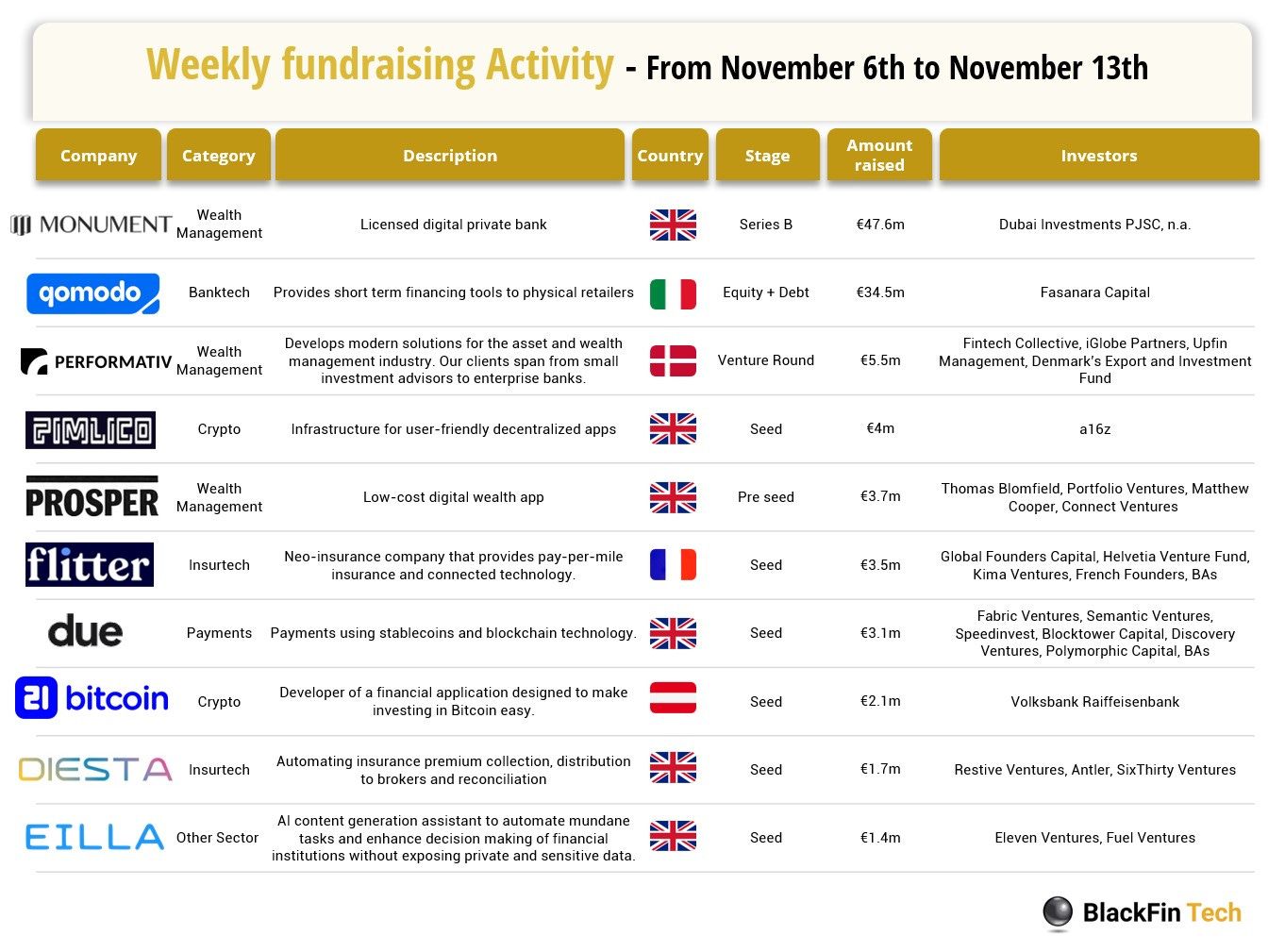 🇫🇷 Goodvest, a savings platform that finances companies commmitted to climate, raised €10 million. Founded in 2020, the startup offers life insurance and a savings plan aligned with the Paris climate agreement. It has just completed a €10 million round, a small feat for a fintech aimed at individuals.
🇸🇦 Tamara secures new debt financing, upsizes facility to up to $400 million. The new financing will support Tamara's ongoing strong demand for its flagship BNPL product and release capital for investments into new products and services.
🇮🇳 Fintech Unicorn slice secures $9 Mn from Stride Ventures in debt funding. The joint venture seeks to integrate advanced technology solutions with initiatives to promote financial inclusion at the grassroots level, an official statement noted.
🇬🇧 Goldman Sachs and BNP Paribas lead £77.7 million investment in Fnality. The new equity will further Fnality's goal of establishing a global liquidity management ecosystem for new digital payment models in both wholesale financial markets and emerging tokenised asset markets.
🇫🇷 French Fintech Defacto tops up Series A with €10m extension. The instant embedded lending platform, founded in 2021, provides short term loans to small and medium-sized businesses. Read more
🇺🇸 Co-branded card provider Imprint bags $75 million funding round. The company says it will use the new funding to extend its technology stack to multiple new vertical markets over the next six months.
---
M&A
Till Payments changes hands for meagre sum. It's game over for fintech Till Payments and its bigwig backers: Street Talk understands Canadian payments processor Nuvei is set to buy the struggling payments processor – once one of Australia's hottest start-ups, valued at $500 million – for $47 million.
🇦🇺 AKG acquired by Fintel to further extend its industry-leading portfolio of ratings and reviews for financial services and investment professionals. The transaction will also enable Fintel-owned Defaqto to expand and deepen its relationships within the investment management and financial advice communities.
---
MOVERS & SHAKERS
🇺🇸 Unicorn Carta lays off another round of employees. According to a Fortune report, three employees have confirmed that Carta is undergoing restructuring for the third time this year. The two previous rounds occurred in January and July.
---
Want your message in front of 100.000+ fintech fanatics, founders, investors, and operators?
Shoot me a message on LinkedIn or send me an e-mail.