Daily News
🇲🇽Nubank to launch personal loans for Mexican market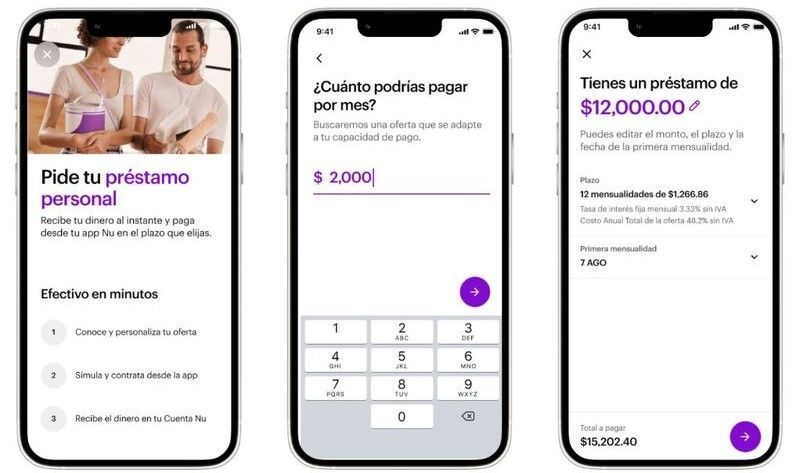 Good morning FinTech Amigos!
Greetings from sunny Amsterdam! We're soaking up an unexpected burst of summer here, making it a tad challenging to stay desk-bound. But worry not; I managed to list some interesting FinTech news for you anyway 😉
Today's most interesting FinTech development probably comes from a rather unexpected source: LinkedIn.
In a modern twist, 3S Money and the award-winning RegTech provider, Know Your Customer, announced a collaboration born from a unique LinkedIn challenge.
Ivan Zhiznevsky, CEO of 3S Money, posed a question to his online community regarding their document-retrieval capabilities for global businesses.
Rising to the challenge, Jamie Anderson from Know Your Customer showcased their data prowess through a single API, capturing the attention of over 50,000 professionals. And the rest is history.
As we watch social media bridge the gap between potential collaborators, this story exemplifies the boundless possibilities of the digital age.
As we spotlight transformative stories like that of Know Your Customer, it's a reminder of the impact visibility can have in the B2B FinTech space. If you're a B2B FinTech venture hungry for the spotlight, listen up!
I've crafted a sponsor pack tailored for firms like yours, and trust me, it's a game-changer.
However, with an aim to provide unmatched value to our readers, we're reserving this golden opportunity for a select few that best resonate with our audience.
Hurry and sign up, as spots are limited and we'll be handpicking the best matches. Seize the moment and elevate your brand today!
Apply for sponsor pack
---
NEWS HIGHLIGHT
🇧🇬 PayRetailers lands in Bulgaria, expanding operations and establishing development hub in Sofia. The Spanish company plans to hire 150+ technology and other profiles in the next 6 months. On September 11th, during an open house event in Sofia, PayRetailers' Founder/CEO and COO will unveil their expansion plans.
Wirecard's whistleblower plots new startup to avoid Wirecard 2.0 Pav Gill's new startup, Confide™, wants to make it easier for employees to call out company wrongdoings — and for companies to avoid media leaks.
---
POST OF THE DAY
What is UPI? And How does it work? Here's what you need to know.
---
#FINTECHREPORT
🇸🇦 Here are 20 amazing stats from the growing FinTech ecosystem in Saudi. I highly recommend reading the complete report for more info, stats and figures from the region. Please click here
---
INSIGHTS
15 emerging trends in banking and payments. In an ever-evolving financial landscape, the banking and payments sectors stand at the forefront of innovation, driven by a new generation of startups. Read the complete source article by Bernardt Vogel here
CMO Interview: Irina Chuchkina of Payments Titan Thunes. Thunes is building a proprietary global network of direct connections to local payment brands for an improved and more connected cross-border payment experience. Access the interview here
---
FINTECH NEWS
🇲🇽 Mexico is working towards modernizing and reforming fintech regulation, as articulated by Gabriel Yorio, the Undersecretary of Finance. The Ministry of Finance has spearheaded the first Fintech Week and, in collaboration with industry associations, initiated the Financial Innovation Group.
🇧🇷 Yuno, a major online payment orchestrator for large and medium-sized companies, has recently incorporated Eduardo Gouveia and Sérgio Saraiva as board members. They're poised to leverage their e-commerce and payment platform experiences to further Yuno's growth ambitions in Brazil.
🇮🇱 Pagaya bidding to acquire GreenSky for up to $800 million. The Israeli fintech company has advanced to the final stage in the bidding for the purchaseof GreenSky together with the likes of the Apollo investment fund and growth investment firm Sixth Street.
J.P. Morgan Payments Partners in Middle East with Network International. J.P. Morgan Payments operates in over 160 countries and over 120 currencies and is one of the leading merchant acquirers globally by volume of transactions.
---
PAYMENTS
🇩🇪 Viva.com introduces Tap to Pay on iPhone for Dutch merchants. Tap to Pay on iPhone enables Viva.com's network of merchants to use a payment solution that is easy to set up and use. Read more
🇵🇭 Ant Group brings Alipay+ to thePhilippines. Ant Group announced that a total of four mobile wallets are now accepted in the Philippines. This enables travellers from these regions to enjoy a cashless experience, using just their home mobile wallets to make payments.
🇩🇪 Adyen plans November Investor Day after $23 billion wipeout. Dutch payments processing firm plans an investor day to ease concerns about its growth ambitions following a selloff in the shares.
---
DIGITAL BANKING NEWS
🇲🇽 Nubank to launch personal loans for Mexican market. The new product will allow customers to obtain personal loans in less than five minutes through its platform, the digital bank's Mexican arm, known as Nu Mexico, said in a statement.
🇲🇽 Dimo® (Dinero Móvil) is Banco de México's new digital payment tool that enables real-time money transfers using only a cellphone number. Jaime Márquez Poo, from the Mexican fintech firm STP, emphasized that Dimo® stands out due to its speed and simplicity, eliminating the need for long bank account or card numbers.
FutureBank implements IDVerse to speed customer onboarding. Through this alliance, new FutureBank customers can access the IDVerse software as part of its offering. IDVerse customers looking for a middleware platform can connect their API credentials to benefit from FutureBank's platform.
🇬🇧 Wamo selects Modulr as BaaS provider. The company intends to reignite its EU and UK presence with additional features and services to strengthen its business account offering for SMEs. Read more
🇲🇽 Scotiabank México has forged a strategic partnership with online platform Lamudi and digital broker Morgana to streamline real estate purchases via mortgages in Mexico. Through this alliance, Scotiabank expects to generate around 3,000 mortgages in the coming 12 months.
---
BLOCKCHAIN
Binance announces Send Cash in Latin America. This new solution will allow people to use the crypto payment technology offered by Binance Pay and the services of licensed providers to make their digital transfers more easily, by reducing time and costs.
---
DONE DEAL FUNDING NEWS
🇺🇸 Parallel Raises $1.85 Million Pre-Seed Investment. Parallel is a startup founded in April 2023 that is focusing on solving the financial forecasting pain point of headcount forecasting. Read more
🇧🇷 Lightspeed Venture Partners is making its debut investment in Brazil by leading a seed round for Cumbuca, a fintech aiming to redefine joint accounts. This financing will facilitate the launch of a card and operational licensing as a payment institution.
🇨🇭 Swiss B2B fintech GenTwo raises $15 million. The funding will be used to support international expansion and invest further in the GenTwo financial engineering platform.
🇮🇱 Financial crime detection outfit ThetaRay raises $57m. The new funding will be used to accelerate global growth plans and capitalise on surging demand for new AI-based technologies in the $9 billion financial crime fighting market.
🇦🇪 MyZoi Raises $14 Million to Bolster Financial Inclusion. These achievements mark a significant milestone in myZoi's mission to enable, digitise and simplify access to essential financial services for over 5 million1 low-income migrant workers in the UAE and beyond.
---
MOVERS & SHAKERS
🇨🇭 Alpian CEO steps down. The Board of Directors of Alpian announced that the Chief Executive Officer (CEO), Schuyler Weiss, has resigned in order to embark on a new journey in public service in the United States.
🇸🇬 MAS chief Ravi Menon retires. MAS announced that the President of the Republic of Singapore has appointed Mr Chia Der Jiun as Managing Director (Designate), MAS from 1 November 2023 to 31 December 2023, and as Managing Director, MAS from 1 January 2024 to 31 May 2026.
---
Want your message in front of 100.000+ fintech fanatics, founders, investors, and operators?