Daily News
Nubank applies for a banking license in Mexico 🇲🇽
Hi there FinTech Fanatic!
Nu Mexico announced that it has applied for a banking license with the National Banking and Securities Commission (CNBV), the local regulator.
This strategic step follows Nu's affirmed leadership in the region: in addition to being the largest Popular Financial Society (Sofipo) in the market, Nu Mexico is now one of the leading issuers of new credit cards in the country as well.
It also follows the successful launch of its savings account and debit card, which gained more than 1 million customers in less than a month after its public launch.
The banking license marks a crucial milestone in Nu's roadmap in Mexico, as it will allow the company to better cater to the needs of a broader public, as well as to offer its customers a wider range of products and gradually become their primary financial relationship.
In Brazil, where the company has over 80 million customers, it is already the primary banking relationship for almost 60% of those customers.
Meanwhile in Europe, Stripe announced that its merchants across the UK and Europe can now use open banking payment options for their customers through TrueLayer.
Listed on Stripe's Payment Element — an embeddable UI component for checkout pages — merchants can seamlessly offer TrueLayer's open banking payment option within Stripe's checkout.
Customers using Stripe will now be able to make open banking transactions rather than card payments. "It's a very exciting day for us, and for open banking," TrueLayer co-founder and CEO Francesco Simoneschi told AltFi.
The FinTech industry never stops moving, and with Money2020 coming up this weekend in Vegas, I 'm sure we'll hear about more product launches on Monday.
Enjoy your weekend and until the next!
Cheers,
---

---
POST OF THE DAY
APM (Alternative Payments Methods) Payment Rails & Funding Methods infographic by Up in the Air | Consultancy👇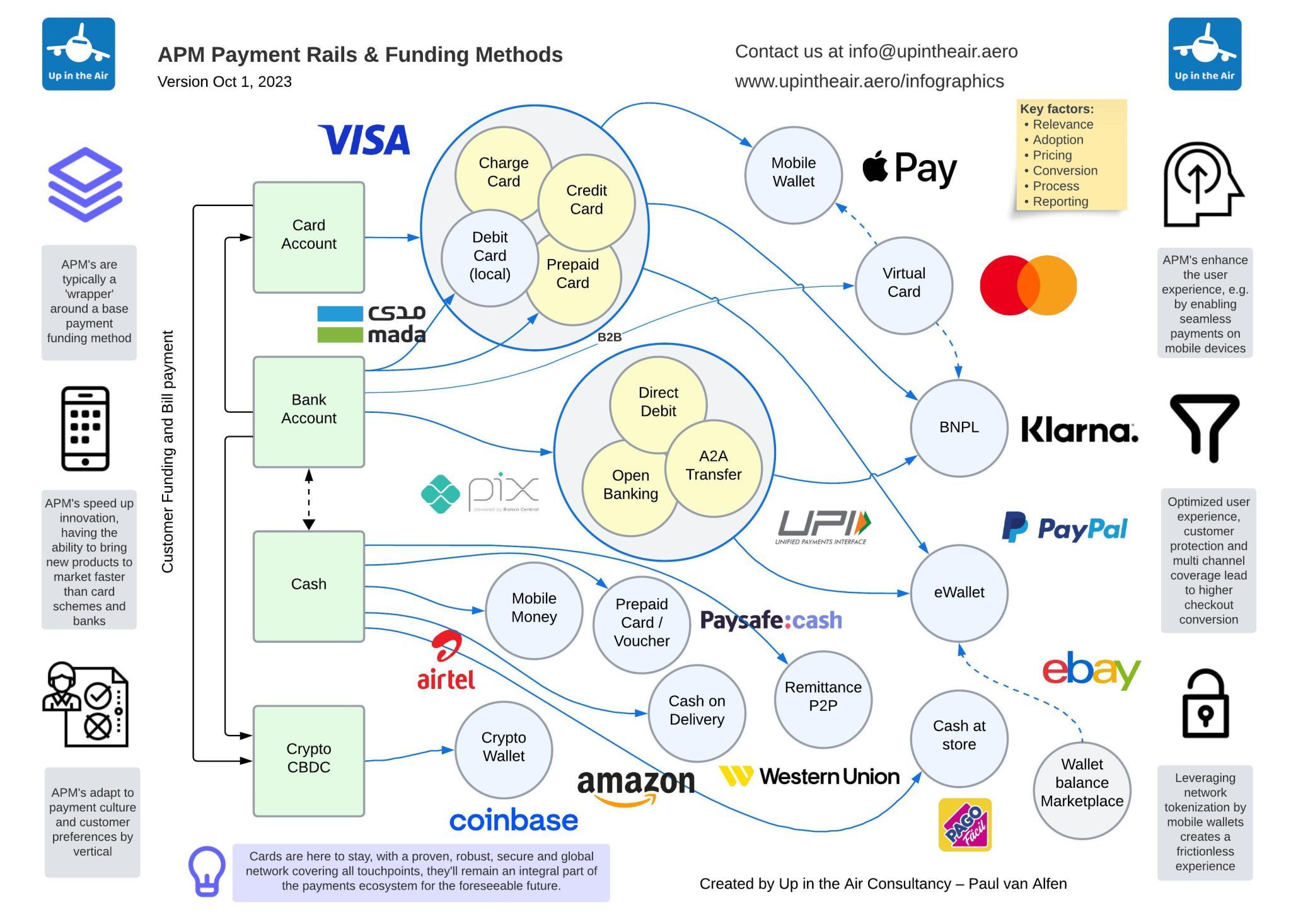 ---
#FINTECHREPORT
Global FinTech funding showed signs of stabilizing in Q3'23, falling by 3%. It reached $7.4B in Q3'23 — a 3% drop from the previous quarter. Download and read the CB Insights complete report here
---
FINTECH NEWS
🇦🇪Pemos teams with Mastercard to promote cashless, flexible expense management for small and medium-sized businesses (SMEs) in the UAE. Read more
🇲🇽Mexican fintech Stori looks to lure new savers with higher yields. Data from Mexico's financial products watchdog Condusef shows that the accounts would be the highest-yielding ones offered in the local financial sector.
🇵🇭YC-Backed Cera Brings Stablecoin-Based U.S. Stock investing to the Philippines. Cera has announced its beta launch in the Philippines through a partnership Fireblocks, and it's offering up to US$50 for new sign-ups that make eligible deposits.
🇦🇺New app KttiPay helps Aussies split bills, not relationships. The new app is promising to save Aussies from having to pay more than their fair share in group spending scenarios.
🇦🇺Grapple launches invoice finance AI tools as invoices funded surges past $200m. Grapple is the first-to-market invoice financier to launch the use of a 'ChatAI Assistant' (called 'GrappleAI') in their platform for operational users to have better access to information.
🇧🇷Fintech Lina Open X has been licensed by the Central Bank as a payment initiator in Brazil. Additionally, the company is finalising its second round of funding, which it intends to announce later this year, and plans to double its customer base.
---
PAYMENTS NEWS
🇬🇧B2B BNPL player Mondu registers with FCA and goes live in the UK. This launch comes on the heels of expansion into the Netherlands and Austria, providing customers with a variety of services, including, MonduOnline B2B BNPL for e-commerce checkout.
🇫🇷BNP Paribas launches fintech for marketplace payments. The new venture dubbed Panto, operates through a full service plug-in API, and is targeting European B2C e-commerce players, in particular the marketplaces that are BNP Paribas customers.
🇺🇸Square introduces ten new generative AI features that sellers can use now to automate operations, speed up workflows, and regain time. The tools are directly integrated into Square's powerful business software and provide the company's millions of sellers.
🇬🇧Curve selects Nuvei to support international expansion. The alliance aims to provide card acquiring and alternative payment methods (APMs) for consumer transfer of funds to and from their Curve digital wallet.
🇦🇺ezyCollect introduces Payment Plans to transform recurring payment management. The firm has unveiled the beta release of Payment Plans, a highly adaptable and efficient instalment payment management feature built to streamline and expedite how business manage recurring payments.
---
OPEN BANKING NEWS
🇺🇸CFPB's proposed 1033 rule just dropped. Check out the details here
Mastercard inks open banking deals with Worldpay and Zip. The deal with FIS unit Worldpay means people can permission their data to be shared (not stored) seamlessly between trusted parties and securely pay bills directly from their bank account.
---
REGTECH NEWS
🇦🇪Nymcard improves fraud management with ACI Worldwide. Nymcard has deployed ACI Fraud Management via ACI's public cloud environment across several markets in MENA and aims to further strengthen its fraud defenses in response to the rapidly evolving fraud landscape.
🇳🇱Rabobank and SurePay introduce Fraud Risk Indicator, which provides banks with additional risk indicators, facilitating the detection of fraudulent activity by criminals. Moreover, the system helps reduce the number of false fraud reports, or 'false positives'.
JPMorgan Payments selects Trulioo to provide global ID verification. J.P. Morgan Payments will leverage Trulioo services for global person and business verification to support a simplified, frictionless payments experience worldwide as part of the agreement.

Subscribe now
---
DIGITAL BANKING NEWS
🇮🇩GoTo, Bank Jago team up for new bank account offering. Named GoPay Tabungan by Jago, the service combines GoPay's e-money with banking features, enabling users to pay at various merchants through QRIS for both online and offline purchases.
Kakao steps up its presence in Southeast Asia. Having built one of the only successful super apps outside of China, Kakao, known for its thriving super app and digital banking services, is expanding overseas, starting with Thailand in partnership with Siam Commercial Bank (SCB).
🇵🇹The Banco de Portugal is introducing a new payment feature that will revolutionize transfers in the country. By the first quarter of 2024, bank customers will be able to make transfers without needing to know the recipient's IBAN, instead using just their phone number.
🇬🇧This Australian founder wants to build the UK's first superapp. "Everyone has been waiting for the fintech super app. Well, it has come from an employment platform," Employment Hero cofounder Ben Thompson tells Sifted.
---
BLOCKCHAIN/CRYPTO NEWS
🇮🇪Coinbase picks Ireland as its main EU regulatory hub as U.S. authorities go on the offensive. Coinbase submitted its application for a license under the EU's new Markets in Crypto-Assets (MiCA) regulation, which is set to come into force by December 2024, with the Central Bank of Ireland.
🇺🇸New York sues Gemini and DCG for defrauding investors of $1.1bn. The lawsuit alleges that Gemini knew Genesis' loans were undersecured and at one point highly concentrated with one entity, Sam Bankman-Fried's Alameda, but did not reveal this information to investors.
---
DONEDEAL FUNDING NEWS
🇲🇽Airwallex to acquire Mexico's MexPago. The acquisition will enable Airwallex to expand its financial infrastructure into Latin America and advance its mission to empower and support businesses to grow and operate across borders.
🇺🇸Finzly closes $10 million funding round. The funding will be used to accelerate Finzly's expansion as it continues to meet the growing needs of financial institutions for digital transformation.
Uncapped scores £200 million debt facility from Fortress Investment group. Uncapped finances a wide-array of sectors including ecommerce, direct-to-consumer (DTC), fashion, software as a service (SaaS), gaming and app development. Link here
🇺🇸Fintech Skipify has secured a strategic investment from Samsung. The fintech works with financial institutions to directly pull and store consumers' eligible payment and billing address information on file, after securely authenticating the user at checkout.
🇬🇧Globacap raises $21m to digitise private capital markets. The firm will use the new funding to ramp up its marketing and sales efforts, expand into new geographies and invest in developing its product. Read more
Saudi fintech Takadao raises $1.6 million in pre-Seed round led by Tim Draper. Takadao extends the reach of Islamic finance by providing shariah-compliant loans and insurance through the blockchain, enabling global access even in countries where populations are largely unbanked.
Atom Tech founder's cross border payments startup Hiwi bags funding. The startup has earmarked fresh capital for advancing product development and executing a strategic go-to-market rollout.
🇨🇦Hiive, which offers a marketplace to buy and sell shares of private tech companies, lands $4.2M. The platform lets users see how a private company's stock fluctuates up or down, similar to a public stock, and has more than 12,000 users, with over 1,000 institutional members.
🇩🇪Germany's climate fintech Cloover secures €7M to expand 'Netflix of renewable energy' service. Cloover will use the investment to enhance its software platform, expand its service offerings, to launch in Germany, and expand across Europe as it aims to deliver renewable energy to one billion people.
---
MOVERS & SHAKERS
🇬🇧Jim McCarthy named as Thredd CEO. McCarthy, based at Thredd's global headquarters in London, is highly accomplished in the payments sector with over 30 years of experience.
🇬🇧ClearScore hires Brian Cole as its new group CFO. Cole takes over from ex-CFO Grant Foley who left ClearScore over the summer to take up the same position at shipbroker Braemar.
---
Want your message in front of 100.000+ fintech fanatics, founders, investors, and operators?
Shoot me a message on LinkedIn or send me an e-mail.