Daily News
Revolut is one step closer to a UK Banking License and Monzo is up for its second attempt in the US
Good morning FinTech Fanatic!
Today, I have a lot of digital banking news for you: First, Revolut has resolved an ownership structure issue with its largest investor, SoftBank, marking progress towards securing a long-pending UK banking license.
The Bank of England (BoE) demanded that Revolut simplify its share structure, collapsing six classes of shares, as a condition for the license approval.
Although this agreement doesn't include new shares for SoftBank and won't financially impact Revolut, it is pivotal for moving forward in the licensing process.
While this marks significant headway, Revolut still faces other challenges, such as providing clear and timely financial accounts and addressing scrutiny over its systems from financial regulators.
The UK banking license is vital for Revolut to expand its services, such as offering a full suite of lending services and providing deposit insurance, and to bolster its expansion in other markets like the US, Australia, and Singapore.
Meanwhile, Monzo is gearing up for a renewed endeavor into the US market with the hiring of Conor Walsh, a former executive at Cash App, as its new US CEO.
Monzo COO Sujata Bhatia announced the news in an interview live on stage at Sifted Summit yesterday.
This marks the financial technology company's second attempt at US expansion after a previous initiative faced regulatory roadblocks in obtaining a local banking license.
Walsh, with his extensive experience in the fintech sector, is poised to navigate Monzo US's product, strategy, growth, and hiring.
In a shift from its previous strategy, Monzo will not seek a US banking license but will instead collaborate with a local bank, entailing revenue sharing. Moreover, while the neobank has ventured into investment offerings, it has decidedly steered clear of including cryptocurrency in its services, citing misalignment with the company's principles.
On the home front, Monzo appears to be navigating toward steady financial footing, being profitable monthly since March and anticipating full-year profitability in its 2023 results, thanks to diverse revenue streams and strategic product launches, like its Flex Buy now, pay later offering.
Now on to other global FinTech industry news I listed for you today👇
Enjoy!
---

---
POST OF THE DAY
FinTech 100: The Most Promising FinTech Startups of 2023🚀 Here's CB Insights' complete list of this year's winners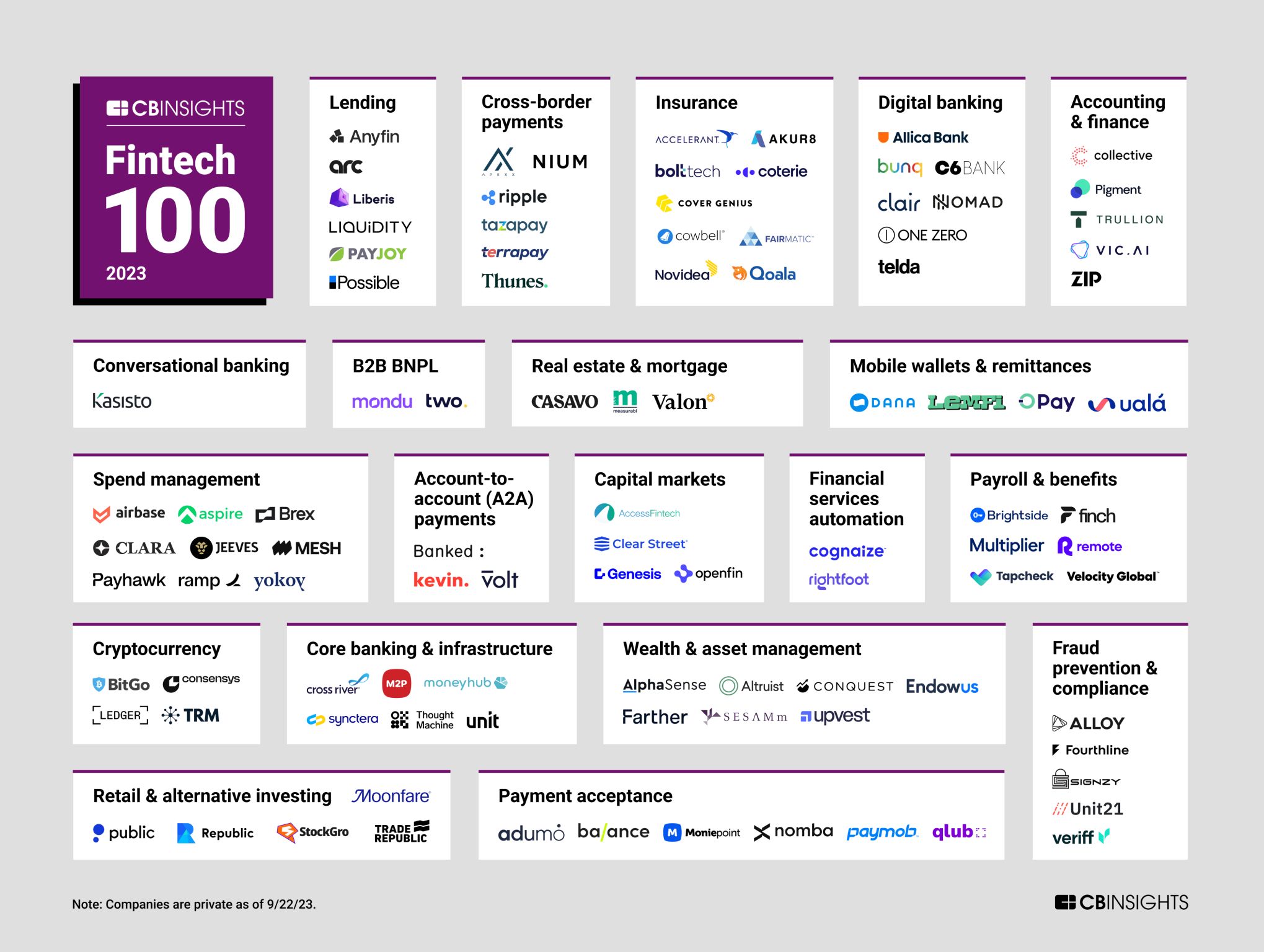 ---
#FINTECHREPORT
The Nordics Payment Methods. Card payments are the backbone of Nordic e-commerce. VISA and Mastercard are widely accepted, but each Nordic country has its preferences. Get report here
---
FINTECH NEWS
🇫🇷Swan announces partnership with HR and finance software leader Lucca. Swan's Banking-as-a-Service (BaaS) technology is already allowing Lucca to enhance its expense management offering, improving the user experience by driving out inefficiencies through embedded finance automation.
🇲🇾PayNet Collaborates with Paywatch to roll out earned wage access solution. This partnership will make PayNet the first employer in Malaysia to bear all transaction costs for its employees on the Paywatch platform.
🇨🇭GenTwo and Swissquote enter into partnership. With this partnership, GenTwo continues to strengthen its unique financial engineering network and enhances the company's offering in the market.
🇺🇸PayZen launches innovative Financial Solution for affordable care with the Care Card and partners with Geisinger & UTMB. The revolutionary product is designed to address affordability pre-care and longer care cycles.
🇺🇸Stockpile and Green Dot partner on debit cards for minors. The collaboration will introduce innovative products, tools and features to empower individuals, the companies said in an Oct. 3 press release.
---
PAYMENTS NEWS
🇺🇸Afterpay's Block begins lay-offs after stock crashes. Block has begun laying off staff as the parent company of Australian buy now, pay later darling Afterpay grapples with new internal targets and a sinking share price.
🇺🇸PayPal, Venmo credit and debit cards now available to add in Apple Wallet. Customers can continue earning their cashback and rewards while using Apple Pay to make payments with their PayPal or Venmo credit and debit cards in-store, online or in their favorite apps.
🇦🇷Tapi integrates Prex into its payment infrastructure as a regional strategy. With the integration, tapi users will be able to scan and pay bills for more than 15,000 local businesses, covering a wide variety of sectors.
Fiserv joins Swift Partner Programme. As a partner, Fiserv will enable connectivity to Swift APIs and enhance support for Swift GPI (Global Payments Initiative) for Fiserv client financial institutions.
---
OPEN BANKING NEWS
🇸🇦Salt Edge and SeaPay join forces for Saudi open banking push. This collaboration aims to provide local merchants in Saudi Arabia with innovative open banking solutions, aligning with the Saudi Central Bank's vision for a thriving business environment.
---
REGTECH NEWS
🇿🇦South African digital banking platforms experienced a surge in fraudulent activities in 2022, with banking applications and online banking being the primary targets, according to the South African Banking Risk Information (Sabric) Annual Crime Stats.
🇪🇪Veriff ships new fraud mitigation packages. These offerings provide organizations powerful tools and expertise to mitigate fraud attempts and verify more genuine users efficiently. Read more
🇺🇸BHG Financial teams with Cable to deploy advanced automated financial crime assurance and testing capabilities. BHG Financial aims to further strengthen its commitment to regulatory compliance by leveraging the power of data, analytics, and innovative technology across its business.
Subscribe now
---
DIGITAL BANKING NEWS
Banks join with Experian to launch 'tell-it-once' platform for disabled consumers to tell multiple service providers how they need to be contacted and what support they need to access their services. The platform, Support Hub, seeks to alleviate barriers faced by a variety of customers.
🇬🇧Saga partners Flagstone on savings platform for over-50s. Through the Saga Savings Platform users can choose accounts with various terms and providers, easily accessing and transferring funds within a single app. Read more on this topic here
🇨🇱Brazil's Itaú stirs fintech competition in Chile with neobank offering. Itau has recently unveiled plans for "Itu," a digital banking venture initially offering a virtual account and a Mastercard debit card. "Itu" is set to facilitate payments both in-person and online, as revealed by Gabriel Moura, General Manager at Itaú Chile.
🇦🇺BOQ buries ME's award-winning credit card. "From 2 October 2023, ME is not accepting new credit card applications," the BOQ subsidiary told brokers in a notification. The bank stated that existing holders of ME-issued cards would continue to be serviced by the bank but did not specify for how long.
---
BLOCKCHAIN/CRYPTO NEWS
🇨🇳China lets foreign visitors use credit cards to fund a central bank digital currency wallet. Tourists and other foreigners visiting China can now upload digital yuan to the country's prototype central bank digital currency (CBDC) digital wallet using their Mastercard or Visa credit card.
🇬🇧Corytech unveils groundbreaking Crypto Invoicing feature. This state-of-the-art feature empowers businesses to accept payments in both traditional fiat and cryptocurrency. Read more
🇸🇬Ripple obtains in-principle regulatory approval in Singapore. The license will allow Ripple to offer regulated digital payment token products and services in the city state, and further scale its customers' use of its crypto-enabled On-Demand Liquidity (ODL) service.
---
DONEDEAL FUNDING NEWS
🇸🇪Brite Payments secures $60m raise to accelerate instant payments in Europe. Brite plans to use the funds to increase on its growth trajectory, increasing the size of its team, both in terms of specific roles like engineers and developers, and also in terms of location.
🇺🇸Blackstone leads $61m venture round in AP automation outfit Stampli. This investment in Stampli highlights Blackstone's thematic focus on investing in businesses driving the digitization of the economy, as well as those enabling and benefitting from AI adoption.
ABN Amro combines venture arm with Motive Partners' platform in a deal that could drive further consolidation in the industry. Under the agreement, Motive Ventures will manage €150 million ($157 million) in assets under management from the ABN Amro Ventures Fund.
🇧🇷Brazilian startup Gringo raises $29M to scale their app. With this funding, Gringo will strengthen their credit and insurance products. They will also add new features and plan to grow their user base to over 20 million in the coming years.
🇺🇸WealthTech Vyzer secures $6.3 million in seed funding. The funds will enable Vyzer to enhance its platform's AI capabilities, develop new features, and broaden its market presence. Read more
---
M&A
🇬🇧Wagestream buys Keebo to help workers access credit. The acquisition will add credit access to the mix. Keebo uses Open Banking data, considering their overall financial behavior rather than just their credit score.
🇬🇧Travelex owners considering sale of company, sources say. The owners, which include former bondholders that took control of Travelex through a debt restructuring, are working with advisers at Barclays and Smith Square Partners to gauge buyer interest, said two of the people.
---
MOVERS & SHAKERS
🇬🇧ClearBank hires ex-Zopa chair to lead group-level board. Peter Herbert has been appointed as the new group chair, leading alongside three new board members: Tim Wade, Richard Anderson, and Susanne Hannestad.
---
Want your message in front of 100.000+ fintech fanatics, founders, investors, and operators?
Shoot me a message on LinkedIn or send me an e-mail.