Daily News
Revolut's Rebrand and FTX's Night of Battling a $1 Billion Crypto Robbery Attempt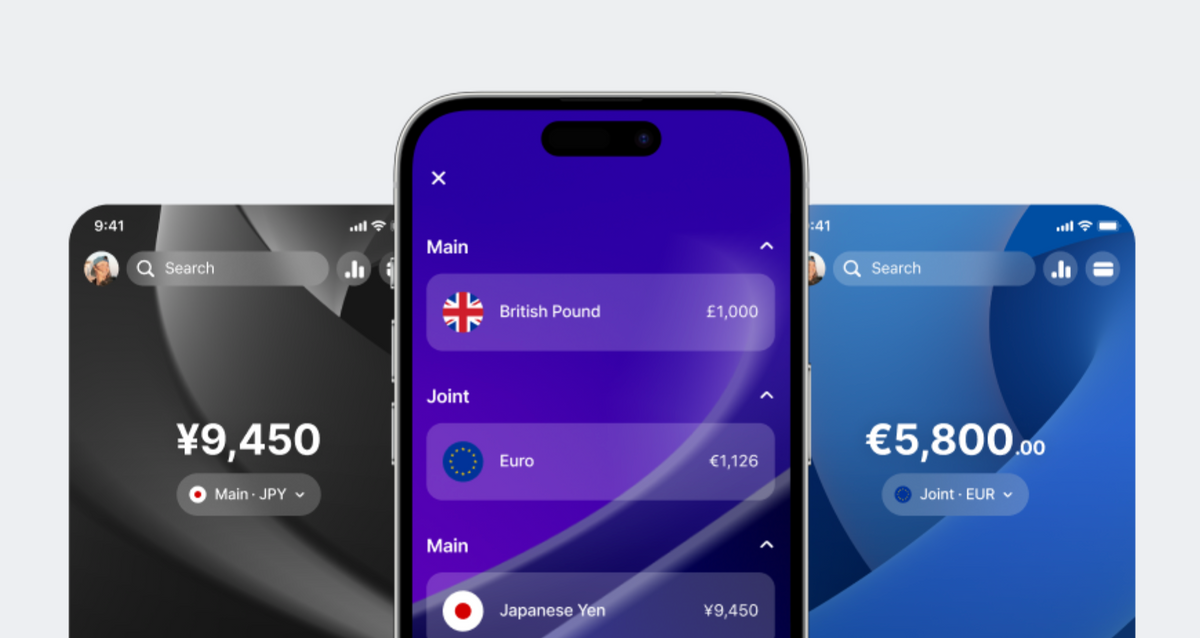 Good morning!
As the trial of FTX's disgraced founder Sam Bankman-Fried enters its second week, I'll start todays news update with two related crypto stories:
The same chaotic day FTX declared bankruptcy, someone began stealing hundreds of millions of dollars from its coffers.
FTX's financial disclosures reveal a staggering loss ranging from $415 million to $432 million in cryptocurrency to unidentified perpetrators, a figure validated publicly amid its insolvency proceedings.
Unrevealed until now is the frantic behind-the-scenes action, wherein FTX's team, supported by external experts, astutely navigated through the crisis to prevent a considerably larger financial catastrophe.
They strategically transferred over $1 billion worth of cryptocurrencies to secure storage to safeguard them from the unauthorized entity invading their network. In a high-stakes maneuver, close to half a billion dollars were urgently dispatched to a tangible USB drive at a consultant's workspace to elude the criminals.
As the legal scrutiny of FTX's fallen leader, Sam Bankman-Fried, escalates into its second week, the global crypto community intently observes the courtroom drama, seeking insights into how the exchange succumbed to such a dramatic plundering mere hours post its detachment from his governance.
The conundrum of identifying the criminals, whether internal conspirators or external aggressors, overshadows the proceedings. This enigma persists, with neither Bankman-Fried nor any senior FTX executives currently implicated in the crime.
Exclusive details now emerge regarding FTX's desperate efforts on that catastrophic night, working tirelessly to mitigate the repercussions of the heist and averting what could have escalated into a loss surpassing a billion dollars.
It's an incredible story by Wired I highly recommend reading.
Back to the trial where on Tuesday, in a packed Manhattan courtroom, the relationship between Sam Bankman-Fried and his former girlfriend Caroline Ellison took a turn.
The two faced each other for the first time since the cryptocurrency trading companies they built together, FTX and Alameda Research, collapsed in November.
Ms. Ellison repeatedly blamed Mr. Bankman-Fried, 31, for crimes that led to FTX's implosion. She testified that he instructed her to draw from FTX customer funds to finance venture investments and loan repayments by Alameda Research, a crypto hedge fund that she oversaw for him.
She said Alameda took around $14 billion, only some of which it was able to repay.
To be continued...
Meanwhile, Revolut has launched "Revolut 10", its biggest update yet, with a major overhaul of the design and layout of the app .
What do you think about this new design?
Cheers,
---

---
#FINTECHREPORT
"The Real-Time Payments World Map" report indicates that Thailand is leading the way in real-time payments transactions per capita. Bahrain and Brazil are also expected to surpass this trend by 2027. Download the full report here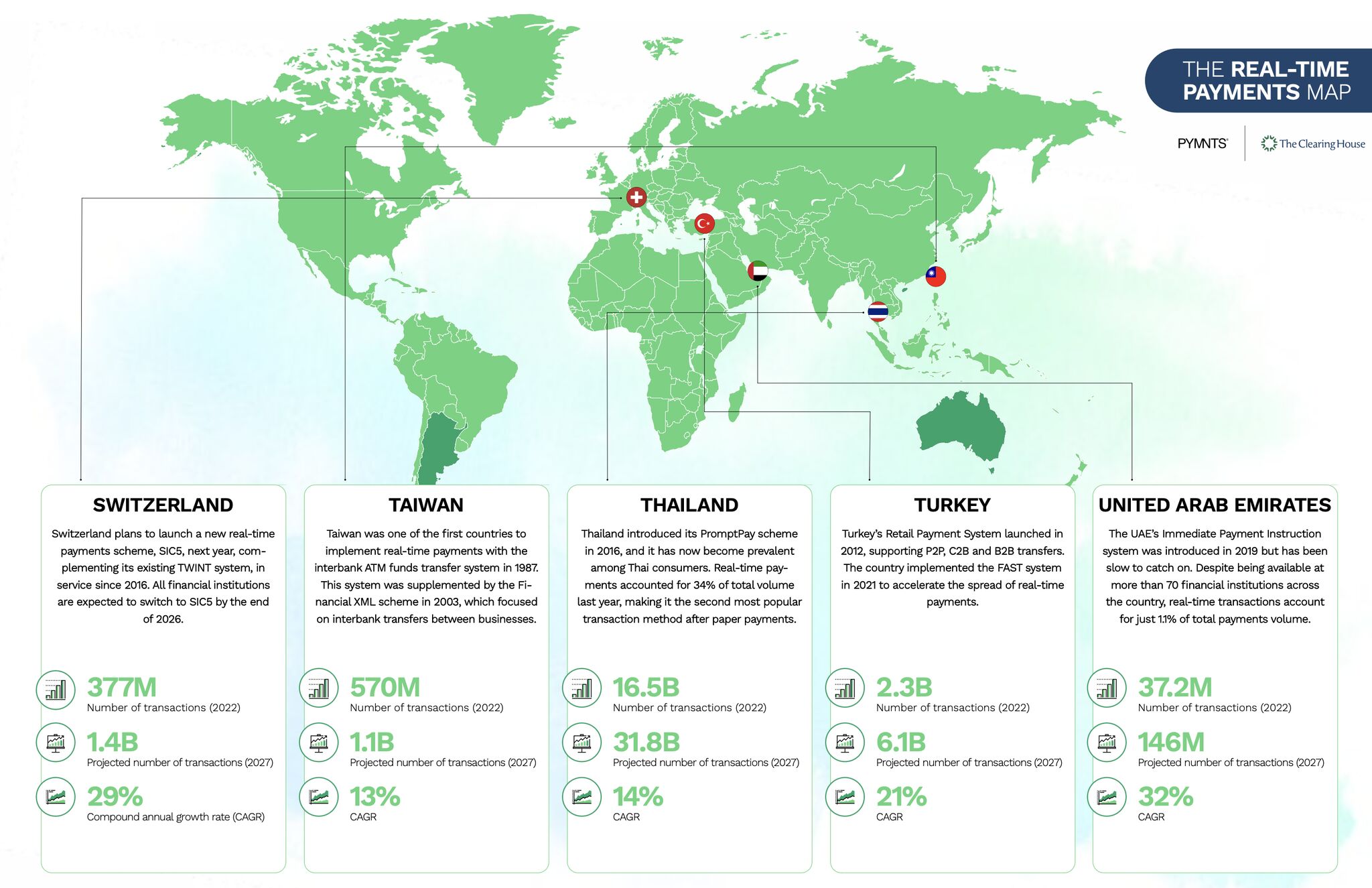 ---
INSIGHTS
🇰🇪Kenya's higher mobile money ceiling risks fanning inflation. The move by the Central Bank of Kenya (CBK) to raise mobile money transaction limits is likely to accelerate the rate of inflation in the country, even as citizens continue to suffer through a struggling economy.
The evolution of аnti-money laundering (AML) measures - regulations, challenges & solutions. This deep dive looks into the evolution of AML measures, emphasizing the importance of AML regulations becoming more stringent due to the evolving techniques of financial criminals. Click here to read full article.
---
FINTECH NEWS
🇧🇷Stone.Co announces restructuring; goal is to accelerate integration with Linx to become a "big tech." The organization chart of the Financial Services business will be led by three executives, each responsible for managing a specific segment of customers. Read more
🇳🇬Smartcash PSB and Thunes partner to introduce remittances in naira. This partnership will enable Smartcash PSB's customers to receive inward remittances from countries worldwide directly into their Smartcash accounts by simply sharing their phone numbers.
🇧🇷Nubank's Vélez discusses FinTech's rise in emerging markets and how Brazil is 5 years ahead of the U.S. Nubank's customer-centric mobile approach led to a $25 billion valuation, making it Latin America's largest FinTech. Read the full interview here
🇬🇧Silverbird unveils expansion plans to empower unbanked and underbanked SMEs worldwide. The company headquartered in the UK, has announced its expansion strategy, targeting new markets that include Singapore, Hong Kong, Dubai, the USA, China, and India.
🇧🇷Niky partners with Mastercard to launch a new product. The Fintech announced the launch of Niky Benefícios, a new card that enables users to make payments using corporate benefits compensation at any global establishment accepting Mastercard.
🇨🇴ApproPay launches operations in Colombia in collaboration with Google to change how Colombians handle their finances, providing a simpler digital experience. It promises more flexibility, increased purchasing power, and no hidden fees.
---
PAYMENTS NEWS
🤔 Is FedNow A Game Changer for U.S. Consumer Payments? This article takes a closer look at FedNow in the context of consumer payments and examines what it will take to change the game for the U.S. consumer payments landscape. Read the full piece here
🇺🇸American Express to pilot biometric authorisation for online payments. The company has announced its plans to pilot facial and fingerprint recognition technologies for user authentication at online checkouts in the US.
🇬🇧Masabi and Worldpay combine to bring EMV payments to mass transit. Worldpay and Masabi are leveraging the power of Open Payments to create an EMV solution that transit agencies can easily deploy, delivering a convenient experience designed to allow riders to simply turn up, tap and travel.
🇰🇪Kenyan BNPL player EDOMx taps finbots.ai for credit risk management. With creditX, finbots.ai's AI-powered credit modelling solution, EDOMx aims to utilize advanced machine learning and AI-based algorithms to develop high accuracy scorecards that are better at quantifying risk.
Galileo first to attain multi-market Mastercard certification in Latin America. Galileo is now providing services in Argentina, Brazil, Chile, Perú and Uruguay that enable issuers, financial institutions and fintechs to offer issuer processing services.
Payment unicorn Kushki emerged as Latin America's first non-banking regional acquirer. It has membership with entities such as Visa and Mastercard in Mexico, Chile, Peru and Colombia, countries where it has approval. Read more
---
DIGITAL BANKING NEWS
🇬🇧Metro Bank faces a "limited future" if it continues with its strategy of focusing on High Street branches, Anthony Thomson, co-founder of the bank has said. On the other hand, the bank CEO Daniel Frumkin suggested Barclays as a potential buyer for the company's £3bn mortgage portfolio.
EMI License 🆚 Banking License. E-money, essentially digitized cash, is appreciated for its multipurpose convenience, and EMIs, regulated entities licensed to manage e-money, engage in various financial activities. Read the complete article on this topic here
Alba Bank partners with Mambu to enhance their SME Lending. Alba announced that they have migrated to the cloud banking platform Mambu to manage their small and medium-sized enterprise (SME) banking services, including their sales and business activities.
🇺🇸Consumer payments startup Braid, backed by Index and Accel, shuts down. In a blog post, founder Amanda Peyton said that Braid closed its doors in September and outlined her experiences in building the company, ultimately realizing that it wasn't going to be a viable business venture.
🇬🇧Starling Bank abolishes monthly fee for kids pocket money app. The bank is to waive the £2 monthly fee for its Kite debit card and app for kids after conducting research which found that the UK is a nation of 'baby bankers' - with children as young as six already saving for cars (26%), university (19%) and even houses (18%).
🇮🇳Spice Money and NDSL collaborate to make a significant impact in rural India by enabling the opening of zero balance accounts for its citizens. By leveraging this partnership, Spice Money aims to empower rural citizens with greater financial inclusion.
🇫🇷Sopra Banking Software ships cloud-native core banking platform. The fully redeveloped cloud-native platform is a significant milestone for SBS's large customer base, unlocking the potential of both cloud technologies and artificial intelligence (AI).
🇷🇺Tinkoff to collect biometric data from customers, send to state system. Tinkoff notified customers using the Stories feature at the top of its mobile app and said biometric data was needed to "ensure the security" of transactions and authentications.
---
BLOCKCHAIN/CRYPTO NEWS
🇦🇹Bitpanda, a cryptocurrency exchange based in Vienna, faced a significant financial downturn in 2022, experiencing an 80% drop in net revenue from 477 million Euros to 90 million Euros, and incurring a substantial loss of approximately 116 million Euros.
🇨🇴Grupo Gilinski launches LuloX aiming to provide users with the opportunity to invest and save in USD Coin (USDC), a stablecoin. This offering allows clients to diversify their investments. Read on
---
DONEDEAL FUNDING NEWS
🤑In the past week, we saw 13 FinTech Deals announced in Europe for a total amount of €117.6m with four deals in Germany, three deals in France, two deals in the UK, one deal in Switzerland, one deal in Denmark, one deal in Sweden and one deal in Spain. Link here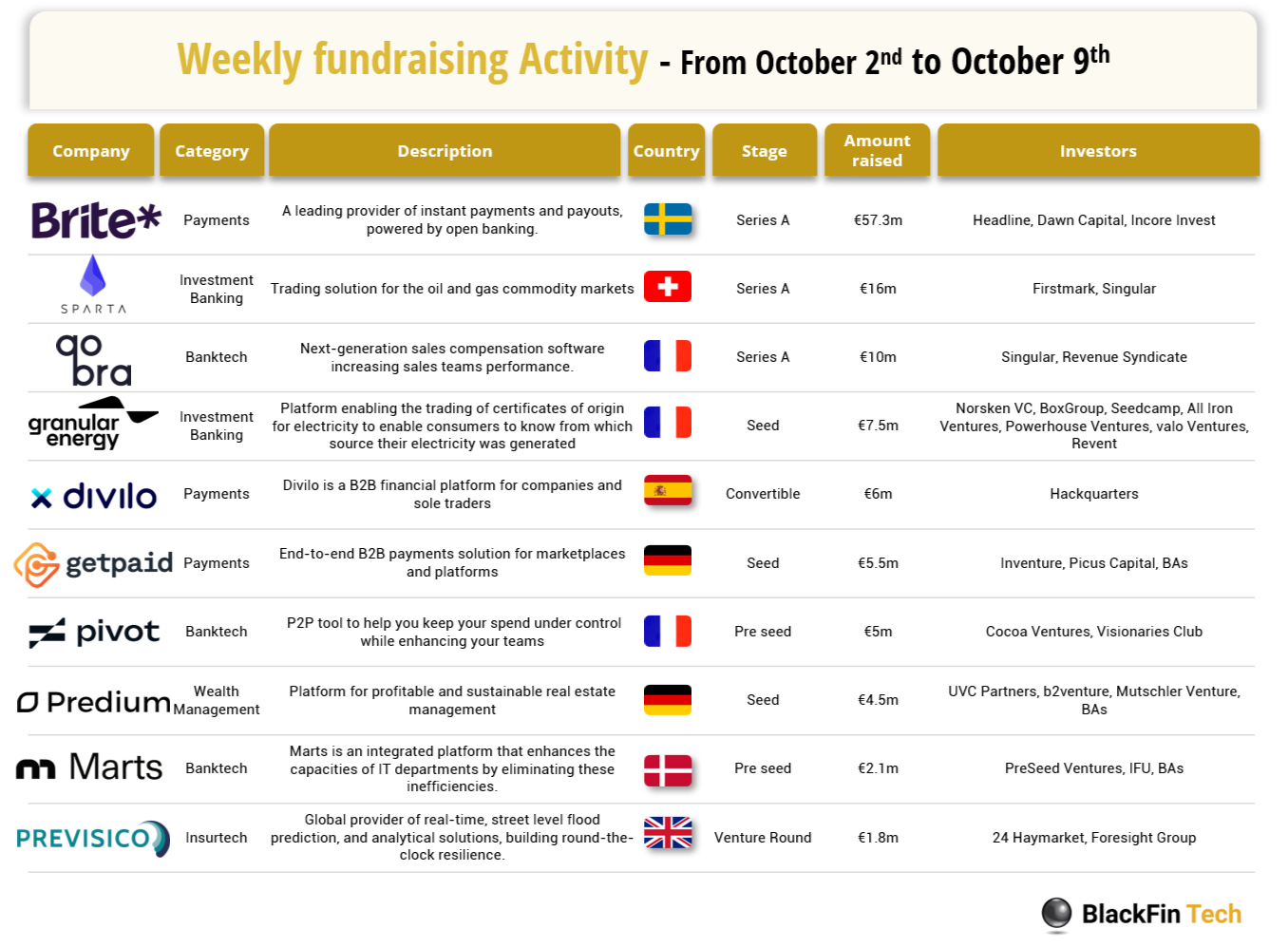 🇬🇧Kennek closes oversubscribed $12.5m seed round. The funding will be focused on continuing to develop its core technology proposition, helping double Kennek's headcount from around 20 employees to around 40.
CrossFund raises additional $1.5M in funding at a $47M valuation. CrossFund's success is largely attributed to its use of AI in the vetting, fundraising process, and its Web3 integrations. More on that here
Fintech funding records 68% surge in July-September. Tracxn data showed that while funding in the broader tech sector remained low in the July-September quarter, fintech startups are showing an uptick as investors are optimistic about the country's digital payments growth.
🇺🇸Car financing fintech Lendbuzz gets $345m funding boost. The "sizeable commitment" will help the firm to deepen its investments in product innovation and R&D, which underpin its lending model.
---
M&As
🇧🇷BTG acquires Órama to expand its retail sector presence. BTG acquired Órama for $100M. This deal brings nearly $3.5B in assets and adds 360,000 new customers to BTG. Órama had been looking for a partner since 2021, but market changes led to this acquisition instead of their planned PRE-IPO round.
---
MOVERS & SHAKERS
🇺🇸Oxygen announced a series of executive hires. With a commitment to strengthen its leadership team and provide financial solutions to the marketplace, the company continues "to prioritize compliance, transparency and customer experience.
---
Want your message in front of 100.000+ fintech fanatics, founders, investors, and operators?
Shoot me a message on LinkedIn or send me an e-mail.