Daily News
Guilty Verdict Shakes Crypto World: FTX Founder Faces 110 Years In Prison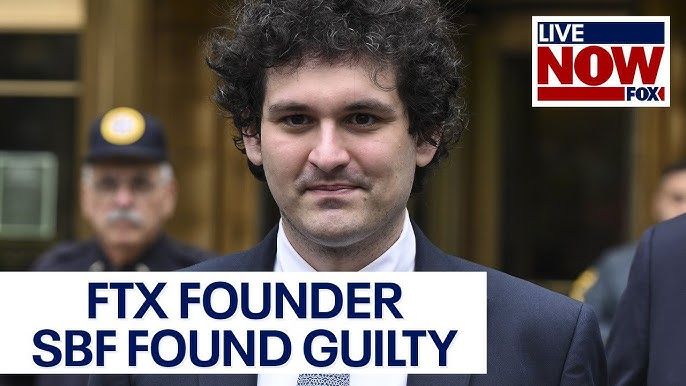 Happy Monday!
Let's start the day with news from my second favorite city in the world, New York City, that came out just before the weekend:
Former crypto titan Sam Bankman-Fried was convicted on seven charges of fraud and conspiracy following the FTX exchange collapse, with the jury delivering a verdict after less than five hours of deliberation. The conviction marks a dramatic fall from grace for Bankman-Fried, who was visibly shaken as the judgment was read, his parents equally distraught in the courtroom.
In a post-verdict statement outside the Manhattan courthouse, US Attorney Damian Williams emphasized the age-old nature of the fraud, underscoring the government's intolerance for such deception.
Despite the conviction, Bankman-Fried's defense maintains his innocence, with attorney Mark Cohen expressing disappointment and vowing to continue fighting the charges. Sentencing is set for March 28, 2024, where Bankman-Fried faces up to 110 years in prison.
Bankman-Fried was found guilty of misappropriating billions from FTX customer accounts and defrauding lenders at his hedge fund, Alameda Research. Notably, during the trial, he admitted to knowing about the misuse of customer funds since 2020 but failed to take protective action.
The trial has sent ripples through the crypto world, scrutinized for signals of how regulators might approach the broader, mostly unregulated sector. FTX's demise also triggered a significant crypto market upheaval, highlighting the risks in the digital asset industry.
The conviction wraps up a saga that saw Bankman-Fried's transition from a billionaire to a criminal defendant, accused of siphoning customer deposits to finance luxury lifestyles, risky trades, and political donations, a revelation that has shaken the trust in the crypto sphere.
The details unfolded in court, where his former partners and romantic partner testified against him, painting a picture of Bankman-Fried as the central figure in the fraudulent activities.
With the sentencing ahead and another trial on additional charges looming, Bankman-Fried's legal challenges continue to mount as the crypto community and regulatory watchers digest the implications of his downfall.
To be continued...
Have a great start to the week and enjoy more FinTech industry news below👇
Cheers,
---
POST OF THE DAY
🏦 Banking as a Service (BaaS) Simplified👇 Here are the three primarily kinds of BaaS models:
---
FEATURED NEWS
🇸🇪Swedish fintech Klarna dodges a strike after reaching agreement with workers. Via email, Klarna CEO and co-founder Sebastian Siemiatkowski told TechCrunch on Friday that "after an intense week of negotiations," the company had reached an agreement to join the Banks Employer Organisation by January 1, 2024.
---
#FINTECHREPORT
Check out FT Partners latest "Q3 2023 Quarterly FinTech Insights" report, which provides an extensive analysis of global FinTech deal activity, covering company financings, investor activity, IPOs, M&A transactions, and more. Click here to get the full report.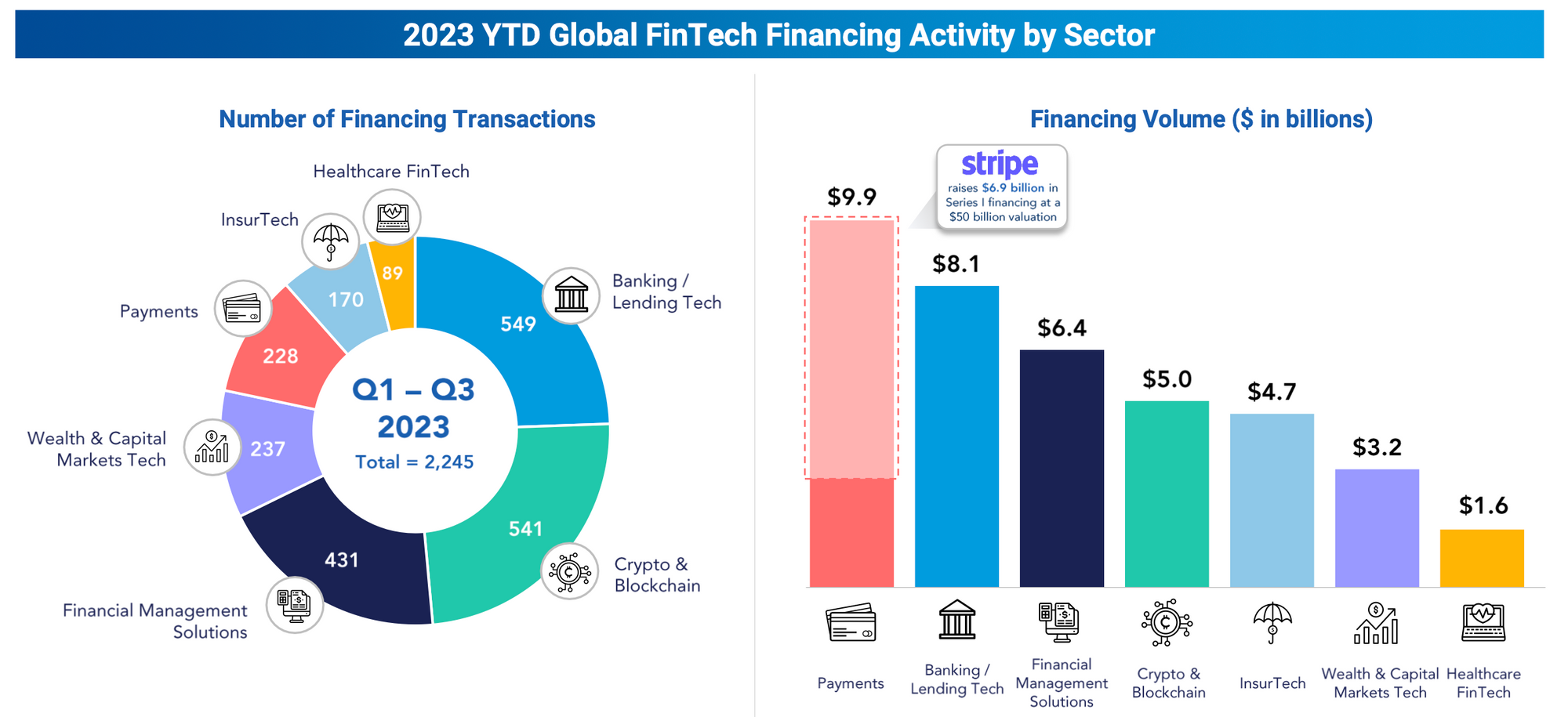 FinTech Oasis — A Comprehensive Overview Of The UAE's Trends, Players & Challenges. Over the past decade, Dubai & Abu Dhabi-based startups accounted for 65% of the entire MENA region's total funding. Read the complete article here.
---
INSIGHTS
Fintechs: A new paradigm of growth. Last year, B2B FinTechs proved more robust in securing funds compared to their B2C counterparts, with a less severe drop in investments. This report examines how fintechs can win in these disruptive times. Read the complete source article here
---
FINTECH NEWS
🇩🇪Deutsche Bank and UniCredit back $4.5 billion insurance startup Wefox with $55 million in fresh funds. The funds will be used to help eight-year-old Wefox accelerate its global expansion plans and double down on mergers and acquisitions, according to the sources.
🇺🇸Neon Money Club becomes the first black-owned tech company in the US to launch an American Express card. The card will allow cardmembers to secure premium benefits through Amex's offers "(for shopping, travel, services, etc.), presale ticket access, global dining benefits, and purchase protections."
🇺🇸Personal finance app Monarch sees bump in users following Intuit's news it is closing Mint. Now that Intuit is discontinuing its personal finance app Mint in January, some startups say they are already seeing a bump in new customers. One of these is Monarch, a subscription-based money manager app. More here
🇺🇸Origin announced that it has launched the first personal finance platform to provide holistic tracking of net worth, AI-powered financial guidance, automated investing, easy tax filing, and the option to meet with a Certified Financial Planner™(CFP). Origin fills the void left by Mint, which was shuttered by Intuit last week.
---
PAYMENTS NEWS
This is why Afterpay, the buy now, pay later platform owned by Block, is rewarding customers for on-time payments: Afterpay started a strategic partnership with Nift, a distinguished gifting platform. Customers making their second timely payment can select a personalized gift via the "My Afterpay" section, from sunglasses to eateries.
---
OPEN BANKING NEWS
🇦🇺finPOWER partners with Zepto to launch PayID support for lenders. finPOWER has integrated PayID into its Connect software, powered by Zepto's A2A payments platform. This includes Direct Debit, real-time NPP payouts, PayID, and upcoming PayTo features.
---
DIGITAL BANKING NEWS
Exodus, regulatory makeover and early traction: what's happening with EMIs. Explore the comprehensive analysis by Mutaher Khan to learn more about this topic. Link here
🇺🇸Unit introduced the White-Label App: The full power of banking and lending – with one line of code. The app is designed to deliver on user experience, compliance, and security – out of the box. Companies can now provide branded banking and lending experiences, reducing engineering efforts and speeding up time to market.
🇬🇧HSBC becomes first bank in the world to offer tokenised gold. The bank has unveiled a platform that uses distributed ledger technology to tokenise the ownership of institutional clients' physical gold held in the bank's London vault.
🇦🇪UAE Neobanks will complement, not replace traditional banks. Despite Neobanks' keen focus on gaining market share in certain product categories, a mass migration from traditional banks to Neobanks particularly in segments such as corporate banking and retail mortgages, is unlikely, S&P Global analysts say.
🇦🇪First Abu Dhabi Bank introduces SlicePay BNPL card in the UAE powered by Mastercard. For the first time in the region, the innovative Mastercard Installments Program gives shoppers the flexibility to convert purchases into four installments with no fees and no interest.
---
BLOCKCHAIN/CRYPTO NEWS
🇭🇰Hong Kong is showing its support for digital assets as ZA Bank, one of a handful of regulated digital banks in the jurisdiction, has announced support for crypto exchange OKX Hong Kong. ZA Bank explained that the operating account will provide OKX with everyday business banking needs.
TransFi partners with Volt, a global real-time payment specialist enabling faster onramps and fund transfers. The partnership will enable TransFi to facilitate modern payment services to its fast growing customer base in Europe, they're also looking to integrate native payments from other regions like Latin America as well.
---
DONEDEAL FUNDING NEWS
🇦🇪DIEZ launches $136 million venture capital fund for startups. The fund is the first investment programme launched under the name of Oraseya Capital, the venture capital arm of DIEZ specialising in venture investment operations in startups.
🇬🇧Accelex raises $15M in a series A funding round. The capital infusion comes at a time of rapid growth for Accelex, allowing the firm to further expand operations, enhance product capabilities, and deliver exceptional client success.
Finkargo, a Colombian fintech established by Tomás Shuk, Santiago Molina, and Andrés Ferrer, has raised $20 million to strengthen its import financing platform in Colombia and Mexico. The funds will fuel Finkargo's expansion in Mexico, extending its services beyond international financing.
🇬🇧Augmentum updates on three investments – Tide, Zopa and Iwoca. Tide got £4.2m, reaching a 10% UK small business market share. Zopa secured £75m Tier 2 capital, aiming for 5 million customers and iwoca received a £200m debt facility from Barclays and Värde Partners. Link here
Payroll Integrations raises $20m Series A round. With the funding, the firm will expand its product line and partnerships with payroll companies and benefit platforms to enhance employees' financial wellness.
---
M&A
🇦🇺ASX-listed Earlypay has announced it has entered into an agreement to acquire selected assets of Timelio, including certain customer receivables, IP, software, and other assets. (Timelio retains the cash balance released from its existing warehouse funding structure.)
---
Want your message in front of 100.000+ fintech fanatics, founders, investors, and operators?
Shoot me a message on LinkedIn or send me an e-mail.