Daily News
Google is in talks to take a major stake in Monzo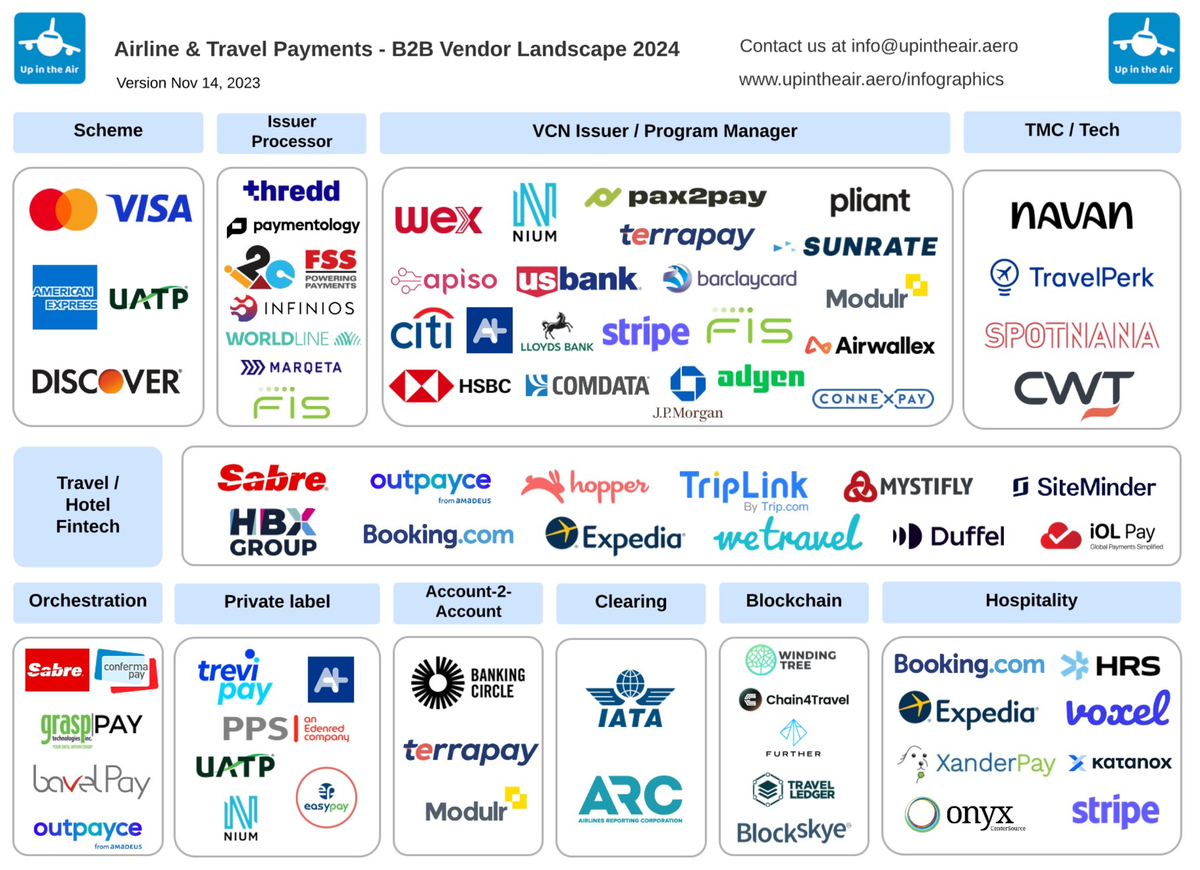 Happy Monday fellow FinTech Fanatic!
Big news from London, where Alphabet, the $1.7trn (£1.4trn) technology behemoth which owns Google, is in talks to take a major stake in Monzo Bank.

Sky News has learnt that Capital G, an investment fund which deploys capital into fast-growing tech companies, is close to an agreement to lead a funding round that will raise well in excess of £300m for Monzo.

Insiders said the funding round was likely to value Monzo at more than £4bn, including the newly raised capital.

Precise terms, including the valuation and the amount of money it raises within a range of between £300m and £500m, are still to be finalised.

Its latest fundraising is expected to be positioned as the final round before Monzo unveils an initial public offering, in which it would sell shares to the public.
In Germany, Stocard, established in 2012 and joining Klarna in July 2021 for €110 million, has now turned profitable. Remarkably without user growth.
Stocard, known for its app that allows users to store and display customer cards like Ikea or Media Markt on their phones, boasts over 47 million users.

In 2022, Stocard recorded a revenue of approximately €13.7 million and a profit of about €947,000. This contrasts sharply with 2021, where it incurred a loss of €7.2 million on nearly €11 million revenue.
Despite these positive financial results, a closer examination by Finance Forward indicates that the profit might not be due to strong growth in its core business. Stocard's user numbers did not increase from the previous year's 47.4 million.
This stagnation is notable, especially given Klarna's vast network of hundreds of thousands of merchants, which theoretically could have significantly boosted Stocard's user base.

The 2022 profit seems to stem more from cost savings in areas like personnel and marketing rather than a substantial increase in core business activities.

Notably, Stocard reduced its marketing expenses by 10% and personnel costs by a dramatic 53%.

This reduction in personnel expenses is attributed to both the elimination of a special effect from the previous year, related to the payout of virtual stock options, and a downsizing of the team.

The staff count dropped from 81 in 2021 to 61 in 2022, with many moving directly to Klarna.
Have a great start to the week, enjoy more news I listed for you below, and I'll be back with more news tomorrow!
Cheers,
---
POST OF THE DAY
The 𝗕𝗲𝘀𝘁 and the 𝗪𝗼𝗿𝘀𝘁 performing FinTech stocks this year👇 Let's dive in: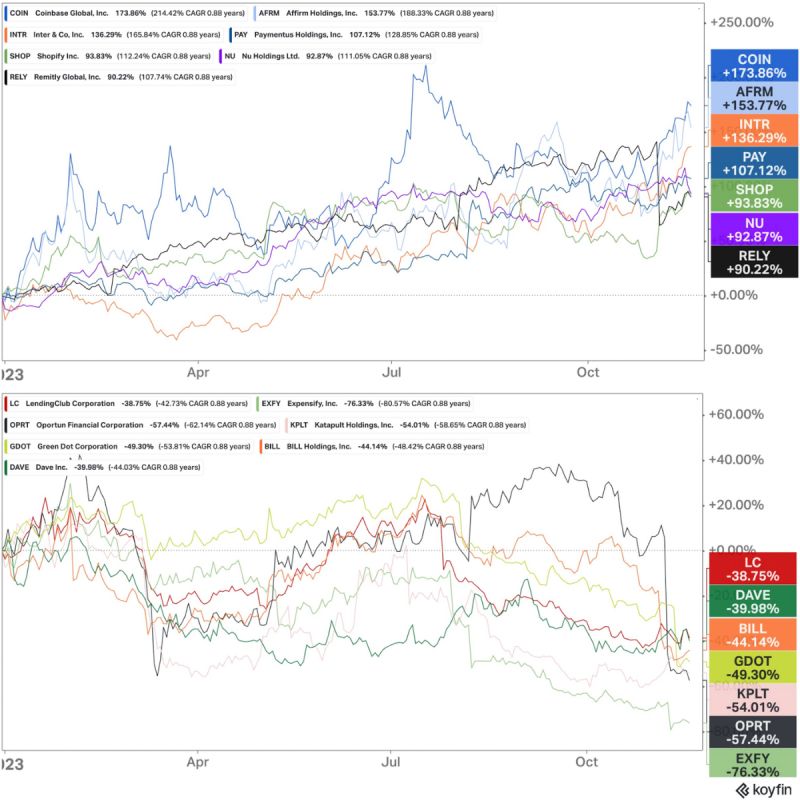 ---
BREAKING NEWS
🇺🇸 Petal Card, the FinTech backed by Peter Thiel's Valar Ventures, goes up for sale. Petal Card is seeking a buyer as doubts loom about the FinTech's survival, according to five private equity, venture and banking sources. Once valued at $800 million, the fintech needs a buyer to survive.
---
FEATURED NEWS
Bitpanda Technology Solutions and Fourthline: Pioneering a secure future in crypto compliance. In this collaboration both firms aim to synergize their strengths to enrich networks, offering unmatched value to partners. The companies are committed to championing this cause, ensuring that their partners can operate with confidence and security.
🇺🇸 Wirecard hacker sentenced to 80 months in prison. US prosecutors say Aviram Azari orchestrated and facilitated 'international hacking-for-hire spearphishing campaign'. Read more
---
INSIGHTS
🇧🇷 Brazil's Pix Revolution: A Three-Year Journey of Financial Inclusion and Innovation. In three years, Brazil's Pix payment system has seen remarkable growth, with 156 million users and over 4 billion transactions totaling R$ 1.6 trillion. Check out the in-depth article here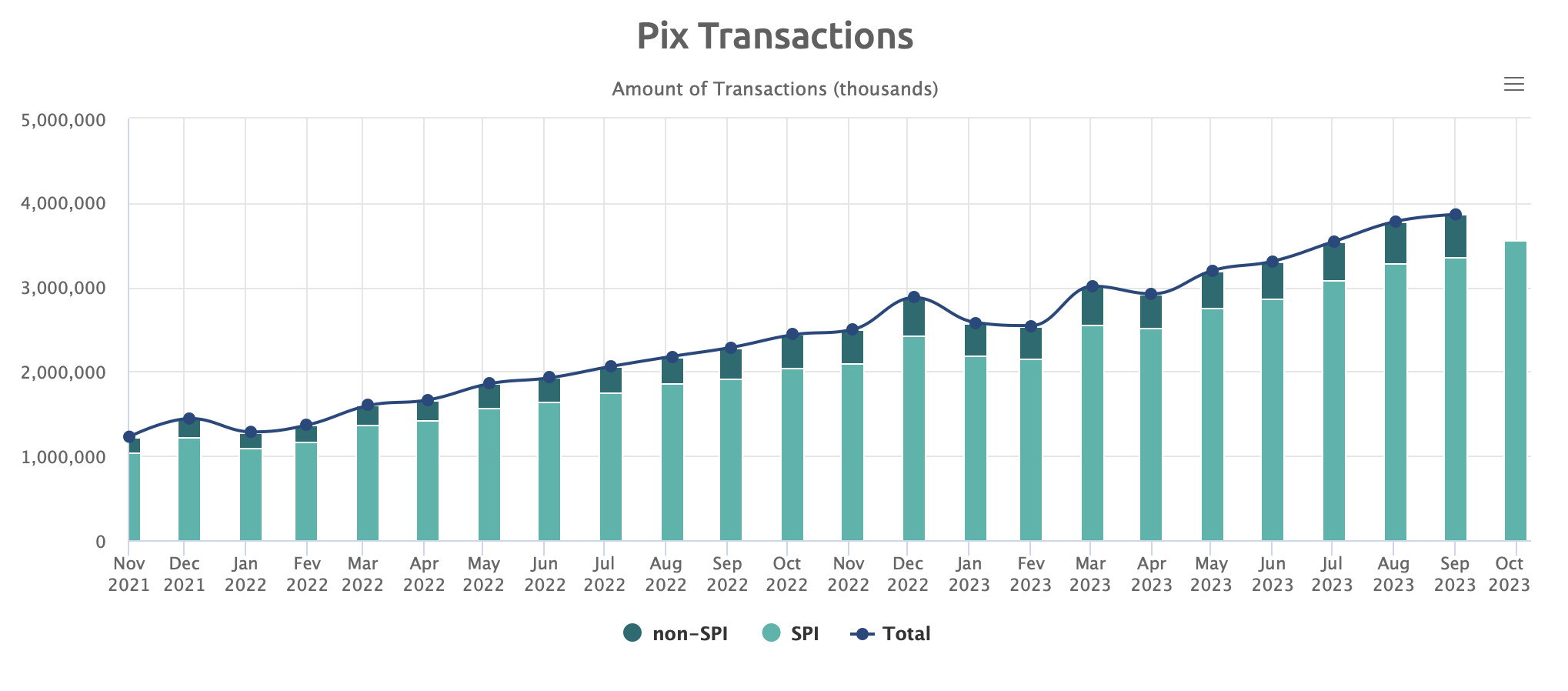 Visa pledges $100 million to drive financial inclusion across Apec economies. Visa initiates a program to boost digital support for underserved SMBs in the US and developing economies, initially targeting APEC countries such as Indonesia, Mexico, Peru, the Philippines, and Vietnam.
---
FINTECH NEWS
🇨🇴 Fintech Liquitech has recently achieved a significant milestone by becoming the first non-banking factoring company in Colombia to receive a primary credit asset originator rating from Fitch Ratings.
Fabrick and Banque Edel collaborate to modernize the invoicing process of gift cards for its CSE customers. Banque Edel has adopted Fabrick's 'Fabrick Pass' (PISP) solution to enhance operational efficiency by seamlessly integrating payment processing into the accounting workflow.
🇺🇸 Roboadvisor Wealthfront reaches $50 billion in client assets and is set to grow revenue by more than 140% this year, the company said. The milestone comes more than a year after UBS and Wealthfront agreed to terminate the Swiss bank's $1.4 billion acquisition of the robo-adviser.
🇧🇷 Juros Baixos, a fintech platform collaborating with major financial institutions such as Itaú and Santander, has introduced a Credit Marketplace API. Additionally, the company is currently seeking investments through the MB Startups platform.
🇺🇸 Payday lender Enova fined and banned from offering short-term loan deals. The online lender faces a $15 million fine for unauthorized fund withdrawals, deceptive loan statements, and canceled loan extensions, according to the Consumer Financial Protection Bureau (CFPB).
Fintech Jeeves launches cross-border payments solution in Brazil, Colombia and Mexico. Jeeves has expanded its services to include prepaid cards and cross-border payments, responding to growing demand, especially in Latin America, since its launch 22 months ago with corporate credit cards as its initial product.
Infographic: Q3 '23 Fintech Stock Price Movements highlights the significant volatility in payments stocks during the earnings season, share prices fluctuation, and more. Link here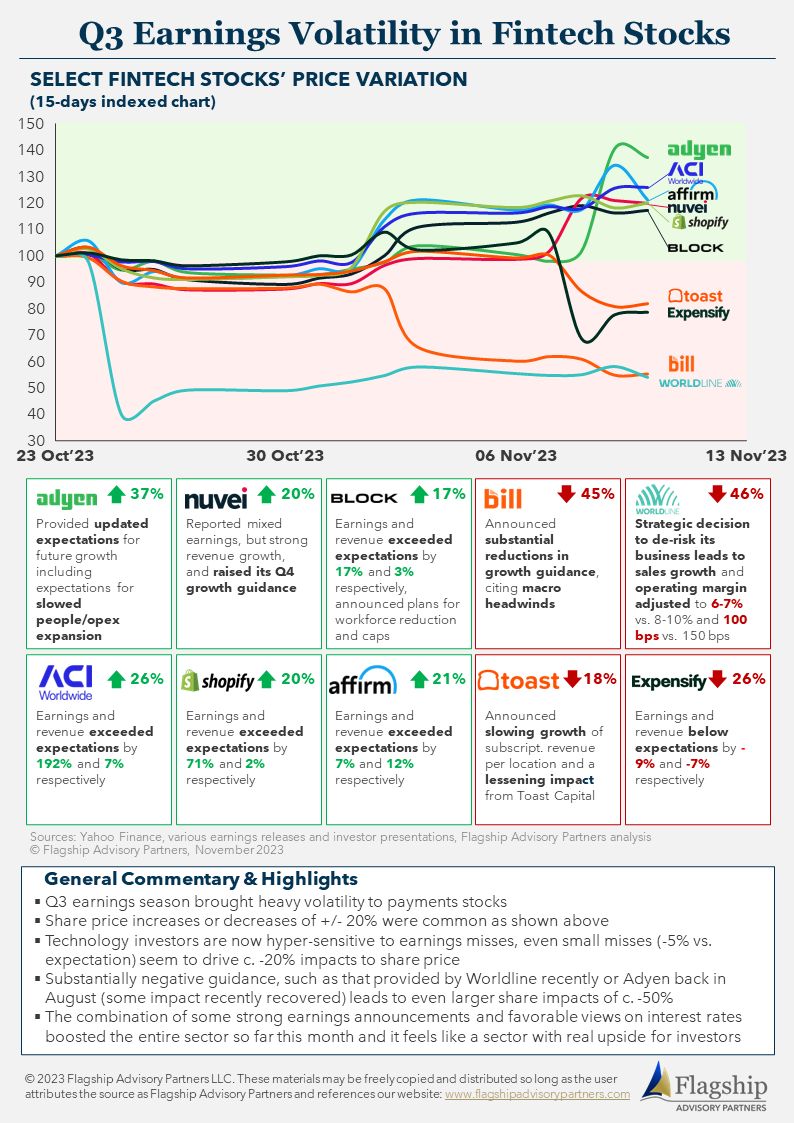 ---
PAYMENTS NEWS
🇦🇺 Visa Australia proposes preferential interchange rate for SMEs. Visa is proposing to slash the interchange fee for in-store transactions made by small merchants to a flat rate of 2.2 cents, potentially providing significant cost savings for small retailers.
🇪🇬 Cellulant expands MENA operations with New Egypt payment licenses. This will enable Cellulant to easily manage their B2B and B2C payments seamlessly in-country and internationally across multiple payment methods in various currencies.
🇸🇬 Mastercard Singapore and FOMO Pay to allow SGQR payments by scanning cards. Aligned with EMVCo Merchant-Presented QR standards, this enables cardholders to make payments using Mastercard credit and debit cards by scanning SGQR codes.
🇺🇸 Afterpay partners Rokt to expand ads business. The partnership enables Afterpay to offer its ecommerce shoppers highly relevant offers at checkout, which creates a more relevant and engaging shopping experience while driving new revenue and deepening customer lifetime value.
🇺🇸 Alaska Airlines and Stripe begin rolling out Tap to Pay on iPhone for easier in-flight payments. Using Stripe, more than 7,000 crew members will be able to accept contactless payments for food and drinks on their airline-issued iPhone, without needing an additional card reader or terminal.
---
OPEN BANKING NEWS
🇺🇸 Link Money and Bold Commerce team up to bring Pay by Bank to merchants. The partnership allows Bold Commerce's checkout solutions users in the US to utilize Link Money's Pay by Bank solution, reducing payment processing fees, credit card fraud, amid increasing credit card fees and fraud incidents.
Plaid and YouLend partnership delivers 90% approval rate on financing. The two companies have achieved a financing process nearly three times faster than traditional lenders, boasting a 90% approval rate, as outlined in a white paper released on Nov. 15.
---
DIGITAL BANKING NEWS
JP Morgan named leading global bank for AI research for 2nd year running. JP Morgan has topped the Evident AI Index ranking for the development, adoption and commercialisation of artificial intelligence among banks globally. Read more
---
BLOCKCHAIN/CRYPTO NEWS
Coatue-backed Stash to no longer offer crypto investing through Bakkt. The app will no longer offer direct crypto investing to customers beginning in mid-December, a Stash spokesperson confirmed, a blow for their crypto provider Bakkt.
🇺🇸 PayPal takes a stance and says blockchains are the new financial rails. The payments giant says blockchain technology offers a fundamentally new way to transact and that its stablecoin PYUSD is responding to customer needs.
---
DONEDEAL FUNDING NEWS
🇨🇴 Colombian Fintech RapiCredit gets US$7M in debt to meet microcredit demand. The clients of this fintech can acquire a loan easily and quickly even though many of them do not have a favorable credit score. Read more
🇺🇸 Full-stack back-office startup Every.io raises $9.5M. Every is building an all-in-one back office platform that does everything a tech founder needs in one place: Bank Accounts, Treasury Management, Cards, Bill Payments, Bookkeeping, Taxes, HR Onboarding, Payroll, and Benefits.
🇵🇪 Hapi, the Peruvian WealthTech, closes a US$1.6M financing round for its growth. The round was closed with a twofold goal: to underpin its growth and improve the product for buying and selling shares in its platform and other instruments on American exchanges.
🇧🇷 Data Rudder, a FinTech Startup specializing in fraud prevention through PIX transactions, has successfully raised R$ 10 million in its Series A funding round. The arrival of L4 Venture Builder in Data Rudder's cap table strengthens the company's business plan and expansion.
---
MOVERS & SHAKERS
🇺🇸 Green Dot appoints Dave Harden CTO. Harden will be responsible for overseeing the ongoing development and delivery of Green Dot's technology platforms supporting the company's direct customers and growing list of banking as a service (BaaS) partners.
---
Want your message in front of 100.000+ fintech fanatics, founders, investors, and operators?
Shoot me a message on LinkedIn or send me an e-mail.