Fun
☀️FinTech Titans Reveal their Must-Read Books for Summer 2023 - Chapter 5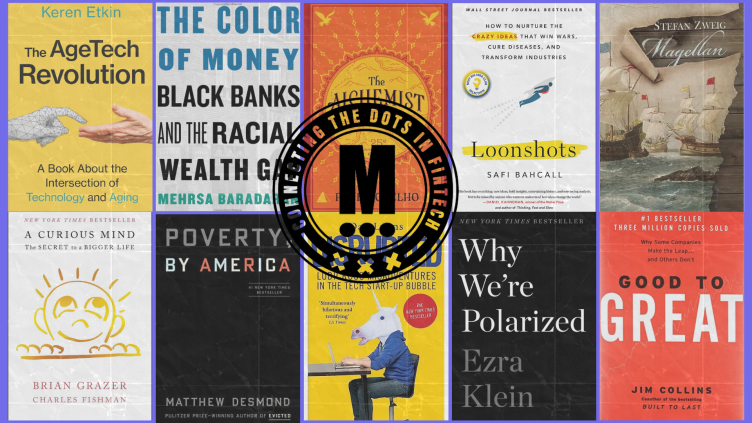 As all good things must come to a close, we arrive at the fifth and final installment of our cherished series, 'Summer Reads: Book Recommendations from FinTech Titans.'
Over the past few articles (part 1, part 2, part 3, part 4) we've navigated through the insightful and varied literary worlds that have captivated some of the leading minds in the FinTech industry.
Your fervent responses have enriched this journey beyond measure, transforming our series into a nexus of shared wisdom and intellectual exploration.
In this grand finale, I'm honored to present a carefully curated collection of books that continue to enlighten and embolden today's foremost FinTech visionaries.
So, for one last time this summer, let's turn the page together and immerse ourselves in the profound insights that await.
And don't forget to share your book recommendation with me in the comments below!
The Color of Money, by Mehrsa Baradaran
Classic expose of systemic economic racism that extrapolates to a systems mindset in finance. This systems mindset underlies the current urgency of Fintech and DeFi innovation.
Matt Bradley - Founder, CEO @ Let'sGlo -- B2 Ventures, xBond, xSynapse
---
The Field Guide to Global Payments, by Sophia Goldberg
The best introductory book to payments, the only one I've come across that takes a global lens and is easy to read.
Kelsey Willock - Co-Founder and CEO at Aura
---
The AgeTech Revolution, by Keren Etkin
We will all be old someday. We dont think about it. BUT it will happen. To most of us :) As the world seeks to find answers to coping with our aging society, the market for innovative solutions to this challenge is growing rapidly – AgeTech is booming. But what are the barriers to AgeTech adoption and what benefits can it really deliver? As a venture capitlist and human being the silver economy is facinating
Avishag Bohbot - Early stage Investor
---
Loonshots, by Safi Bahcall
Crucial theory on how to incubate real innovation, especially within already large organizations. The ideas of stake vs rank, soldier and artist talent, and many more concepts are things I use consistently at Carta. Well worth your time!
Peter Walker - Head of Insights @ Carta
---
Poverty, By America , by Matthew Desmond
This book seeks to understand why the US has more poverty than any other advanced democracy. Desmond provocatively argues that the reason for the high poverty rates & poverty gap in the U.S. is that because many of us benefit from poverty, and act to keep it that way. He believes that "we the secure, the insured, the housed, the college educated, the protected, the lucky" are exploiting the poor, knowingly or not. He examines laws, policies, and tax statutes to show that the United States spends heavily on social programs, but gives the most to those who need it the least. Examples include mortgage tax deductions, subsidized retirement and college savings plans, exclusionary zoning laws, and many more. He calls for policies and initiatives that address the root causes of poverty and inequity including higher wages, affordable housing, tax enforcement for the wealthy, and organized labor. It's a must read for anyone seeking to understand the dynamics of poverty in this country.
Tahira Dosani - Venture Capitalist in FinTech
---
Good to Great, by Jim Collins
Great business book that focuses on leadership skills and how to build organizations not just by hiring the right people, but ensuring those same people are in the right roles.
Ron Benegbi - CEO & Founder @ Uplinq