Fun
☀️FinTech Titans Reveal their Must-Read Books for Summer 2023 - Chapter 4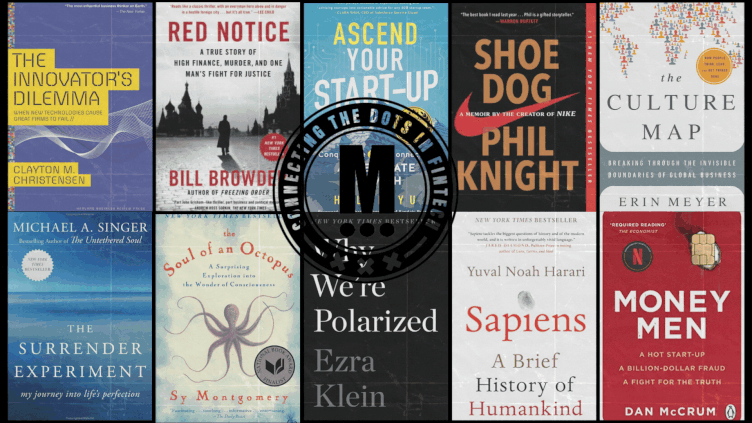 And here we are again, dedicated readers and FinTech enthusiasts, back with the fourth installment of our much-loved series, 'Summer Reads: Book Recommendations from FinTech Titans.'
Your engagement and feedback have transformed this series into a vibrant community of knowledge sharing — a testament to the insatiable curiosity that fuels this ever-evolving industry.
In this edition, I have yet another extraordinary compilation, presenting to you an exclusive selection of books that have informed and inspired some of the most innovative minds in FinTech.
These titles, handpicked by industry trailblazers, offer not just a glimpse into the strategies and philosophies that drive success in financial technology, but a pathway to broaden your own understanding and inspiration.
Without further ado, let's unfold this new chapter and delve into more enlightening reads that have shaped the architects of FinTech's future.
And don't forget to let me know your book recommendation in the comments below👇
The Innovator's Dilemma: When New Technologies Cause Great Firms to Fail, by Clayton M. Christensen.
This book delves into the impact of disruptive innovation and emphasizes the importance of balancing efficiency with innovation. It provides invaluable insights for navigating industry changes, seizing opportunities, and fostering adaptability.
Birce Ciravoglu - M&A & Expansion Director at Papara
---
Book recommendation: Money Men, by Dan McCrum
An astounding true story of fraud, spies and gangsters: a $30bn start-up built on lies.
Dan McCrum - Investigative Reporter at the Financial Times
---
Red Notice, by Bill Browder
It portrays the difficulties on investing in unstable but promising markets while teaching perseverance and fighting for what you believe is right.
Letizia Royo-Villanova - Early Stage Investor
---
Amp It Up, by Frank Slootman
Scaling a startup while maintaining its initial culture is a challenging task for many founders. This struggle often results in wastage of resources, dilution of standards, and an influx of politics. Frank, a renowned turnaround CEO, presents an invaluable guide for founders and CEOs on preserving and enhancing their company's unique competitive advantage — its culture — amidst rapid growth. His practical framework encapsulates three core elements: elevating standards, escalating intensity, and sharpening focus. Frank's methodology outlined in his book, offers a simple yet effective roadmap that can turn the tide for burgeoning businesses. Leveraging his advice can enable leaders to not only foster a high-performing, results-oriented culture but also maintain it in the long haul. His unique perspective and practical insights help them stay ahead of the curve, keeping their company culture vibrant and resilient, thus preserving its unique value that competitors can't replicate.
Shachar Bialick - Founder/CEO Curve
---
The Surrender Experiment: My Journey into Life's Perfection, by Michael Alan Singer.
Life is not Black & White. It is unnatural & stressful to live our Business & our Personal lives, as if they are separate. Awakenings & Growth permeate both areas of life, even though we typically seggregate them. The Surrender experiment is a deeply personal story of the growth and awakening of a human in business. It is thought provoking & heart resonating. We need these types of real stories more than ever because we have 2 brains that have to sync (our minds & hearts).
Efi Pylarinou - Global Influencer - Fintech & Disruptive Tech
---
This remarkable memoir chronicles the journey of a company that epitomised "agile" long before it became a buzzword. Witness how even the most triumphant venture faced daunting challenges, nearly succumbing to failure. As one of the greatest marketing case histories, it exemplifies the rewards of long-term customer orientation. A compelling tale of resilience and triumph.
Alessandro Onano - Chief Marketing Officer @ Tymit
---
Ascend Your Startup, by Helen Yu
Ascend Your Start-Up empowers founders and CEOs to self reflect and grow, posing a thoughtfully architected set of 26 questions you can ask.
Helen Yu - Board Director, Fortune 500 Advisor, and Top 50 Women in Tech
---
Why We're Polarized, by Ezra Klein
"Why We're Polarized" asserts that identity holds the key to understanding the division that plagues us. The term "identity politics" is explored as a natural inclination, ingrained in our human nature, to allow our group affiliations to shape our decision-making process. This book relates that groups possess the capacity to accumulate knowledge and engage in more effective reasoning than individuals, leading to a survival advantage for those equipped with social and intellectual skills to pool their insights. While primarily focusing on American politics, Why We're Polarized also offers a captivating exploration of human psychology.
Nicolas Pinto - Marketing expert Skaleet
---
There you have it, another collection of summer reads curated with insights from the leaders shaping the future of the FinTech industry.
I hope you find these suggestions inspiring, but let's not stop here. Wisdom is a two-way street, and I'm eager to hear your thoughts.
Do you have a book that's had a profound impact on your perspective or career in the industry? Any riveting read you'd suggest to your fellow FinTech Fanatics?
Let's keep this insightful exchange going. I encourage you to share your own book recommendations in the comments below.
Remember, each shared piece of knowledge strengthens our collective understanding. Happy reading!
I'm gonna grab my selfs another cup of coffee and a book to enjoy the rest of my Sunday. I hope you do the same!
Cheers,
Marcel