Fun
☀️FinTech Titans Reveal their Must-Read Books for Summer 2023 - Chapter 3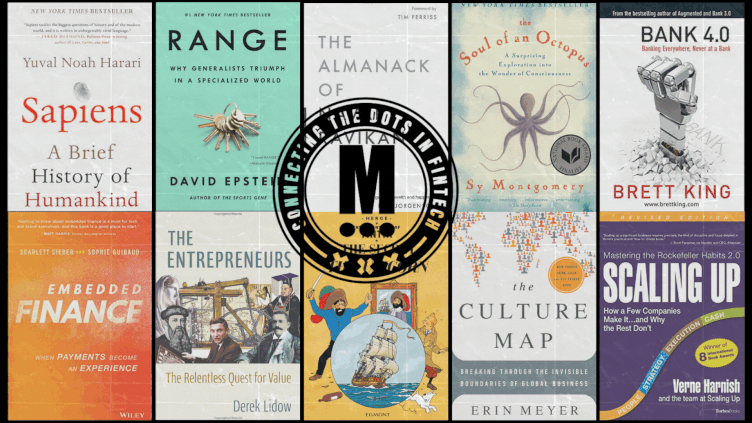 Welcome back!
Your enthusiastic response to our series on 'Summer Reads: Book Recommendations from FinTech Titans' (part 1 + part 2) has been nothing short of inspiring.
As we continue our literary journey, this third edition brings to you a fresh list of thought-provoking recommendations from some of the most influential figures in the FinTech realm. Each book has been handpicked by these leaders, providing us with a rare opportunity to learn from the narratives and insights that have guided them.
So, sit back, grab a cup of coffee, and let's embark on another exciting journey through the pages that have inspired our FinTech industry leaders.
---
THIS WEEKS SUMMER READS
"The Soul of an Octopus is a must-read as it takes readers on an immersive journey into the intriguing world of octopuses, challenging our traditional perceptions of consciousness, intelligence, and the deep connections that tie all creatures together. Sy Montgomery's heartfelt storytelling paired with captivating scientific insights will broaden your understanding of marine life, specifically cephalopods, sparking a newfound appreciation for these complex creatures and our shared world."
___
Sankaet Pathak ~ CEO at Synapse
---
"Described as "three books in one" spanning history, economics, and management, Derek Lidow's "The Entrepreneurs: The Relentless Quest for Value" examines the fundamentals of entrepreneurship, analyzes the role of regulation and entrepreneurship, and intersperses anecdotes and fun facts… all while demonstrating that everyone can be an entrepreneur, regardless of the scale of their work."
___
Ashlyn Lackey ~ Award-winning WealthTech Enthusiast
---
"Naval is one of the most multi-faceted thinkers of our time. We all are on a unique journey and this book helps you accept and explore yours."
___
Donald Hawkins ~ FinTech Founder
---
"The internet has made the world more interconnected, but it's essential to be mindful of cultural nuances to avoid misinterpretations. Having experience working with companies in Singapore and being familiar with Caribbean Latin culture while residing in the Netherlands has been immensely beneficial. Erin Mayer's insights and examples in her book shed light on this topic and offer valuable perspectives for navigating diverse cultures effectively. It's a must-read for anyone seeking to thrive in today's globalized world!"
___
Chiara Liqui Lung ~ FinTech Co-founder & Chief Growth Officer
---
5. Scaling up, by Verne Harnish.
"Incredible framework to follow as a leadership team as your business scales. Covers strategy, people, execution, and cash flow."
___
Dov Marmor ~ CEO at quiltmind
---
"Banking 4.0 by Brett King is a must-read for professionals working in fintech and in particular those within SaaS companies that focus on financial institutions The book provided me with good insights into the future of banking, strategies that lead to customer centricity and innovative solutions On top of that it also inspired me to think about building even more impactful marketing campaigns."
___
Annika Kiestra ~ Head of Marketing at Fivedegrees
---
"The book goes deep into the evolution of humankind and how we reached our current state."
___
Sam Boboev ~ Fintech Founder
---
"To understand new patterns of learning, including relearning and unlearning, and why we need a "polymath" perspective to look at technology and innovation."
___
Anna Maj - Strategic Advisor & Investor
---
9. Embedded finance, by Scarlett Sieber & Sophie Guibaud.
"This is the story of embedded finance, always great to read history book in the summer ;)"
___
---
There you have it, another collection of summer reads curated with insights from the leaders shaping the future of the FinTech industry.
I hope you find these suggestions inspiring, but let's not stop here. Wisdom is a two-way street, and I'm eager to hear your thoughts.
Do you have a book that's had a profound impact on your perspective or career in the industry? Any riveting read you'd suggest to your fellow FinTech Fanatics?
Let's keep this insightful exchange going. I encourage you to share your own book recommendations in the comments below.
Remember, each shared piece of knowledge strengthens our collective understanding. Happy reading!
I'm gonna grab my selfs another cup of coffee and a book to enjoy the rest of my Sunday. I hope you do the same!
Cheers,
Marcel