Fun
☀️FinTech Titans Reveal their Must-Read Books for Summer 2023 - Chapter 2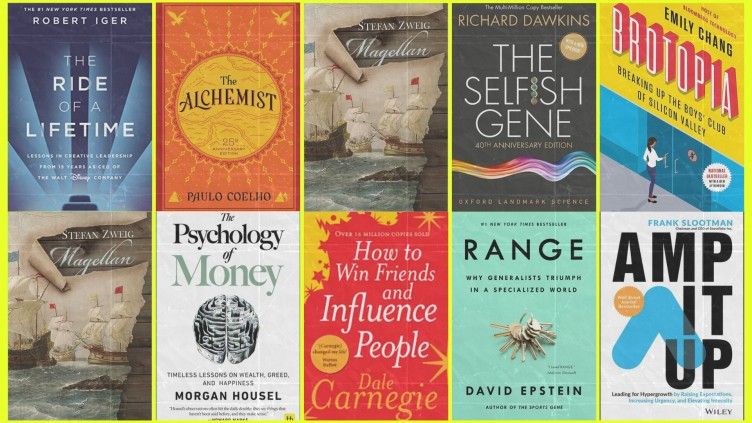 Our last foray into the captivating world of books that have influenced, inspired, and intrigued the greatest minds in financial technology was met with such enthusiasm that we are back with more.
This time, I'll bring you another extensive collection, offering a unique peek into the bookshelves of our industry's most esteemed leaders.
So, without further ado, let's turn the page and dive right into our second chapter of 'Summer Reads: Book Recommendations from FinTech Titans.'👇
---
THIS WEEKS SUMMER READS
1. Range by David Epstein.
"We're always told, often from a very early age, that to be the best at anything you have to be hyper-specialized and only focus on that one area. But the world we live in today is more complex than at any time in history. Range teaches us that in this new world, today's winners will be those that are able to think laterally and integrate disparate and often unconnected concepts and events. As David Epstein says, generalists often find their path late, and they juggle many interests rather than focusing on one. They're also more creative, more agile, and able to make connections their more specialized peers can't see. One of the best books to challenge how you think about success!"
___
Jon Lear ~ President & Co-Founder, Fintech Meetup
---
"It is an eye-opener for why diversity, equity, and inclusion matter. Why betting on girls and women helps make the world a better place."
___
Monika Liikamaa ~ Co-Founder/Co-CEO Enfuce
---
"Because it blows your mind. Prototype of 'Sapiens'."
___
Nicolas Benady ~ CEO Swan
---
"It's an old classic, but nothing will impact your interactions with your customers, your team and your investors more than this book. It is the cornerstone of every good interaction I have, and has been the most important book I've read in my professional and personal life."
___
Natasha Vernier ~ Co-Founder & CEO of Cable
---
5. Magellan by Stefan Zweig.
" Entrepreneurs need to face the impossible. Magellan who is the first person to go around the world, and also cross the Pacific, is one of the original great entrepreneurs. How he made it happen is a true inspiration."
___
Nico Simko - Founder & CEO Clair
---
"Chang interviewed hundreds of people from the industry to break down the sexist history of technology in SV. Knowing how it all started is a great foundation for learning how to survive in and dismantle it from within. It's such an easy read too - I was able to read it cover to cover during a flight SFO-NYC. It's a must-read for anyone in the tech industry or anyone wanting to break into it from the Founders" as well as the Funders' perspectives."
___
Asya Bradley ~ Investing in underestimated Founders
---
7. Amp It Up by Frank Slootman.
"This book has really inspired me and our entire team. It focuses on how to best execute, grow and scale your business - aligning people around what matters and executing with urgency and intensity every day. A lot of Slootman's tangible advice and examples resonated with me, and I have actually given all our employees a copy of the book! A must-read for anyone who wants to take their company to the next level."
___
Samir El-Sabini ~ CEO & Co-founder at Juni
---
"It has a different meaning every time you read it."
___
Trisha Kothari ~ CEO and Co-founder Unit21
---
"This book is a refreshing read. It is non-technical, non-financial, and yet in my opinion one of the best books about leadership written since the dawn of the internet. The lessons in this book serve to help Founders transition to CEOs, salespeople to become organization leaders, and companies under those leaders to scale at pace with everchanging funding, M&A, and other considerations in their vision."
___
Brian Luciani ~ Rise NYC
---
There you have it, another collection of summer reads curated with insights from the leaders shaping the future of the FinTech industry.
I hope you find these suggestions inspiring, but let's not stop here. Wisdom is a two-way street, and I'm eager to hear your thoughts.
Do you have a book that's had a profound impact on your perspective or career in the industry? Any riveting read you'd suggest to your fellow FinTech Fanatics?
Let's keep this insightful exchange going. I encourage you to share your own book recommendations in the comments below.
Remember, each shared piece of knowledge strengthens our collective understanding. Happy reading!
I'm gonna grab a book and enjoy the rest of my Sunday. I hope you do the same!
Cheers,
Marcel