Fun
☀️FinTech Titans Reveal their Must-Read Books for Summer 2023 - Chapter 1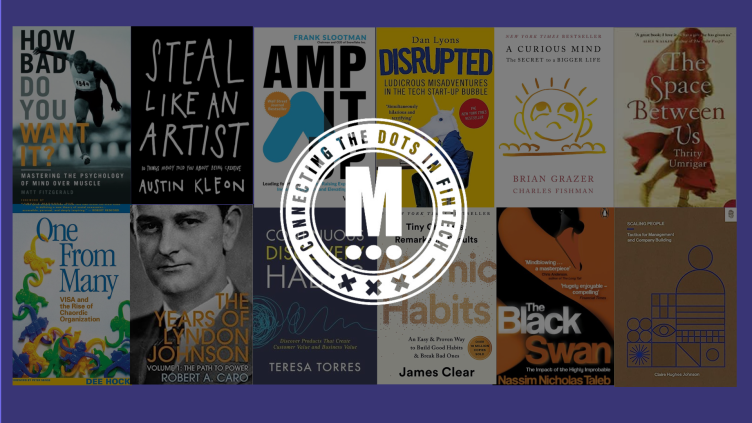 As the languid days of summer stretch out before us, many of us relish the opportunity to lose ourselves in the pages of a good book. And what could be better than a curated reading list, offering insights that could change our perspectives or even our lives?
In this spirit, I am delighted to share not just my own book recommendations, but also those from some of the most influential minds in the FinTech space.
These industry titans, part of my esteemed network, have shared their top summer reads, presenting a unique opportunity for us to tap into their wealth of knowledge and glean insights that have shaped their ground-breaking work in the rapidly-evolving world of financial technology.
In the upcoming weeks I will share a list of recommendations in a series of articles, every Sunday.
Let's dive into this ocean of wisdom together, and get started with chapter 1 (and here is chapter 2):
Connecting the dots...
For those who are passionate about financial services and angel investing, there are countless books to help you deepen your knowledge and skill. However, there are two books in particular that I believe are absolutely essential for anyone hoping to navigate the tumultuous seas of finance and investments. These are "The Psychology of Money" by Morgan Housel and "Angel: How to Invest in Technology Startups" by Jason Calacanis.
I enjoyed reading these books and they have inspired me in my journey.
---
Now here are the recommendations from the real FinTech industry experts:
---
A great insight into the world of randomness and how predictions are so off-track many times. A perfect read for investors and founders who are either trying to find or build a "Black Swan" company. It will lead you to see through contemporary simplistic predictions and change the way you see and think of life.
___
Rocio Wu ~ Early Stage Investor F-Prime Capital
---
The founder of Visa, Dee Hock, shares his 1960s vision of a global payment network based on principles he observed in nature. Dee Hock, the OG of Connecting the Dots in Fintech one year ago at age 93.
___
Mitch Jacobs ~ Founder/CEO Plink

---
It's a captivating novel showing how the lives of the rich and poor are intrinsically connected while offering an insightful look at the harsh realities of class, gender roles, and the bonds of womanhood.
___
Nicole Casperson ~ Founder & Author Fintech Is Femme
---
Matt explains how in endurance sports the capacity of an athlete to push through pain even when your body and mind is telling you to stop, often makes the difference between the greats and the rest. I drew parallels with entrepreneurship, especially since 2022 when the market turned south. As an entrepeneur, your mind always tries to play tricks on you to make you ignore the things that are not really working out but are painful to fix. A great entrepeneur constantly pushes him or herself out of the comfort zone, even when no one is expecting them to. Example: A good entrepeneur has done layoffs to increase runway in 2022-23 when it had <1 year of runway. A great entrepeneur has done it when it had 2 years of runway, even if investors weren't asking for it, no one was expecting it, and creates a lot of personal grief.
__
Lluis Cañadell ~ Co-Founder Treinta
---
__
Yael Israeli ~ Co-founder and CFO at Mozper
---
An amazing resource to build solid businesses while empowing people and boosting their careers.
___
Gaston Irigoyen ~ CEO & Co-Founder of Pomelo
---
The key idea of the book is that nothing is original, originality is really undetected plagiarism, and that great artists are inspired by generations of artists before them. Some really important insights: 1. Garbage in - garbage out: Surround yourself with good things. 2. Write the book you want to read. Produce the podcast you'd like to listen to! Publish posts that you'd love to read yourself. 3. Start by copying what you love. Apparently, even the Beatles started as a cover band!
___
Irina Chuchkina ~ CMO at Thunes
Thought provoking. Challenge. Think differently (perhaps).
___
Derren Powel ~ Vice President, Business Development - Fintech UK&I at Mastercard

---
Hilarious, enlightening and very close to home for anyone working in or alongside start-up and scale up businesses - as many of us are in Fintech. A true reality check and entertaining at the same time.
___
Kimberley Waldron ~ Founder SkyParlour
---
Talking to customers once in a while is not enough. To solve meaningful customers problems we need to embed understanding customers as part of our core capabilities.
___
Monica Millares ~ Building FinTech Products with Impact at BigPay
---
Caro is an engaging storyteller and LBJ is a fascinating character. I learned more from this series about our democracy, political power, and how the Senate functions than anything else I have come across. It really illuminates this period in our history and is a fun read.
___
Luke Voiles ~ CEO at Pipe

---
There you have it, our remarkable collection of summer reads curated with insights from the leaders shaping the future of the FinTech world, and of course, a few of my own personal favorites.
I hope you find these suggestions inspiring, illuminating, and perhaps even transformative. But let's not stop here. Wisdom is a two-way street, and I'm eager to hear your thoughts.
Do you have a book that's had a profound impact on your perspective or career in the industry? Any riveting read you'd suggest to your fellow FinTech enthusiasts?
Let's keep this insightful exchange going. I encourage you to share your own book recommendations in the comments below.
Remember, each shared piece of knowledge strengthens our collective understanding. Happy reading!
I'm gonna grab a book and enjoy the rest of my Sunday. I hope you do the same!
Cheers,
Marcel