Daily News
🇨🇴Colombia's FinTech Boom: What You Need to Know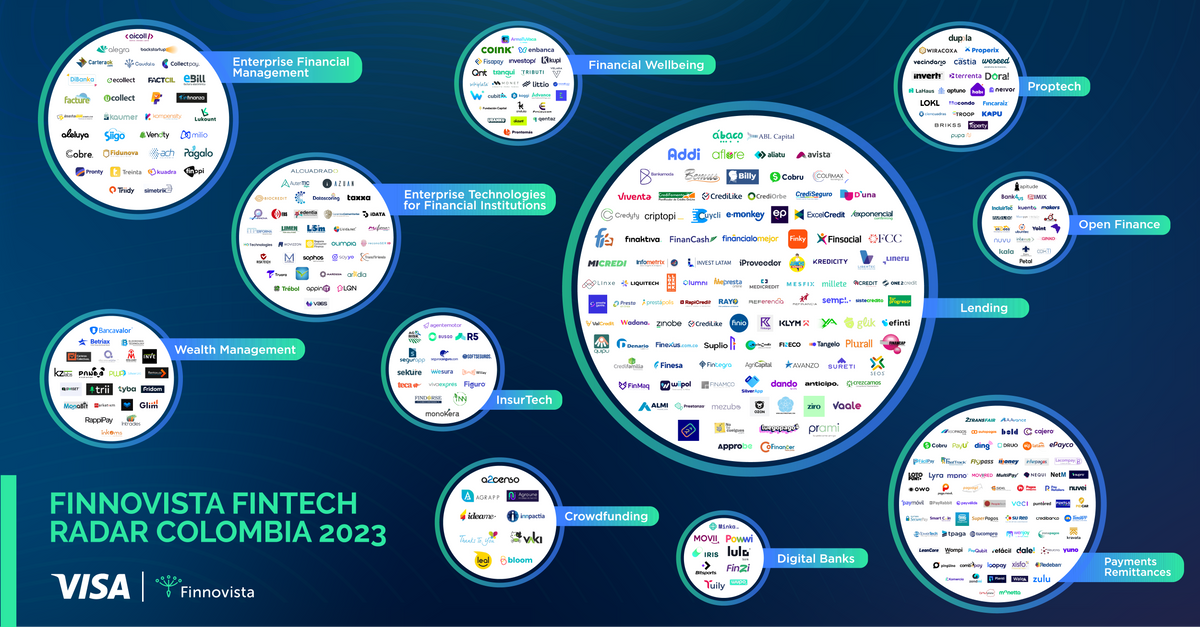 Colombia has quietly become the third-largest Fintech hub in Latin America (trailing only Brazil and Mexico), home to nearly 300 FinTech companies.
Today, the majority of Colombians are armed with smartphones, internet access, and basic banking facilities, laying down the perfect playground for an explosion of financial innovation and inclusion.
And with the government throwing its weight behind innovative FinTech solutions, licensing advancements, and Open Finance, the future looks incredibly bright.
In particular, several government actions have expanded fintech's capabilities in Colombia in recent years:
𝗗𝗲 𝗡𝗼𝘃𝗼 𝗟𝗶𝗰𝗲𝗻𝘀𝗲𝘀 𝗘𝗻𝗵𝗮𝗻𝗰𝗲 𝗖𝗼𝗺𝗽𝗲𝘁𝗶𝘁𝗶𝗼𝗻
Securing a de novo banking license in Colombia has eased with the Compania de Financiamiento license, opening doors for fintechs like Rappi and Nubank.
This shift encourages competition in a market dominated by a few, with 60% of deposits held by the top three banks.
𝗢𝗽𝗲𝗻 𝗕𝗮𝗻𝗸𝗶𝗻𝗴 𝗣𝗿𝗼𝗺𝗼𝘁𝗲𝘀 𝗙𝗶𝗻𝗮𝗻𝗰𝗶𝗮𝗹 𝗜𝗻𝗰𝗹𝘂𝘀𝗶𝗼𝗻
Adopting an Open Finance framework, inspired by Brazil, Colombia aims for a transparent financial ecosystem, exploring the potential for bank account portability.
𝗜𝗻𝘀𝘁𝗮𝗻𝘁 𝗣𝗮𝘆𝗺𝗲𝗻𝘁𝘀 𝗣𝗿𝗼𝗽𝗲𝗹 𝗗𝗶𝗴𝗶𝘁𝗶𝘇𝗮𝘁𝗶𝗼𝗻
Following Brazil's Pix model, Colombia plans to launch a free, instant payment system by 2024, reducing transaction costs and promoting digital payments.
𝗙𝗶𝗻𝗧𝗲𝗰𝗵 𝗼𝗻 𝘁𝗵𝗲 𝗥𝗶𝘀𝗲
With 120% annual growth and a doubling of companies in five years, Colombia's fintech scene thrives, backed by government support for a competitive, innovative financial sector. Entrepreneurs have a prime opportunity to shape the future of finance in the country.
I'm considering visiting Bogota soon, who do you think I should definitely meet/visit when I'm around? Let me know!
Cheers,
---

---
POST OF THE DAY
💳The landscape for Card and A2A Payment Processing: We can broadly classify the provider landscape into "Traditional" and "Next Generation" providers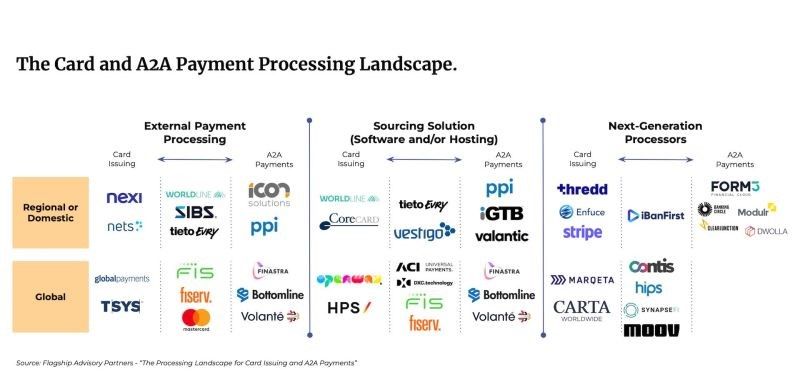 ---
FEATURED NEWS
🇸🇪More unions sign up to Klarna strike on Nov 7. Following last week's news that two trade unions representing Klarna employees in Sweden were going on strike, two other unions with members at Klarna announced they will strike in sympathy.
---
#FINTECHREPORT
Europe's fintech opportunity. FinTech performance is variable across Europe, with the UK, Sweden, and northern European countries leading. Read the complete report for more interesting info, stats, and figures.
2023 Annual Review, 'A Turning Point', offers insights into AusPayNet's important work at a critical time for the banking and payments industry. For a more detailed reflection on this work, click here to get the full report.
---
FINTECH NEWS
🇬🇧Payhawk gains independence in card issuance with new Visa membership. Expense management fintech Payhawk has become a principal member of Visa, allowing independent card issuance and streamlined expense management for businesses.
🇵🇭Grab eyes chunk of PH fintech market. After dominating the local ride-hailing and food delivery markets, Grab is looking to take a bite out of financial services while already serving over a hundred thousand.
🇨🇴Colombian Paytech Tpaga Announces Expansion in the Region.The company is preparing to enter the Central American market, following in the footsteps of other Colombian virtual wallets like Nequi in Panama and Daviplata in El Salvador.
Swedish playtech Boxbollen capitalises on global growth with a €2.5M capital partnership with Juni. Gamification of daily activities, especially physical activities, has gained popularity in recent years. Boxbollen focuses on gamifying physical activities as part of its business.
🇬🇧Former Revolut staffer launches crypto and gaming startup. Former Revolut and Yapily executive Andria Evripidou, now Chief Banking Officer at Xace, has launched a unified solution for Crypto and Banking. The platform enables gaming firms to access Crypto and Payments seamlessly through a single application.
Mastercard and EedenBull introduce card and spend management service for SMEs in Apac. As an extension of their existing partnership, Mastercard will refer EedenBull's Q Business platform to its extensive network of customers issuing cards to SMEs in the region.
Neu launches credit card for college students. The card has no late fees, no compounding interest, 1.25% cash back, and a small monthly subscription fee with a max spending limit of up to $1,000.
---
PAYMENTS NEWS
🇬🇧Mangopay secures UK e-money licence by the FCA. The new licence enables the company to issue electronic money, facilitate digital payments and provide a range of payments solutions to UK-based companies.
🇹🇼Razer Merchant Services partners Google Play and E.SUN Bank in Taiwan. The collaboration will enable Google Play users in Taiwan to make payments using RMS' payment methods, including cash-over-counter transactions at over 13,000 convenience stores, as well as virtual account/bank transfer payment methods.
🇨🇴The Superintendencia Financiera de Colombia has issued an authorization certificate for StoneX Payments. This decision, aligned with Law 1735 of 2014 and the Financial System's Organic Statute, enables StoneX Payments to operate across Colombia, reinforcing its commitment to innovative electronic payment solutions.
Temple and Panchayat payments go digital in next fintech wave. Some early pilots are running where a PoS device is being installed at the level of a village panchayat and even in temples to ensure that cash deposits move digital.
---
OPEN BANKING NEWS
🇦🇺Waave and Merco partner to provide full continuity to POLi-affected merchants with Open Banking alternative. The agreement means that Australian Merchants will be able to use their existing POLi integration and substitute the payment method for Pay by Bank, thereby eliminating the need to integrate with an alternative service.
🇧🇷U4C, a FinTech company specializing in Open Finance solutions, has introduced a plugin for Magento tailored to the Brazilian market, marking a significant advancement in the realm of online payments. With the new plugin, the deployment of the means of payment becomes even easier.
🇲🇽Belvo has introduced a new product that revolutionizes recurring payments for businesses in Mexico. The product, Bank Debit, enables companies to seamlessly collect payments directly from customers' bank accounts on a recurring and automated basis.
---
REGTECH NEWS
🇪🇪Veriff fully automates ID verification product. The solution uses advanced machine learning to enable a 100% automated identity verification process with zero human involvement. Click here to read more

Subscribe now
---
BLOCKCHAIN/CRYPTO NEWS
🇺🇸Bankman-Fried wraps testimony in FTX criminal fraud trial. His decision to testify is seen as a Hail Mary from a defense that has struggled to poke holes in the testimony of several high-ranking executives from Bankman-Fried's former inner circle.
---
PARTNERSHIPS
BIGO partners with Checkout.com and Visa to transform cross-border payouts for content creators in the UK, Italy, Germany, Switzerland, and Austria. This partnership revolutionizes cross-border payouts, empowering creators and reshaping online content distribution.
---
DONEDEAL FUNDING NEWS
🤑 In the past week, we saw 7 FinTech Deals in Europe for a total amount of €44.3m raised: With three deals in the UK, one deal in Spain, one deal in Ireland, one deal in Sweden and one deal in Germany. More here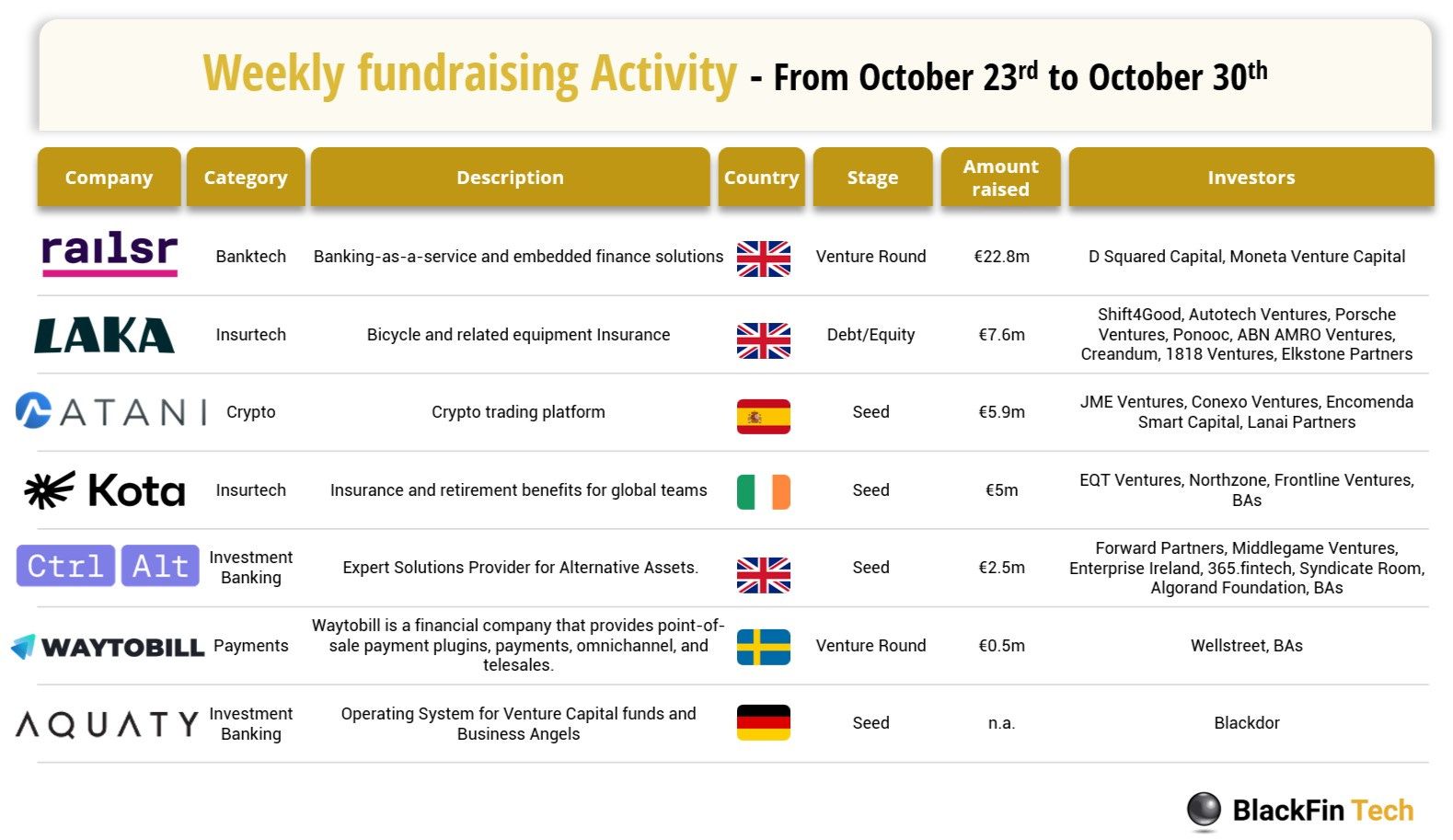 🇨🇴R5 secures debt deal to increase credit offerings. R5 will increment a credit modality in which customers can obtain loans from R5 to buy used cars and pay them back in 48 months. Read more
🇬🇧Oxbury picks up £100 million loan guarantee from the British Business Bank. This will be one of the first ENABLE transactions whereby the guarantee provides protection to an existing portfolio of lending.
🇬🇧Atom Bank raises £100m in equity funding from existing investors. Long-term backers BBVA, Toscafund, and Infinity Investment Partners have provided fresh funding to accelerate the bank's lending and balance sheet growth, ensuring continued profitable operation.
All About You: Woman-led Fintech startup YouTrip raises $50 million from Lightspeed. The fresh capital will go towards the startup's regional expansion. Starting with Malaysia, YouTrip plans to move into the Southeast Asian countries of Indonesia, the Philippines and Vietnam.
🇸🇦BNPL platform Tabby nabs $200M in Series D funding at $1.5B valuation. This positions the app as the first fintech startup unicorn in the Gulf, underlining its substantial growth and market importance in how customers shop and pay.
🇬🇧Digital bank Kroo launches crowdfunding campaign. The startup is inviting customers to invest anything from £10 to £500,000 in its Crowdcube campaign, which will be opened up to the wider public in 15 November.
🇲🇾Kid-Focused Neobank Vircle nets seed funding from Gobi, KMP. Vircle's app provides parents with a regulated financial tool to help their children navigate the cashless and digital banking environment. Link here
---
Want your message in front of 100.000+ fintech fanatics, founders, investors, and operators?
Shoot me a message on LinkedIn or send me an e-mail.