Daily News
Apple Card's Savings account by Goldman Sachs reaches over $10 billion in deposits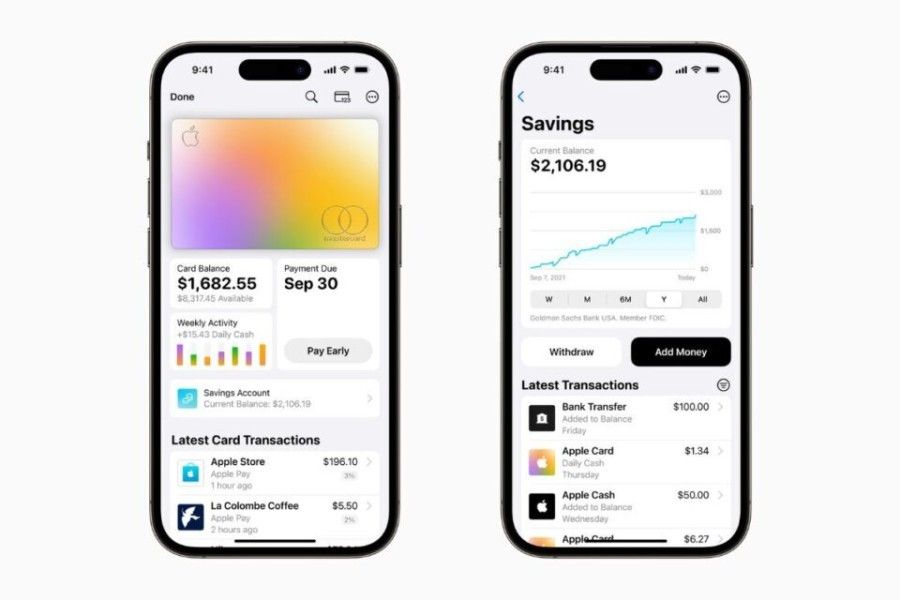 Terrific Thursday fellow FinTech Fanatic,
Ever wondered what lies beyond the digital screens of a neobank?
I came across an interesting read, which I think is worth sharing with you; an exclusive peek in Revolut's backend architecture.
Revolut is the largest neobank in the UK and Europe with more than 30 million retail customers for 2023, and built an event-driven microservices architecture that lots of companies are struggling to implement.
Mikhail Sadovskiy wrote a captivating tale about it, and the graphic below beautifully illustrates how technology and architecture drive the growth.
Klarna achieves monumental growth in Canada
Since launching on the Canadian market in February 2022 less than 18 months ago, Klarna has achieved a rapidly expanding network of over 640,000 active consumers and processed over 2 million orders.
Besides that it launched new retail partnerships with esteemed brands such as Ssense and Airbnb and distribution partnerships with Stripe, WooCommerce, and Adyen.
On the other hand, Klarna announced this week it has scrapped its open banking brand Klarna Kosma after less than 18 months.
According to Klarna the decision is a marketing move and the constituent parts of the business will remain. "Since we launched in April 2022, our open banking business has grown tremendously", a Klarna spokesperson said, referring to the Kosma brand.
"Due to this impressive growth we have taken the decision to connect the brand even more closely with Klarna so the business unit will no longer operate under a separate brand, but under the Klarna corporate brand."
Binance CEO Changpeng Zhao Pushed to Shutter U.S. Exchange
And last, but not least, another part in the ongoing Binance saga as founder and CEO Changpeng Zhao attempted to shut down the crypto exchange's U.S. offshoot earlier this year, according to The Information .
It shows how far he (Changpeng Zhao) was willing to go in order to protect the much larger global exchange amid mounting regulatory scrutiny, two people familiar with the matter told The Information.
Please find the other FinTech news listed below👇
---
NEWS HIGHLIGHT
Apple Card's Savings account by Goldman Sachs reaches over $10 billion in deposits. Apple announced that Apple Card's high-yield Savings account offered by Goldman Sachs has reached over $10 billion in deposits from users since launching in April. Learn more
---
Future of Asia Wealth Management: Re-imagining engagement. This report is the second annual instalment of Accenture's Asia-Pacific wealth management research program, the most comprehensive in the industry for the region. Click here to download the full report.
Check out the latest The Paypers report on Embedded Finance: The report includes a comprehensive global infographic and industry mapping, showcasing the key players in the Embedded Finance space. Download the complete report here
---
INTERVIEW
Thunes CEO, Peter De Caluwe, on transforming cross-border payments. The Paypers and De Caluwe spoke about the company's growth, Series C funding, and Visa partnership. They also discussed Thunes' role in the future of payments. Peter explained Thunes' unique company culture and why it's a great place to work. View the full video-interview here
---
INSIGHTS
From banking giants to lending up-and-comers — here are the world's top 200 fintech companies. CNBC partnered with independent research firm Statista to establish a transparent overview of the top fintech companies. Access the full list here
Embedded payments: What are they and what are the benefits? In this essay by Simon-Kucher they take a closer look at embedded finance and the rewards waiting for firms that implement it. Check out the complete source/essay by David Chung and Abhimanyu Julaniya to learn all about this subject.
Meet the 20 most notable FinTech Startup investors in India in 2023 by downloading the complete "State Of The Indian Fintech Report Q2 2023 through this link
One in five Brits now prefer using their mobile phone to make payments in stores. Link here
An interesting find: Wise publicizes their software engineering salary ranges on their website, for all regions they hire in. Read Gergely Orosz' article, which goes into more details on what's expected at the senior level at Wise.
New startup map showcases Thailand's growing Fintech startup ecosystem.The Fintech Thailand Startup Map 2023, which takes a look at the country's fintech startup ecosystem and key verticals, reveals that the landscape has evolved steadily, growing from 97 companies in 2020 to 107 in 2023. Download here
---
FINTECH NEWS
Flutterwave expands remittance capabilities in the US, Canada, Egypt and rebrands $end to Send App by Flutterwave. The rebrand comes at a time when remittances to the continent have doubled over the last decade, supporting the medical bills, school fees, and living costs of an estimated 200 million relatives in Africa.
Brex and Rho turn to AI startups to help power new products. Specifically, Brex revealed Payables, its AI-enabled Accounts Payable (AP) offering, while Rho announced new AI-powered Accounts Payable automation capabilities. Read more
Finmo obtains Major Payment Institution (MPI) license. This license marks Finmo's official entry into the Singapore market, and the payments company's global customers can now receive funds in Singapore Dollars (SGD).
Chilean paytech Tenpo launches credit card. The credit card offers a 100% online and paperless application process. Through the app, customers can manage security settings, and set up automatic payments, among additional features.
Máximo Pay has unveiled its new Software as a Service (SaaS), MaaS, aimed at simplifying the creation and issuance of branded digital wallets and cards for businesses across all industries within a span of just 12 weeks.
Shift4 is taking direct aim at competitors like Toast. Last week, the publicly traded company announced it would pay restaurants that install its point-of-sale (POS) system $1 per online order for the first 3 months, plus a bonus of up to $5,000 for switching. Link here
---
DIGITAL BANKING NEWS
Dave announces 4.00% annual percentage yield for checking and savings accounts. "We're excited for our members to start seeing their hard-earned money grow in all Dave accounts," said the neobank CEO and founder. Read more
Revolut reports spikes in money transfers around international cultural celebrations. Revolut sees a 62% increase in money transfers to muslim countries as digital international money transfers continue to rise globally.
The Saudi Central Bank permitted "Tabby" to provide Buy Now Pay Later (BNPL) solutions. This decision reflects SAMA's endeavor to support the Finance and FinTech sectors by enhancing operational efficiency and innovative financial solutions to promote financial inclusion in Saudi Arabia.
---
BLOCKCHAIN
SCB and Thai Central Bank pilots retail CBDC App. The pilot programme is limited to a select group of whitelisted participants who will have the opportunity to try out the CBDC SCB app available for download at the App Store or Play Store.
LedgerEdge goes under. Corporate bond trading platform has gone into administration just a year after its live launch. In a statement made to media outlet The Desk, founder David Rutter attributed its closure to the "extremely challenging funding environment".
---
PARTNERSHIPS
Despegar partners with Binance Pay and Inswitch to offer crypto payments to LatAm travelers. According to Binance Pay's General Manager for North Latin America, Daniel Acosta, this partnership is the next step in Binance's mission to democratize crypto usage in LatAm.
CMC Markets rolls out TrueLayer payments in the UK and Europe. The partnership with TrueLayer allows CMC Markets to offer its customers a faster, smoother account-to-account payment experience, meaning they are now able to leverage a faster payments experience with funds deposited into their CMC Markets accounts.
Change Financial and Fintech Actuator join forces with Mastercard to create a payments incubator for local fintech startups. Under the program, Australian companies will be able to run small scale prepaid card solutions to test their products in market, without the cost and extensive processes involved in launching their own custom card programs.
Plinqit partners BMO for financial wellness pilot. Working with Plinqit is a testament to BMO's focus on fueling financial progress for individuals, families and businesses across North America.
Sutton Bank and Privacy Lock announce partnership to bring privacy compliance solutions to consumer financial programs across the country. Read more
---
M&As
Priority completes acquisition of Plastiq. The merger of their B2B offerings will offer a comprehensive range of working capital solutions, empowering businesses of all sizes to optimize vendor relationships, enhance cash flow flexibility, and foster business growth.
Mortgage servicing startup Stavvy acquires rival platform Brace. Strategic acquisition strengthens team and tech, solidifying leadership in servicing. Enhanced experience for servicers and homeowners in a fragmented system.
---
Novo launches working capital product for SMEs. The digital-only banking services provider has secured a $125 million facility for the launch. Novo Funding is built to support small business owners' short-term financial needs and long-term ambitions with a seamless working capital experience.
---
MOVERS & SHAKERS
Global Payments leader Paulette Rowe takes CEO post at Stax Payments. Rowe is a seasoned global executive with strategic leadership experience across banking, payments, and fintech. Read more
---
Want your message in front of 100.000+
fintech fanatics, founders, investors, and operators?