Daily News
Adyen's Pragmatic Growth Targets Lead to Stock Price Surge

Adyen on Wednesday cut its medium-term sales target, earning praise from analysts who said the new forecast was more realistic at a time when the digital payments sector is struggling.

Adyen is now aiming for a 20-30% increase over the next three years.

While Adyen said its "substantial long-term opportunity remains unchanged," it wanted to specify its expectations for the coming three years. Revising the forecast with a third-quarter update is a departure from its customary half-yearly reports and reflects pressure to provide greater clarity on its growth trajectory.

It comes after Adyen shocked the market in August by disclosing its slowest net revenue increase since listing in 2018. Its shares plunged 39% that day, and the shaken confidence has erased €24.1 billion ($25.8 billion) of its market value since then.

In a shift from its biannual reporting routine, the company has committed to more frequent updates, starting with quarterly reports, in a bid to restore investor confidence. Adyen's CFO, Ethan Tandowsky, announced these changes during their Investor Day, acknowledging the need for transparency in the company's progress.

The Long Story Short:

⚫️ Processed volume was €243.1 billion, up 21%YoY.
⚫️ Net revenue was €413.6 million in Q3, up 22% YoY. On a constant currency basis, net revenue of €413.6 million would have been 4% higher than reported.
⚫️ 175 FTE were hired to the team as part of the final stages of Adyen's accelerated investment phase.
⚫️ The company evolved its financial objectives in order to specify timelines around growth expectations.
Adyen's Investor Day spurred a favorable market response, resulting in the stock soaring by over 35% (!) in just a day.
Meanwhile, Adyen now faces a new challenger on its home ground: Swan, an Embedded Finance Fintech enters the Dutch market with an office in (also my hometown) Amsterdam, and launches localized Dutch accounts, as part of its continued European expansion.
The launch is part of the company's European hyperlocalization strategy, following a successful launch in Spain earlier in the year. The launch will enable Swan's Dutch customers to issue NL IBANs, and ensure all activities including compliance, legal, and product, are thoroughly localized.
In the past three weeks, three companies have already opened hundreds of Dutch accounts for their customers through Swan's embedded banking platform, demonstrating a strong appetite for its services in the Netherlands.
The announcement follows a month after a Series B investment round of €37 million to support the internationalization of the company and its Banking-as-a-Service platform.
Never a dull moment in Amsterdam 😉
Enjoy your weekend, but not before you check out the FinTech industry news I listed for you below👇
Cheers,
---
#FINTECHREPORT
Deloitte India's survey-based report "Digital Banking Maturity (DBM)" released reveals a promising trend – Indian banks are outperforming their global peers in digital maturity score compared to the global average. Access the full report here
---
INSIGHTS
🏦 The journey and implications of a Banking License. Becoming a bank is not the sole path; FinTechs can opt for lighter regulatory burdens as Electronic Money Institutions (EMI) or leverage partnerships to offer bank-like services without a full license. Read the full article by Mouro Capital to learn more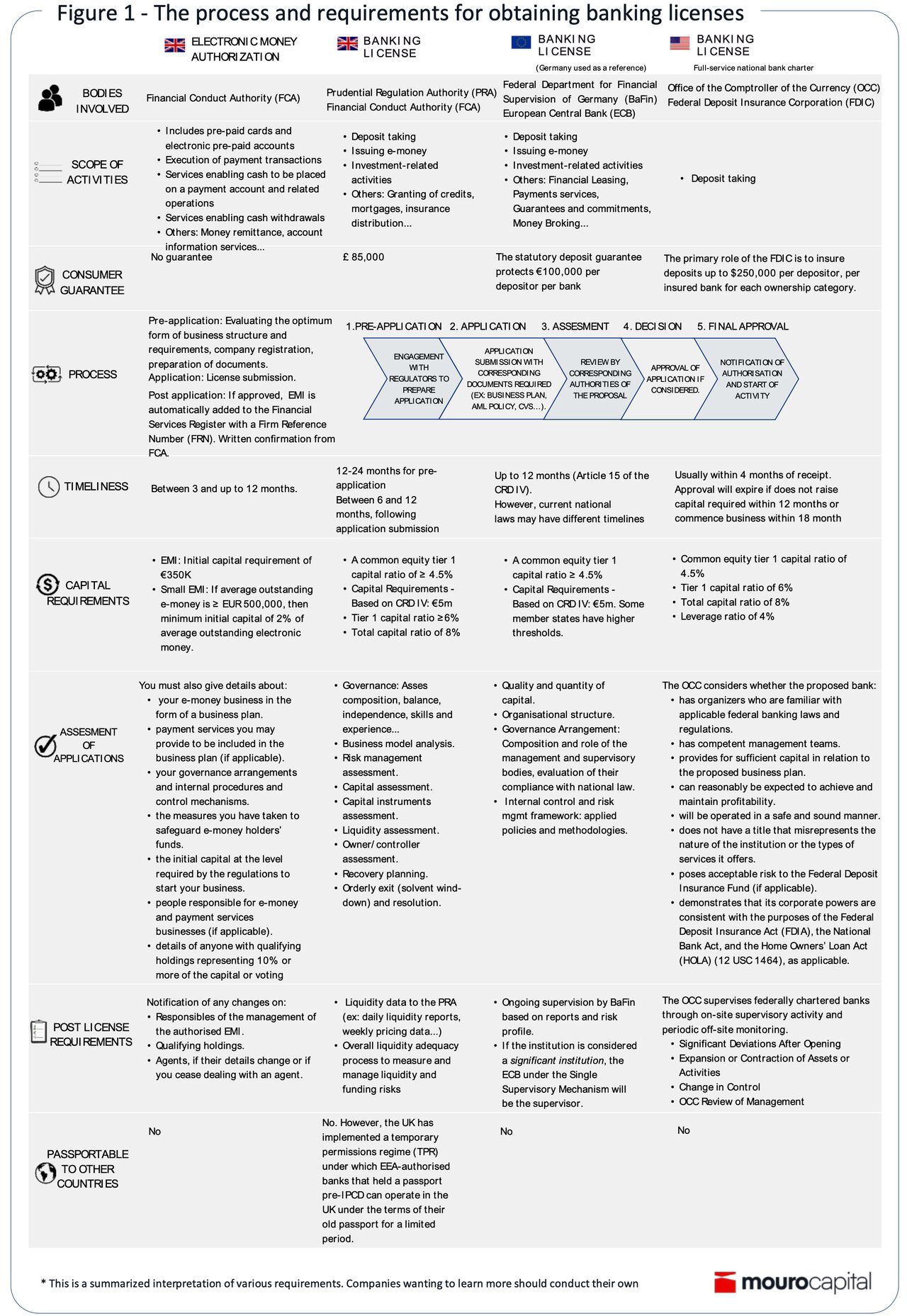 ---
FINTECH NEWS
🇬🇧 Cashing in: Savings fintech Flagstone hits £1bn quarterly inflows. The company has seen enormous growth through its partnerships with many of the UK's leading wealth management firms.
🇧🇷 Jeeves and Bexs launch cross-border B2B payments platform in Brazil. This move streamlines money transfers from Brazil to the USA and Europe, providing businesses with a seamless, swift, and transparent experience, eliminating manual processes
🇬🇧 Plend introduces interest-free 'Social Credit' for low-income borrowers. Plend aims to support 4,500 people by 2024, offering loans exclusively to referrals who were denied by other lenders and are vulnerable to loan sharks.
🇧🇷 Zoop receives payment institution licence in Brazil. With the new endorsement, Zoop intents to expand its product and service offerings, with the aim of empowering its partners with additional resources.
🇲🇼 Reserve Bank of Malawi grants Flutterwave license to process international transactions. This license will enable the payments company to process remittances from Malawians and other Africans sending money back home.
🇬🇧 Payments app Cardeo shuts down. In a statement on its website, the firm says: "Unfortunately, we have not been able to secure the investment required to continue as a business. Our mobile app will shut down on 9 November 2023.
---
PAYMENTS NEWS
🇺🇸 Jack Henry lands more FedNow clients. The firm has connected 40 of its customers to the Federal Reserve's new instant payments services system FedNow, though they remain in a receive-only status, a company executive said.
🇺🇸 mogul club raises $3.6M toward its effort to make real estate investing more accessible. The company plans to use its new capital to build new features and offer $10 million worth of single-family rental properties by year's end. Read on
🇬🇧 Adflex upgrades card reader technology with STP 3.0 to enhance buyer-initiated B2B payments. STP 3.0 enables card numbers to automatically be read from within emails, so transactions can be processed with no additional input required from the supplier.
Montonio introduces Blik payments directly in merchant checkouts. With this latest update, consumers can effortlessly enter their BLIK code directly in the checkout, removing the need for any external redirects. This innovation directly caters to the expectations of Polish online consumers.
🇸🇬 Silverflow enters Apac payments market with expedited go-live with Mastercard in Singapore. Acquirers and merchants in the APAC market will now be able to leverage Silverflow's advanced technologies for more collaborative, quicker, and efficient payment processing.
🇸🇬 Pace in liquidation as yet another BNPL player falls by the wayside. The startup filed for voluntary winding up in August, according to filings with the Accounting and Corporate Regulatory Authority of Singapore. The inability to continue due to liabilities was cited as the reason.
---
OPEN BANKING NEWS
TrueLayer brings open banking payments to Shopify. Powered by instant payment rails, open banking payments allow for real-time settlement of funds and enables businesses to process refunds faster.
---
REGTECH NEWS
IDVerse joins Mastercard Engage partner programme. IDVerse's technology broadens Mastercard's reach to various devices, reducing bias and combating discrimination through generative AI, staying ahead of global fraud trends.
---
DIGITAL BANKING NEWS
🇬🇧 Monzo debuts cashback feature, where customers can reap the rewards for shopping with a wide range of everyday merchants. The easy-to-use functionality gives customers instant cashback notifications after purchases, so they will be able to see their upcoming cashback accumulate in real-time.
🇺🇸 Charlie announced the launch of FraudShield, a personalized suite of fraud protection tools built exclusively for the unique needs of 62+ Americans that is entirely free of charge for all Charlie customers.
🇺🇸 Dorsey's Cash App withdraws its Central Bank of Ireland licence application. In accounts filed with the CRO, Block's Cash App entity in Ireland stated that "there are no immediate plans to launch new products" through the company.
---
BLOCKCHAIN/CRYPTO NEWS
Ripple and Onafriq offer digit asset-enabled payments between Africa and rest of the world. The partnership will bring faster, more efficient, and cost-effective international money transfers to Africa, accelerating financial inclusion across the continent.
---
DONEDEAL FUNDING NEWS
🇮🇳 Neobank BranchX raises $900K in bridge round. The proceeds will fuel BranchX's expansion, product enhancement, and the development of Xenie, a Gen AI voice assistant solution that encompasses retail connect, loyalty programs, and rewards system.
Mercado Pago, the digital banking arm of Mercado Livre, has received a boost with a $466 million investment from Citi subsidiaries for its financial institution, Mercado Crédito. This infusion of funds is aimed at enhancing credit availability in Brazil and Mexico, benefiting consumers, business owners, and small enterprises.
🇧🇷 Brazilian Fintech iugu receives US$14M investment to explore new avenues for growth in the region. This is iugu's second FIDC financing. In a note, the firm reports that the fintech aims to direct the fund to the credit card receivables advance process.
Truist invests in Mendoza Venture's $100 million early-growth fintech fund. The fund is targeting $100M and will invest in early growth-stage startups with a focus on diverse teams. Read more
🇮🇳 InCred Closing $60 Mn Series D Round, To Be Second Unicorn in India in 2023. The fresh capital will be strategically deployed across InCred's core business verticals – consumer loans, student loans, and MSME lending.
Danish wealthtech startup Performativ snags €5.5 million. The platform currently handles over €20 billion in assets spanning five countries. The new funds will be used to finance a push into new markets.
---
MOVERS & SHAKERS
🇮🇳 Fintech Unicorn Razorpay Elevates CBO Rahul Kothari To COO Role. As the COO, Kothari will further develop Razorpay into a customer-centric organisation, ensuring a seamless customer experience for various customer segments and businesses.
Stacey Parsons joins PrimaryBid as head of fixed income. Her appointment will accelerate PrimaryBid's efforts to enhance investor access to corporate debt and sovereign issuance, leveraging its technology and building on strategic partnerships and investor advocacy initiatives in the UK and EU.
---
Want your message in front of 100.000+ fintech fanatics, founders, investors, and operators?
Shoot me a message on LinkedIn or send me an e-mail.