Daily News
Goldman wants out of Apple deal and Adyen to go live with Tap to Pay on iPhone in Australia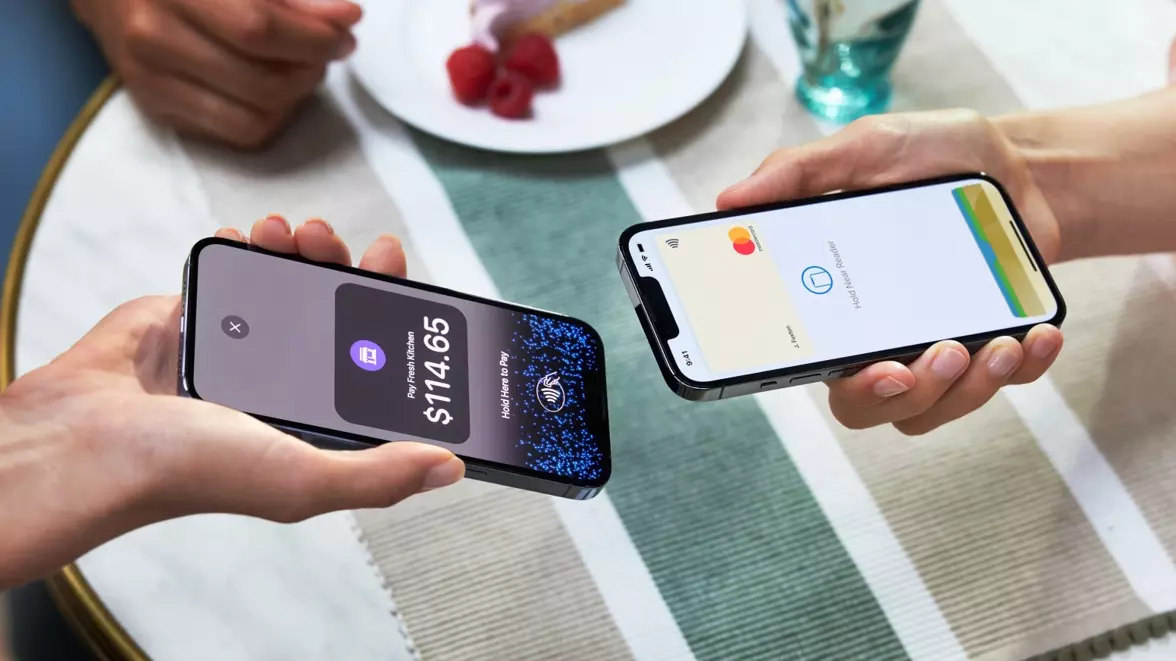 Apple Card and Apple Savings are performing so poorly for Goldman Sachs, one executive has reportedly said that "we should never have done this f****** thing."

Goldman Sachs invested heavily in its consumer lending projects, most notably on the Apple Card but also in others such as a General Motors credit card. From the start, the company faced problems such as accusations of gender bias in its credit limit calculations — which it has since been cleared of.

There was also just the fact that Goldman Sachs spent $350 for every new Apple Card user. In 2022, Goldman Sachs lost $1.2 billion, chiefly because of the Apple Card.

Now according to the Wall Street Journal, the finance company wants out of even that deal and has been negotiating to sell off all of its consumer products.
I highly recommend reading my blog post on this topic I published recently called "The Inside Story of The Apple-Goldman Drama".
Meanwhile, down under, Adyen has unveiled its Tap to Pay on iPhone feature for retailers in Australia. Tap to Pay is facilitating a swift and seamless payment process.
With this innovation, businesses can accept various forms of contactless payments, like contactless credit/debit cards, Apple Pay, and more, directly via an iPhone—eliminating the need for any additional payment hardware.
Buy now, pay later provider Klarna has been accused of cutting off rifle suppliers from finance after declaring them unethical.
A number of shooting and countryside sports retailers have had their Klarna partnerships canceled after being told they infringed the company's ethics policies, the Times reports.
See more news listed below, and enjoy your day!
Cheers,
---

---
POST OF THE DAY
Tokenization and Apple Pay payment process👇 Let's dive into the step-by-step process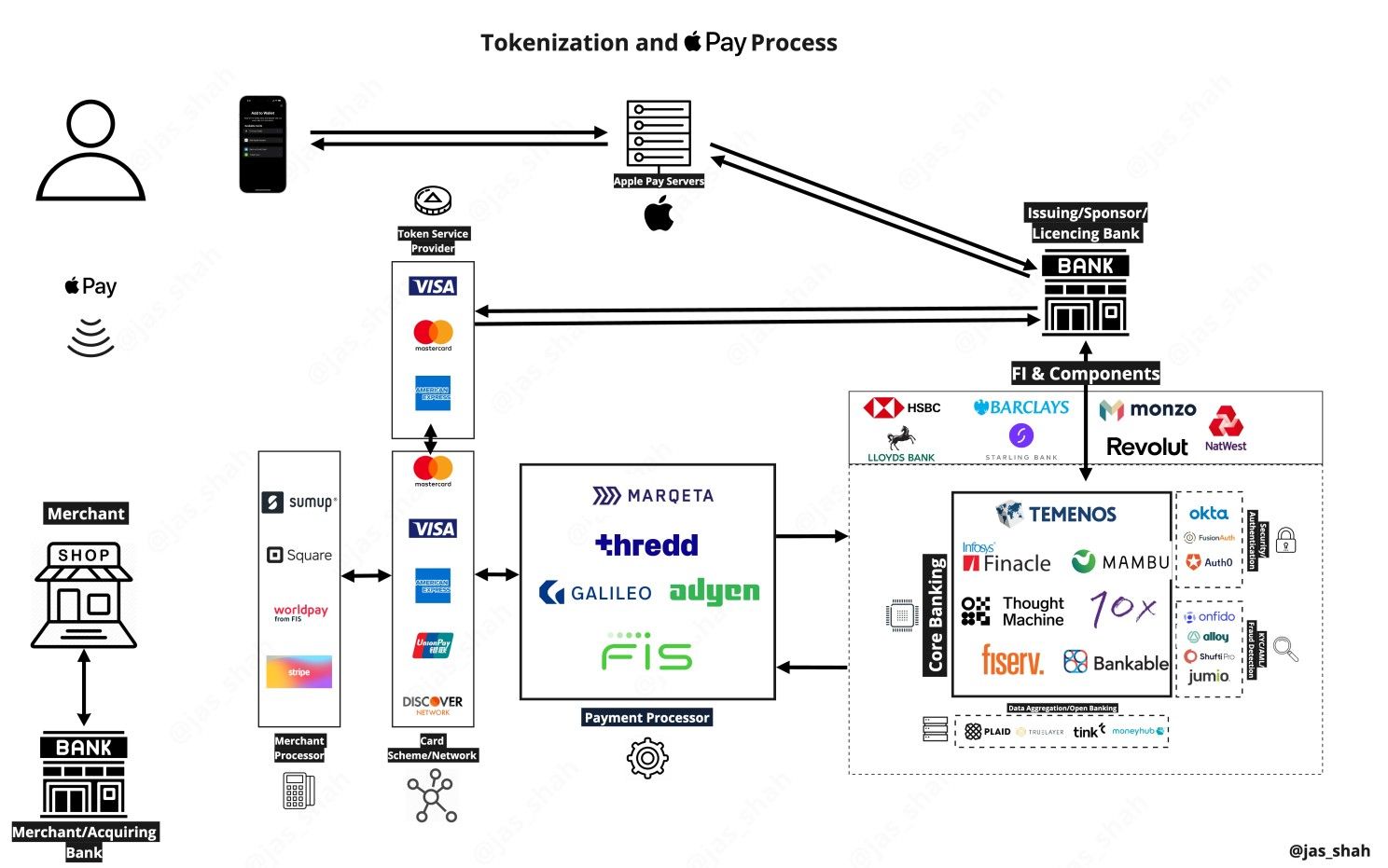 ---
BREAKING NEWS
🇬🇧FCA imposes customer onboarding restrictions on payments fintech Modulr. The firm, which provides the payments infrastructure for businesses — including numerous FinTechs like Sage and Liberis — says it's working with the regulator on its "systems and processes".
---
INSIGHTS
🇺🇸SEC head warns AI could cause financial crisis. SEC's director, says that it is "nearly unavoidable" that AI will trigger a financial crisis within a decade unless regulators intervene, and warns that regulating it is a "difficult challenge" because a large number of financial institutions may be using the same basic models.
🇦🇺More than 2-in-5 Australian businesses are already using AI for e-commerce: New research from PayPal reveals. The recently released 2023 eCommerce Index research from PayPal Australia highlights that 42% of Australian businesses are already using artificial intelligence (AI) to boost their e-commerce activities.
---
FINTECH NEWS
🇳🇱Swan and Ageras launch Tellow, an amazing banking product for Dutch freelancers and small businesses in The Netherlands. By integrating invoicing, expense management, and tax applications with banking, they've made life for entrepreneurs so much easier. More on that here
🇵🇰easypaisa Karobar to revolutionize digital banking services for merchants. Being Pakistan's first digital banking app for retailers, easypaisa Karobar enables merchants to manage their financing needs digitally, reduce operational complexities, and become part of the digital economy.
---
PAYMENTS NEWS
🇮🇳Hitachi Payment Services launches HPX, an initiative that reflects the company's commitment to revolutionise the payment industry and aims to provide superior payment experiences through innovation for businesses and consumers.
Nearly one-third of consumers say higher credit limits will boost BNPL's appeal. According to a joint PYMNTS Intelligence-AWS study, credit card installments are used more for larger purchases due to their superior features. The study also found that consumers plan to use BNPL more in the next year, especially those who are already using it.
🇺🇸GoDaddy integrates Paze into online checkouts for small businesses. The integration will provide small businesses with more convenient online checkout experiences for consumers and help eliminate abandoned online shopping carts, GoDaddy said in a press release.
---
OPEN BANKING NEWS
Have you ever found yourself conversing with industry professionals, and it feels like they're all talking in code? Here is a comprehensive alphabet made by Subaio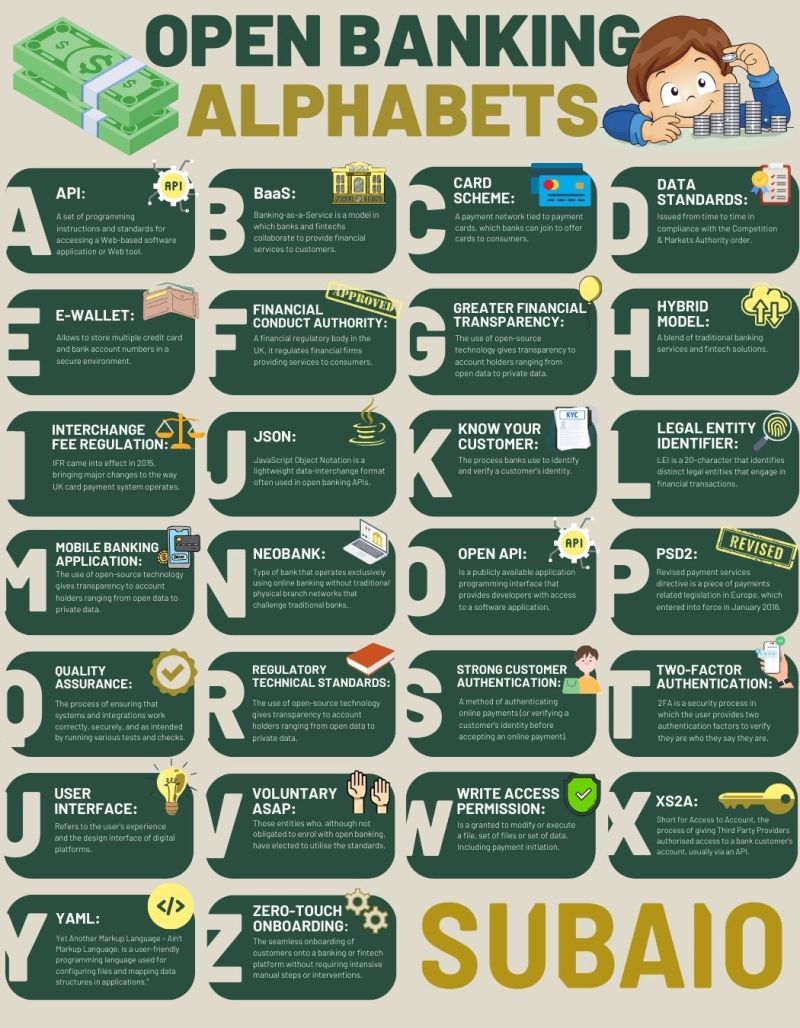 🇬🇧TotallyMoney launches open banking powered tool to help UK's 20 million financially under-served adults manage their money. This new feature will allow individuals to connect their real-time open banking data and track when regular payments will be coming out.
🇧🇷Belvo aims to double its account connections in Brazil by the end of 2023. In the previous year, Belvo facilitated connections for 2.5 million bank accounts in Brazil, and it expects this figure to exceed 5 million this year. Read more
---
REGTECH NEWS
🇦🇺Commonwealth Bank leapfrogs delayed government digital identity launch with ConnectID. Australia's largest bank is now offering customers the ability to use digital identity credentials via its CBA app to verify customer identity, using biometric facial scans as part of digital payments offered by the bank.
🇺🇸Jack Henry announces it is redefining fraud prevention with the launch of Jack Henry Financial Crimes Defender, a cloud-native fraud and anti-money laundering (AML) solution designed with real-time capabilities at the forefront.

Subscribe now
---
DIGITAL BANKING NEWS
🇦🇺Up Banking customer numbers will overtake CommBank in the Youth market in 2 years: Up Co-Founder Dom Pym. According to Pym, Gen Z and Millennials make up around 80% of Up's customer base. He spoke about Up's positioning as 'not your typical bank' because of great design/CX/UX and great technology.
🇬🇧Habito turned its first monthly profit in September. In a LinkedIn post, the new CEO, Ying Tan, expressed his excitement, stating, 'For context, in 2022 our average monthly loss was £897,000, and for the first five months of 2 023, it was £385,000!'. Click here to learn more.
🇬🇧Metro Bank seeks bids within weeks for £3bn mortgage book. Metro Bank wants bidders to submit offers at the beginning of next month, with Barclays, Lloyds Banking Group and NatWest Group all having an indicated an interest, Sky News understands. Read more
---
BLOCKCHAIN/CRYPTO NEWS
🇺🇸Ferrari to officially accept crypto as payment for its supercars. The sports car manufacturer has announced its decision to accept cryptocurrency as a form of payment for its vehicles in the United States, with plans to extend this payment option to Europe in the near future.
🇲🇺Bank of Mauritius to Launch Digital Rupee Pilot in 'Upcoming Months.' The bank is moving forward with its efforts to launch a central bank digital currency (CBDC), recently disclosing that a pilot project for the CBDC is scheduled to commence in the upcoming months.
---
DONEDEAL FUNDING NEWS
🇧🇷CondoConta has secured a significant investment of R$30 million in a funding round led by EXT Capital. With more than 400,000 users, the fintech bet on getting closer to the market that used to be in the gray area of the traditional banks. Read more
---
M&A
🇺🇸Block acquires music financial services startup Hifi, which states that it's joining Block to "further our shared purpose of economic empowerment with the financial technologies and services we have built to help artists thrive."
🇹🇷Papara CEO: Turkish unicorn poised to enter "two or three other markets" via upcoming M&A. In the coming weeks, Emre Kenci disclosed that Papara also will announce another acquisition in Europe and is only waiting on the central bank of the country to approve the transfer of shares.
---
MOVERS & SHAKERS
Revolut grows financial crime headcount to combat rising fraud levels. Revolut's commitment extends to its ability to attract top-tier fraud talent having received more than 77,000 job applications for roles in its FinCrime team.
🇺🇸Ally CEO, Jeffrey Brown, is leaving the bank in January. The bank did not name a successor in its press release, but said Brown would address the transition Oct. 18 at Ally's third-quarter earnings call. Read more
---
Want your message in front of 100.000+ fintech fanatics, founders, investors, and operators?
Shoot me a message on LinkedIn or send me an e-mail.