Daily News
What do PayPal, Stripe and Adyen do exactly?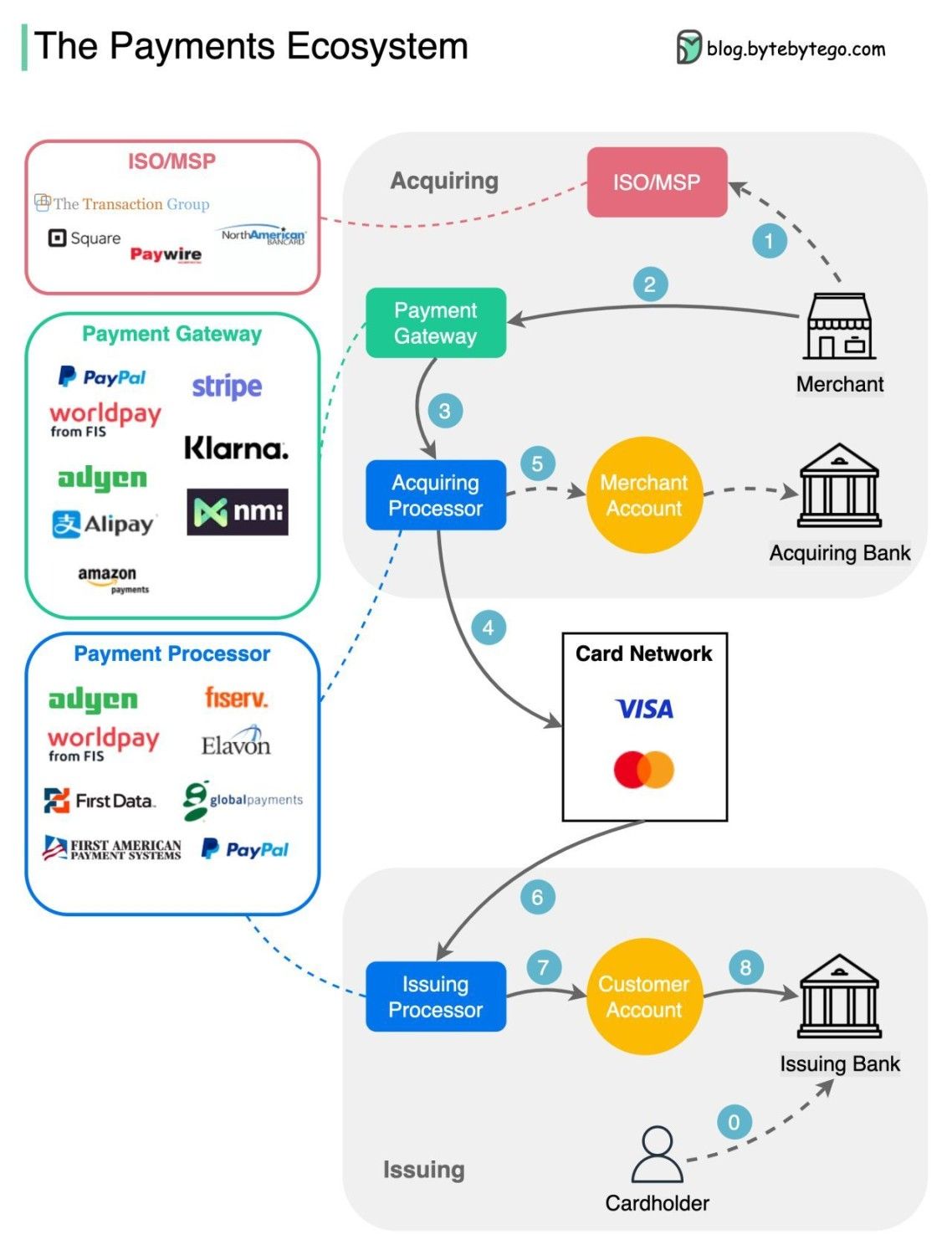 Happy Friday fellow FinTech Fanatic,
London-based challenger bank Revolut reportedly plans to increase its global cryptocurrency team by hiring up to 20% more employees by the end of 2023.
The move comes somewhat unexpected; not only because of the regulatory headwinds Revolut is dealing with in some markets, but also given the fact the firm recently disclosed that it will suspend digital asset services to US-based customers from September.
As revealed by Financial News, Revolut is set to onboard over 1,000 people this year across the United Kingdom, Europe, and India. Approximately 40% of those people will be added to the UK unit.
The company is looking for candidates for numerous positions related to crypto compliance and investigations for global markets such as Spain, India, and Poland.
Clara moves to Brazil
FinTech Clara is moving its headquarters from Mexico to Brazil after obtaining a central bank license to operate as a payment institution.
It's move set to boost the firm's expansion in Brazil, a country Clara sees becoming its top market by next year.
With the payment institution license Clara will be able to expand its footprint in Brazil by offering products such as express wire transfers (TEDs) and deposits via the popular instant payment system, PIX.
Diagram of the payments ecosystem at a high level
Before we dive into other FinTech news, I'd like to address a question I often come across: what exactly do companies like Adyen, PayPal, and Stripe do?
Providing a simple answer to that question isn't as straightforward as it used to be, especially if you've been around the FinTech scene for a while. The engaging diagram from ByteByteGo beautifully illustrates at a high level the various role(s) that major payment players take on, shedding light on their functions and roles in the payments ecosystem.
Thanks for reading this far and please find the other FinTech news listed below.
---
2023 Remittances Report, by Wise.The report delves into sustainable cost reduction and the achievement of the UN goal of 3% by 2030, and centers on 12 G20 countries recognized as 'remittance sending countries' by the World Bank. For more details, please read the complete report here
---
INTERVIEW
Visa's new head of fintech talks partnerships, venture and creators as an addressable market. The relationship between fintechs and incumbents has long been fraught with tension. But Marie-Elise Droga believes it doesn't have to be this way. Click here to read the full interview by Mary Ann Azevedo.
---
INSIGHTS
Has Airwallex dialed back its ambitions? Airwallex has weathered the fintech funding slump better than many companies that dabble in retail payments. Read the complete analysis here
The Next Chapter of Embedded Finance. A Guide for how and where to Play - to Win. I highly recommend reading the complete article by Andrew Steele and JJ Brink from Activant Capital.
Varo's Progress On Profitability Stalls, Q2 Call Report Shows. Though the company has made substantial progress — lowering its quarterly losses from a peak of $88 million in Q4'21 to about $27.5 million last quarter, Varo's progress on its "path to profitability" appears to have stalled. Click here to read the full article by Jason Mikula.
---
FINTECH NEWS
Visa UK introduce new measures to protect businesses from 'friendly fraud'. The new framework, Visa Compelling Evidence 3.0 (CE3.0), gives businesses the opportunity to discover whether the charge is valid and authorised by the cardholder, which provides an additional level of protection to merchants.
Sweden's Brite Payments makes further advances into Denmark. With full product coverage in Sweden and Finland, the addition of Denmark further strengthens the second-generation fintech's footprint as it continues its expansion across Europe.
ForwardLane has introduced the EMERGE platform, a generative AI solution for wealth management. This platform aims to address various enterprise challenges, including data transparency, privacy, and security issues, within the wealth, asset management, and insurance sectors.
nVest launches its sandbox for fractional investing. The nVest sandbox serves as a secure test environment for banks, other financial institutions and fintech apps to access seamless fractional trading in stocks and ETFs, unlocking a new realm of possibilities for investors of all sizes.
Chilean fintech firm Capitaria, specializing in trading and investments, has extended its operations to Mexico with clear targets set. Already having a presence in Chile, Peru, and Uruguay, this new venture aims to attract over 200 clients within its initial year in Mexico and handle transactions amounting to US$500 million.
---
DIGITAL BANKING NEWS
Recognize Bank launches two new savings accounts offering up to 6.1%Recognise Bank has boosted the rate on two fixed-rate savings accounts shooting them to the top of the best buy tables, after a slight lull in top fixed deals being launched.
Dave edges closer to profitability, 2 million monthly members. The neobank narrowed its net loss in the second quarter, and CEO Jason Wilk says it can become profitable next year as planned by continually refining its core product — $500 cash advances underwritten by artificial intelligence.
---
BLOCKCHAIN
SoFi Bank Reveals $170 Million Crypto Hodl. SoFi Bank has revealed in its quarterly earnings report that it holds $170 million worth of crypto, made up of Bitcoin, Ethereum, Litecoin, Solana, Ethereum Classic, and Dogecoin.
Bank of Russia set to begin digital ruble pilot. The bank  has revealed that it has enlisted 13 banks for the pilot testing of a digital ruble involving real-world transactions. The test is set to begin on August 15, with select clients from the participating banks trialing the scheme.
Luno Reflects on its Journey in Malaysia After a Decade in Crypto. Read moreabout Luno and its role as a pioneer in cryptocurrency and digital asset trading within Malaysia's fintech landscape.
---
PARTNERSHIPS
Yonder and Smart Pension to bridge the gap for international employers and remote workers. The partnership utilises both firms' powerful APIs to provide international employers with an effortless, modern and digital way to set up and manage a workplace pension for their UK-based employees that's compliant with UK auto-enrolment law.
ASL accelerates growth in Fintech services with Finastra. The partnership, integrating Finastra's Kondor system "with ASL's managed services, marks a promising milestone in the evolution of fintech and Open Banking sectors."
UnionPay International partners with PayNet. Via this joint venture, the two parties further aim to promote the use of UnionPay-powered wallets at QR merchants across the country.
Prex partners with Allaria to launch a high-yield savings account in Argentina. The primary goal of this collaboration is to democratize access to top financial products and services across Latin America.
---
Paytech Cubo receives an investment of US$750K from the IDB to promote financial inclusion in Central America. Salvadoran startup Cubo stands out for offering solutions for MSMEs, facilitating credit or debit card payments, links for quick payments and QR codes for digital payments, both printed and digital.
RegTech Kore raises £2.4 million. The firm is expecting further growth following the implementation in the UK of new Consumer Duty rules, which places a burden on firms to demonstrate the delivery of good outcomes for customers from their sales and marketing activity.
Shariah-compliant investment platform Mnaara raises pre-seed funds. The funds follow strict Shariah screening guidelines which limit and control non-ethical activities in Islamic finance, such as gambling, tobacco, alcohol, and arms, in addition to generating income from interest.
SphereX raises $8.2m for smart contract security tech. Integrated into the smart contract as a security module, SphereX Protect prevents hackers from exploiting vulnerabilities in the code.
---
MOVERS & SHAKERS
Nutmeg and Chase UK boss Sanjiv Somani exits JP Morgan. Sanoke Viswanathan is taking up direct control of the UK, AltFi understands. Link here
Zip has appointed Cynthia Scott as its new chief executive, with co-founder Peter Gray moving to head the BNPL group's Australian and New Zealand division. The executive change comes amid a broader restructure of the company.
---
Want your message in front of 100.000+ fintech fanatics, founders, investors, and operators?