The launch of the Unified Payments Interface (UPI) by the National Payments Corporation of India (NPCI) in 2016 marked a paradigm shift in India's payment ecosystem. Necessitated by the fragmented and complex nature of existing payment systems like RTGS, IMPS, and NEFT, UPI aimed to amalgamate various payment interfaces under a single, standardized framework.
Initiated by Dr. Raghuram G. Rajan, the then-Governor of RBI, and materialized by NPCI, UPI was unveiled with a pilot program involving 21 banks on April 11, 2016. It was designed to streamline and fortify digital transactions, ensuring that the user experience was both seamless and secure, marked by its launch for the masses on August 25, 2016.
UPI promotes real-time inter-bank transactions by amalgamating multiple bank accounts into a single mobile application, allowing users to seamlessly manage fund transfers and merchant payments, while also facilitating 'peer-to-peer' and 'peer-to-merchant' transactions.
Payments through UPI can be executed via various modes like UPI ID, UPI Number, Account number, and IFSC, maintaining security through a 2-factor authentication process and a unique UPI PIN.
According to RBI, the Unified Payments Interface (UPI) achieved a phenomenal milestone of 10 billion transactions in August 2023.
The Evolutionary Ladder of UPI
2016: UPI instigated a new era for P2P and P2M payments.
2017: Enhanced functionalities like refunds, incorporation of multiple bank accounts, and offline payments were introduced.
2020: Introduction of QR code payments, and integrations with voice commands and virtual assistants.
2021: UPI Bharat QR launched as a universal QR code facilitating seamless UPI payments.
2022: UPI AutoPay introduced, streamlining the setup of recurring payments.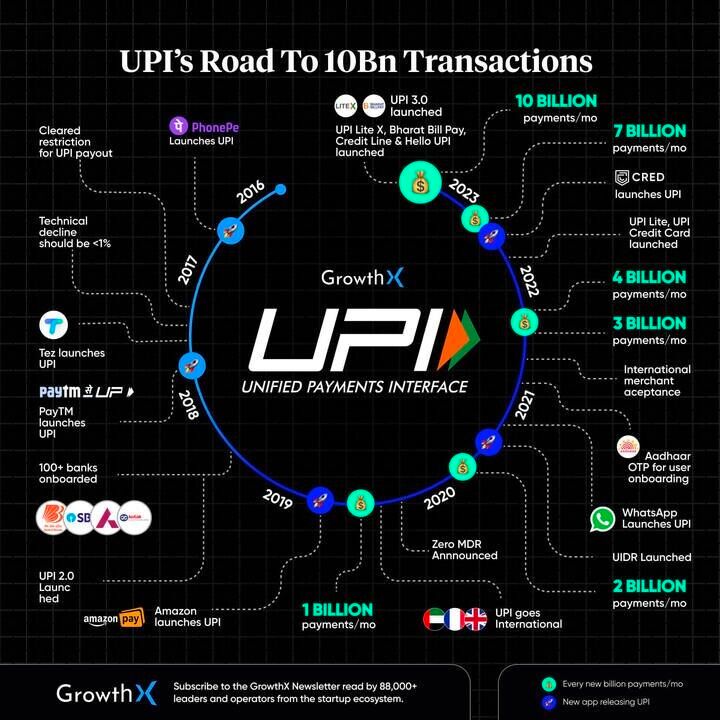 Recent Innovations in the UPI Sphere (2023)
UPI's relentless innovation trajectory in 2023 brought forth:
Credit Line: Enabling users to access a credit line for hefty payments.
UPI Lite X: Facilitating UPI payments under constrained data or connectivity.
Tap & Pay: NFC-enabled swift payment transactions.
Hello! UPI & BillPay Connect: Inclusion of voice commands for managing UPI and bill payments.
UPI: Going Global
Beyond its domestic success, UPI has embarked on an international journey, spreading its innovative payment solution to:
Bhutan (2021): Becoming the inaugural international adopter of UPI, through a collaboration between the National Bank of Bhutan and NPCI.
France: A remarkable step, enabling Indian tourists in France to execute payments in Indian Rupees, starting from the emblematic Eiffel Tower.
Mastercard
In recent news, Mastercard's CFO, Sachin Mehra, recently provided both positive feedback and concerns regarding India's Universal Payment Interface (UPI) at a UBS conference.
UPI, India's primary mobile payment system, facilitates over 10 billion monthly transactions, mainly due to its low cost to merchants.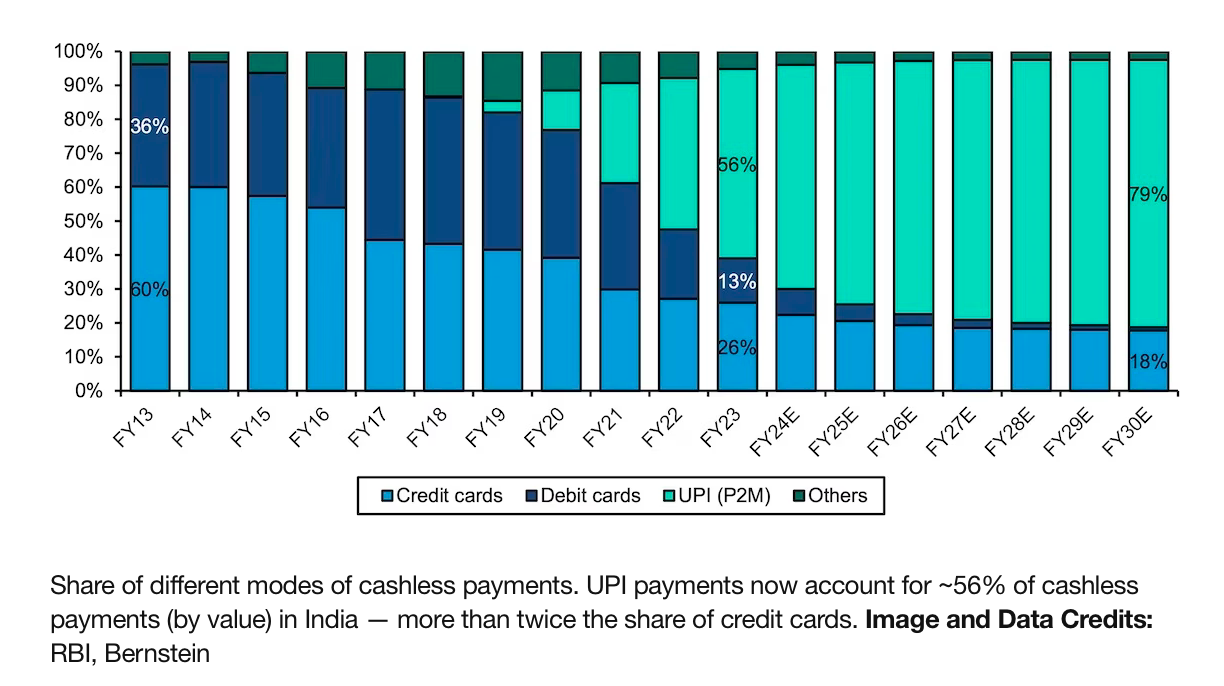 While Mastercard and Visa typically charge merchants a transaction fee, UPI mostly doesn't. This has raised questions about its long-term financial sustainability, with some fintech leaders suggesting that fees should be introduced for UPI-using merchants.
The broader shift from cash to digital payments in India has been beneficial for many stakeholders, including the government, which saves on currency printing costs and boosts tax collection efficiency. However, global entities like Mastercard face challenges, especially with the rise of local competitor RuPay, which is integrated with UPI and offers zero transaction fees.
Conclusion
UPI has emerged not just as a successful fintech innovation within India but also as a global pioneer, demonstrating how thoughtful integration of technology can revolutionize payment systems by offering secure, user-friendly, and interoperable financial services to a wide array of users.