Daily News
🤑The Top 10 European FinTech Deals
As the Crypto Asset Markets Regulation (MiCA) looms on the horizon, leading FinTech players such as Revolut, PayPal, and various crypto businesses are seeking more time to adapt to the forthcoming changes.
MiCA, set to take effect across all European Union countries in December 2024, aims to establish a unified framework for licensing and oversight of cryptocurrency companies. One key aspect of MiCA is the imposition of stricter anti-money laundering (AML) standards, representing a significant shift in the compliance landscape.
Here's where things get interesting: After the MiCA regulations come into play, fintech firms are provisionally granted an 18-month grace period to ensure compliance. However, this timeframe is not set in stone, and that's where Revolut, PayPal, and their counterparts come into the picture.
These industry leaders are advocating for a flexible approach, suggesting that each EU member country should have the autonomy to decide on their own 18-month transition period.
The move comes as Ireland expresses its commitment to retaining the full 18-month grace period, particularly for cryptocurrency service providers (CASPs).
Meanwhile, European FinTech startups saw a significant decrease in funding during the last quarter, with the total amount raised dropping below one billion euros for the first time in years.
The data, provided by French investor Blackfin for Finance Forward, reveals that the total funding for the third quarter was 954 million euros, lower than early 2019 figures.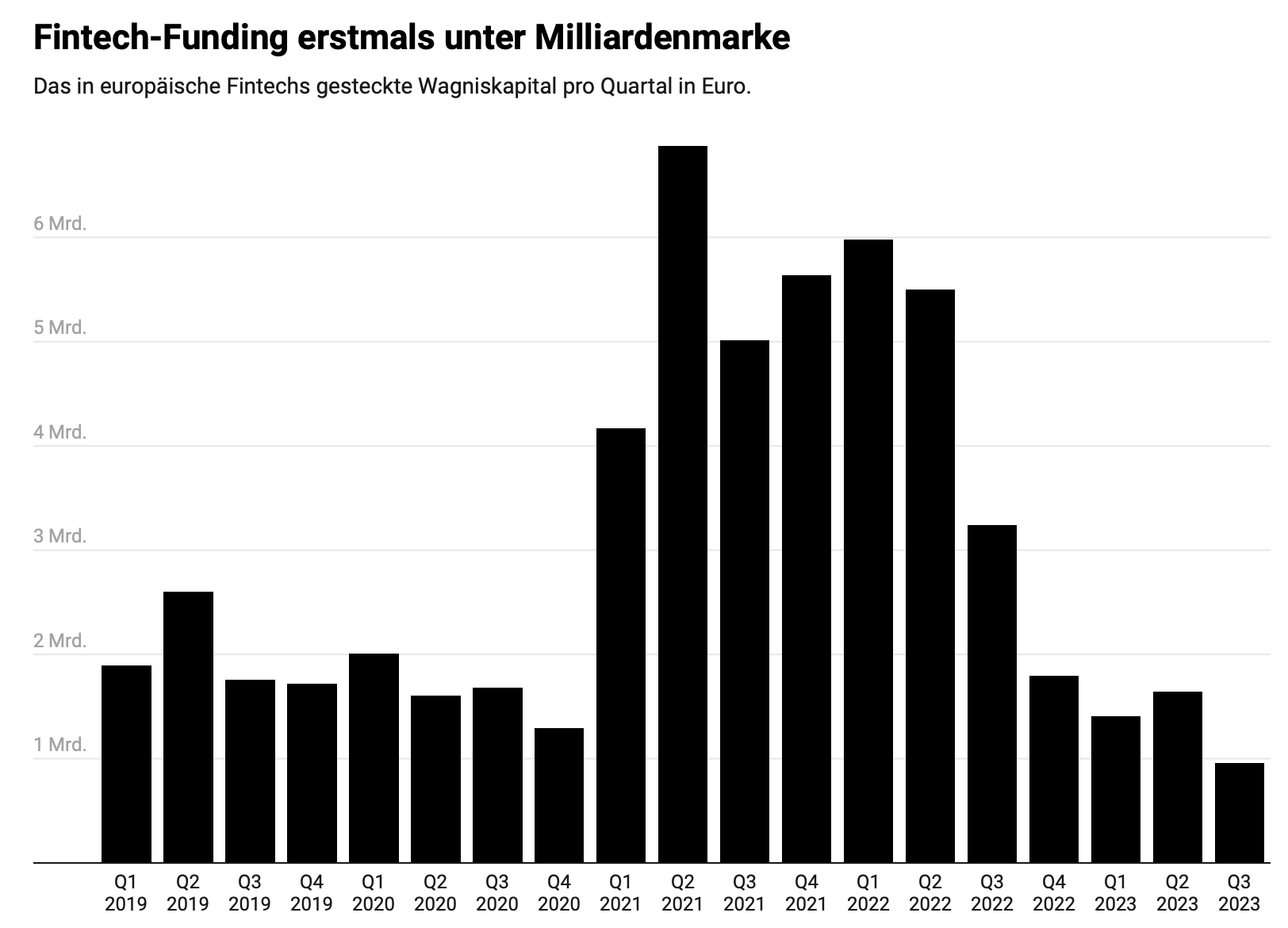 Major funding rounds, especially those over 100 million euros, were lacking, even though companies like Solaris (a banking provider) and Sumup (a payment firm) are actively seeking such investments.
Here are some key stats:
Number of deals in Q3: 134 (down 35% from 206 in the previous year).
Total capital raised: 954 million euros (a decrease of 71% from 3.3 billion euros the previous year).
Total capital from the top ten deals: 403 million euros (down 80% from 2.0 billion euros the previous year).
Average funding round: 8.3 million euros (a decrease of 55% from 18.6 million euros the previous year).
Median funding round: 3.3 million euros (down 23% from 4.5 million euros).
Enjoy all other FinTech Industry News updates I listed for you below and until the next!
Cheers,
---

---
POST OF THE DAY
🏦🤖Generative AI is transforming Banking with various applications. Here are 10 Popular Use Cases of Generative AI in Banking.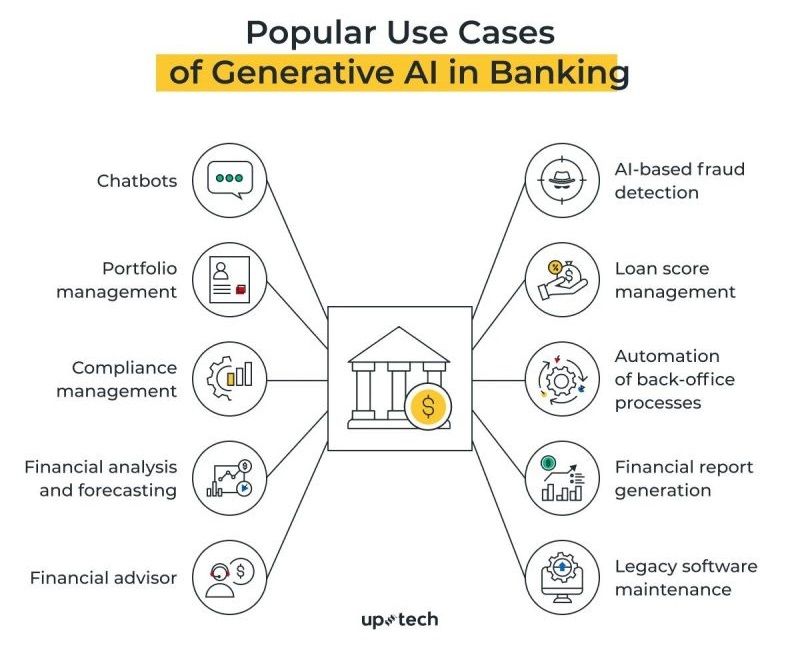 ---
BREAKING NEWS
🇺🇸Binance US users are no longer able to make USD withdrawals. The new terms no longer make the claim that users who hold fiat at Binance US are eligible for passthrough insurance from the FDIC. The crypto giant also stopped accepting new users in the UK while it works to find a partner to help it meet recently-introduced crypto asset promotion rules.
---
FEATURED NEWS
European regtech Fourthline expands operations to France with Neobank Shine. By establishing itself in France, one of the most strictly regulated markets in Europe, Fourthline is "demonstrating its ambitions to deploy a pan-European offering and get closer to its clients."
FTX's political donations came from stolen customer funds, testifies company insider Nishad Singh. The former FTX engineering director said he committed crimes alongside Sam Bankman-Fried. Read more
---
INSIGHTS
🇺🇸Third-quarter earnings season: 🏦 US Banks 👇Let's take a look: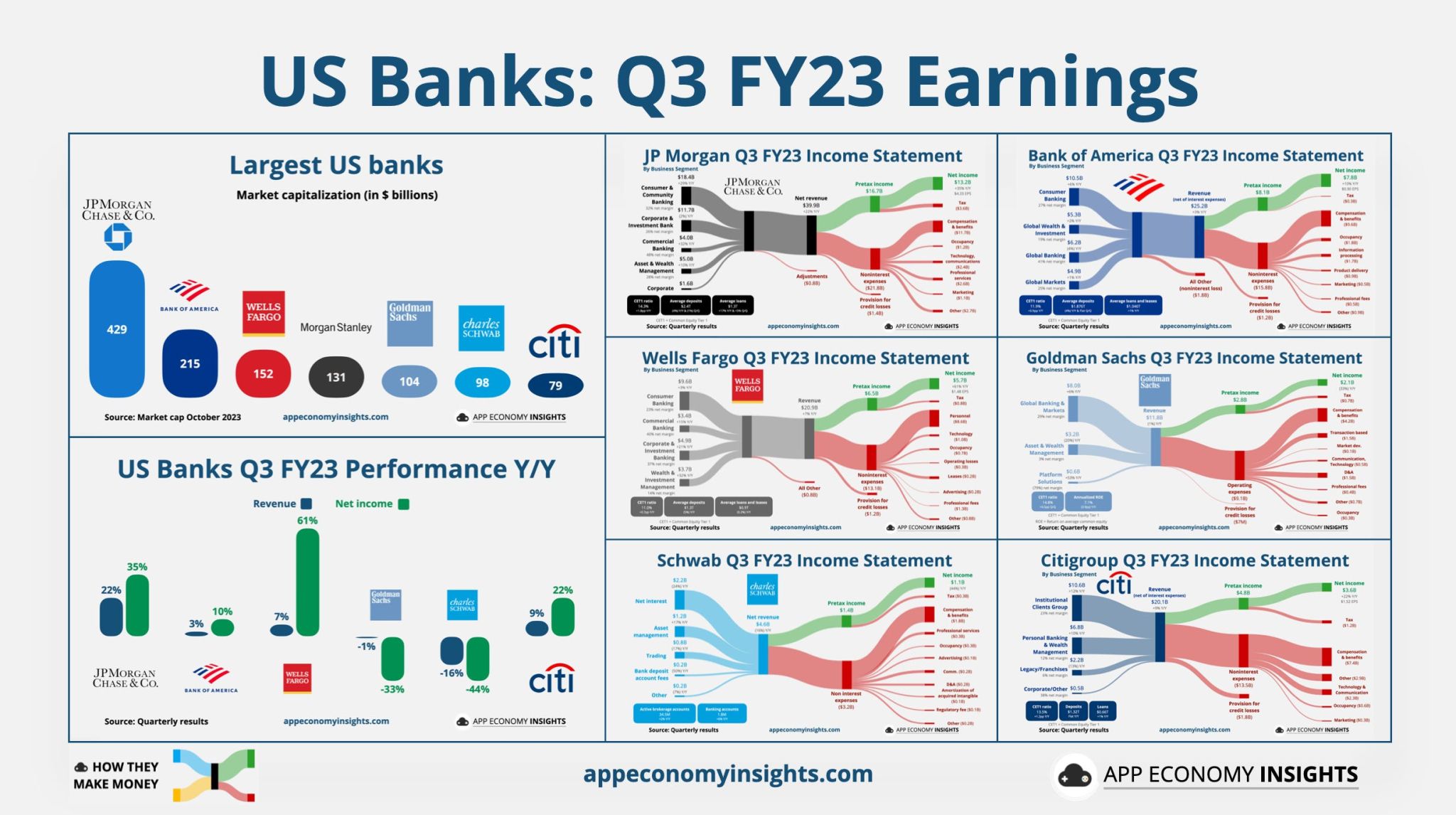 ---
FINTECH NEWS
🇱🇻Mintos debuts high-yield Fractional bonds for retail investors. This offering opens up the world of fixed-income securities to retail investors in Europe, making it accessible and easy for anyone to diversify their portfolio with bonds.
🇵🇱Verestro implements money transfers on Slack. The integration represents a game-changer for a new generation of Slack users, and opens up new possibilities for Verestro's employees and affiliated companies, allowing them to conduct transactions effortlessly right where they collaborate.
🇺🇸Galileo takes the wraps off corporate credit product. The Galileo Corporate Credit solution simplifies this process by introducing a central account with a single credit limit for fintechs and non-financial brands to facilitate a streamlined billing cycle and enable corporate-level repayments.
---
PAYMENTS NEWS
Marqeta and Scalapay partner to expand BNPL across Europe. The two companies have signed a five-year exclusive contract, where Marqeta will issue virtual cards for online and in-person transactions, creating a more seamless payments experience for both merchants and consumers.
🇦🇺Zeller is introducing Split Payments, a highly-anticipated feature simplifying group purchases. Zeller Terminal users can now split payments between friends and family today, either by number of people or by a custom value.
BigPay taps Thredd's Payments expertise to fuel its regional expansion and enhance its payment services. This collaboration will kick off with BigPay's forthcoming launch in Thailand, followed by ventures into Indonesia and the Philippines by early 2024.
🇬🇧MyPOS unveils Tap to Pay on iPhone for merchants in the UK to allow merchants to accept contactless payments directly on their iPhone, with no additional hardware. With Tap to Pay on iPhone and myPOS Glass, business owners can start taking payments from anywhere - in the store or on the go.
🇺🇸Intuit introduces QuickBooks Bill Pay, which offers small and mid-sized businesses time-saving automation, digitized record-keeping, seamless payments, and advanced team controls. Read more
🇦🇪Al Etihad Payments launches Aani, an instant payments platform in the UAE. The platform aims to transform the landscape of digital payments in the UAE, and offers instant and secure digital payments for consumers, businesses, corporates, and government entities 24/7.
---
OPEN BANKING NEWS
Prommt reports 100 percent increase in open banking adoption rates. The company has announced the adoption of its Pay by Bank solution has more than doubled, with businesses processing tens of millions per month through open banking across the UK and Ireland.
Is Open Finance the Key to Apple's Financial Services? If Apple wants to become its customers' financial control center, it must figure out regulation. Read Simon Taylor's great long-read article to learn all about this.
---
REGTECH NEWS
🇬🇧Sumsub connects to NayaOne to ensure banks on the marketplace can onboard new clients, perform anti-money laundering (AML) screening, monitor fraudulent transactions, verify businesses and manage cases all in one place.
AirPak selects ThetaRay to strengthen AML compliance. Through this collaboration, AirPak will be able to quickly deploy AI in the fight against financial crime leading to more efficient compliance management, better customer service, and more seamless and trusted transactions.

Subscribe now
---
DIGITAL BANKING NEWS
🇮🇳Safexpay launches neo banking platform NeuX. The new platform aims to provide comprehensive banking and easy business solution management, addressing multiple challenges by digitizing entire business operations and transforming the B2B payment and workflow landscape.
🇺🇸Neobank PoetrYY launches with Mbanq to provide digital finance solutions. PoetrYY is officially live - offering consumer banking products and services with immediate availability. The company stands out as a beacon of financial empowerment with comprehensive financial services and solutions.
🇺🇸Goldman Sachs, pulling back from consumer lending, posts 33% profit drop. Lender's earnings fall for the eighth consecutive quarter but investment banking revenues rise for first time in 2 years. Read more
---
BLOCKCHAIN/CRYPTO NEWS
🇨🇴Credibanco and Koibanx partner to enhance interoperability in the Colombian financial sector using blockchain technology. This collaboration aims to convert Credibanco's payment network into a recipient of various assets, such as loyalty points, gift cards, and vouchers.
🇬🇧Wirex unveils the Wirex Dual-Mode Card, a cutting-edge solution that seamlessly merges the reliability of traditional financial systems with the transformative potential of decentralised finance (DeFi).
---
DONEDEAL FUNDING NEWS
🇺🇸Nova Credit raises $45 million. The funds will be used to further broaden Nova Credit's product offerings beyond cross-border credit reporting for new-to-country consumers. The focus will be on cash flow underwriting and income and employment verification through its CashAtlas product.
🇬🇧Iwoca raises new £200 million funding line after reaching £2.5bn in finance lent. This funding line equips iwoca to meet the growing SME demand for working capital. The firm is reaching nearly 3 million businesses across the UK and Germany through its embedded lending technology.
---
MOVERS & SHAKERS
🇬🇧ThinCats appoints Dan Hartley as its new CFO. The announcement follows recent senior hires across ThinCats' business development and transaction management teams as they continue to see strong demand for funding from mid-sized UK businesses.
🇬🇧Starling Bank hires 27-year-old hacker to run tech team. Dhurv Bisani, a young talent who graduated just six years ago, has swiftly climbed the ranks. He recently joined Starling in London as the head of adversarial attack simulations, following a successful stint at PwC.
---
Want your message in front of 100.000+ fintech fanatics, founders, investors, and operators?
Shoot me a message on LinkedIn or send me an e-mail.