Reports
The State of AI in Banking: Top 10 Insights
AI stands at the forefront as a transformative technology that can aid banks in navigating this complex landscape. It promises rapid product development, scalability at reduced costs, and advanced credit risk assessments. Yet, with great power comes great responsibility.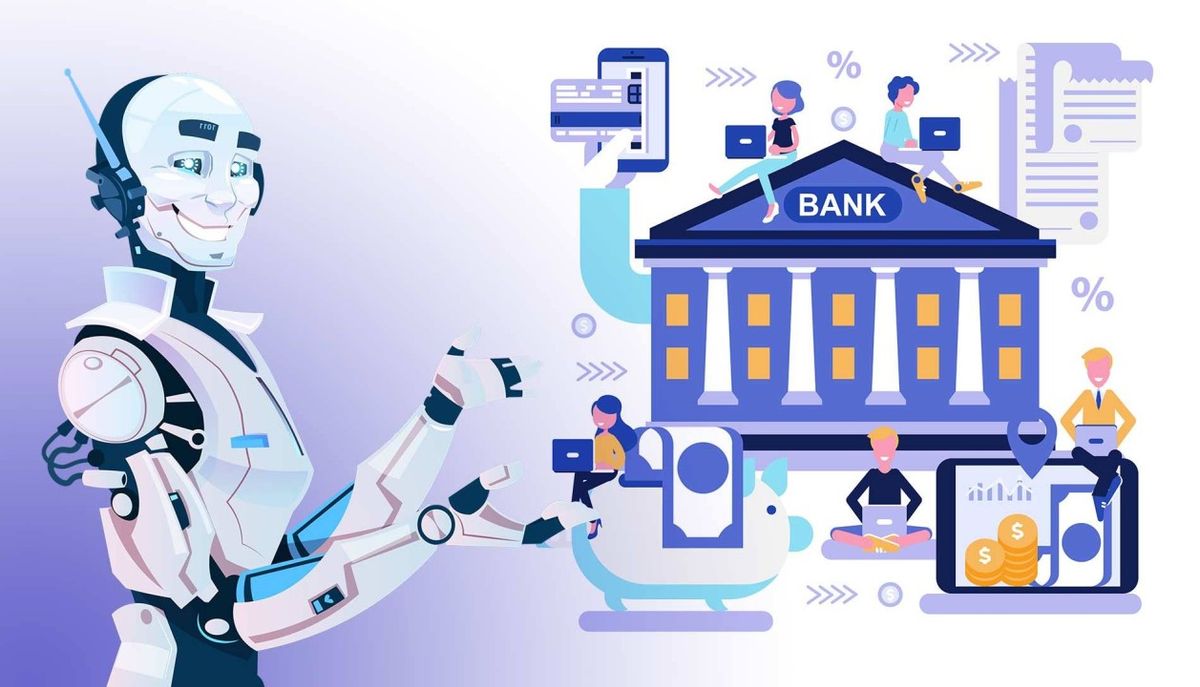 Banking has witnessed a series of technological leaps, with innovations like ATMs and mobile apps revolutionizing how customers interact with their finances. These advances have generally made financial processes more convenient, efficient, and at times, cost-effective. Simultaneously, innovations have introduced novel products that empower consumers to manage their finances in diverse ways.
However, not all banking innovations have been benevolent. Certain products, such as those seen in the mortgage market and financial tools like CDOs, have caused significant upheavals, leading prominent financial firms to their downfall and creating ripples in the wider economy. Consequently, today's banks find themselves in a delicate balancing act: striving for growth and cost-efficiency while being mindful of the inherent risks.
AI stands at the forefront as a transformative technology that can aid banks in navigating this complex landscape. It promises rapid product development, scalability at reduced costs, and advanced credit risk assessments. Yet, with great power comes great responsibility.
AI brings along a new set of challenges, including issues related to data bias and the fairness of automated decisions. Moreover, the sheer magnitude and pace at which AI operates can introduce unprecedented risks, such as algorithm-triggered market anomalies.
For banks eyeing long-term success, it's imperative to get AI innovation right. This doesn't just mean developing in-house AI solutions but also tapping into external advancements.
A holistic approach, drawing from diverse sources like research, patents, academic partnerships, and collaboration with the broader industry and public sector, will be crucial for banks to harness the full potential of AI without succumbing to its pitfalls.
Evident Insights released an interesting report on this topic and listed a Top 10 of Insights on AI in Banking:
Pushing the AI Frontier: While all banks are harnessing AI for operational efficiency, a select few are leading the innovation front. These frontrunners invest heavily in both pure and applied AI research, file significant AI patents, actively participate in the open-source community, and foster partnerships with academic institutions and start-ups. This approach, however, comes with a high price tag in terms of talent and resources.
Dominance by the Few: A stark concentration in AI capabilities is evident. The leading five banks are responsible for 67% of all published AI research, 94% of AI patent filings, and 51% of all AI investments.
The American AI Edge: North American banks, particularly from the U.S., are outpacing their European counterparts. They have published 80% of all AI research and filed 99% of all AI patents in recent times. Structural limitations in Europe, such as stricter AI patenting rules, partially account for this disparity.

Consistent Leaders Emerge: Notably, JPMorgan Chase, Capital One, Wells Fargo, and Canadian banks like RBC and TD Bank consistently top the charts. Their dominance in AI and talent acquisition suggests they're building a lead that may become insurmountable for others.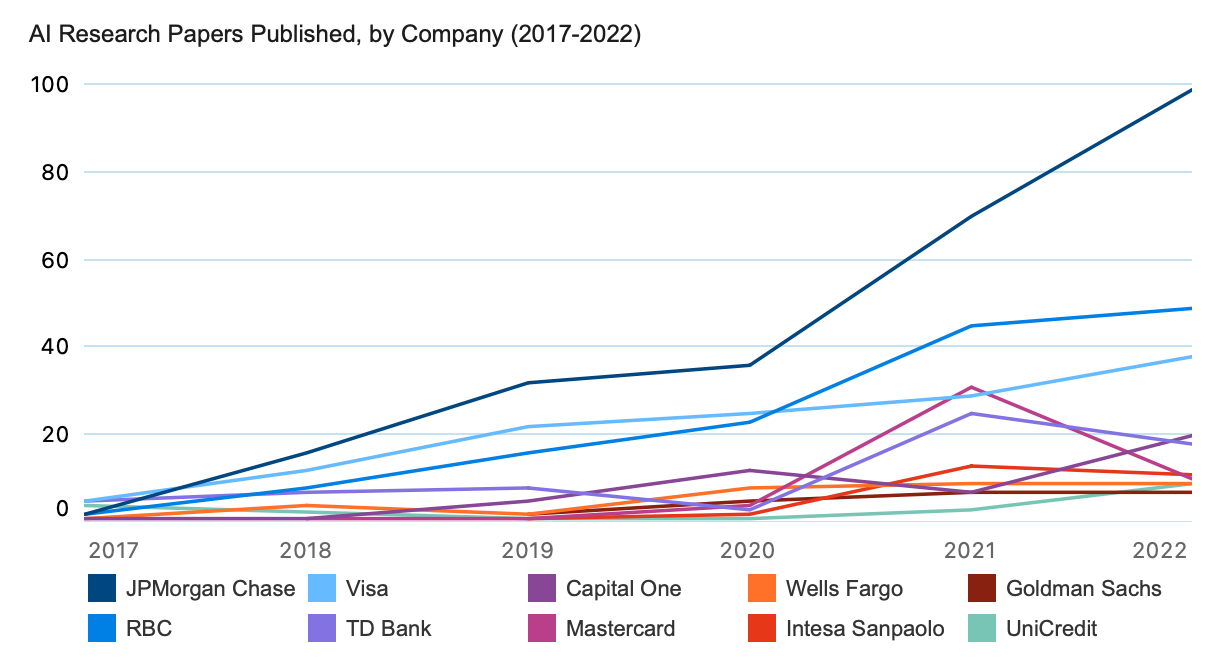 European AI Landscape: AI innovation in European banks lags significantly. While BNP Paribas is the top French bank in AI, it doesn't make the global top 10. The UK is even more subdued in its AI prominence, save for Barclays in AI ventures. However, there's a void for a European AI champion, potentially a slot for a Spanish bank like BBVA. APAC banks might be the next big competitors.
AI Research Momentum: From 2017 to 2022, there was a 70% CAGR in AI research publications across banks and payment providers. The U.S. and India lead in AI research talent, with trading being a dominant yet mostly unpublished research area.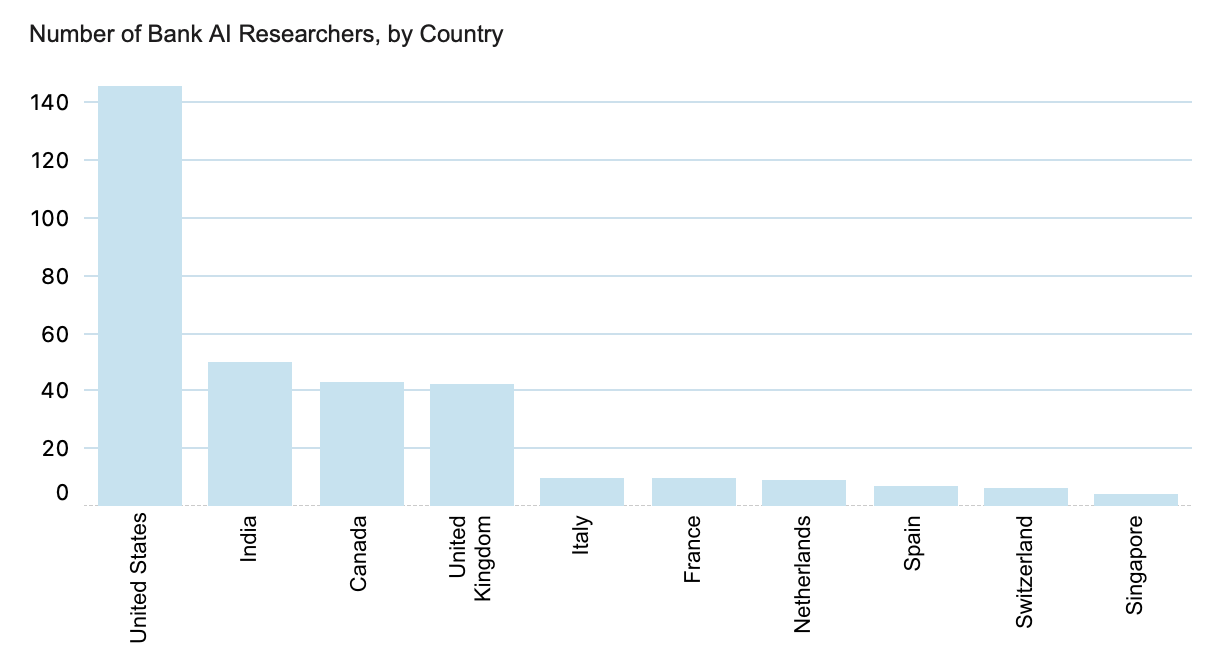 Patenting AI: Only 10% of the banks are aggressively patenting AI innovations. With a CAGR of 40% in patent filings between 2017-2021, it's evident that these banks are seeking first-mover advantages and protective mechanisms. Trading, payments, and compliance are the main areas of focus.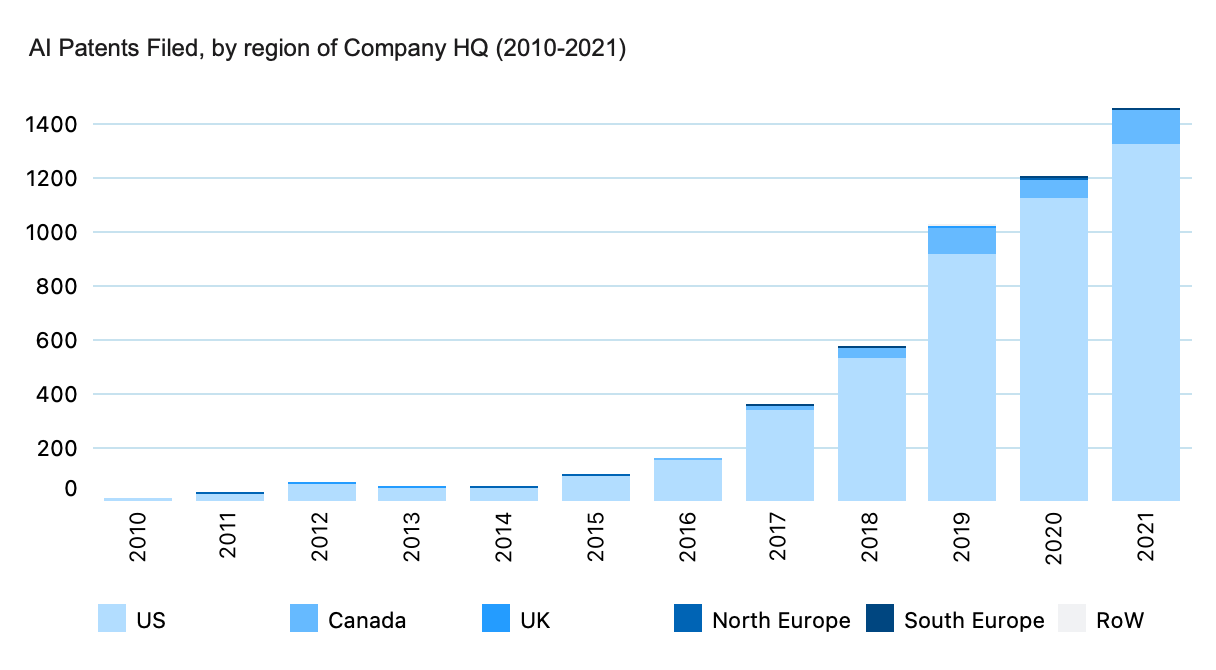 Building Robust Ecosystems: Successful banks are not just looking inward but are forming collaborations outside. Universities serve as talent pools, research hubs, and innovation catalysts. Brands like Capital One and JPMorgan Chase are deeply involved with open-source communities.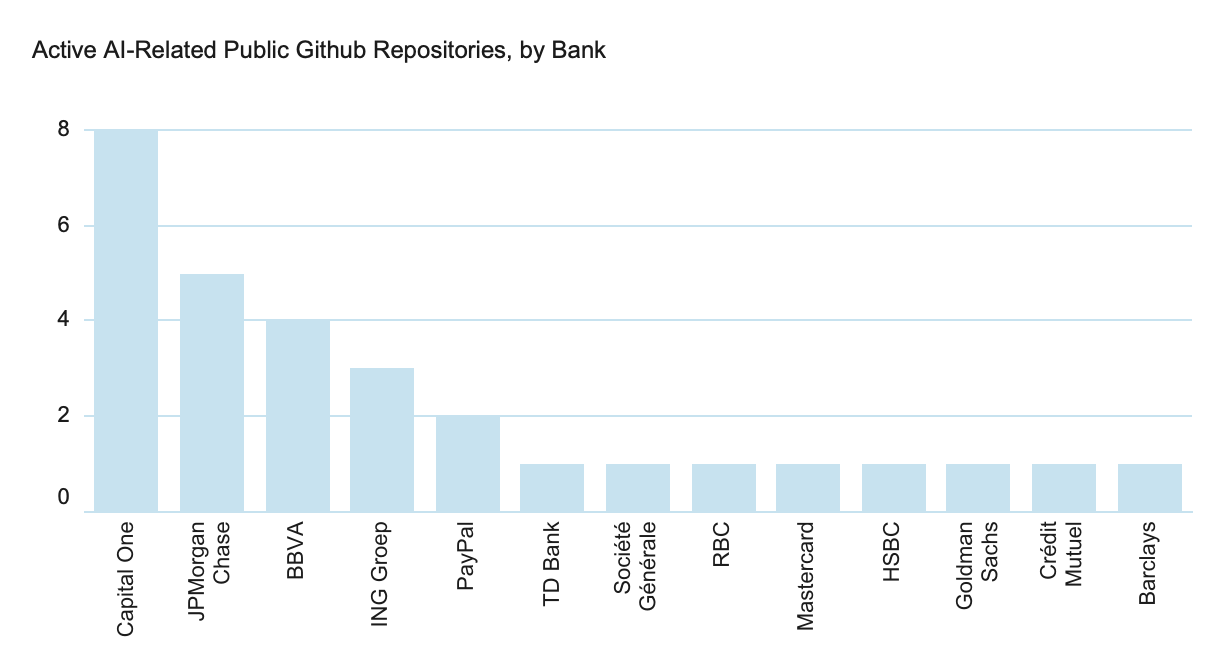 Investments in AI: AI-related investments by banks have grown at a 15% CAGR from 2017 to 2022. While U.S. banks, led by Wells Fargo, dominate, their proportion has dropped from 90% in 2015 to 60% in 2022, with European banks like BNP Paribas and Barclays making headway. Importantly, not all AI investments align with banks' core functions.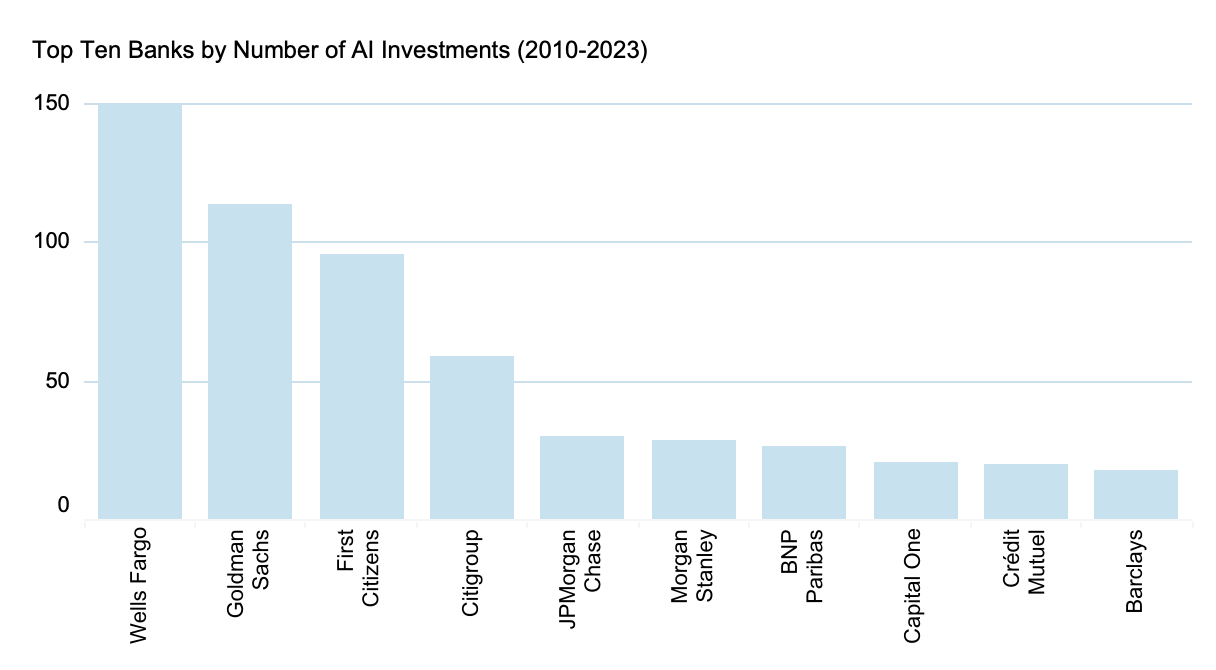 Generative AI's Potential: AI in banking has typically been a top-down approach, led by visionaries and AI specialists. The rise of Generative AI, exemplified by tools like ChatGPT, has further emphasized this. However, it also provides an opportunity for grassroots innovation. Banks that can decentralize AI innovation while maintaining central oversight stand to transform into truly adaptive, learning organizations.
These insights underscore a rapidly evolving landscape in AI banking, emphasizing the importance of proactive innovation, collaboration, and adaptability in the global financial ecosystem.
I highly recommend downloading and reading the complete source report on this topic by Evident Insights!