Daily News
🚀 The Rise of the "Revolut Mafia" Alumni Network
In just half a decade, the Revolut alumni ecosystem has pulled off an astonishing feat – it now boasts a collective funding haul of $2.2 billion, surpassing the very company where it all began.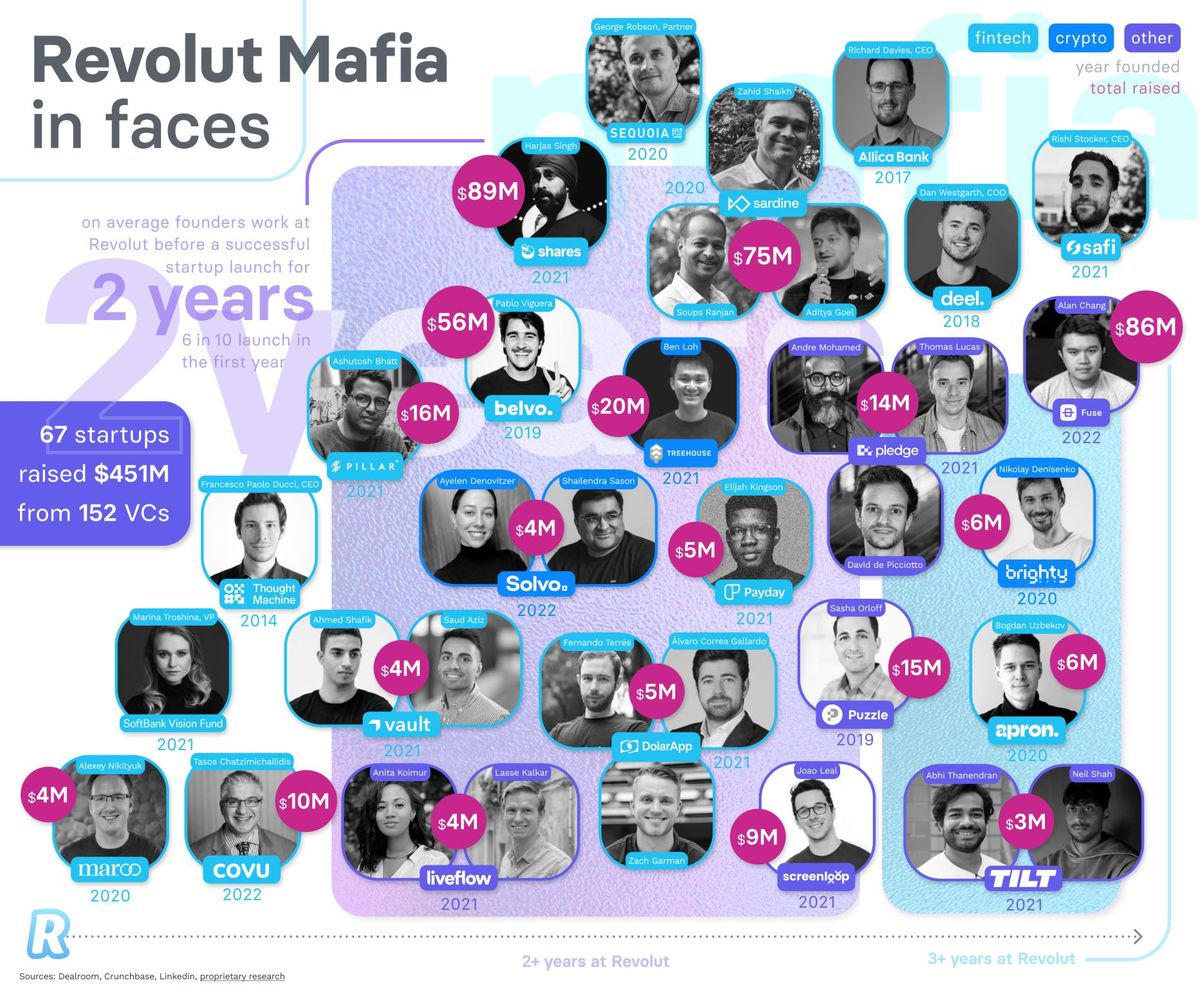 Happy Monday!
In just half a decade, the Revolut alumni ecosystem has pulled off an astonishing feat – it now boasts a collective funding haul of $2.2 billion, surpassing the very company where it all began.
While Revolut itself has secured $1.7 billion in investments from 52 venture capitalists since its inception in 2015, a remarkable 102 startups led by former Revolut team members have risen to prominence.
These startups have not only thrived in their own right but have also attracted the attention of 184 venture capitalists.
Of these 102 ventures, an impressive 67 were founded by Revolut alumni, amassing a staggering $451 million in funding from 152 venture capitalists.
The rapid ascent of this alumni network has now seen it eclipse its alma mater in terms of overall investment.
Indeed, the phenomenon of "startup mafias" is no longer a mere curiosity but a formidable force reshaping the business landscape.
This trend extends far beyond Revolut, with tech giants like PayPal and Alibaba, spanning continents from the United States to India, and industries ranging from fintech to retail and crypto, fostering global, cross-industry networks of highly successful alumni who have launched their own startups.
These second-generation startups, often referred to as "unicorn factories" by industry insiders like Accel, are thriving thanks to the bonds forged through personal connections, the wealth of experience gained from their time in established firms, and shared success stories.
What makes these startup mafias truly exceptional is their ability to leverage their connections for idea validation and assembling top-tier teams.
They enter the market with sharper strategies, rapidly testing and refining their concepts, focusing only on those destined to soar.
These advantages translate into higher success rates and enhanced credibility in the eyes of investors, potential employees, and strategic partners.
To delve deeper into this fascinating phenomenon, we highly recommend reading the comprehensive long-read article by Vladislav Solodkiy, where he explores the rise of the Revolut alumni network and its implications for the world of FinTech and beyond.
Now let's dive into other FinTech industry news updates I listed for you today:
---
Subscribe now
---
#FINTECHREPORT
Buy Now, Pay Later 2.0: The Future of Alternative Payments in Southeast Asia.Alternative payments are expected to fuel a financial transformation in digital payments. Download the complete report for more interesting information.
Open Banking and The Rise of Banking-as-a-Service. Open Banking is gaining impressive traction around the globe. Find out more by downloading the complete report by Temenos.
🇧🇷 Check out some figures about PIX, the Brazilian P2P interbank payment solution: The details come from their official "PIX Management Report" released a few weeks ago. Read more
---
PODCAST
🇺🇸 For the third episode of Techquila Talks, the NovoPayment podcast seriesthat Alex Johnson is co-hosting with Nicole Casperson, they spoke with Matt Harris, Partner at Bain Capital Ventures. Listen to the full podcast episode here
---
INSIGHTS
🇰🇿 Fintech in Kazakhstan: Major Fintech Trends Shaping the Industry. This article delves into the key trends shaping the fintech industry in 2023. Please click here to read the full piece.
---
FINTECH NEWS
🇬🇧 London-based fintech startup ClimateAligned launches. ClimateAligned is developing an AI platform to aid institutional investors in finding climate-aligned investment opportunities and reducing greenwashing risks in debt investment decisions.
🇬🇧 Funding Circle says UK business profitable despite lending dip. Overall, however, the company reported a £3m loss for the H1 2023 period owing to what it said were investments in "attractive growth opportunities" in its US loans business and its BNPL-like FlexiPay products.
🇺🇸 Cross River provides over $145,000 in critical funds to Black Businesses in honor of National Black Business Month through a Grant Program with the Brooklyn Chamber. The company is known for its focus on financial inclusion, responsible financial products, community engagement and corporate social responsibility.
Blackhawk Network partners Visa on transition from plastic cards. The switch will start in the US, Canada, and Australia later this year, potentially affecting over 350 million BHN products and up to 700 million third-party cards.
---
PAYMENTS
🇺🇸 RTP network surpasses one million payments on a single day. The RTP network is seeing increased volume as more financial institutions (FIs) use the network's real-time payments capabilities in innovative ways to solve real-world challenges.
Klarna taps into travel sector with APEXX partnership. The firms have teamed to offer flexible payment options to merchants worldwide. The partnership will open up the travel sector for Klarna, a sector where APEXX has a rich list of clients.
🇮🇳 Flutterwave expands to India after securing a partnership with IndusInd Bank Ltd., a leading financial institution in the Asian nation. The agreement will enable Flutterwave, worth an estimated $3 billion, expand its remittance product into Asia's second-biggest economy.
🇺🇸 Square says it has resolved daylong outage. In a new posting on its status update page, Square says that it is "actively observing the recovery of all Square systems" after engineers implemented a fix early on Friday. The company expects "slight delays" in some transfers despite services returning to normal.
🇺🇸 PayPal finally launches Apple Pay support for its credit and debit cards. This move was first announced last year as part of a trio of ways PayPal was planning to expand its adoption of Apple Pay, alongside broader support for Apple Pay online and Tap to Pay on iPhone.
---
OPEN BANKING
🇩🇪 SAP Fioneer partners with Mastercard to embed commercial payments and services into its embedded finance, card management and lending platforms. Incorporating Mastercard's commercial payment and open banking features into SAP Fioneer's platforms can boost banks in meeting changing B2B payment and SME lending needs faster.
🇺🇸 BNY Mellon launches open banking payments service. Called Bankify, the service couples BNY Mellon's transaction payments expertise with Trustly's open banking capabilities and enables bank clients to offer users seamless bank account payments as an alternative to cards and third-party platforms.
---
DIGITAL BANKING NEWS
🇺🇸 Solid launches Banking-as-a-Service partnership with Lewis & Clark Bank. This partnership allows fintechs to seamlessly incorporate financial serviceslike banking, payments, and card issuance into their offerings, all within Lewis & Clark Bank's pioneering compliance framework.
HSBC takes a deep dive into quantum computing and is collaborating with Terra Quantum on an experiment to test the use of quantum technology for optimising capital allocation. Link here
🇯🇴 Western Union opens concept store in Jordan. This unique "concept store" marks the country's first initiative by a money transfer operator, delivering a premium Western Union experience at a prime location for convenient, personalized, and reliable money transfers.
🇺🇸 JPMorgan is exploring blockchain-based deposit token for payments, settlements. The US biggest bank is in the early stages of exploring a blockchain-based digital deposit token for speeding up cross-border payments and settlement, according to a person familiar with the work.
🇺🇸 FDIC acknowledges 'too generous' view of First Republic's liquidity. US regulator's report says it could have done more to address risks before bank failed. The report noted that First Republic's main strategy for coping with rising interest rates assumed that it would grow its way out of trouble.
After withdrawing bank application, Rakuten seeks Credit Union charter. Reports that the company had applied to the credit union regulator recently led the Independent Community Bankers of America (ICBA) to call on the NCUA to oppose the Rakuten effort.
🇺🇸 Venmo 🆚 Cash App. The Ultimate Showdown in the US Fintech Arena. Venmo has 78 million users compared to Cash App's 54 million making it the more popular app. Check out my complete deep dive article with more info, stats, and figures.
How To Build The AI Bank Of The Future. How does a Bank transform into an AI-first financial institution? Read my full article to learn more about this topic here
---
BLOCKCHAIN
🇸🇬 Southeast Asia super-app Grab adds support for web3 services. Users can now set up a web3 wallet, win blockchain-based rewards, pay with NFTs and more. It appears the web3 services are first available in Singapore.
🇺🇸 TaxBit unveils AI-enabled rules engine for crypto accounting. By integrating AI technology, clients can create customized, logic-based rules to automate the transaction categorization process to properly account for gains, losses, and fees.
🇬🇧 The Fintech owner accused of laundering drug money in huge Bitcoin scheme. Caio Marchesani, a fintech owner in London is facing allegations that he helped notorious drug traffickers attempt to launder hundreds of millions of euros through a crypto exchange platform on a scale rarely seen by European prosecutors.
🇬🇧 FCA delays crypto cooling rules. The UK's Financial Conduct Authority says it will give some crypto firms more time to comply with upcoming marketing rules such as the 24-hour cooling off period for first time investors.
Top crypto firms form Tokenization lobby group. The Tokenized Asset Coalition (TAC) was launched with industry leaders focused on bringing trillions of dollars in assets onto public blockchains through real-world asset tokenization, education, and advocacy.
---
PARTNERSHIPS
EToro teams with generative AI company Bridgewise on stock picking. The partnership between eToro and Bridgewise offers eToro users access to 'Fundamental-AI', a portfolio that leverages generative AI technology to identify companies with the potential to outperform their industry peers.
Pleo taps Banking Circle's UK FPS membership. Through its partnership with Banking Circle, Pleo is enhancing its service with real-time direct clearing and settlement for GBP. Read more
---
DONE DEAL FUNDING NEWS
🇸🇪 Treyd secures €11.2 million in extension of Series A. The new capital will be used to grow existing markets, invest in the core product offering, and work towards achieving profitability. Read more
🇬🇧 Zopa, the UK neobank, hits 1M customers and raises another $93M. The startup plans to use the funds to shore up its finances, eye up some acquisitions and continue building more products alongside its loans, savings and deposits, BNPL and other services.
🇦🇺 Australian FinTech deal activity more than halves in H1 2023. Take a look at the key Australian FinTech investment stats in H1 2023. Link here
---
M&As
🇲🇽 Stori has obtained approval from the National Banking and Securities Commission (CNBV) to acquire the license of the popular financial institution (sofipo) MasCaja. This move allows Stori to expand its services to over 2.2 million current customers.
---
MOVERS & SHAKERS
🇫🇷 Qonto hires Anita Szarek as CFO. As Qonto's first CFO, her mission is to identify new growth pillars and build best-in-class processes to sustain the company's strong financial performance and rapid growth.
🏴 Fintech Scotland appoints Trish Quinn as strategic innovation director. Trish will be leading the development of the Financial Regulation Innovation Lab (FRIL) which is due to launch later on this year. Read more
---
Want your message in front of 100.000+ fintech fanatics, founders, investors, and operators?