Daily News
The FinTech Crash was worse than the Dot-Com Bust
In February 2022, Dave, a US neobank with $380m of assets, was trading at $364/share, giving it a valuation of $5.2bn. This valuation exceeded Banco Sabadell, Spain's fourth largest bank (at the time $287bn in assets, 12 million customers and a $4.6bn valuation). Today, Dave's valuation is $95m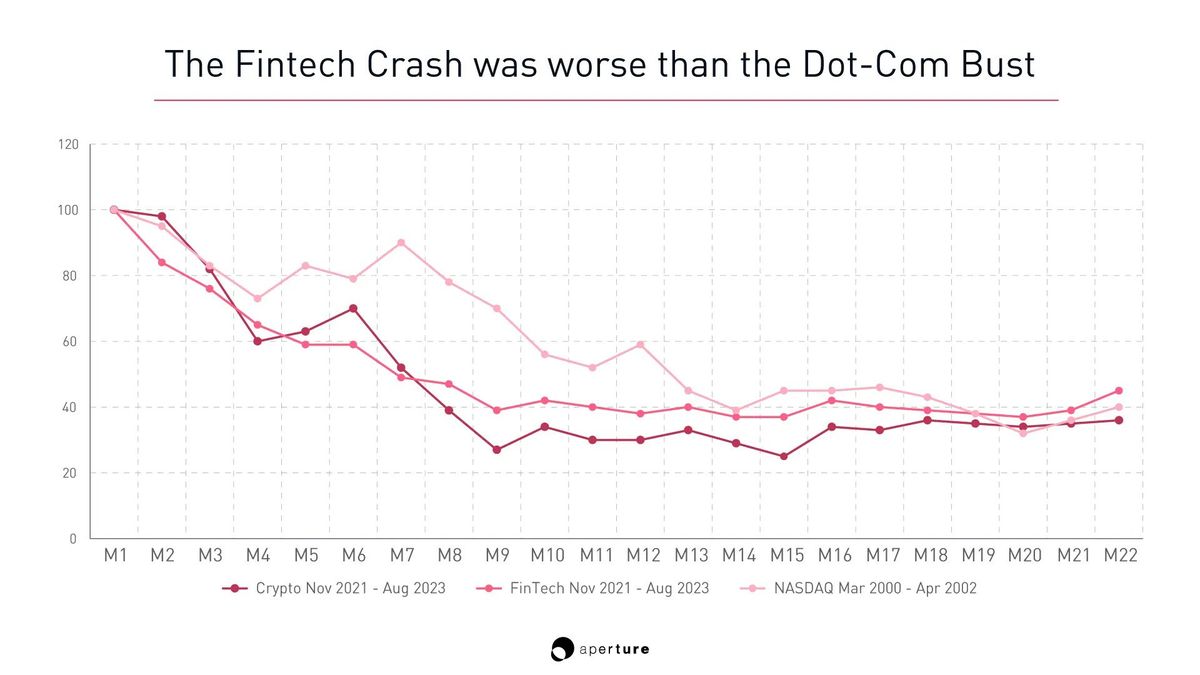 BREAKING NEWS
🇺🇸 Former Bankman-Fried lieutenant Salame pleads guilty to illegal campaign contributions. Salame, 30, pleaded guilty to one count of conspiracy to make unlawful political contributions and one count of conspiracy to operate an unlicensed money transmitting business before U.S. District Judge Lewis Kaplan in Manhattan.
---
NEWS HIGHLIGHT
🇬🇧 Adyen gets UK banking license after temporary approval. This new approval will supersede the temporary authorization it held post-Brexit to deliver embedded finance and varied payment solutions.
---
POST OF THE DAY
Understanding Payment Orchestration. Drawing from the world of music, payment orchestration functions similarly to a maestro harmonizing an orchestra. This system blends multiple payment processes, offering an efficient and streamlined transaction route. Click here to learn more
---
INSIGHTS
🇧🇩 Unveiling the Lucrative Fintech Landscape in Bangladesh. In this article, PCMI explores Bangladesh's booming fintech ecosystem, covering trends, key players, and fintech's transformative impact on financial inclusion. Read more
FinTech didn't correct; it crashed📉 Ben Robinson explains how.
---
FINTECH NEWS
🇺🇸 Is CTO Jeremy Rishel Giving Up on SOFI Stock? Rishel recently sold 53,532 shares, representing 25% of his prior stake. Meanwhile, CEO Anthony Noto has purchased shares several times this year. SOFI stock is up by more than 85% so far this year.
🇬🇧 Finance super app Curve makes its first step towards becoming a financial marketplace. The new app has just two tabs, a digital "Wallet," and a new interface named Launchpad. Launchpad will act as a canvas for Curve apps and third-party integrations.
---
PAYMENTS
🇮🇳 India launches 'Hello UPI' for conversational payments. 'Hello UPI' allows users to make payments by engaging in conversations with their smartphones — whether it's splitting a restaurant bill, sending money to a friend, or settling utility bills.
🇮🇳 Airtel Payments Bank, IDEMIA, HMD team up to enable use of digital rupee on feature phones. All three organizations would be working together to introduce an advanced offline payment system over the next few months that would facilitate the use of the digital rupee on feature phones and promoting financial inclusion, a statement said.
---
OPEN BANKING
🇬🇧 tell.money delivers open banking solution to crypto banking platform, Colossos. The tell.gateway solution is a cloud native API driven service, that allows for the rapid integration of PSD2 compliant APIs into any account provider (ASPSP) in the UK and beyond.
🇧🇷 Iniciador, a fintech specializing in payment initiation and Open Finance, has secured approval from Brazil's Central Bank (Banco Central) to offer payment initiation services (ITP). This makes Iniciador the latest addition to a group of 24 institutions approved for this service in the context of Open Finance Brasil.
---
DIGITAL BANKING NEWS
🇬🇧 LHV Bank rolls out upgraded SME Lending system. With the lending team based predominantly in Manchester, LHV's regional focus is a key part of its lending strategy, helping to fuel economic growth in often underserved business hubs.
🇬🇧 'How hard can it be?' Metro Bank founder Anthony Thomson on the retail banking revolution.  Anthony Thomson talks to City A.M. about the retail banking revolution – and why he won't be stopping anytime soon. Read more
🇬🇧 UK startup Perenna secures banking licence from the FCA and PRA. The startup has become the first UK startup to receive an unrestricted banking licence in 2023. This approval will enable the firm to introduce its long-term fixed rate mortgage products to the UK.
🇺🇸 Silicon Valley Bank, First Republic failures caused shift in startups' deposits. JP Morgan Chase's gambit to onboard startups won market share, but fintechs Mercury and Brex also benefited. Read on
🇺🇸 Finotta uses gamification to increase banks' user engagement. The embedded fintech says its personalized financial guidance platform has helped boost user engagement on banks' mobile apps, with sessions averaging 13 minutes per month.
🇲🇽 In its first month, the financial services platform, Klar, accumulated over 1.25 billion pesos in deposits, projecting approximately 3 billion pesos by the end of the year. Growth has been notable in the sector of Popular Financial Societies, which Klar joined in 2023.
---
BLOCKCHAIN
More Binance executives leave, including some overseeing Russia. Several Binance executives have left in recent days, including leaders overseeing its Russian business and its connections to the traditional financial system, extending a period of rapid senior turnover at the cryptocurrency giant.
🇺🇸 Ex Celsius CEO Mashinsky assets frozen by Court. A court filing on Sept 5 revealed that a judge in the Southern District of New York signed off the requestto freeze Mashinksy's assets as the criminal case proceeds.
🇺🇸 Texas paid bitcoin miner Riot $31.7 million to shut down during heat wave in August. During a record-breaking heat wave in the state, Riot voluntarily curtailed its energy consumption to take advantage of credits available by limiting use. The firm is benefiting from an alternative source of income at a time when losses are mounting.
---
PARTNERSHIPS
🇺🇸 Carta's new integration with Stripe Atlas helps founders fundraise faster. Founders who need to incorporate their company and get a tax ID will be presented with the option to visit Stripe Atlas during signup for Carta Launch.
---
DONEDEAL FUNDING NEWS
August FinTech deal activity slowed, with financing deal count declining 10% from July. Still, eight $100 million+ funding rounds and two $1 billion+ M&A deals were announced in the month. See more in FT Partners' Infographic here
🇺🇸 Merchant lender Momnt raises $15 million. Momnt launched its platform in 2020 in the home improvement industry and has since grown to become one of the preeminent market leaders in point-of-sale financing.
🇺🇸 Trident Digital Group, a newly launched startup founded by former Coinbase executives, raised $8 million for its "next generation" crypto lending business. Trident hopes to restore some of the liquidity that has drained out of the lending market, according to an announcement this morning.
Brine Fi raises $16.5 Million as it aims to broaden the DEX market. While there may be more than 500 DEXs now plying their trade, Brine Fi argues investors are flocking to these platforms in the wake of the FTX collapse – and that there is plenty of room for improvement on existing venues.
SimpleClosure raises $1.5M in less than 24 hours to help companies shut down faster and cheaper.  The company plans to use the majority of the funds for product and engineering development. Read more
---
M&As
Saxo completes sale of fintech joint venture to Geely Group. As part of this transaction, Saxo Bank receives its own shares in return - equivalent to approximately 2% of the outstanding Saxo Bank shares.
---
MOVERS & SHAKERS
🇬🇧 PPRO names Motie Bring as next CEO. The appointment follows an extensive external and internal search process conducted by the Board over the last few months. Read more
🇺🇸 Provenir appoints Andres Elizondo as new chief financial officer. At Provenir, Elizondo will help with expansion and market leadership goals, working with the global finance team across the UK, India and New Jersey.
---
Want your message in front of 100.000+ fintech fanatics, founders, investors, and operators?