Daily News
Revolut to offer bond trading and Binance founder faces criminal charges in the US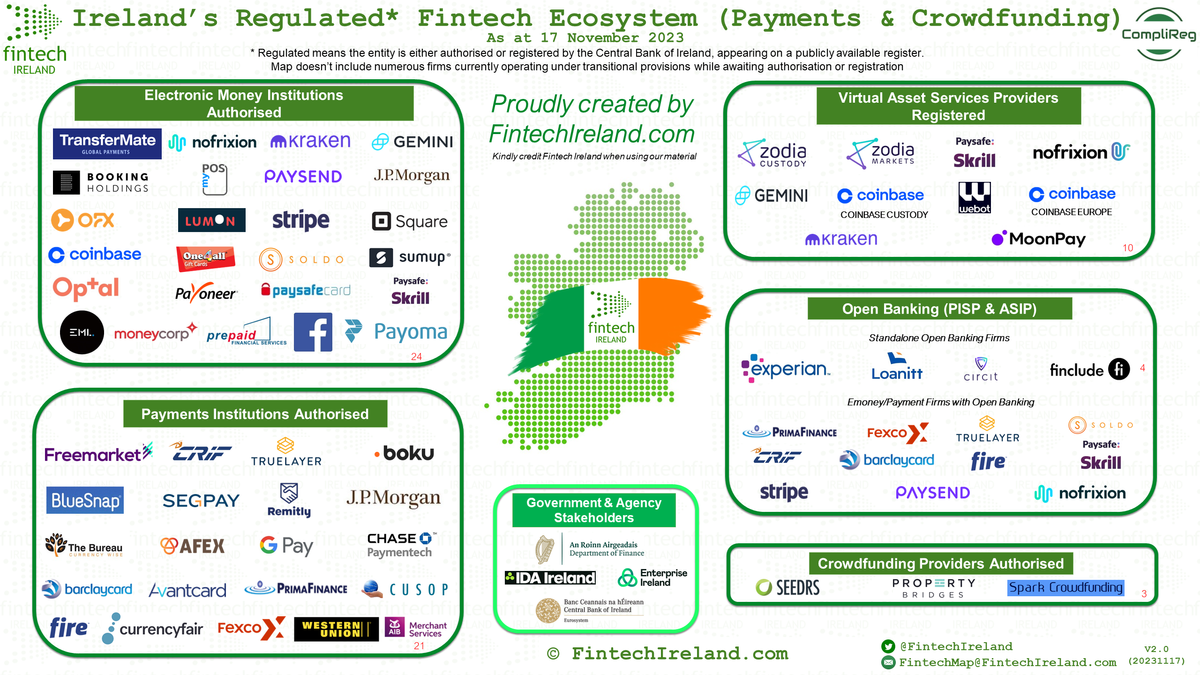 Good morning Fintech Fanatic!
Revolut is expanding its investment portfolio by venturing into Europe's fixed income market. The company plans to offer its European clients a gateway to invest in both European and US government and corporate debt markets, a move set to materialize by early 2024.
Financial News highlights that this market, valued at over €120 trillion, has traditionally been challenging for retail investors to access, particularly those seeking opportunities beyond their domestic markets. In a significant step towards democratizing investment, Revolut intends to reduce the entry barrier by setting a minimum investment threshold of just €100.
This strategic move into fixed income follows Revolut's recent foray into European equity trading, which included fractional trading options. The company also expanded trading hours for US stocks and introduced the Trading Pro subscription plan, marking a period of rapid expansion in its investment offerings.
Meanwhile in Ireland, Revolut has seen its customer base reach over 2.5 million, accounting for almost half of the country's population.
If you want to learn more about the Irish FinTech industry, check out the latest market map in the post of the day I listed for you below👇
Cheers,
---
POST OF THE DAY
🇮🇪 Ireland is now home to 62 authorised or registered FinTechs across emoney, payments, open banking and crowdfunding: Explore here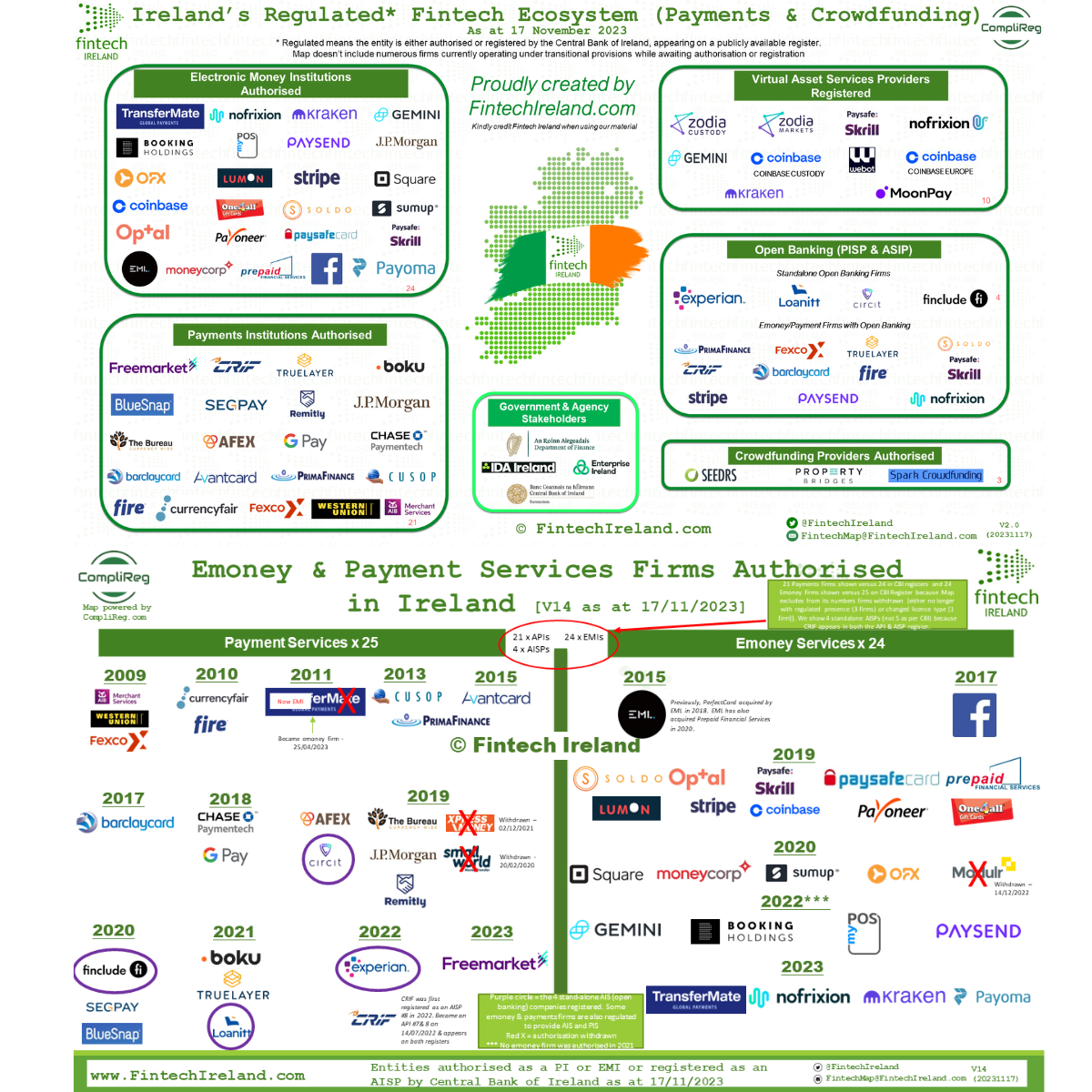 ---
BREAKING NEWS
🇺🇸 US is seeking more than $4 billion from Binance to end case. Binance founder Changpeng Zhao may face criminal charges in the US as part of negotiations between the Justice Department and the cryptocurrency exchange to resolve the probe into alleged money laundering, bank fraud, and sanctions violations.
---
FEATURED NEWS
🇸🇪 Klarna employees were left "shocked" after their CEO gave a speech addressing a proposed union strike, in which he appeared to liken pro-strike employees to the rebelling pigs in George Orwell's Animal Farm, sources say.
---
INSIGHTS
🇨🇳 China's financial regulators issue MasterCard bank card clearing license. The People's Bank of China (PBC) and the National Administration of Financial Regulation granted MasterCard a license to operate a yuan-oriented bank card business in mainland China. More here
🇦🇪 UAE embraces cross-border payments. Mastercard's Borderless Payments Report 2023 reveals that 48% of people in the UAE expect to send cross-border payments more frequently in the next 12 months, while 36% are likely to receive more cross-border payments in the same period.
---
FINTECH NEWS
Mastercard partners areeba in Middle East. The enablement program will offer Mastercard products and services to fintechs and non-banking financial institutions through ready-to-market hubs in selected Arab countries across the Levant to North Africa.
---
PAYMENTS NEWS
B2B payments firm PayMate expands reach to Singapore, Australia, and Malaysia. Within less than a year, PayMate has established subsidiaries in the Asia Pacific (APAC) and Central and Eastern Europe, Middle East, and Africa (CEMEA) regions to enhance its global footprint.
Launch of cross-border real-time payment systems connectivity between Singapore and Malaysia. P2P cross-border fund transfers are now enabled via PayNow and DuitNow. Users will be able to transfer funds instantly between the two countries by using just the recipient's mobile phone number or Virtual Payment Address (VPA).
🇺🇸 Adyen's global ambitions in Chicago: Discover how their new North American technology hub drives global ambitions with a customer-centric culture that values innovation, collaboration, and building lasting solutions.
---
OPEN BANKING NEWS
🇨🇦 Canadian fintechs demand open banking action. Dozens of technology leaders have signed a letter to Canada's finance minister calling for a clear roadmap for the delivery of a long-awaited open banking framework. Read more
🇯🇴 Jordan Ahli Bank partners with Fintech Galaxy to embrace open banking. Jordan Ahli Bank's shift to open banking demonstrates its commitment to integrating technology and innovation into its services, aiming to provide competitive rates, value-added services, and build partnerships with TPPs.
---
DIGITAL BANKING NEWS
🇮🇹 Intesa targets one million new clients for Isybank digital unit by the end of 2025. "We're confident because in the first weeks we gathered 50,000 new outside clients," Isybank CEO Antonio Valitutti told the Italian newspaper for Sunday's edition.
🇮🇩 Bank Saqu launches in Indonesia as WeLab's second digital bank in Asia. This new digital banking platform, operated by PT Bank Jasa Jakarta (BJJ), a joint venture between the two companies, aims to cater to the growing solopreneur market in Indonesia.
🇺🇸 Revolut refines U.S. product mix as it nears 1 million-customer milestone. In time, "we want to build a truly global product that is borderless," says Siddhartha Jajodia, Revolut U.S. CEO and chief banking officer at the parent company in an interview with The Financial Brand.
🇨🇦 EQ Bank Card launches in Québec as Carte Banque EQ, a new way to earn, save and spend money. Customers can enjoy fee-free cash withdrawals at any domestic ATM, earn cash back on expenditures, and travel without incurring foreign currency conversion fees.
🇮🇳 RapiPay Fintech and Jana Small Finance Bank unveil mobile app, NYE. Through RapiPay's expansive digital distribution network covering the nation, this collaboration combines capabilities, providing users with a comprehensive array of banking products and services at their fingertips for unparalleled convenience.
BMA Banking Systems picks Bankjoy as preferred partner for online and mobile banking. Through the partnership, BMA's bank and credit union clients can enhance the digital banking experience for their customers and members with Bankjoy's award-winning platform.
---
BLOCKCHAIN/CRYPTO NEWS
Mastercard doubles down on effort to detect and tackle crypto fraud with AI tie-up. The company told CNBC exclusively that it's partnered with Feedzai, a regulatory technology platform that aims to combat money laundering and financial scams online using artificial intelligence.
---
M&A
NomuPay has bought Total Processing, a small Manchester-based PSP, according to Companies House filings. No press release yet. NomuPay was formed to purchase the SE Europe assets of Wirecard and raised $53m earlier this year.
---
MOVERS & SHAKERS
🇬🇧 FinCrime Dynamics adds Joanne Dewar to board. Joanne will contribute her expertise in fintech, particularly in addressing issues related to AI and financial crimes. More on that here.
---
Want your message in front of 100.000+ fintech fanatics, founders, investors, and operators?
Shoot me a message on LinkedIn or send me an e-mail.