Daily News
Revolut establishes new lending arm in Australia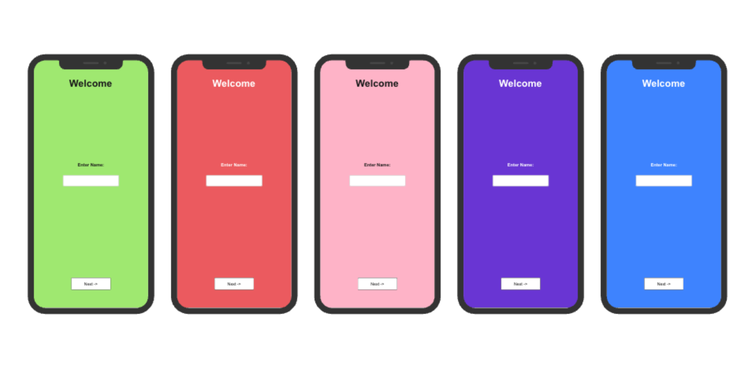 Wonderful Wednesday FinTech Fanatic,
I'd like to start today's newsletter with some Revolut-news, as the global neobank announced a new lending arm in Australia.
Several months after it obtained a credit licence from the local corporate regulator, Revolut is poised to unveil its first lending product in Australia.
Something completely different: Yesterday, I came across an interesting read by Jas Shah about UX and branding.
In his article he presented a little experiment to show the great work some companies have done to make their brand stand out and help support great UX and even more, whether we can recognise a brand 'blindly'.
Guess each consumer FinTech app just from their main colour alone👇
Let me know in the comments below, and kudos if you get all five.
Without cheating, did you get all 5? 😉
Curious which FinTech companies all pass by, and please find the other news below.
---
#FINTECHREPORT
Based on Inc42 Media's latest report, "The State Of Indian Startup Ecosystem Report 2023", the FinTech market in India stands at a whopping $584 Bn. And going forward, the space is expected to grow at a CAGR of 18% to $2.1 Tn by 2030. Download the full report here
INSIGHTS
Screening and Transaction Monitoring – do they really matter? Anna Stylianoudelves into the critical roles of screening and transaction monitoring in the financial sector. Click here to stay in the loop with all things RegTech.
In the past three weeks, we saw 18 FinTech Funding Deals in Europe for a total amount of €21.9m raised. With 10 deals in the UK, 3 in Germany, 2 in Czech republic, 1 in Switzerland, 1 in Finland and 1 in Estonia. Link here
---
FINTECH NEWS
Colombian startup Swiset has been selected by Tenity for its incubation and investment program in Zurich, Switzerland. Out of 300 global contenders, it is the only Colombian platform among the 11 startups selected for Tenity's Zurich Pre-Seed Incubator's 11th batch.
B2B FinTech company, Walbing receives Payment Service licence from BaFin. This marks a significant milestone for WALBING, who facilitates streamlined access to trade finance tools for B2B businesses through its innovative platform and Embedded Finance solutions.
FinTech startup Nao offers retail investment in private equity funds. NAO aims to provide retail investors the same investment opportunities available to institutional investors.
M-Pesa goes live in Ethiopia with  its ground-breaking M-Pesa mobile money service. All Safaricom Ethiopia customers can now download the app and send and receive money within the country. Users can also receive funds from abroad, pay merchants, buy airtime, and transfer to their bank accounts.
In the first half of 2023, FinTech firm PicPay recorded a profit of R$ 58 million, bouncing back from a loss of R$ 656 million during the same period last year. This turnaround was fueled by a mix of operational efficiency and an expanded range of products and services.
Tabby launches the region's first digital shopping assistant, Tabby Shop. The new app features several shopping tools with smarter search, wishlisting, deal alerts and more, showcasing over 500,000 products from thousands of brands in the fashion, beauty, home and electronics categories.
South African FinTech company Ozow has launched Ozow.Me, a peer-to-peer payments system that lets anyone receive and send payments without fees. The app lets users request and make payments via WhatsApp, QR Code, or Facebook Messenger.
Mercado Pago doubled the number of SMEs using its platform. The platform  has seen a 100% growth in small and medium-sized enterprises (SMEs) using its services in Mexico signifying a steady advancement in the digitization of money in the country.
Mercuryo sides with the FinTech FinCrime Exchange Global Community. The firm announced that it has become a member of the FinTech FinCrime Exchange (FFE) – an international initiative aimed at combating financial crime.
New FinTech accelerator Archie launches in London. Archie will launch through a series of events across the rest of 2023, starting in Dubai on 12 September 2023. Read more
---
DIGITAL BANKING NEWS
Neon, a digital bank in Brazil, has reached a significant milestone by serving 26 million customers and accumulating a credit portfolio worth R$ 4 billion. Neonaims to become the leading platform for private payroll loans (crédito consignado) in the country.
Financial Supervision Authority fines Estonian LHV Pank close to €1 million for shortcomings in its anti-money laundering and counter-terrorism funding efforts. The bank has been ordered to rectify deficiencies.
Bangladesh-based firms Pathao and Nagad have applied to the Central Bank to obtain a digital bank licence. Nagad has equipped itself to transform into a digital bank to make available all financial services on a single platform, while Pathao aims to unlock a comprehensive banking solution for youths by harnessing the power of technology.
Banking Circle expands into Australia to provide Australian FinTechs, payments businesses and banks with global payment solutions, facilitating both onshore and offshore growth. Read more
---
PARTNERSHIPS
Visa and NymCard launch plug & play end-to-end issuance platform to help FinTech swiftly launch payment credentials. The partnership will boost overall capacity and ensure that interested fintech and non-banking entities enjoy a quick onboarding experience.
Alipay+ and PayNet to promote seamless payment for inbound and outbound Malaysian travellers. The partnership will enable all Malaysian e-wallets supported by PayNet to be accepted by Alipay+ merchants network globally in 2024.
VSoft partners with Pidgin to offer real-time payments. The collaboration will integrate Pidgin's secure real-time payments platform into VSoft's core processing platform, Wings, and its digital banking platform, Arya, to drive real-time innovation in the sector.
Nuvei partners with Mastercard to offer APAC's online traders instant cash-outs. This collaboration will enable near instantaneous payout capabilities for online trading platforms and investors in the Asia Pacific region.
---
M&As
Trustly acquires SlimPay in a deal believed to be worth €70 million. The combination will add to Trustly's existing Direct Debit capability in the UK and Sweden, and provide a pan-European recurring payments service for merchants and consumers across the continent, including Germany, France, Spain and Italy.
---
#DONEDEAL
Mucker Capital backs ScribeUp's 'fully-automated' approach to managing subscriptions. ScribeUp announced $3 million in seed funding from Mucker Capital. The company plans to allocate the new funding towards introducing upcoming features and personalized methods to save on subscription services.
Moroco's SLE3TI raises funding from Cash Plus VC Fund. The amount raised was not disclosed. SLE3TI brings together a solid base of more than 10,000 active grocery stores on its mobile platform, mainly located in Casablanca.
---
MOVERS & SHAKERS
Marqeta appoints Heather Gantt-Evans as new Chief Information Security Officer. She will be responsible for overseeing the company's global corporate and product security strategies. Read more
---
Want your message in front of 100.000+ fintech fanatics, founders, investors, and operators?