Daily News
Reverse Flipping in FinTech: A Closer Look at The Latest Moves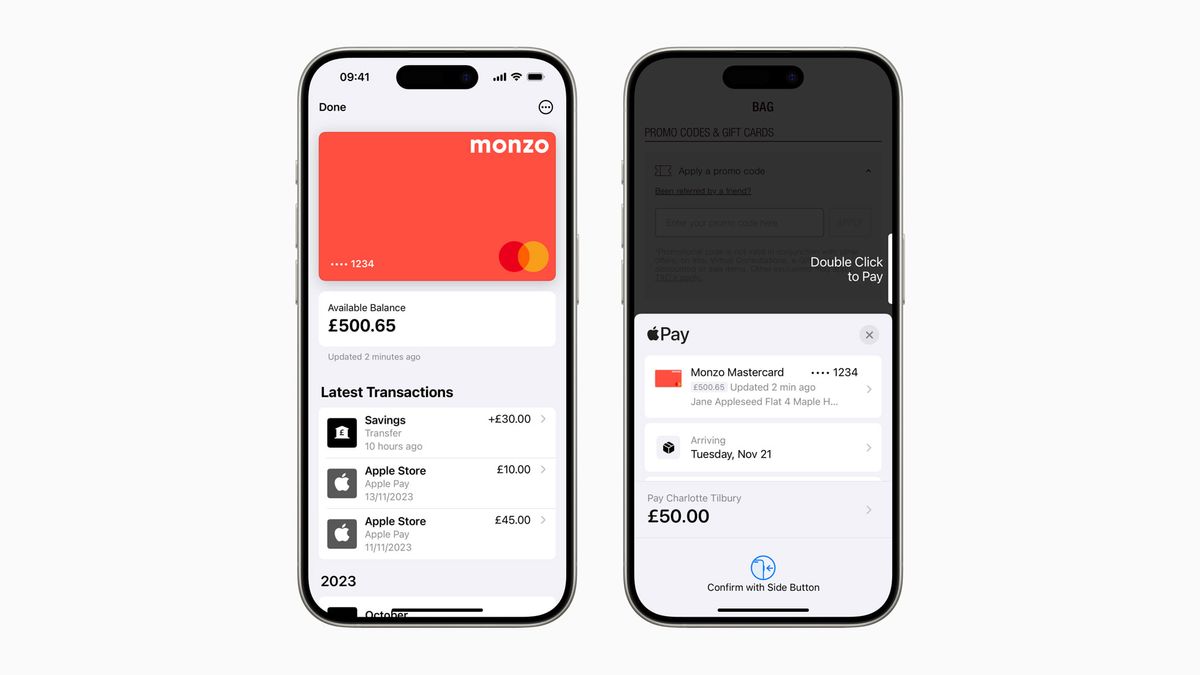 TGIF! 😉
At the moment we are witnessing strategic maneuvers in the FinTech industry as major players recalibrate their positions. Following Razorpay's recent shift back to India, another significant player, Groww, is contemplating a similar move through a cross-country merger.
This trend, known as "reverse flipping," involves FinTech companies returning to their home country due to the tightening regulatory environment. Taxation policies, notably in India, have emerged as a pivotal factor prompting such decisions. Notably, last year, PhonePe made a similar move, relocating its domicile from Singapore to India.
What is reverse flipping?
Flipping- The process of transferring the entire ownership of an Indian company to an overseas entity, accompanied by a transfer of intellectual property rights and data owned by the Indian company.
It transforms an Indian company into a 100% subsidiary of a foreign entity, with the founders and investors retaining the same ownership via the foreign entity, having swapped all shares.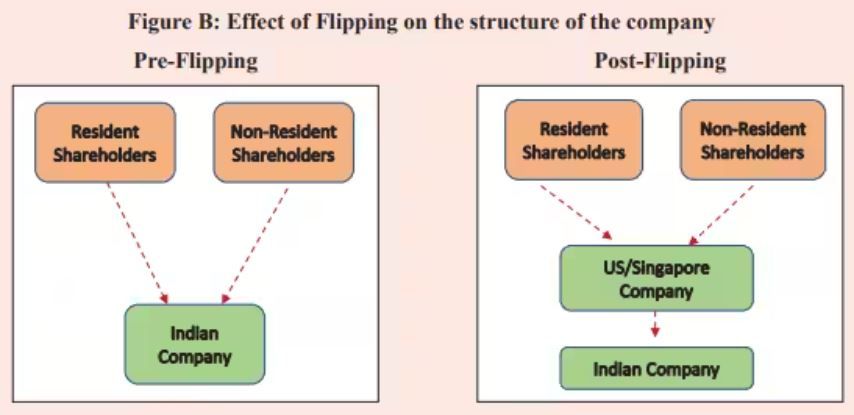 The Foreign Exchange Management (Overseas Investment) Rules and Regulations, 2022 clarify that the flipping culture has been acknowledged by the Reserve Bank of India (RBI).
Reasons for flipping:
Taxation benefits
Ease of setting up in places like Singapore, the US
Ease of attracting foreign capital
Reverse flipping - It is the trend of overseas start-ups shifting their domicile to India and listing on Indian stock exchanges.
Reasons for reverse flipping to India:
India's favourable economic policies (tax breaks, funding assistance)
Expanding domestic market
Growing investor confidence in the country's start-up ecosystem
Institutional support (International Financial Services Centres Authority (IFSCA) has constituted an expert committee to formulate a roadmap to 'Onshore the Indian innovation to GIFT IFSC')
The reports surrounding Groww's potential relocation raise questions about the tax implications associated with merging its US holding company, Groww Inc, with the Indian entity, Billionbrains Garage Ventures. While specifics on tax liabilities remain unclear, legal experts suggest potential US federal and state taxes, contrasting with the possibility of Groww avoiding additional taxation in India, thanks to the Double Taxation Avoidance Agreement (DTAA) with the US.
Founded in 2017 by former Flipkart employees, Groww, an investment tech platform, initially registered itself in the US for enhanced investment opportunities, despite primarily operating in India.
As per the publication, in April this year, Groww had obtained board approval for the merger. Later on, the unicorn applied to the National Company Law Tribunal (NCLT) to initiate the reverse flipping process.
Razorpay, another major player, is also undergoing a cross-country merger for relocation, potentially incurring a significant tax payment in its current domicile, the US. The company is set to seek NCLT approval in the coming months.
Industry experts indicate that NCLT approval typically takes 6-9 months. However, if the process extends beyond 12-18 months for Groww, the company might explore an alternative approach, possibly a share-swap deal similar to PhonePe's reverse flipping strategy.
Despite the regulatory intricacies, Groww stands out as a leading wealth management platform in India, boasting impressive metrics at the end of September 2023. With 6.63 million active investors, the unicorn turned profitable in FY23.
Supported by prominent investors like Tiger Global, Peak XV Partners, Ribbit Capital, and others, Groww's strategic move reflects the dynamic nature of the FinTech sector, where adaptability and regulatory considerations play pivotal roles in shaping the industry landscape.
And finally, Apple Pay users across the UK can now take advantage of a new feature that taps into the open banking framework to let them connect cards and view their account balance from within the Wallet app.

Soft launched in September, the feature is now live for all Brits, letting them see their up-to-date debit card balance in Wallet and when they're checking out with Apple Pay online or in-apps.
Enjoy your weekend! But before you do that, check out the curated selection of news in the list below👇
Cheers,
---
POST OF THE DAY
How Embedded Finance Makes Shopify a FinTech Business. Find out the details: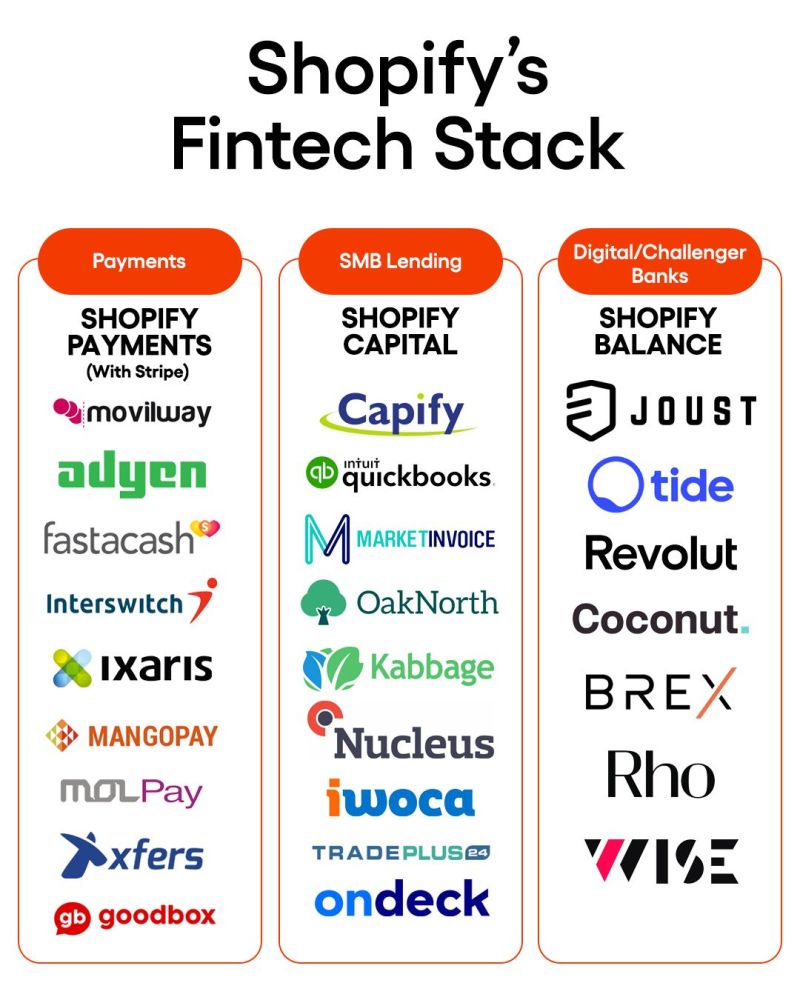 ---
FEATURED NEWS
Enfuce and Funding Circle partner to launch new business credit cards for small businesses. This announcement follows a successful year of innovation and growth for Enfuce. The partnership with Enfuce will bolster Funding Circle's product offering while furthering its mission of backing small businesses with hassle-free lending.
---
#FINTECHREPORT
State of the Open Cloud Report 2023, anticipates a transformative moment in the technology sector, with AI enabling companies to generate revenue and enhance operational efficiency. Dive into the complete report for in-depth analysis.
---
INSIGHTS
FinTech Regulations in Africa: The Case of Kenya 🇰🇪 and What You Need To Know: Africa hosts burgeoning fintech companies, creating a dynamic financial landscape. The evolving fintech sector in Africa poses challenges for regulators, with diverse issues across countries and economic communities. Explore the full report here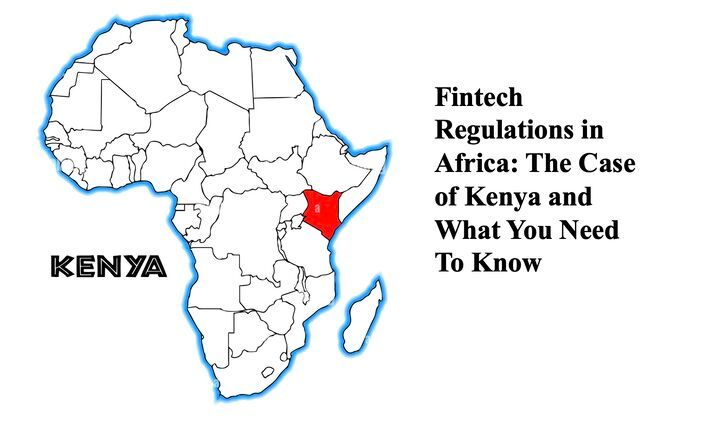 ---
FINTECH NEWS
Half of European fintech lenders unlikely to ever hit profitability, claims a report from credit fund WinYield, which conducted 95 in-depth interviews and due diligence of 27 fintechs, finding what it calls "cracks" in their credit models and approach.
WealthKernel and Bambu team on no-code robo-advisor tech. With this partnership, clients of both companies can combine their expertise and technology to build a Robo-advisor customised to their branding and needs.
🇬🇧 WorldFirst expands e-commerce digital finance options for Southeast Asian SMEs, aiming to help online sellers grow with secure, fast cross-border payments, financial services, and easy connectivity to multiple global marketplaces.
🇺🇸 Americans are getting 'ripped off' by big banks, Vlad Tenev, Robinhood CEO says. He argued this has long been part of the "playbook" of traditional banks. In response, the American Bankers Association noted that recent surveys indicate overall consumer satisfaction with their banks.
dLocal and Jeeves announce strategic partnership to streamline client payouts globally. This collaboration between dLocal and Jeeves represents a significant milestone in their mission to simplify global client payments and provide a seamless user experience for businesses operating across borders.
🇨🇳 Visa and Tencent Financial Technology extend global partnership to facilitate remittances to digital wallets utilising Visa Direct. This partnership will extend the Visa Direct network to reach more than one billion Weixin users in the Mainland of China.
---
PAYMENTS NEWS
🇦🇺 Adyen launches Capital, a product that enables businesses on Adyen for Platforms offer timely access to funding for their small and medium-sized business (SMB) users in Australia. Read more
🇿🇦 Mukuru and Payfast connect the Cash Digital Divide for millions of customers and merchants in SA to allow the large, underserved market without access to digital payment instruments to safely make online purchases.
---
OPEN BANKING NEWS
🇬🇧 Vyne beta launches no-code verified payouts solution, enabling merchants to automate, manage and verify payouts with no integration needed. Vyne's solution is perfect for pre-owned automotive vehicle purchasing and luxury retail resellers or pawnbrokers.
---
REGTECH NEWS
Moving to a decentralised identity model and reusable credentials – a paradigm shift or an implementation nightmare? In commercial and financial terms, data is a regulated commodity: everyone clamours for our information and (hopefully) goes to great lengths to manage it sensitively and securely. More here
---
DIGITAL BANKING NEWS
🇺🇸 Plinqit integrates with Bankjoy. The integration of Bankjoy with Plinqit will empower more banks and credit unions to offer the experience that today's account holders expect. Link here
🇺🇸 Grasshopper and Capchase partner to provide revenue-based financing for enterprise SaaS startups through the bank's partnership ecosystem, exclusively available to Accelerator Checking clients.
🇬🇧 New UK neobank Perenna has launched a fixed-rate mortgage product with a term of up to 40 years. Perenna will lend up to 95 per cent loan to value (LTV) and up to six times borrowers' income.
🇲🇽 Fintechs push Mexico interest rates to 15% in battle for savers. A week after Brazil's Nu Holdings announced a 15% yield on high-yield savings accounts in Mexico, Argentina's Ualá raises its rate by three points to 15%, showcasing the intense competition for customer acquisition among fintechs and digital banks in Mexico.
🇵🇭 Filipino digital bank Maya taps TerraPay for seamless remittance for Filipinos worldwide. Maya app users will be able to receive money transfers from Korea, the U.S., Singapore, and the Middle East through TerraPay's extensive global network.
🇺🇸 Neobank HMBradley pivots to B2B, shuts consumer bank. Founded in 2018 to serve the mass affluent, HMBradley is shutting its consumer business to focus on a new strategy that sells to banks, CEO Zach Bruhnke told customers Wednesday.
🇷🇴 Salt Bank, Romania's digitally native bank, has selected Engine by Starling's cloud-based banking platform to power its new retail bank. Salt Bank aims to revolutionize banking in Romania with a seamless digital user experience for mobile banking enthusiasts.
🇦🇺 AMP to launch small business digital bank. The new bank has been developed specifically to manage the transaction needs of smaller businesses, reinforced by software-as-a- service banking platform 'Engine by Starling'.
🇬🇧 Monzo and Starling low on fraud ratings but unlikely to lose customers. Both banks have fared poorly in keeping scam volumes at bay when compared to their traditional competitors. However, a GlobalData's survey suggests the banks need not be worried about losing high numbers of customers.
Bling launches Europe's first payment card designed for parents. The launch of Family+ and Parent Card marks the transformation of Bling into a family finance platform for the whole family. More here
---
BLOCKCHAIN/CRYPTO NEWS
🇧🇷 Fintechs PagBank and Agibank make first transfer through Drex in Brazil. The test consisted of creating the wallet, depositing assets and sending and receiving between institutions, and was the first between PagBank and Agibank's wallets.
🇹🇷 Turkey's crypto rules seen addressing licensing, taxation after boom. The new rules to regulate the crypto market are likely to focus on licensing and taxation, sector officials say, as the world's fourth-biggest crypto-trading country seeks to get off an international financial crime watchdog's "grey list".
🇸🇬 JPMorgan tests tokenized portfolios with Avalanche blockchain tech. The tests were carried out under the Monetary Authority of Singapore's Project Guardian and was designed specifically to enable fund managers to tokenize their portfolios on chosen blockchains.
---
DONEDEAL FUNDING NEWS
🇪🇸 Lynx raises $18m for AI-powered fraud fighting tech. The investment will fund Lynx's global expansion and further the development of the company's integrated fraud and AML platform. More here
🇺🇸 VersiFi raises $10m led by Hunting Hill Global Capital. The firm will use this funding to launch a new digital assets trading and lending business backed by institutional-grade technology, an experienced management team, and partnerships with third-party custodians.
🇺🇸 Superstate raises $14m. The capital will be used to expand their team, launch private funds to institutional investors, and create a framework for compliant, tokenized, publicly registered investment funds.
🇬🇧 Redpin on M&A warpath following £140 million investment from Blackstone. Redpin plans to continue investing in its existing international payment network and services as well as grow through select acquisitions of property technology companies globally.
🇳🇱 Silverflow's cloud-based payments processing platform raises €15 Million. This announcement comes on the heels of Silverflow's official expansion into the US and APAC markets earlier this year. Read more
Rho Labs raises $2.2 million in pre-seed funding. Rho aims to create a highly capital-efficient market for crypto-specific rates, such as staking, digital asset lending, and funding rates, to enable the same advantages for institutional crypto traders.
---
M&A
🇺🇾 As part of its digital inclusion strategy in Uruguay Itaú became a shareholder in Handy, with a 40% stake in the company. This integration aims to bring banking opportunities to all businesses and merchants in the country.
🇺🇸 Stavvy acquires SigniaDocs from Evolve Mortgage Services. This acquisition marks the culmination of Stavvy's impressive growth against the backdrop of the current mortgage lending market. More on that here
Crastorehill acquires leading open banking players Qwist and ndgit and appoints new CEO, Matt Colebourne. Crastorehill has strategically acquired these two prominent players in the open banking field aiming to leverage their combined strengths and reinforce their position in this burgeoning market.
---
MOVERS & SHAKERS
🇺🇸 PayPal makes senior hires. Isabel Cruz will join as CPO, Michelle Gill joins as EVP, General Manager of a newly formed Small Business and Financial Services Group, and Diego Scotti will join as EVP, General Manager of a newly formed Consumer Group and Global Marketing & Communications organization. Read on
🇩🇪 TrueLayer appoints Sebastian Vetter as country manager, to lead the company's push in Germany as the market matures for open banking payments. Sebastian joins at a very exciting time for EU payments, with regulatory changes afoot in PSD3.
---
Want your message in front of 100.000+ fintech fanatics, founders, investors, and operators?
Shoot me a message on LinkedIn or send me an e-mail.