Daily News
Nubank continues to expand its customer base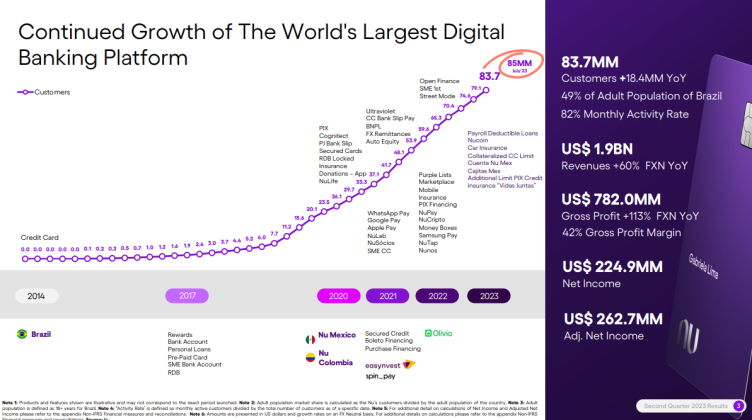 Terrific Thursday fellow FinTech Fanatic,
I'd like to start today's newsletter with the latest financial results neobank Nubank released over the second quarter of 2023, because they are quite impressive.
The Brazilian unicorn added 4.6 million customers in Q2'23 alone and 18.4 million Year-over-Year, totaling 83.7 million customers globally by June 30, 2023.
This is a 28% growth YoY, emphasizing Nubank's position as one of the world's fastest-growing digital financial platforms and the fifth-largest financial institution in Latin America.
Check out the full Earnings Presentation Q2-2023 by Nubank, with more stats & results, over here.
dLocal is considering the possibility of being acquired
If we stay in LatAm for a while, we hear several reports Uruguay-based dLocal is exploring a potential sale.
According to Bloomberg, the LatAm cross-border payments platform is working with a financial adviser and has talked to potential buyers as it is considering the possibility of being acquired.
At the moment of writing it's still unknown who the potential takeover candidates could be. Feel free to contribute if you know some more;-)
Amidst the potential sale-reports dLocal also posted its second-quarter earnings results and announced that former MercadoLibre CFO Pedro Arnt steps in as co-CEO.
Regarding the financial results, dLocal reported a revenue of $161 million over the second quarter of 2023, with a adjusted EBITDA of US$52 million, up 36% YoY and 14% quarter-over-quarter.
These are quite impressive numbers for LatAm FinTech, and some interesting developments to follow, which I will.
Please find the other FinTech news listed below👇
---
BREAKING NEWS
Coinbase lands regulatory approval to offer crypto futures trading in US. The exchange has secured approvals from the NFA and CFTC, which positions Coinbase as a pioneer in offering both traditional spot crypto trading and regulated crypto futures to U.S. clients. Read more
---
Alloy's first annual Compliance Benchmark Report is out, analyzing compliance trends in 2023 and making predictions for 2024. Download the full report by clicking on this link
---
ARTICLE
Who is PayPal's new CEO Alex Chriss? Here's what you need to know about Alex Chriss, the Intuit veteran taking over from long-time PayPal boss Dan Schulman next month. Click here to read the complete article.
---
INTERVIEW
How Zopa transformed itself from P2P lender to award-winning bank in three years. Zopa CEO Jaidev Janardana spoke to AltFi about winning 'Bank Of The Year 2022', reaching one million customers and sustaining profitability. Read full interview here
---
INSIGHTS
Goldman CEO's most loyal Deputy is tested by mutinous partners. Executives frustrated with David Solomon's leadership are turning attention to the bank's No. 2, John Waldron: Will he be tempted to break with his longtime mentor? Please click here to read full article.
Hindenburg Research targets $4.6 billion Kazakh brokerage for allegedly helping Russian oligarchs evade sanctions. "We found that Freedom Holding Corp. still does business in the Russian market, and that the company has openly flouted sanctions along with anti-money laundering (AML) and know-your-customer (KYC) rules," the firm wrote. Read full piece here
How are Service Fees charged in the China Payment ecosystem? The diagram below made by the legendary Hua Li shows how the fees are charged for both online and offline scenarios. Read more
---
FINTECH NEWS
Payoneer Singapore awarded Major Payment Institution Licence. The license will allow Payoneer Singapore to expand its product range and introduce new services in Singapore, with a focus on account issuance, cross-border and domestic money transfers, e-money issuance, and merchant acquisition.
Scottish fintech Know-it sets its sights on Australia expansion. This strategic move aims to deliver Know-it's credit management solution to the Australian market, ensuring that Australian SMEs have access to the platform to effectively manage their credit control process.
TerraPay achieves EMI licence in Italy. Having obtained approval from the Bank of Italy, TerraPay is set to expand its operations within the country and subsequently, throughout the European Union. Read more
Payments watchdog suggests £415,000 ceiling for APP fraud reimbursement claims. The watchdog in June set out its final position on tackling APP fraud, which will mean the vast majority of victims will be reimbursed within five days of the fraud being reported to their bank.
SumUp makes Australian debut. It launched in Australia, its 36th market, as the global fintech continues its global expansion and rolls out its proprietary hardware and software solutions for Australian businesses.
Experian has been fined $650,000 by the Federal Trade Commission for spamming customers with product and marketing messages that they did not sign up for. The proposed order must be approved by a Federal Court before it can go into effect.
Currencycloud almost doubles customer base in Oceania following Australian Financial Services licence. After obtaining its AFS license in June 2022, the international payments solutions provider, has achieved a 70 per cent customer growth rate in the region. Read more
---
DIGITAL BANKING NEWS
Toss Bank logs first monthly profit in July. The bank reported its first monthly profit of approximately 1 billion won ($755,000) in July since its launch in October 2021, according to the lender. Read more
US Citizens Bank of Edmond has launched a digital-first unit built for military service members. Oklahoma-based Citizens has worked with banking technology vendor Nymbus on the offshoot, called Roger, which is available now to American military members around the globe.
Stripe, 10x probed in 'banking' crack down. The prudential regulator in Australia is considering whether Stripe and 10x Banking are illegally marketing "banking-as-a-service" offerings. Additionally, APRA is reviewing other firms for inappropriate use of the word "banking" in their marketing of services. Read on
---
BLOCKCHAIN
BUX to offer cutting-edge exposure to bond markets through iBonds ETFs, an innovative investment solution that combines the best aspects of Exchange Traded Funds (ETFs) and traditional bonds, offering retail customers across Europe a cost effective access to the corporate bond market in today's yield environment.
Big names join Brazil's CBDC pilot phase. Brazil's central bank has picked 16 proposals - from firms including Nubank, Microsoft, Visa and SETL - for the pilot phase of its Drex CBDC project. Read more
---
PARTNERSHIPS
AmBank and Huawei sign MOU for sustainability financing and business solutions. Through the strategic partnership, AmBank will provide financing and merchant business solutions to all Huawei dealers. They will gain access to the business deposit Current Account bundle with Fixed Deposit promo and special interest rates, among other benefits.
Aspiration and Fareportal partner to help travelers mitigate their carbon footprint. Fareportal processes millions of flight bookings per year, making this partnership a significant opportunity to help customers make more environmentally-conscious travel choices.
---
M&As
DBS now largest foreign bank in Taiwan after finalising Citi acquisition. The integration was finalised over the last weekend (12 and 13 August 2023). Following this acquisition, DBS Taiwan said that it will have market leadership in loans, deposits, cards and investments among foreign players in the market.
Brazil's Matera buy Cinnecta to bring AI to instant payments. Financial terms of the deal were not disclosed. The firm will now tap Cinnecta's AI capabilities to develop products and services tailored to financial institutions, credit card companies and consumers.
Finland's Basware makes offer to acquire Irish fintech Glantus for £17.8m. A filing with the London Stock Exchange suggests the deal is worth around £17.8 million and implies an enterprise value of £29.5 million for Glantus. The Glantus board has unanimously recommended the offer.
---
BitGo bucks crypto downturn to raise funding at $1.75 billion valuation. The crypto company raised $100 million from new investors, emphasizing its focus on following rules and regulations. Read more
Mexican financial services startup Klar has secured a $100 million credit linefrom investment firm Victory Park Capital. This move aims to expand Klar's lending portfolio in a country where few residents have access to credit facilities.
Antler accelerates MENAP presence and launches new $60M early stage fund. The firm aims to bolster the local entrepreneurial ecosystem by supporting outstanding early-stage founders. This includes co-founder matching, personalized coaching, access to global networks, MENAP ecosystem knowledge, initial investment, and follow-on funding assistance.
---
Want your message in front of 100.000+ fintech fanatics, founders, investors, and operators?