Daily News
Irish Retail Banks Drop Ambitious Mobile Payments App Plans Amidst Setbacks

Good morning FinTech Fanatic!
In a surprising turn of events, the three remaining Irish retail banks have decided to pull the plug on their ambitious mobile payments app project, which was initially conceived to compete with industry disruptors like Revolut.
The decision comes after facing setbacks and a prolonged drift in progress over the past three years.
Synch Payments DAC, the brains behind the Irish instant mobile account-to-account payments service, announced today that, following a thorough review of its business plan, it has deemed the launch of its payments app, Yippay, into the Irish market no longer feasible. Consequently, Synch will cease its operations.
"Synch Payments DAC, the Irish instant mobile account to account payments service, today announced that following a careful and considered review of its business plan it has reached the difficult decision that it is no longer feasible to launch its payments app, Yippay, into the Irish market and Synch will cease operations," said a spokeswoman for Synch.
"A combination of factors has contributed to an elongated time frame to launch which makes the original Synch proposition no longer viable."
Better news today from Mangopay, a modular and flexible payment infrastructure provider for marketplaces and platforms, who announces the expansion of its cross-border capabilities with the launch of its end-to-end FX solution.
And Nubank (again) released impressive Third Quarter 2023 Financial Results. Here are the key takeaways: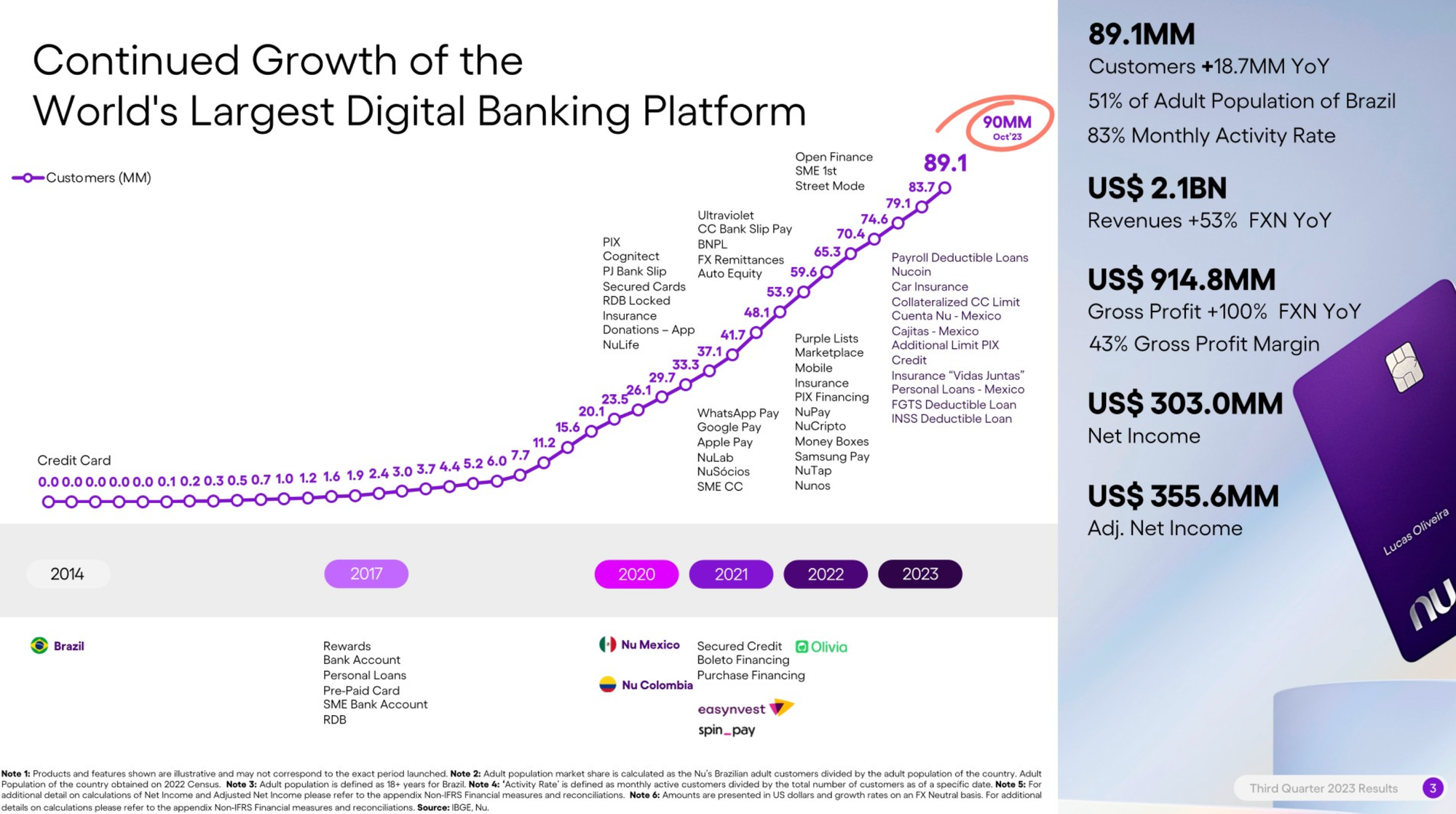 Nubank added 5.4 million customers in Q3'23 and 18.7 million year-over-year (YoY), reaching a total of 89.1 million customers globally🤯
$2.1 billion in revenues, a new all-time record high;
$900+ Million in gross profit compared to $728 Million gross profit in Q2 2023;
$303 Million net income compared to a net income of $225 Million in Q2 2023.
Enjoy the curated selection of news in the list below, and stay tuned for more insights from me tomorrow morning!
Cheers,
---
POST OF THE DAY
Amazon beefed up its "Buy With Prime" service with new features ahead of the holiday shopping season, adding order tracking, customer service and returns for merchants that sell on other websites.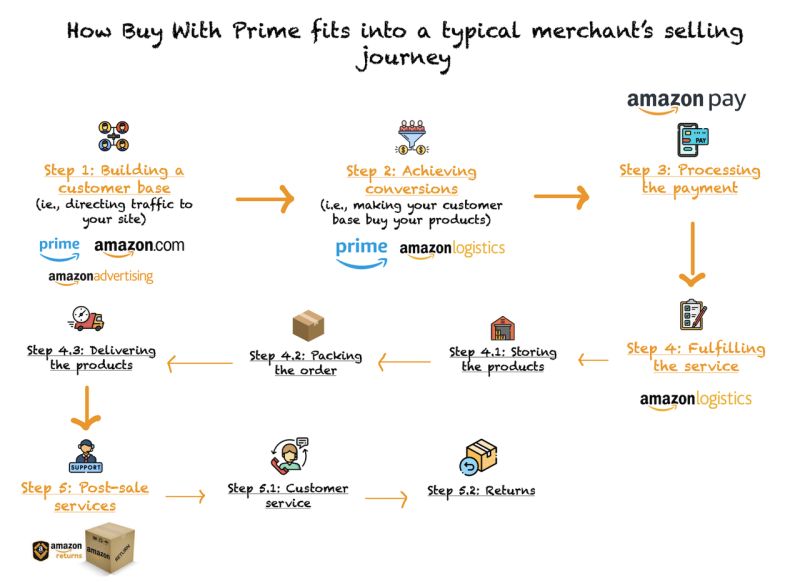 ---
#FINTECHREPORT
The 2023 Mobile Deposit Benchmark Report, which ranks the mobile deposit experience for the 20 largest banks is out: Some of the key findings of this year's report shared by Ron Shevlin are relevant to all banks and credit unions. Download the full report
---
INSIGHTS
'We're shortening the distance between consumers and the products they want and need': MoneyLion's Dee Choubey comments on Q3'23 and more. Dee Choubey, co-founder and CEO of MoneyLion, discusses where the firm stands today and the trends propelling digital banking heading into 2024.
---
FINTECH NEWS
🇩🇪 Qonto has successfully completed the integration of Penta. A year ago, the French fintech acquired Berlin-based competitor Penta. Now, the integration is complete, and the German head has ambitious plans. Read more
MUFG inks multi-year deal with AWS. Amazon Web Services (AWS) announced that Mitsubishi UFJ Financial Group (MUFG), Japan's largest financial services provider, is accelerating its cloud-first strategy with AWS as its preferred cloud provider.
🇺🇸 JPMorgan says Frank founder Charlie Javice's 'army' of 77 defense lawyers is overbilling in the fraud cases against her—and the bank is facing a $5.4m bill.
Javice's defense team is led by lawyer Alex Spiro, who charges the bank $2,025 per hour for her defense against criminal charges and the bank's lawsuit over the deal.
🇬🇧 Paylink and Salary Finance launch debt consolidation product. The product, 'ReFi™', is a unique, safe and secure automated debt consolidation solution which, since its inception, has saved Salary Finance customers over £10 million in interest payments.
Razorpay's cross-country merger may incur $250-300 Mn tax. While the Fintech unicorn plans to relocate its parent company to India through a cross-country merger, this move could incur a tax payment of $250 Mn – $300 Mn in its current domicile, the United States.
🇬🇧 UK's first credit builder debit card wins Innovate UK grant to enhance financial inclusion. Open banking-powered tool BuildMyCreditScore has secured a £200,000 grant from Innovate UK. This funding will enhance its ability to measure affordability more accurately and significantly increase applicant acceptance levels.
---
PAYMENTS NEWS
🇬🇧 More than 10 million Brits expected to buy Christmas now, pay later. According to new research from Marqeta, nearly half (43 per cent) of consumers are 'concerned' about making Christmas purchases while also affording essential products and services this year.
Mastercard is working with NEC Corporation to push the use of facial recognition technology for instore payments in Asia Pacific. The program sets technology standards for security, biometric performance, and privacy in the merchant, banking, and tech sectors.
🇦🇺 Monoova launches real-time payments in Australia for world's first universal payments platform, Optty. Travlr, the first client in the Monoova-Optty partnership, will now provide access to PayTo, Australia's new real-time checkout solution, for enterprises, travel agents, advisors, entrepreneurs, and travel companies.
🇯🇵 Japan is now "seriously thinking about joining India's UPI system, and also, it is contemplating how it can mutually recognise e-ID, for increasing interoperability," the country's digital minister Kono Taro has said in a media interview.
---
OPEN BANKING NEWS
Alipay+ and Yapily have come together to bring open banking to the UK and Europe. The partnership expands a secure payment option for millions of European consumers, complementing the 1.4 billion consumer accounts already connected by Alipay+ in Asia.
---
DIGITAL BANKING NEWS
🇦🇺 NAB the first Aussie bank to launch digital wallet-enabled virtual corporate card. The NAB Virtual Corporate Card enables organizations to create on-demand virtual cards for employees and contractors, usable online or in-store, no matter their location. The cards are compatible with digital wallets like Apple Pay or Google Pay.
🇨🇦 Neo and JA Canada partner to provide the next generation of financial tools for students. Through this partnership with JA Canada, Neo will empower the next generation to take control of their financial future, creating a generational shift of financial independence for young Canadians.
🇺🇸 Venmo has unveiled a new in-app feature for managing group expenses. 'Venmo Groups' provides users with a convenient way to divide and settle multiple or ongoing expenses among friends, family, roommates, partners and other groups. Read on
🇺🇸 Acorns and Dwayne Johnson launch Mighty Oak debit card. The Mighty Oak Card offers an entirely new way of banking, helping people grow their financial knowledge and invest towards their future – simply by using it.
Customers Bank taps Funding Circle for Lending-as-a-Service platform. The bank says the end-to-end platform will enable it to deliver "affordable term loans" directly to its SMB customers. Read full article here
🇸🇪 Ex-Klarna COO fired from new CEO role after Watchdog's red flag. Avanza Bank Holding AB is currently seeking a new Chief Executive Officer after retracting its 'suitability assessment' for Knut Frangsmyr, who was compelled to step down from his position after less than a week at the helm.
---
BLOCKCHAIN/CRYPTO NEWS
IMF says central bank digital currencies can replace cash: 'This is not the time to turn back'. IMF's Kristalina Georgieva said that the public sector should keep preparing to deploy central bank digital currencies and related payment platforms in the future. More here
---
DONEDEAL FUNDING NEWS
Revenue-based investing marketplace Levenue has raised €8 million in a Series A funding round and acquired bank transaction enrichment expert Cake. The new funding will be used to scale growth, with a launch in France set for early next year.
🇺🇸 Apiture announces $10 million insider fundraising round. The firm will use the additional capital to expedite product development and extend sales and marketing for the Apiture Digital Banking Platform, which serves over 300 banks and credit unions in the U.S.
🇨🇱 Chile's Legria raises USD $3M for expansion in fractional second home market. This funding is aimed at buying properties in strategic locations across Chile, including Marbella, Zapallar, Cachagua, Maitencillo, Las Tacas, Villarrica, Pucón, and Lago Ranco.
🇧🇷 Brazilian Fintech CondoConta receives US$13.2M. The investment will focus on consolidating leadership in Brazilian condominium banking, accelerating growth, and advancing product development and integrations with Condominium Management Systems and Administrators.
🇧🇷 Brazilian DeFi Credix raises US$60M to expand access to credit in Latin America. The US$3 billion alternative asset manager's credit facility also aims to raise the company's assets under management to more than US$100 million.
🇨🇴 Paytech GoPass secures $15M to boost client acquisition and the digitization of payments at toll booth lots in Colombia. The company operates in 126 of the 178 toll booths in the country, processing six million transactions in the first half of 2023, serving 350,000 cars and trucks.
---
M&A
🇫🇷 Luko nears a new rescue deal after Admiral drops acquisition. Luko has asked the French commercial court to change its safeguard plan to enable a new buyer to take over the deal on the same conditions of the Admiral sale.
🇧🇷 Fintech QI Tech acquires 100% of Singulare, one of Brazil's leading stockbrokers. For the Fintech, the acquisition strengthens the recently launched 'DTVM as a service' business unit. The completion of this transaction depends on the green light from the Cade do BC.
---
MOVERS & SHAKERS
🇺🇸 The Clearing House nabs top Fed official. The Clearing House has hired Keith Melton from the Federal Reserve as a new senior vice president. Melton will also act as strategic program manager for the company's real-time payments business called RTP.
---
Want your message in front of 100.000+ fintech fanatics, founders, investors, and operators?
Shoot me a message on LinkedIn or send me an e-mail.