Good morning!
Let's start with news from the US where Goldman Sachs, collaborating with Apple Savings, has improved its withdrawal systems for Apple Card users after feedback about delays, as reported by The Information.
Initially, users faced long waits for transfers, with some funds going missing. These delays were initially attributed to security precautions. However, the updated system now reduces the likelihood of flagging smaller transfers from large balances as suspicious.
There's also a set maximum withdrawal time. Goldman Sachs now directly communicates with users about flagged transactions and offered a $100 credit in July to appease dissatisfied customers.
The Apple Savings account, launched in April and exclusive to Apple Card holders, offers a 4.15% interest rate.
Meanwhile, in London, the FinTech industry is getting itself ready for The AltFi Awards!
For the few people that don't know; The AltFi Awards recognize and award Europe's most innovative financial services and FinTech businesses. This year, they've got 19 awards up for grabs!
Could your firm win one of these prestigious awards? There's only one way to find out - find out more and submit your nominations.
Now on to other global FinTech industry news I listed for you today:Now on to other global FinTech industry news I listed for you today:
---

---
#FINTECHREPORT
🏦How banks are building the next wave of embedded finance. Weavr invited respondents to a survey to consider some suggested causes of cost and risk for their bank when developing new capabilities in embedded finance. Download the complete report for more info, stats and figures.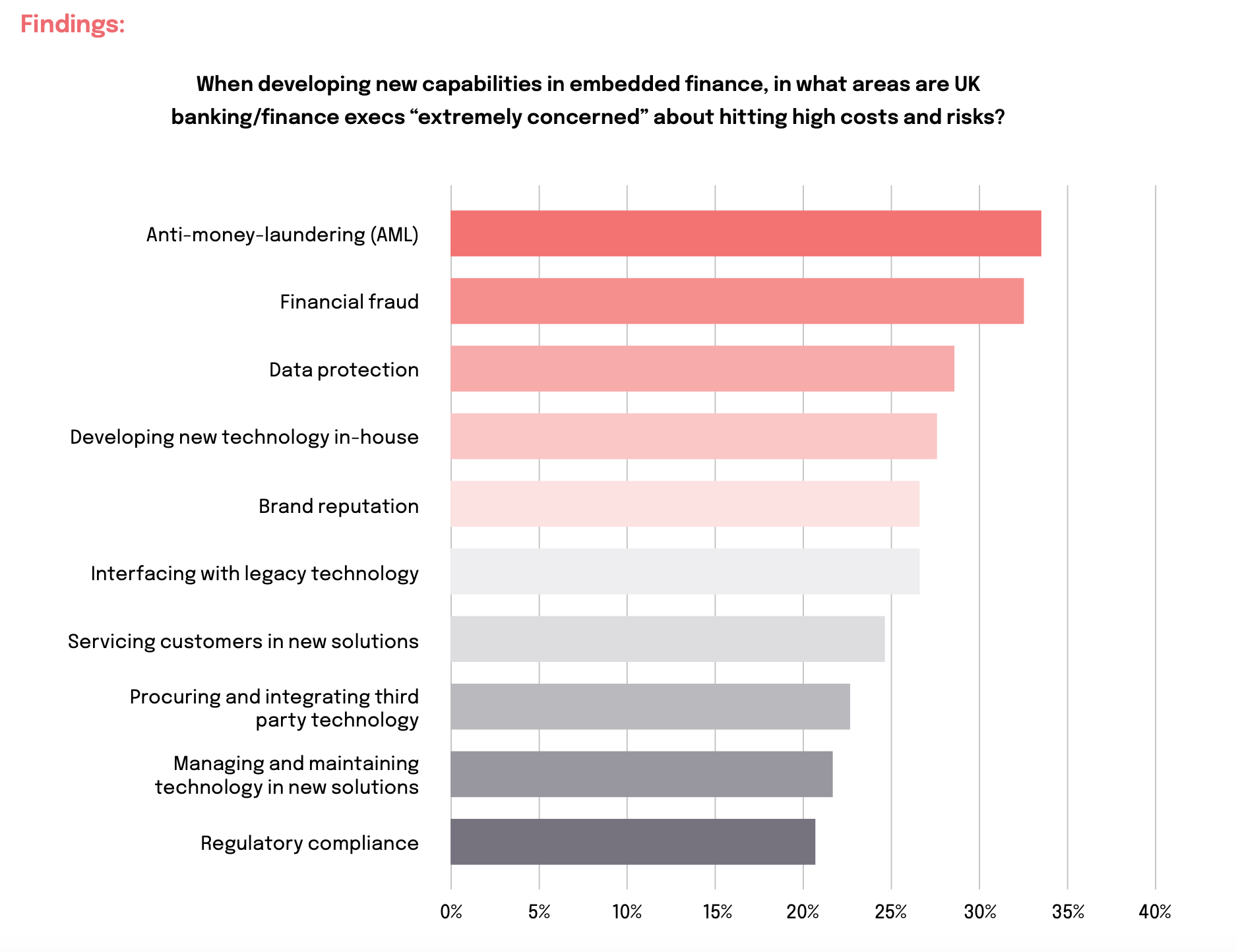 ---
INSIGHTS
🇭🇰Credit Cards in circulation in Hong Kong reach 19.71 million, according to the Hong Kong Monetary Authority (HKMA)'s Q2/2023 payment card statistics. This indicates a marginal growth of 0.05% compared to the previous quarter and a 0.4% rise year-on-year.
---
FINTECH NEWS
🇸🇦Saudi more than doubles fintech target riding on boom. Saudi Arabia is more than doubling its target for fintech companies as it is on track to achieve its initial goal years ahead of its 2030 deadline.
🇬🇧Blackbullion announces money management app to promote financial wellbeing for students. The first-of-its-kind app aims to help students use and understand their money confidently across the university or college term, ensuring their academic focus and well-being.
🇺🇸Dwolla changes CEOs, cuts jobs, shifts strategy. Dwolla's response to the uncertain future of fintech startups includes leadership restructuring and accelerating a plan to offer easy payment upgrades at more established clients.
---
PAYMENTS NEWS
🇮🇳CRED partners with Shopify to diversify merchant payment options. The integration provides Shopify merchants with the ability to enhance their prepaid transaction conversion rates and provide an improved shopping experience to the top 1% of consumers in India.
---
REGTECH NEWS
🇺🇸$212B in suspicious activity reports to FinCENin 2021 concerned identity, officials report. The financial sector has an identity problem, according to officials at the Treasury Department bureau tasked with combing through financial intelligence to combat money laundering and other illicit activities in the financial sector.
RegTech deal activity outside of Europe and North America drops by 29%. Check out the key RegTech investment stats outside of Europe and North America in H1 2023. Link here
🇲🇽Credolab partners with Circulo de Credito to bring more financial inclusion in Mexico by providing credit, risk, and fraud scoring solutions. Read more

Subscribe now
---
DIGITAL BANKING NEWS
🇬🇧HSBC to offer credit cards to migrants with no UK credit history. HSBC has become the first UK bank to offer newcomers to the country the option to include international credit history when applying for a credit card.
🇧🇷Characters: David Velez. With an increase of US$3.8 billion in his net worth, he is now the second Colombian in the Bloomberg Billionaire Index with US$7.84 billion. Nubank, the neobank he founded, became this year in Brazil the main recipient of data through open finance.
🇺🇸Ex-Wells Fargo exec at center of fake account scandal avoids prison. Carrie Tolstedt was sentenced to three years of probation for covering up a widespread fake account scandal at the bank, avoiding up to 16 months in prison because she doesn't pose a risk to society, according to multiple outlets.
🇦🇺Judo Bank partners with Backbase to enhance digital customer experience. The adoption of Backbase's Engagement Banking Platform will enable Judo's relationship bankers to dedicate more time to customers. Read more
🇮🇳IndusInd Bank launches virtual commercial card, which aims to redefine cross-border transactions. The virtual card was developed to cater to the distinct requirements of corporates and the travel industry, as they make bookings in multiple foreign currencies.
Swift and Wise join forces to expand cross-border payment options globally. The collaboration aims to increase cross-border payment options for financial institutions and their customers, enabling payments sent securely via Swift to complete seamlessly over Wise with end-to-end transparency.
🇺🇸Rival banks unite to take on Big Tech. America's largest banks are preparing to fire the latest salvo in their efforts to defend their turf from Big Tech groups. JPMorgan Chase, BofA, Wells Fargo, and others, next year plan to launch Paze: a mobile wallet that will connect directly to the credit and debit card accounts of 150mn customers.
🇺🇸Bank of America gives CashPro Chatbot an AI upgrade. The banking giant announced that its business clients will now be able to interact with a tool featuring the same artificial intelligence (AI) and machine learning capabilities driving Erica, its virtual financial assistant.
🇬🇧Revolut transfers skyrocket for international students. Over the past year, Revolut has seen 91 per cent growth in 18-to-24 year olds receiving money from abroad, with a 99 per cent increase in volume of money transferred.
---
BLOCKCHAIN/CRYPTO NEWS
Genius X onboards UNIA neo-bank. The collaboration is poised to propel UNIA's growth to new heights. Genius X offers an extensive portfolio of services that will be instrumental in supporting UNIA's development.
🇳🇱Coinbase expands Easy Bank Transfers to the Netherlands. The feature allows customers to make deposits to their Coinbase accounts. Connecting directly to users' bank accounts, these payments minimise the need for manual data entry.
---
DONEDEAL FUNDING NEWS
🇭🇰Hong Kong insurtech firm Bowtie secures nearly $35m in Series B2 round. The funds raised will be used to further expand its operations and technologies in Hong Kong's insurance industry as well as accelerate its product innovation.
🇿🇲Lupiya secures $8.25 million series A funding round. The funding will be channeled into enhancing Lupiya's technological infrastructure, expanding its range of financial products, and scaling its operations to reach more customers.
Lloyds invests €3 million in Enigio to accelerate document digitisation. The investment will enable Enigio to continue to grow and provide businesses with a faster, more affordable and secure way to digitise physical original documents.
🇪🇸Santander commits to €100 million fund for Spanish startups. The bank's initial contribution to the fund will be €67 million, while the remaining €33 million will be contributed by Inveready and other investors, making it the biggest venture debt fund in Spain.
In the past week, we saw 13 deals in Europe for a total amount of €102.7m. Raised officially with five deals in the UK🇬🇧, four deals in France🇫🇷, two deals in Germany🇩🇪, one in Italy🇮🇹 and one in Switzerland🇨🇭. Read more
---
Want your message in front of 100.000+ fintech fanatics, founders, investors, and operators?