Happy Monday fellow FinTech Fanatic!
I'm still recovering from Money2020 if I'm completely honest, but there is a lot of (digital banking) news I want to share with you today, so let's dive in:
Elon Musk wants X to be the center of your financial world, handling anything in your life that deals with money. He expects those features to launch by the end of 2024, he told X employees during an all hands call on Thursday, saying that people will be surprised with "just how powerful it is."
"When I say payments, I actually mean someone's entire financial life," Musk said, according to audio of the meeting obtained by The Verge.
"If it involves money. It'll be on our platform. Money or securities or whatever. So, it's not just like send $20 to my friend. I'm talking about, like, you won't need a bank account."
X CEO Linda Yaccarino said the company sees this becoming a "full opportunity" in 2024.
"It would blow my mind if we don't have that rolled out by the end of next year," Musk said.
The company is currently working on locking down money transmissions licenses across the US so that it can offer financial services. Musk told employees Thursday that he hopes to get the others X needs in "the next few months."
Meanwhile, the banks which helped Elon Musk take over Twitter are expecting to lose $2 billion on the loans they gave him, according to The Wall Street Journal.
When the world's richest person agreed to buy the social media company for $44 billion last October, $13 billion was loaned by the likes of Morgan Stanley, Bank of America, and Barclays. The loans are backed by some of Musk's Tesla stock.
According to The Wall Street Journal, Musk's lenders have started preparing to unload the debt.
Bankers close to the deal told The Journal that X could be given a junk-bond rating, meaning it is at risk of defaulting on the loans, due to both Musk's controversial management style and a waning ad market.
People familiar with the matter told the newspaper that the banks are expecting to take a hit of 15%, or $2 billion in total.
In Europe, digital bank Monzo is reportedly working on a £300m+ funding round with a group of investment funds, according to Sky News.
The raise, which is expected to be finalised by the end of 2023, would value Monzo at more than £3.5bn according to the report.
This would place the digital bank at or above the £3.5bn valuation it achieved in 2021 when it last raised $475m in a round led by the Abu Dhabi Growth Fund.
Its latest fundraising is likely to be viewed as the final round before Monzo unveils an initial public offering, in which it would sell shares to the public.
In July this year, reports emerged that UK neobank Monzo was in early-stage talks about a possible tie-up with Lunar, which was last year valued at $2.2 billion.
The CEO of Nordic challenger bank Lunar has distanced the bank from reports that it could merge with UK peer Monzo, saying "We don't have any intention to merge".
Lunar CEO Ken Villum Klausen talks about expanding further across the Nordics; matching up to the incumbents; and having Will Ferrell as an investor in an interview with Tech eu
Finally, Nubank, the largest neobank in Latin America, has surpassed 90 million customers in the region. Nearly 85 million are in Brazil, and 5.2 million are in Mexico and Colombia.
Never a dull moment in the digital banking industry 😉
Have a great start to the week!
Cheers,
---

---
FEATURED NEWS
🇳🇱Mastering the compliance challenge: How Fourthline is revolutionising the fourth line of defence. Silicon Canals spoke to some of the firm's management members about starting Fourthline, their vision for the future, the role of AI and GDPR in compliance, and more. Click here to read the complete article.
INSIGHTS
How Long Do SWIFT Payments Take? Insights From 500 Payments. Despite the large number of cross-border payments being made daily, many people use SWIFT payments without fully understanding how it works and who is involved. Read on to discover how everything operates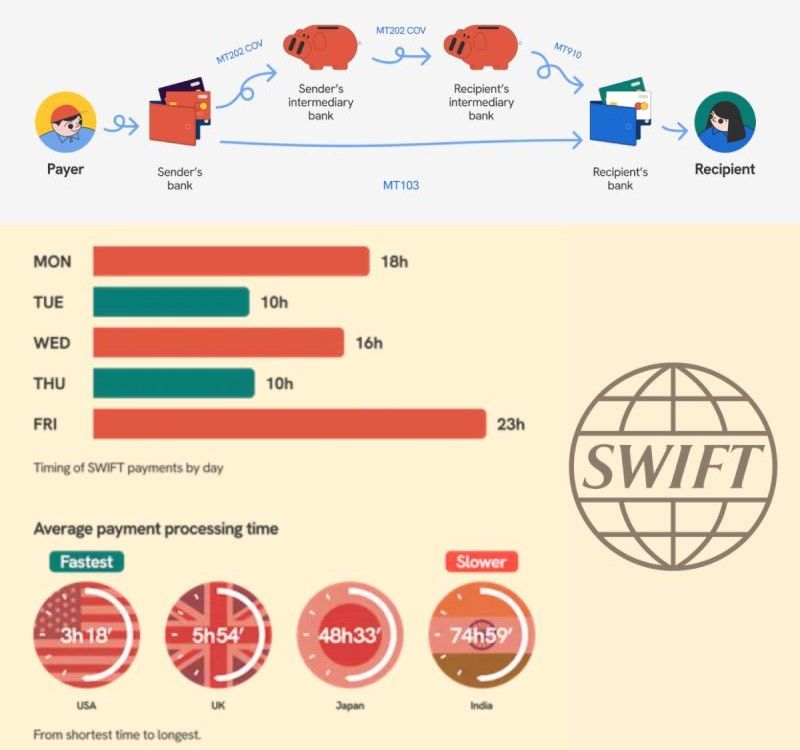 ---
FINTECH NEWS
🇺🇸NerdWallet launches its first credit card in partnership with Bond. The NerdUp secured credit card, is a free card that is uniquely designed to expand access for consumers who want to build their credit history—combining key features to remove the barriers typically found with traditional secured credit cards.
---
PAYMENTS NEWS
🇮🇩The Financial Services Authority (OJK) prohibits Akulaku from offering BNPL services. The restrictions stem from the company's failure to carry out supervisory actions requested by the OJK, specifically regarding the distribution of financing using the buy now pay later (BNPL) scheme.
🇧🇷dLocal for Platforms brings cashless solution to inDrive Brazil. This integration of dLocal for Platforms and inDrive streamlines payment processing and fund disbursement within a single solution. inDrive has introduced this all-in-one product in Brazil, promoting cashless solutions for riders and drivers.
🇬🇧CAB Payments shares tumble 72% three months after London IPO. Shares in CAB Payments plunged 72 per cent last Tuesday after the fintech warned on profits just months after a London listing that was hailed as a rare bright spot for the struggling UK market.
---
OPEN BANKING NEWS
"The World of Open Banking and Open Finance: October 2023" report by Konsentus, provides in-depth insights into the development and progress of open banking initiatives worldwide. Download here
🇧🇷Open Finance: BC simplifies renewal of consents and extends share validity. On October 26, 2023, Banco Central issued Resolution No. 7, enhancing Open Finance data sharing for customers. The resolution simplifies consent renewal and extends data sharing validity beyond 12 months, offering customers more control over their personal information.
---
REGTECH NEWS
🇧🇷Brazilian Fintech Vaas raises USD$2M to counter transaction fraud through Pix. The company, in a proof-of-concept phase with large enterprises, will officially launch its blockchain transaction-tracking platform next month. It will track Pix transactions and develop anti-fraud tools for this payment method, a major target for fraudsters.
🇺🇸BankProv partners with Cable for automated financial crime effectiveness testing. This integration with Cable further strengthens BankProv's commitment to regulatory compliance and dedication to leveraging the power of technology in the fight to reduce financial crime.
Smart-ID is now available on Apple Watch. This significant progression enables individuals to use Smart-ID for electronic authentication and signing directly through their Apple Watch.

Subscribe now
---
DIGITAL BANKING NEWS
🇧🇷High income-focused, Nubank expands benefits for Ultravioleta customers. Users will soon enjoy a black credit card with 1% cashback and evolving features designed to simplify their financial lives. This new feature is in testing and will roll out gradually in the coming months.
🇬🇧Designated client account banking solution launches… with official help. Lettspay, in partnership with Griffin Bank, has launched a specialized banking solution for letting agents and property managers. This addresses complex issues related to client accounts and money protection schemes.
🇬🇧Revolut is the UK's thirteenth most valuable brand, according to Kantar's ranking of the UK's most valuable brands, which has given it a brand value of $5.119bn for 2023. "Revolut is 'once again shaking up the banking industry' as the only fintech in the top 15," Revolut vice president of growth Antoine Le Nel said
🇺🇸Cross River CEO predicts 'bonanza' for fintech, BaaS banks in 2024. Gilles Gade is bullish on the opportunities that lie ahead for fintechs and the banks who partner closely with them, saying 2024 will be a banner year for firms in the space.
---
BLOCKCHAIN/CRYPTO NEWS
🇺🇸Casa CEO warns of Binance's 'Abnormal' Activities, urges users to withdraw funds. CASA CEO Nick Neuman expressed concerns about unusual activities surrounding Binance and its U.S. affiliate. He emphasized the importance of self-custody in wealth management, urging individuals to take control of their assets.
🇺🇸Sam Bankman-Fried says FTX actions were guided by lawyers. In an unusual rehearsal of self-defense testimony, crypto-exchange founder struggles before testifying in front of jury. More on that here
🇺🇸Solana Labs plans to grow ecosystem through new incubator program. The program is designed to support teams interested in building on the Solana network by providing engineering and go-to-market support.
🇹🇼Crypto regulation takes shape in Taiwan. Taiwan's parliament passed the first reading of a crypto bill aimed at regulating the industry and addressing offshore market concerns. Read more
🇿🇦SA crypto exchange VALR partners Visa to issue Visa payment cards and deliver various digital payment solutions. They will collaborate on innovative payment and card products, enabling VALR customers to utilize the Visa network for global payments and receipts.
---
DONEDEAL FUNDING NEWS
🇫🇷French FinTech has seen a continued drop in both deal activity and investment during Q3 2023. Check out the key French FinTech investment stats in Q3 2023 by FinTech Global. Link here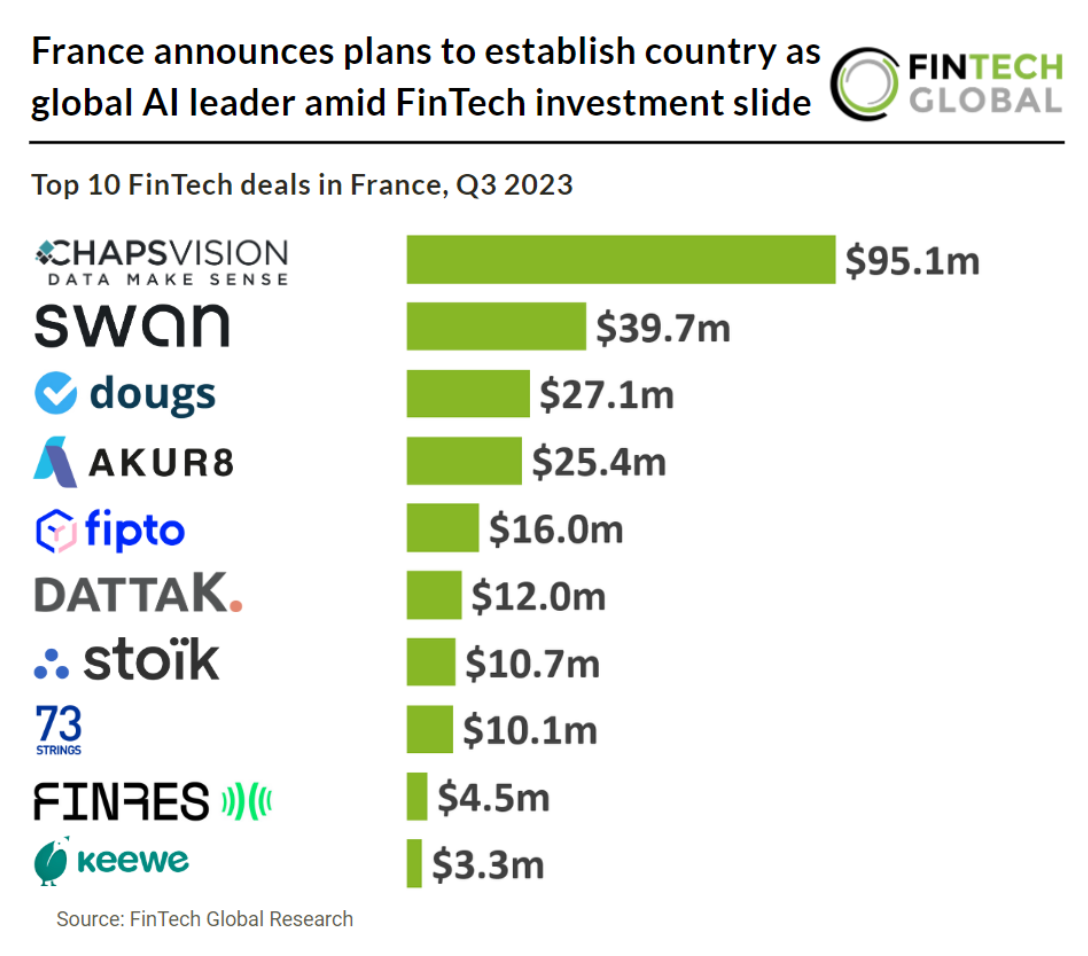 🇨🇱Chilean Fintech Galgo Raises USD $40M to Expand in LatAm. The company aims to enhance user experience and expand in Chile, Peru, Colombia, and Mexico, with a focus on the latter two. Read more
🇬🇧Embedded Finance, Railsr's parent company, has secured $24m from existing investors just seven months after it was forced to undergo an insolvency process amid regulatory challenges.
🇸🇬Triple-A has announced a US$10 million Series A fundraising. The company aims to build an efficient global payment ecosystem by bridging the gap between traditional finance and blockchain-backed payments.
🇨🇴Plurall receives investment from Krealo to boost the financial inclusion of entrepreneurs in the country. Plurall seeks to promote the financial inclusion of entrepreneurs from different sectors and territories, providing them with the opportunity to access credits of Productive Capital of Work (microcredits) in a dynamic way.
---
M&A
🇩🇪German fund of funds Equation buys VC fundraising platform Betterfront to transform the outdated fundraising process in Private Markets and enable liquidity for Venture Capital and Private Equity investors.
---
MOVERS & SHAKERS
🇸🇦HALA brings on former Revolut CTO Saleem Arshad to drive an ambitious global vision. Under Saleem's expert stewardship, HALA aims to strengthen its infrastructure and technology capabilities, ensuring it remains at the forefront of industry trends and customer expectations.
🇬🇧Ziglu's Mark Hipperson returns as executive chairman. Hipperson resigned in February, saying in a LinkedIn post that he would move to supporting the company as a director and shareholder. Read more
Klarna transfers another 500 jobs globally to Foundever and Accenture. Once transferred, the roles will no longer exist at Klarna; countries affected include Australia, Finland, Germany, Italy, Netherlands, Norway, Spain, Sweden, the UK and the US, according to company documents seen by Sifted.
---
Want your message in front of 100.000+ fintech fanatics, founders, investors, and operators?
Shoot me a message on LinkedIn or send me an e-mail.