Daily News
Countdown to Klarna's IPO: CEO says Klarna has the potential be a trillion-dollar company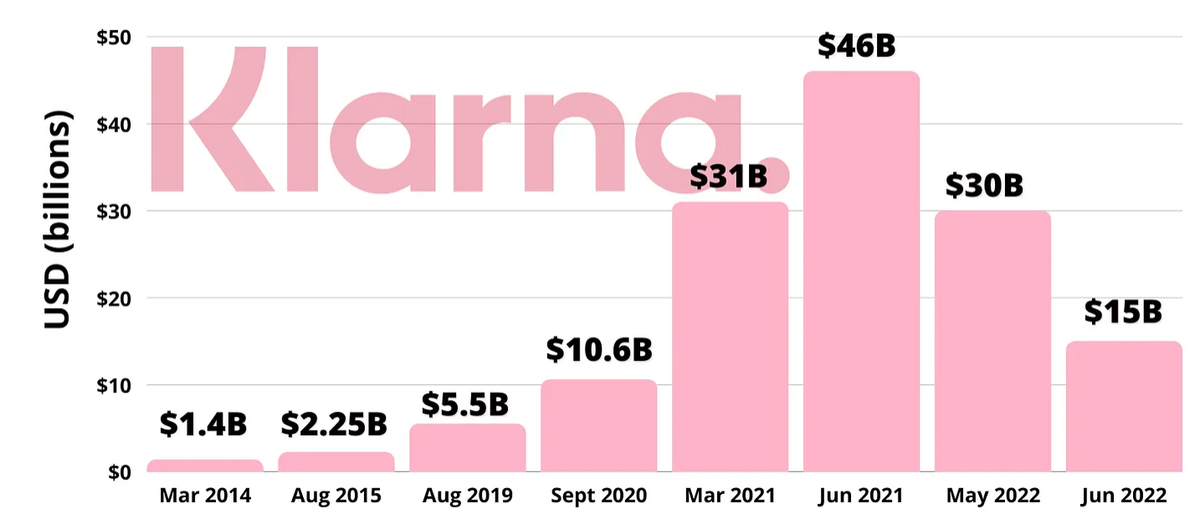 Good morning FinTech Fanatic!
Today's highlight circles around Klarna's chief, Sebastian Siemiatkowski, who recently checked off his 'three tick boxes' that set the stage for the company's much-anticipated IPO.
With all systems go, Klarna is steering towards a public debut that could make waves as early as next year.
Amidst swirling rumors, Klarna has been the hot topic for potential listing venues, with both London and New York whispered as front-runners. Yet, the intrigue deepens as there's no clear lead on the final choice. The company's recent maneuver to establish a UK-based holding entity is stirring speculations of a British IPO, although Klarna remains tight-lipped about its geographical leanings.
This restructuring aligns with Siemiatkowski's strategic vision for IPO-readiness, post a profitable quarter that marks a pivotal shift from red to black. The Klarna captain has always maintained a trio of IPO prerequisites: a global footprint with a solid foothold in the US market, a sustainable and profitable business model, and the promise of substantial growth on the horizon—a trifecta that now stands fulfilled.
So what's Klarna worth now? According to TechCrunch journalist Alex Wilhelm, the company is worth around 3x its current top line.
"A look at the trailing price-sales multiples of major public fintech companies Block and PayPal gives us ratios of 1.42x and 2.16x, respectively. That said, Block's revenue increased 16% in the third quarter (exclusive of bitcoin trading revenue), while PayPal's net revenue rose 8% in the last year. So, Klarna is growing its top line faster than either of these two companies and is not priced too far above them if you go by this metric."
In an interview with Josh Lipton for the Yahoo Finance Invest conference, Siemiatkowski reiterates that "Klarna is challenging the retail bank industry. This is a trillion dollar market opportunity, so there is very much real potential that this business could be worth hundreds of billions of dollars, if not trillion, if we accomplish what we set out to do."
Watch the video below to learn how Siemiatkowski views rival buy now pay later firm Affirm (AFRM) and if the company could go public in the US:
As Klarna tastes profitability, the tech sector watches with bated breath, especially after last year's downturn led many fintech firms to press pause on public offering plans. Yet, the tide may be turning. With the likes of Monzo, Starling, and Thought Machine also inching towards the public sphere, the market is ripe with anticipation.
What's certain is that Klarna's leap into profitability, its strategic cost-cutting, and a decline in customer defaults signal a robust quarter and a potentially stronger future. Only time will tell where this fintech titan will anchor its IPO aspirations.
At what valuation and where do you think Klarna will/should IPO?
Cheers,
---
Fintech Meetup Ticket Prices Increase Friday, 11/10!

Join Fintech Meetup (March 3-6), the new BIG event with "the highest ROI" for attendees & sponsors with reasonably priced sponsorships, tickets, and rooms. Join 45,000+ double opt-in meetings, and Network with 5,000+ attendees. Ticket Prices go UP at midnight on Friday, Nov. 10.
Get tickets Now!
---
FEATURED NEWS
FinTech Juni To Offer Inventory Financing for E-Commerce Businesses. The new product follows the launch of Juni's product that allows businesses to 'buy media, pay later' (BMPL). This latest addition is part of Juni's efforts to build a Capital product that is tailor-made for the unique financial needs of ecommerce businesses.
---
#FINTECHREPORT
🇦🇷 The 2023 FinTech Map from Argentina is out! In the latest edition of the Finnovista Fintech Radar Argentina, in collaboration with Visa, Finnovista has identified 154 new startups in the country. Learn more here
Responding to the New Reality in Banking. Check out BCG's whitepaper series, where they take a look at the current inflationary environment and the challenges it presents. Read the full piece here
---
PODCAST
Fintech Fuels Global Payments. In this episode, a16z partners Angela Strange, Joe Schmidt, and Gabriel Vasquez discuss the challenges of cross-border payment infrastructures and what fintech entrepreneurs are doing to create a more integrated, financially inclusive world. Listen to the full podcast episode here
---
FINTECH NEWS
🇧🇷 Fintech Bamboo has obtained its licence to act as an independent coordinator of public offerings in Brazil. This is the first time that the regulator has allowed a startup to operate in this way.
🇧🇷 Fintechs Nomad and Pomelo announce credit card launch by 2024 in Brazil, promising a great companion for customers worldwide. This alliance enhances Nomad's business, enabling portfolio expansion through technology.
🇨🇴 WiPay, a leading Caribbean fintech company, has expanded into the Colombian market with a focus on empowering the country's Afro-Colombian community, which makes up over 4.5 million people. Read more
🇬🇧 Floww launches package to streamline and simplify venture capital fund management. The company launched FlowwFunds, which uses Floww Certificates, a globally tradable instrument that creates liquidity and is secondaries ready.
🇲🇾 Touch 'n Go eWallet users can now earn points for rewards with GOrewards. The programme allows users to collect points when they use their e-wallet to spend on daily necessities and more.
---
PAYMENTS NEWS
🇵🇪 Google has introduced its contactless payment service in Peru through its digital wallet, enabling Android users to download the app and make payments at any establishment that accepts contactless payments. Read on
Mastercard partners with Worldpay and Travel Tax Free to introduce the Mastercard Send into the latter's management service. The solution is set to give eligible tourists in 🇪🇸Spain and 🇵🇹Portugal the possibility to opt for instant tax refunds.
🇺🇸 CFPB proposes new oversight for payment tech firms: Google, Apple and 15 other big non-bank technology companies that provide digital wallets or payments apps would be subject to increased regulation if a new federal agency rule is approved.
🇺🇦 Apple extends Tap to Pay on iPhone to Ukraine. Ukrainian merchants can now accept contactless iPhone payments without additional hardware, thanks to Apple's Tap to Pay service, supported by payment service provider PrivatBank.
🇦🇺 Market share losses force Visa and Mastercard to lower fees. According to the RBA there was a significant fall in the average merchant fees collected on card-not-present transactions processed by Visa and Mastercard in the September 2023 quarter.
---
REGTECH NEWS
🇺🇸 Nymbus taps DataVisor for fraud management. Through this partnership, Nymbus will utilize DataVisor's advanced fraud and risk platform, integrating AI and machine learning to offer comprehensive fraud protection to its customers.
---
DIGITAL BANKING NEWS
🇺🇸 Goldman moves to unload GM credit card: Bank informed employees Tuesday of process to find new issuer as it retreats from consumer lending. This move aligns with their strategy to focus more on core franchises.
🇧🇷 Neobank Inter, one of the largest digital banks in Brazil added 1.6 million customers in Q3 2023 alone and has practically the same number of customers in its second market, the U.S. The company reported a profit of BRL 104 million in Q3 — the biggest in its history.
🇨🇦 EQ Bank strengthens BIN sponsorship business through expanded collaboration with Berkeley Payments. This collaboration will offer Canadian consumers and businesses cutting-edge prepaid solutions and flexibility for making payments. Read more
🇬🇧 Finova unveils 'finova Savings', its latest digital-first, end-to-end savings solution. Features of the platform include a fully brandable online customer portal and a mobile app, allowing customers to self-serve their savings journey from the initial application and beyond.
Dave announces Third Quarter 2023 results. Jason Wilk, Founder and CEO of Dave, emphasized the company's commitment to achieving profitability by focusing on expanding member lifetime value, increasing variable margins, and strategic investments in marketing.
🇬🇧 Oaknorth founder accuses lenders of underserving SMEs for years. He told City A.M. that SMEs have generally been underserved by lenders since he launched Oaknorth in 2015. The digital bank announced that it is offering a new range of products and services.
🇬🇧 Tide works with BT to unlock savings for small businesses. The partnership comes as small businesses face rising costs of doing business yet increasingly need fast and efficient broadband and mobile connectivity to run their ventures.
---
BLOCKCHAIN/CRYPTO NEWS
🇩🇪 Crypto-focused bank Nuri has staged a comeback from insolvency, relaunching with a streamlined service under its original name, Bitwala. The relaunch comes with a renewed focus on returning to its core offering, which centres around buying and selling crypto.
🇭🇰 Seba Bank awarded crypto licence in Hong Kong. This licence permits SEBA Hong Kong to conduct regulated activities in Hong Kong to deal in and distribute all securities, including virtual assets-related products.
🇺🇸 Coatue cuts value of OpenSea Stake by 90% as fund's returns sag. One of OpenSea's biggest investors has marked down by 90% its stake in the struggling non-fungible-token marketplace, implying that the former crypto darling is now valued at $1.4 billion or less on paper.
---
DONEDEAL FUNDING NEWS
🇬🇧 Challenger bank Monument targets £100m funding injection. One source said the funding had been raised at a valuation of more than £150m on a pre-money basis. It now intends to initiate discussions about its Series C round.
---
MOVERS & SHAKERS
🇬🇧 Coconut founder Sam O'Connor joins OakNorth Bank for current account push. O'Connor revealed that he has in fact been working at OakNorth Bank since August as general manager of transaction banking. More here
🇬🇧 Frankie Woodhead joins The Bank of London as Chief Product Officer. In his role, Frankie will oversee product vision, development and delivery across the UK Bank and Group.
---
Want your message in front of 100.000+ fintech fanatics, founders, investors, and operators?
Shoot me a message on LinkedIn or send me an e-mail.