Daily News
Coinbase takes stake in stablecoin firm Circle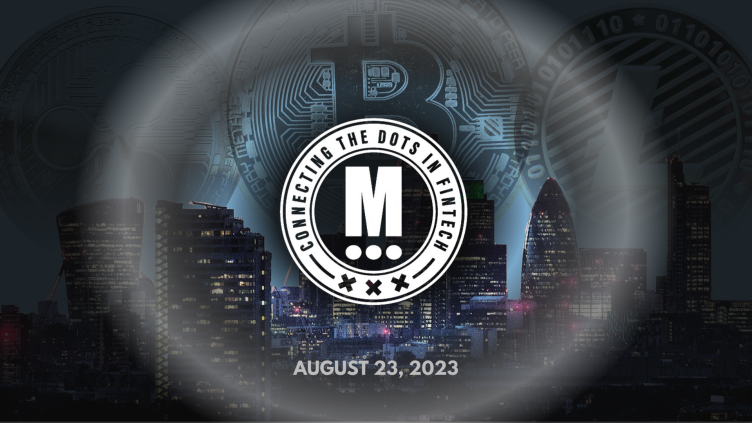 Wonderful Wednesday fellow FinTech Fanatic,
I'd like to start with the news Coinbase, the crypto exchange giant, is teaming up with Circle, the creator of USDC stablecoin, bringing these crypto heavyweights even closer together.
The two companies also said they will close down the Centre Consortium, a private governance organization for USDC, as they now see "regulatory clarity" on stablecoins.
Coinbase is taking a stake in Circle, with the two companies looking to cement their control over the issuance and governance of USDC. As part of the arrangement, USDC is set to launch on six new, unspecified blockchains starting in September.
This new approach to the partnership between Coinbase and Circle, come a few weeks after PayPal launched its own stablecoin, PayPal USD, a direct competitor to USDC.
Paytm's next contribution will be small mobile credit
After capturing the payments market, Indian FinTech giant Paytm is now eying to disrupt the digital lending space.
While the company has been focussing on small credit for some time now, it wants to lead the credit revolution with this offering.
"By helping enable digital loan collection on app, we are now creating a small revolution for financial inclusion, where a loan of as small as a few hundred rupees can be disbursed and collected at very miniscule cost," Paytm founder and CEO Vijay Shekhar Sharma said in a letter to shareholders in its Annual Report.
Paytm is also planning to big bet on AI; in that same letter to shareholders Sharma announced Paytm will invest in AI with an eye on building an Artificial General Intelligence software stack.
Thanks for reading this far, and please find the other FinTech news listed below.
---
#FINTECHREPORT
Check out Quinlan & Associates' Hong Kong E-wallet Landscape report, which examines the major e-wallet providers in the local market, including their current strategies, and more. Link here
---
ARTICLE
Bankman-Fried pleads not guilty in his fraud case over last year's implosion of the FTX cryptocurrency exchange, this time to a narrower slate of charges, as his lawyers fought for access to their jailed client. The crypto mogul appeared in a Manhattan federal court on Tuesday after bail revocation due to alleged witness tampering.
PODCAST
Banking the Future with Visionary Coen Jonker, Founder & CEO of TymeBank.This episode delves into cutting-edge regulations, uncharted markets, and real-time payment evolution. Access the full podcast episode by following this link
---
INSIGHTS
Becoming a bank proves challenging for Fintechs seeking survival. In an era of soaring interest rates and intense competition, fintechs are increasingly deciding they need to become banks to ensure their long term survival. They're also finding that doing so isn't easy. Read full article here
KYC/B is not AML. Both concepts are closely related but distinct, so let's break them down by reading the complete source update by Brock Bontrager to learn more
European FinTech seed deal activity in 2023 on track to beat 2022's levels. Check out the Key European FinTech seed investment stats in H1 2023. Link here
---
FINTECH NEWS
Clara, a Latin American corporate credit card provider, is introducing cross-border transactions, projecting up to $100 million in payments through this service by the end of 2023. Launching initially in Mexico, the service allows clients to settle bills in major currencies.
Modulus launches investment platform to support entrepreneurs during VC funding 'Slowdown.' Through this launch, Modulus aims to enable operators to initiate the launch of their own investment platforms, further driving grassroots investment opportunities.
SEC charges fintech investment adviser Titan Global Capital Management USA with misleading investors with advertisements about performance metrics. In the first case involving the SEC's amended marketing rule, Titan has agreed to pay over $1 million to settle the charges, without admitting or denying the findings.
Green FinTech MVGX launches subsidiary for carbon SaaS products. The system will aim to "provide a holistic, end-to-end suite of products, software, and services that enable corporations, governments, and institutions to meet their sustainability commitments."
Koverly unveils unique "Pay in 30" platform, eyes $70m in new loans. The service is designed to offer businesses a unique 30-day extension on foreign exchange (FX) payments without incurring any costs to either the buyer or seller.
Creditas, a fintech that provides guaranteed loans, continues to reduce its losses. For the second quarter, they reported a net loss of R$ 118 million, a significant improvement from the R$ 320 million loss in the first quarter of 2022. Read more
37-year-old Kelly Ifill's journey to launch Fintech startup Guava to help Black small-business owners by addressing their challenges with traditional banks and providing them with better financial solutions. Read more
Adyen shares continue their meltdown as Morgan Stanley turns cautious.Adyen NV shares continued their steep descent Monday as another analyst threw in the towel on his bullish call. Link here
---
DIGITAL BANKING NEWS
YES BANK introduces iris aiming to improve the country's digital banking landscape. The objective is to offer a simplified banking experience and ensure the safety of customers' financial data by integrating security features, including biometric authentication, Sim-Binding, and two-factor verification.
Revolut already outperforms traditional banking. The Spanish have tired of being tied to a single bank. The rise of digital banking is unstoppable. And Revolutis the one who is reaping the rewards. The firm already has more than 1.8 million customers in Spain and it is only surpassed by BBVA as the most popular bank of the moment.
The Monetary Authority of Singapore (MAS) responds to public criticism of cheque phase-out plan. MAS explained that while banks had generally not charged customers for to process cheques, that is no longer tenable with the rising cost of cheque clearing on the back of a sharp decline in the volume of cheques in recent years.
---
BLOCKCHAIN
Singapore charges four foreigners over crypto scheme. Four men were charged in a court in Singapore for engaging in a conspiracy to cheat that involved more than S$1.8 million ($1.3 million) and providing crypto services without a licence in the city-statet.
Nubank advances in Brazilian digital currency integration and financial restructuring. Nubank has unveiled its pivotal move towards practical tests in its integration with the pilot project of Drex. This significant step towards integration heralds the culmination of efforts to align its infrastructure with the Drex blockchain network.
---
PARTNERSHIPS
Dock partners Feedzai to bring fraud prevention tools to LatAm businesses. The partnership allocates a team from Feedzai to help serve the entire Latin American market. Read more
Mastercard partners with blockchain leaders to explore CBDCs. The partnership will unite companies already playing significant roles in CBDC development. The payment giants has also partnered with UAE-based Qashioaiming to make the future of expense management cashless, transparent and flexible for corporates.
S. Korea's MOIN partners Currencycloud to enhance cross-border payments.MOIN aims to reduce the cost of remittances for its customers. By tapping Currencycloud's competitive FX rates, MOIN will be able to respond to fluctuations in the FX market 24/7.
---
#DONEDEAL
FinTech Finastra breaks records with a massive $5.3bn loan. The intention behind this impressive capital injection is to refinance Finastra's existing debt. This is in contrast to many similar large deals, which typically aim at financing buyouts.
Brazilian fintech Munchies, aiming to become a digital bank for decentralized finance in Brazil, received an undisclosed sum in presSeed investment from Canary and Latitud. The company doesn't manage assets, but will offer DeFi products.
Fitinsur, identified as an 'Insurtech as a Service', has successfully secured its inaugural external investment from Lanx Capital during a Series A funding round. The newly acquired funds will primarily drive the enhancement of new features, solidify the application of generative artificial intelligence, and foster team growth.
Mitfokus, a fintech specializing in financial management for healthcare clinics and professionals, recently secured additional funding from Bossanova Investimentos and some angel investors. The amount remains undisclosed.
---
Want your message in front of 100.000+ fintech fanatics, founders, investors, and operators?