Daily News
Coastal Community Bank's FinTech Rollercoaster: Rise, Fall, and Lessons Learned

I'm writing this newsletter on the plane back to Amsterdam atfer a few interesting days in Vegas for Money2020. Before I touch base in Europe, let me share an interesting story from the US where Coastal Community Bank, based in Washington state, gained significant attention after partnering with fintech companies, such as Aspiration, which was backed by celebrities like Leonardo DiCaprio and Orlando Bloom.
Initiated in 2017, the bank soon became a primary partner for numerous fintech firms, offering them lending, deposit, and card services. This strategy skyrocketed Coastal's assets more than four times since 2017.
Coastal went from striking its first partner deal in 2017 to having a peak of 29 partners earlier this year, according to the bank's public filings. A person familiar with the matter said the partner list at one time was as high as about 45.
However, recently, several of these fintech partnerships are dissolving either due to the startups collapsing or Coastal cutting ties with them. One notable fallout was with MovoCash, which was later involved in a regulatory scandal for fraud.
Federal and state regulators have fined Metropolitan, MovoCash's previous banking partner, $30 million due to fraudulent activities amounting to over $300 million. The issue with MovoCash is attributed to its practice of providing accounts to customers with minimal identity verification.
Despite these revelations, Coastal's involvement with MovoCash regarding regulatory actions remains unclear.
There were earlier warning signs with MovoCash and its CEO, Eric Solis. Solis had prior issues with the Financial Industry Regulatory Authority (Finra) and was also sued by venture firm Bighorn Ventures Nevada for alleged mismanagement.
Furthermore, Coastal's partnerships with several FinTechs, like Fair Fintech, Cheese Financial, Sable Money, and Catch Financial, have ended.
The bank's CEO, Eric Sprink, cites increased regulatory risks, especially in the cryptocurrency sector, as a significant challenge. To address compliance issues, Coastal has expanded its compliance staff from four in 2018 to 150 currently.
To be continued..
---

---
POST OF THE DAY
🏦 The Banking-as-a-Service Model Explained. There are three parties in the Banking-as-a-Service model:👇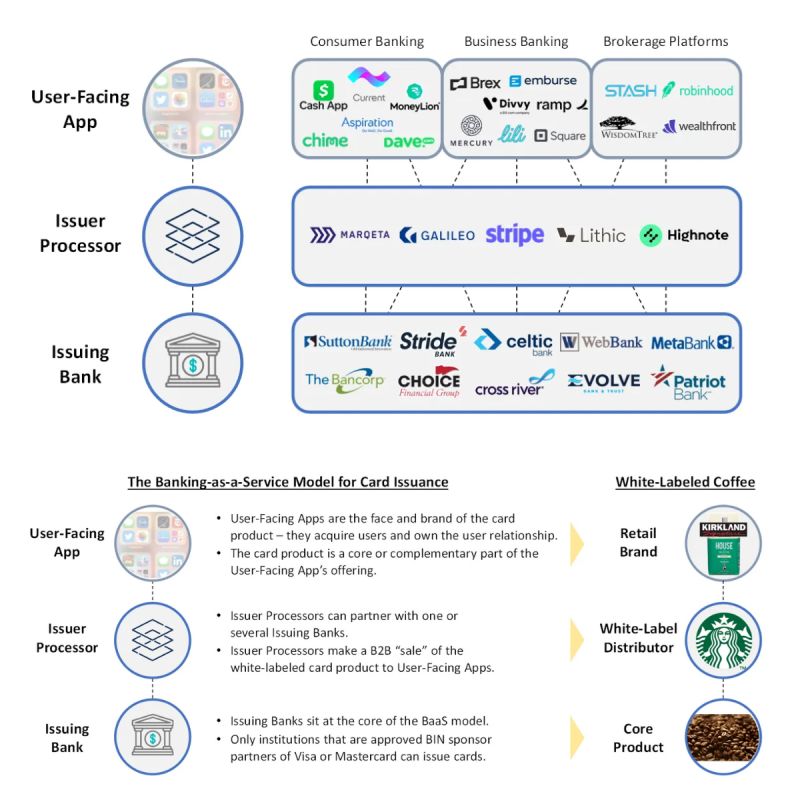 ---
FEATURED NEWS
🇨🇭Coop launches Coop Finance+ via additiv's embedded finance platform. Additiv provides Coop with its advanced cloud platform, offering robust embedded finance solutions in banking, wealth management, credit, and insurance.
---
INSIGHTS
🇬🇧The cap on bankers' bonuses is being removed as part of a post-Brexit shake-up of UK financial rules, it has been confirmed. The decision was first announced by former chancellor Kwasi Kwarteng last year, who said it would make London a more attractive place to do business.
---
FINTECH NEWS
🇺🇸Highnote expands payment platform to power consumer credit programs. Setting the standard in payments, Highnote's modern platform and robust program management now support consumer credit capabilities to transform the end-to-end credit experience.
🇺🇸Fiserv and Melio streamline accounts payable and receivable for SMEs. CashFlow Central from Fiserv, is partnering with Melio, to enable financial institutions to better meet the payments needs of small businesses.
Seedrs licenced under new EU authorisation to boost sector for startups and investors. This means Seedrs will be authorised in Ireland, where its EU headquarters are, and initially will also focus on the Nordics, Iberia and the Netherlands. Read more
🇨🇴Pronus partners with Págame to promote financial inclusion in Colombia.The partnership aims to provide entrepreneurs access to various services and products via mobile phones, services traditionally exclusive to physical stores.
New e-commerce startup, founded by an ex-PayPal exec, aims to give customers control of their own shopping data. I Own My Data (IOMD) is a startup that eliminates the need for passwords, Captcha, and unwanted follow-up communications for consumers. The company's self-described aim is to "flip the script" on commerce with its Node platform.
---
PAYMENTS NEWS
🇮🇪Freemarket to expand across Europe after securing Irish payments licence. The Central Bank of Ireland has granted a Payment Institution licence to the firm unlocking the company's next stage of expansion across Europe. This authorization also expands Freemarket's operations in Ireland.
🇮🇪Airbnb launches Pay Over Time with Klarna in Ireland. The launch is part of a phased global roll-out which will see Klarna and Airbnb offering an alternative way to pay in twenty countries across three continents by early 2024.
🇺🇸Modern Treasury taps AI for reconciliation engine. The company revealed at Money 20/20 in Las Vegas, how its new AI Reconciliation Suggestions tool will enhance reconciliation, increasing the efficiency of its platform and speed of cash reconciliation for customers.
🇺🇸Bluefin partners CORE on government and healthcare payment security. This partnership aims to redefine payment security and customer satisfaction, offering a robust, secure, and convenient solution for modern payment needs.
🇺🇸Adyen has lost so much market value in U.S. push that it's cost its founders $2 billion this year. The Dutch payments company has had a turbulent few months as its shares have dropped about 48% since the start of the year. Read on
🇨🇦Canada reaches $11.7 trillion in payment transactions in 2022 – up seven per cent in value from 2021. Credit card use grew 30 per cent while cash use declined 41 per cent over last five years, Payments Canada study reveals. Read the full piece here
---
OPEN BANKING NEWS
🇺🇸Zero Hash partners with Plaid to enable a seamless crypto on and off-ramp via ACH bank transfers. Zero Hash customers can now enable their users to instantly connect their financial accounts to pre-fund a wallet or facilitate real-time buy and sell crypto trades.
---
DIGITAL BANKING NEWS
Thought Machine partners with Form3 to bring real-time payment technology to the US and European markets. This partnership streamlines payment processing for banks and financial institutions by offering a comprehensive end-to-end payment processing solution. Read more
🇬🇧Elavon receives UK banking authorisation. The license ensures the organisation can continue to grow and provide the right payments and banking solutions for UK clients, including authorisation, settlement, card machines, and banking.
🇬🇧Alba Bank partners ClearBank on SME payments. Alba will be able to connect with multiple payment schemes, including Bacs, CHAPS and Faster Payments, all allowing transactions to clear rapidly and over a secure platform.
Ingenico and embedded lending platform Jifiti form global alliance. The Ingenico-Jifiti partnership introduces a range of critical advantages tailored to address the current economic context, ensuring sustained viability across various use cases.
🇬🇧Payhawk releases international payments in fifty currencies in partnership with Wise Platform. By integrating Wise Platform directly within the Payhawk platform, Payhawk customers will be empowered with enhanced payment capabilities that suit their business needs.
🇬🇧Lender TAB lands £300 securitisation facility from NatWest. "The collaboration with NatWest allows us to not only meet the demand for competitive financing solutions but, in relation to the mortgage product, also to contribute to a more sustainable and resilient real estate finance landscape," said Tab CEO.
🇨🇦ICICI Bank Canada launches Money2India app. The app enables customers of any bank in Canada to send money instantly and round the clock to any bank in India without opening an account with ICICI Bank Canada.
🇧🇷Brazil's Pagbank hits 30M clients, claims a spot among LatAm's largest neobanks. Brazilian Fintech Specialist Bruno Diniz said: "In the individual market, Pagbank has aimed at individuals who have the greatest difficulty finding solutions in the market, such as people with negative credit or credit restrictions, a challenging strategy in current times."
🇺🇸JPMorgan CEO Jamie Dimon slams central banks for their '100% dead wrong' forecasts and 'omnipotent feeling.' Dimon said the fact that central banks got financial forecasting "100% dead wrong" about 18 months ago should prompt some humility about the outlook for next year.
🇬🇧Starling Bank Considers IPO Preparations: Thought Machine May Follow Suit. The Fintech companies are exploring the possibility of going public in moves that could strengthen London's reputation as an international financial hub.
---
DONEDEAL FUNDING NEWS
In the past week, we saw 10 deals in Europe for a total amount of €53.6m raised. With three deals in the UK, two deals in Denmark, one deal in Spain, Sweden, France, The Netherlands, and Lithuania. Link here
Colombian fintech company R5 has secured an investment deal spearheaded by the UK-based fund Lendable. This capital injection aims to boost R5's ability to offer credits for purchasing used cars, allowing more individuals to access vehicles through loans.
Ctrl Alt raises £2.2m to democratise access to alternative assets. The fintech is hoping to lower the barrier to entry for investing in alternatives and help financial institutions offer more competitive investment options.
---
MOVERS & SHAKERS
🇬🇧Brookfield has hired Worldpay's former CEO, Sir Ron Kalifa, to oversee its push into the financial infrastructure space. Mr. Kalifa is joining Brookfield as a vice-chair and head of its financial infrastructure strategy.
---
Want your message in front of 100.000+ fintech fanatics, founders, investors, and operators?
Shoot me a message on LinkedIn or send me an e-mail.