Daily News
Can Elon Musk create PayPalX, the "everything app"?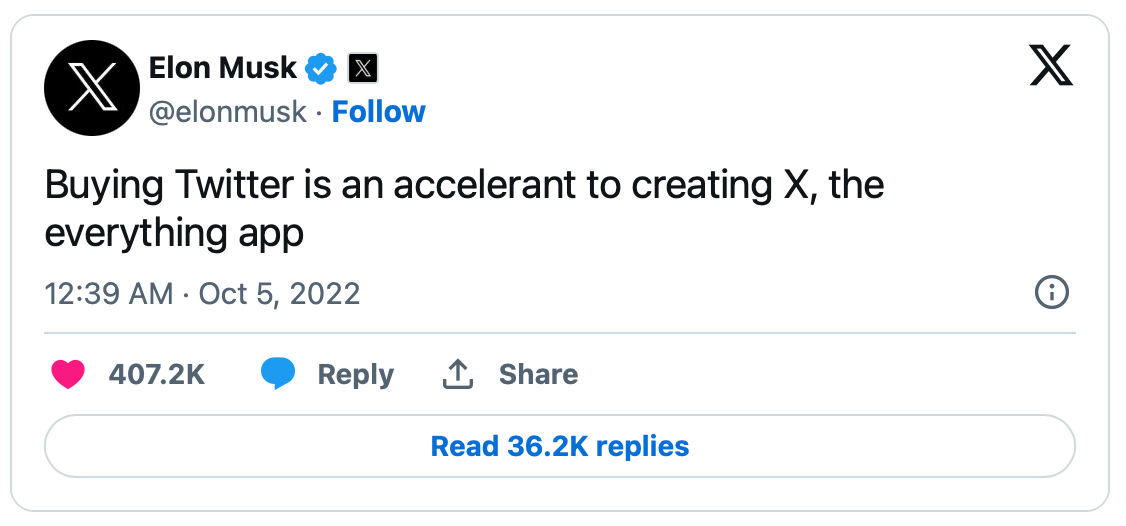 Good morning!
Yesterday, I read an interesting article by Chris Skinner, where he mentions new rumors on X by Charles Gasparino:
"Elon Musk continues to have conversations with top Wall Street executives on the future of X. Seems to be settling, they tell me, on a new fangled payment system, updated version of PayPal. It will offer low transactions costs (as opposed to credit cards) & monetize user info"
It seems Elon is sticking to his initial plan:
But what do you think? Will he succeed? Yes, or No?
And let me know 𝙒𝙃𝙔 in the comments below👇
Thanks for your help and I'll share the results soon!
Now on to other news I curated for you today:
---
#FINTECHREPORT
Check out 10 Secret Fraud-Fu Techniques for fighting fraud and grappling with scammers by Luke Raven. Worth a read! Link here
---
INSIGHTS
Key trends in Q2 2023 remittances: The health of money transfers following earnings season. FXC Intel explores some of the money transfer trends that have unfolded in remittances this quarter.
Take a look at Block's quarterly results, their Square and Cash App ecosystems. Access the complete earnings report for additional information, statistics, and figures. Link here
How Gen Z is poised to redefine retail banking. Several standout characteristics define Gen Z: They are true digital natives, they are the most diverse generation, and unlike millennials before them, are particularly worried about their financial future, according to Pew Research Center. Read on
European CyberTech deal activity outperforms global CyberTech market in Q2 2023. Check out Key European CyberTech investment stats in Q2 2023 here
---
FINTECH NEWS
Zip claims they are not pulling out of the U.S. market. According to the company, the U.S. continues to be a primary piece of its strategy despite already retreating from other global markets, according to the Australian.
---
DIGITAL BANKING NEWS
iO, Peru's first neobank under the financial holding company Credicorp, has launched a unique credit card aimed at offering an innovative experience to users who are used to traditional banking. Read more
Egyptian payments provider Fawry is considering digital banking. Fawry will be turning its online payment portal—myFawry—into a digital bank to provide financial services including payments, consumer lending, savings, and investments, by the end of 2023.
Sendwave targets Kenyans in US with a new banking product, Sendwave Pay, that allows users to earn interest and pay reduced fees on international remittances, in what could boost inflows into the country.
Starling Bank to reboot Irish office with new engineer hiring push. The Ireland plans were dropped in July last year after a stop-start application process due to pandemic disruptions.
TymeBank unit, Retail Capital, targets SMEs with ChatGPT-like platform. According to the company, the generative artificial intelligence (AI) model, which is still in beta testing for early users, aims to provide knowledge and resources for the small and medium enterprise (SME) community.
---
BLOCKCHAIN
Binance drops sanctioned Russian banks from peer-to-peer service. The crypto giant has stopped offering clients the option to pay one another through sanctioned Russian banks, days after a Wall Street Journal article detailed how the crypto giant was helping Russians move money abroad.
---
PARTNERSHIPS
Dashen Bank and Mastercard join forces to launch the first virtual prepaid card in Ethiopia. The new card offers both plastic and virtual capabilities allowing customers to choose their preferred payment method, and will provide foreign payment options, simplifying international payments.
N26 integrates Dutch payments service iDeal. With the integration of iDEAL, N26 customers will be able to buy and pay online with their N26 app without having to know the bank details of the beneficiary.
Australian exchange and PayPal partner up as banks avoid crypto. The managing director of PayPal Australia, Peter Cowan said the partnership will provide easy funds to and from crypto exchanges to investors. It will remove the complications and restrictions linked with moving crypto funds in Australia.
---
M&As
Pandadoc, a San Francisco-based document startup valued at billions, has acquired Berlin's fintech company Denario, a company that has been developing software to help small and medium-sized enterprises manage their unpaid invoices. The move aims to expand Pandadoc's own payment services. Read more
Aquila transforms the LATAM fintech ecosystem through flagship acquisition of iuvity. "We're excited to form a permanent union with iuvity and anchor our long-term conviction to back the Latin American Fintech and Bankingtech ecosystem," stated Daniel Lee, CEO of Aquila.
Nigerian FinTech Moniepoint Inc is set to acquire 100% of the shares of Kenyan firm Kopo Kopo Inc. The value of the transaction has not been disclosed but it has received the green light from The Competition Authority of Kenya, which conducted a thorough analysis of the merger's potential impacts.
Orange sells Romanian banking unit to Alpha. Alpha takes on Orange Money Romania's client portfolio, technology assets such as the mobile app, credit card portfolio, and employees. Read more
---
MOVERS & SHAKERS
Flash Payments appoints Andrew Porter as Chief Commercial Officer ahead of rebrand and European expansion. Porter, an advisory board member for the past 3 years, will collaborate with Co-Founder and COO Nicolas Steiger to help drive Flash's next phase of expansion, as they continue to capture market share in the Australian digital payments space.
---
Want your message in front of 100.000+ fintech fanatics, founders, investors, and operators?