Daily News
Adyen Co-CEO Rules Out Buybacks After Stock Rout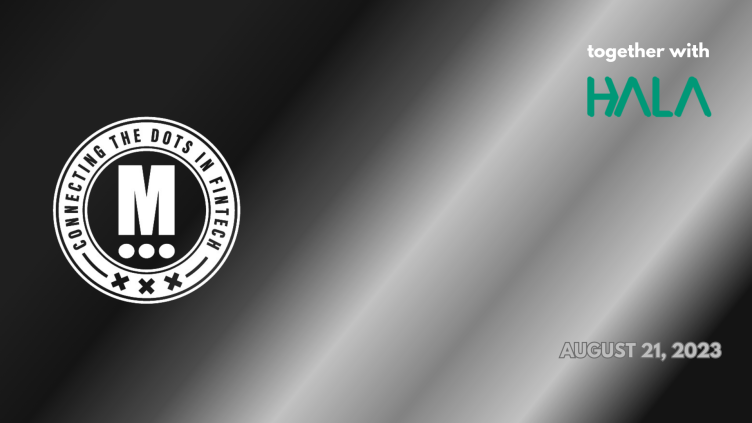 Good morning FinTech Fanatic,
Now that the first dust has settled after last week's sharp drop in Adyen's share price, the FinTech company continues to look confidently to the future, according to Bloomberg reports.
"We're focused on building a business and we always had a policy where we continue to invest our funds in the business," Ingo Uytdehaage, Adyen's co-chief executive officer said in an interview on Friday.
The co—head of Dutch payment processing company Adyen further ruled out a share buyback, after its worse-than-expected financial results triggered a stock meltdown that erased more than €18 billion of Adyen's market value on Thursday.
---
SPONSORED CONTENT
The Integrated solutions for startups and SMEs, with more than 45k merchants, achieving more than 1 million transactions per day worth $11 million.
Explore More
---
Nubank shares dip
That Adyen is in 'good company' is evident from the fact that Nubank also saw its shares tumble last week, after co-founder and chief executive officer David Velezsold a part of his stake in the Brazilian unicorn.
Although the world's biggest standalone digital bank released some impressive financial results over Q2 last week, Nubank saw the stock fell by as much as 8.6% during New York trading, marking the largest intra-day decline since April, as reported by Bloomberg.
Despite this drop, Nubank's shares have still seen a 73% increase year-to-date, reflecting the bank's robust growth, according to the report.
Velez said he sold 3% of his shares in the company for general portfolio management reasons, per the report. This is his first sale since Nubank's initial public offering in 2021.
Let's hope the week ahead is a bit quieter for the FinTech scene and sentiment cools down a bit. Please find the other FinTech news listed below👇
---
Banking on Invisibility. Previously, banks had a prime position on the main streets. Now, that's wavering. In the future they may not even have a position in the phone app. In this report, Frog explores how the envelope can be pushed further with some of the developments happening at the more experimental fringes of finance. Download here
The Digital Dollar Project report explores the potential of two interoperable CBDCs to provide seamless international money transfers from senders in the US to recipients in the Philippines. Read the full report here
---
INSIGHTS
🇨🇦Canadian fintech investment drops to pandemic-era levels in H1'23. The drop is driven primarily by macroeconomic concerns, according to KPMG. Read the complete source article here
Draft Combatting Financial Crimes Act: revolutionising money laundering enforcement in Germany? Take a look at the four key proposals of the draft FKBG(Finanz Kriminalitäts Bekämpfungs Gesetz) by the German Ministry of Finance. Access the full report here
Wirecard's byzantine fraud grips courts in Munich and Singapore. A complex international set-up and an absconded top executive have made going tough for investigators. Click here to read full article
MAS' AML/CFT Inspections Put Wealth Management Firms on Notice. This follows the recent arrest of 10 individuals for suspected involvement in offences including forgery and/or money laundering. Link here
Unlocking Trust: Why KYC and KYB are Essential in Modern Finance. These are no longer just acronyms but rather the gatekeepers of secure and compliant financial transactions. discover how technology's transformative touch is reshaping the landscape of KYC and KYB in this comprehensive article
🇮🇹 Italy's financial landscape is transforming, blending traditional banking practices with innovative FinTech solutions. Read the complete C-Innovationsource article to learn more about the Italian financial services landscape. Link here
---
FINTECH NEWS
Alipay updates international version featuring services tailored for international visitors travelling in China. The new international version, with language options including English and easy-to-use translation tool, aims to fulfill international travelers' mobile payment needs in China and enhance their local travel experience.
Alviere the latest FinTech firm to withdraw e-money licence application. Alviere, a US company, has become the second fintech firm in the last few weeks to withdraw from a process to secure an e-money licence from the Central Bank of Ireland. Read more
Colombia's SFC has approved the introduction of stocks and convertible notes on a2censo, the crowdfunding platform of the Colombian Stock Exchange (BVC) enabling small investments and potential partnerships in local businesses.
Lithuania, now a FinTech hub, takes new, aggressive stance against AML infractions. "Previously Lithuania was focused on boosting the number of fintechs coming to the country," said Eimantas Vytuvis, counsel at the local office of the Sorainen law firm. Read more
---
DIGITAL BANKING NEWS
Federal Reserve Board issues enforcement action with Farmington State Bank, and its holding company, FBH Corporation. The Board's action ensures the bank's operations will wind down in a manner that protects the bank's depositors and the Deposit Insurance Fund.
Banks to be fined for free cash access failure. The FCA has been handed new powers to enforce the provision of cash by banks. The new minimum expectations for cash users are set out through new legislation and will mean the FCA can fine banks and building societies that do not comply with the new rules.
---
BLOCKCHAIN
Mexican startup Bitso has officially launched an international payment servicefor its institutional clients, in line with its goal of enhancing business solutionsand advancing crypto-based financial services in Latin America.
---
PARTNERSHIPS
Tabit and Jifiti Partner to Provide Embedded B2B Lending to Merchants in Canada. Canadian merchants can effortlessly provide regulated B2B financing choices to their business customers, seamlessly integrated into their customers' native shopping experience.
NCR to run Kiwibank ATM fleet. By expanding the relationship to include ATM as a Service, NCR will take on operational management and maintenance of both in-branch and offsite ATMs.
Chilean digital bank Tenpo partners Dock for credit card. Dock's expertise and infrastructure is behind the issuing and processing technology that Tenpo is using for its recently launched credit cards. Read more
Mahalo Banking and Larky partner to boost account holder engagement. The partnership provides access to analytics and A/B testing, enabling institutions to use exportable, user-level data to see how their campaigns are performing, and revise them in real-time.
Riskified announced an enhanced partnership with Mastercard, that will improve the ability of businesses across the globe to grow online revenues and profit while mitigating the risk of fraud and chargebacks.
Pinwheel becomes Plaid preferred provider for direct deposit switching. The companies have partnered to provide complementary payroll data services for its Income product. Additionally, Plaid lowers one hurdle by allocating resourcesto enhance income verification accuracy, counter fraud, and optimize direct deposit switches.
Neobank Mono, in partnership with Visa, has launched its first business card in Colombia. This card is distinctive in that it does not require credit checks; it is directly linked to the available balance in the client's Mono account.
Cebuana Lhuillier Bank partners with Temenos. Through this partnership, Cebuana Lhuillier Bank aims to swiftly introduce new banking products and efficiently scale its operations. In addition, the bank aims to expand its reach, targeting over 11 million customers within the next five years.
---
M&As
Securitize Agrees to Buy Crypto Wealth Manager Onramp to Expand RIA Services. Securitize's aim is to allow RIAs to offer their clients tokenized investments in alternative assets classes such as private equity, private credit, secondaries and real estate. The acquisition is expected to close in the coming days.
---
DONEDEAL
Georgian FinTech CityPay boosts crypto payment solutions with €2M funding. The fintech converts crypto payments to fiat for businesses via multiple channels. Funding will help escalate the expansion into CIS region and other markets, as well as see the development of a B2C platform.
---
MOVERS & SHAKERS
10x Banking appoints Okan Ozaltin as Chief Product Officer. Ozaltin will play a pivotal role in shaping 10x's product vision and strategy. His strategic insights will guide the development of innovative solutions that cater to the evolving needs of banks and the wider financial industry.
TrueLayer has appointed Michael Brown head of ecommerce. Mr. Brown will lead the company's push into the vertical as more firms look to adopt open banking payments. Read more
---
Want your message in front of 100.000+ fintech fanatics, founders, investors, and operators?